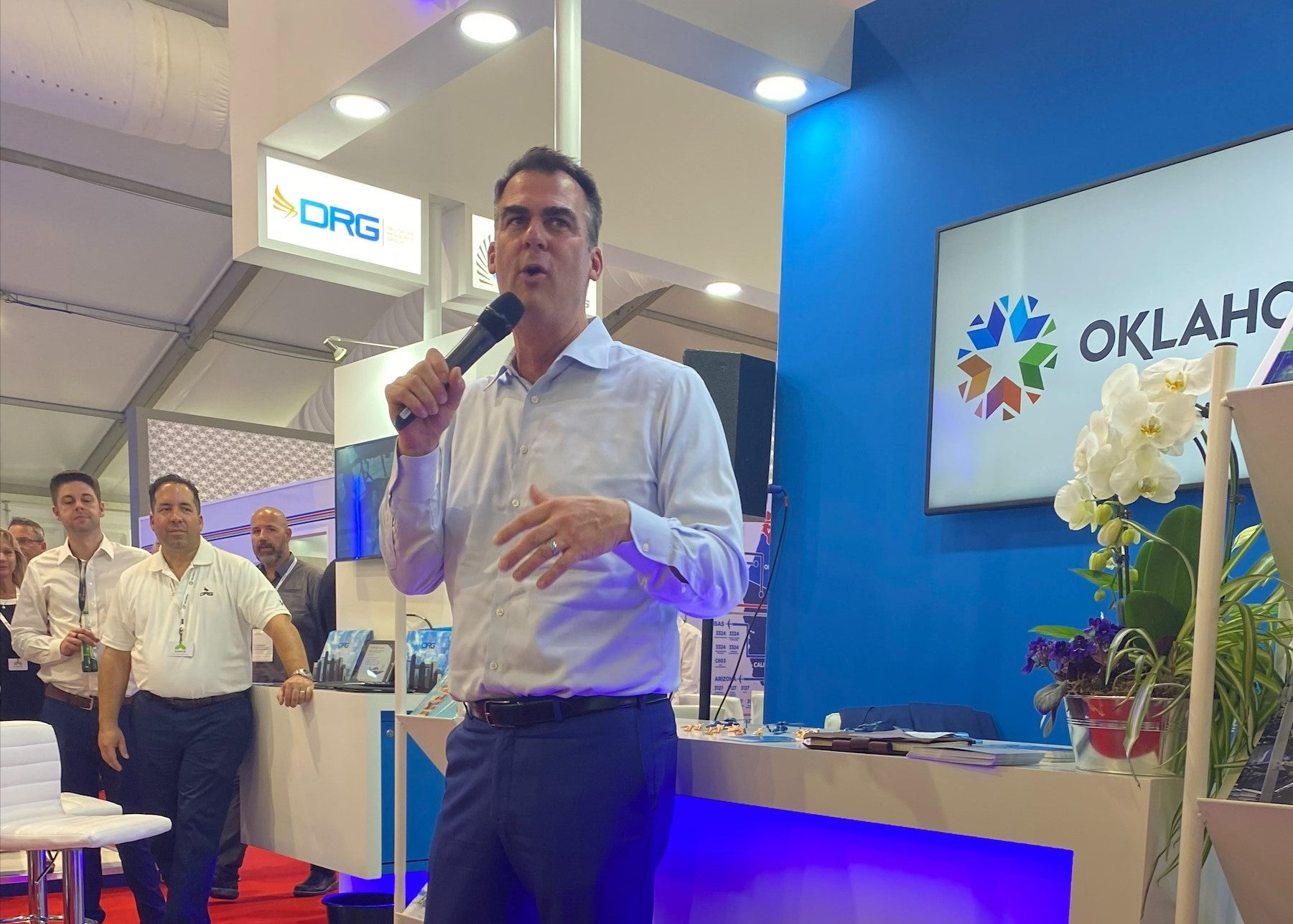 Governments around the world are grappling with the challenge of delivering on their commitments to the energy transition. Common tools being introduced include subsidies for green technologies, future bans on internal combustion engine vehicles, tax systems that promote less carbon use and the introduction of greater efficiency into the energy system.
The consensus view is that the world will not reduce its use of fossil fuels to a sufficient level to avoid climate catastrophe without significant state intervention.
That is not a view shared by Kevin Stitt, the Governor of the State of Oklahoma in the US. "I believe in the free market," Stitt tells Investment Monitor. "Governments get in trouble when they pick winners and losers and try and expedite the transition that I think will happen naturally."
Oklahoma's energy strengths
Oklahoma is a major crude oil and natural gas-producing state. It was where fracking was invented in 1948, and the state holds 8% of the total US reserves of natural gas.
In more recent times, Oklahoma has also become a national hub for renewable energy. Wind power accounted for 35% of Oklahoma's electricity in 2020, thanks to more than 9,000MW of installed capacity. The state's 998MW Traverse Wind Energy Center is the single-largest wind farm built at one time in North America.
Oklahoma also has more than 3,000 solar installations and eyes opportunities for heavy investment in a variety of energy transition technologies such as battery storage, hydrogen production, bio fuels and electric vehicles (EVs).
Stitt is aiming for Oklahoma to be a top five renewable energy-producing state while remaining in the country's top five for conventional fossil fuels, in a strategy he calls "all of the above".
"Are we afraid of moving towards new technology? Absolutely not," says Stitt. "But you either believe in the free market or you think somebody in Washington, DC is smart enough to tell everybody what to do. It is just not what we believe in. In Oklahoma, we believe in letting the market dictate demand."
By the US federal government's own carbon reduction metrics, Oklahoma is enjoying success. Thanks to its large fleet of wind farms, it has reduced its power sector carbon dioxide emissions by three times the national average since 2005.
Stitt is ambitious about attracting new types of companies to invest into Oklahoma's energy sector by offering low electricity prices, low labour costs and stripped-back regulation. "We are going to get out of your way and let you go compete," he says. "We are not going to pick winners and losers, we are gonna be very fair with our regulatory environment, and let you compete and win."
Investments in EVs and hydrogen in Oklahoma
Stitt was briefly in London in mid-July 2022 to attend the Farnborough Airshow, an international trade fair for the aerospace and defence sectors. As home to the Tinker Air Force Base and hundreds of aerospace companies, including Boeing, Oklahoma had brought a large delegation to the event.
The trip coincided with a heatwave in the UK, and much of Europe, which saw temperatures in England surpass 40°C for the first time on record. This meant climate change was front page news in the country, and Stitt was keen to promote Oklahoma's embrace of energy transition technologies.
The UK is a key market for Oklahoma, with more UK companies operating in Oklahoma than those from any other foreign country, except Canada. In total, 67 UK companies are based there, employing just under 5,000 people.
An area of common focus for Oklahoma and the UK is gigafactories and EV infrastructure. Although Oklahoma lost out to Texas as the location of Tesla's latest gigafactory, Stitt sees huge potential for his state in the EV and battery manufacturing sector.
Oklahoma is already home to Spiers New Technologies, which services and repairs batteries, while USA Rare Earth is establishing the first rare earth processing plant in North America in the state. Stitt see the opportunity to create a broad EV ecosystem in the region.  
"We are talking to some battery manufacturers, as we would love for them to be located here, close to Austin to be able to deliver to Tesla's new plant," says Stitt, who adds that Oklahoma is looking for investment in "everything on the supply side of EVs".
He adds that the state is also "leaning into hydrogen", having signed a memorandum of understanding with Arkansas and Louisiana to invest $2bn in hydrogen commercialisation. He sees opportunity for hydrogen as a fuel for haulage, for which electric batteries would be too heavy.
Australian oil and gas company Woodside Energy has selected Ardmore, Oklahoma, as the site for a new green hydrogen facility that will initially produce 90 tonnes of liquid hydrogen per day.
The Woodside investment is an example of Stitt's view that you "can't have an honest conversation about energy security without talking about natural gas and oil production, and Oklahoma is proud of its history in that area".
He rejects US President Joe Biden's attempts to set targets for energy mix as distorting the market and scolds the Democratic Party for acting like they want the oil and gas industry "to be gone in ten years", when they could be benefitting from the industry's long-term investments.
He cites Harold Hamm, the owner of Continental Resources and one of Oklahoma's richest men, who has invested his own money to establish a research centre focused on the energy transition.
Stitt says the US, and the West, will continue to need oil and gas production to ensure energy security as industries such as aerospace show that getting rid of fossil fuels in the immediate future is "just not practical".
"The fear would be what is happening in China and all the coal plants they are continuing to build," he says. "We want to be good actors, but I wouldn't ever advocate putting our country at a competitive disadvantage with other countries in the world."
Why invest in Oklahoma?
As many as 30,500 students in energy-related academic programmes graduate every year in Oklahoma. Labour costs are lower than on the West Coast of the US, and state corporate tax is just 4.75%, in comparison to 13% in California. "I am trying to get our corporate income tax rate to zero in Oklahoma," says Stitt.  
He also cites the work ethic of Oklahomans as a draw for businesses. "It is a very hard-working, loyal workforce and we don't have as much turnover as you have in more transient parts of the country," he says. "You'll have fathers and mothers and grandparents who all worked at the same place and take great pride in a factory in a local community."
Thanks to it being an energy exporter, the state also enjoys some of the lowest electricity prices in the country.
Among the companies attracted to these low costs is Northern Data, a Germany-based tech company that will be building its North American headquarters in the state. Google is also expanding its energy-intensive data centre located in Mayes County, which it aims to be operating carbon-free by 2030.
"As a state, we have the lowest cost of electricity to businesses and consumers," says Stitt. "So, if you are a heavy electricity user, being in Oklahoma gives you a very competitive advantage."
Despite Stitt's firm support of free markets, Oklahoma does tip the scales in some ways to support local business. Stitt signed the Invest in Oklahoma Act in 2021, which requires state pension funds to invest at least 5% of their assets under management in Oklahoman companies.
A range of tax and other business incentives is also offered by Oklahoma, particularly for companies that are creating quality high-skilled jobs.
Oklahoma's approach is definitely helping to attract foreign direct investment, which according to Stitt's office was 6% higher in 2021 than in 2019 (pre-Covid) and accounted for 16% of all investments in the state in 2021.
Oklahoma is an old-fashioned energy state, trying to transition into a more modern energy area. Given the seeming inability of the Biden administration to pass nationwide climate-related legislation, its progress will be a bellwether for wider efforts in the US to reduce carbon emission.
Oklahoma's 'all of the above' strategy will not be welcomed by those wishing to see an acceleration of decarbonisation and an end to oil and gas production, but Stitt believes the market will deliver the transition if government keeps out of the way. "You have to focus on the 'all of the above' approach and let industry drive it. Let consumers drive it," he says.