The best antidote to the fragility of ideas is encouragement. In 2015, Doctors Chris Ballance and Tom Harty sat next to the renowned technology veteran and investor Herman Hauser at a Royal Society formal dinner. At the time quantum computing was not yet on the radar of most tech investors, but Hauser (who incidentally founded chip giant ARM) was already fully immersed in the nascent sector. As in any early phase of a new industry, multiple approaches to the conundrum of building an error-free quantum computer were emerging.
However, quantum physicists Ballance and Harty had an original idea that they couldn't believe anyone else was not testing. While others were experimenting with photonic and superconducting methods of manipulating qubits (a qubit or quantum bit is the basic unit of quantum information, the equivalent of classic computing's binary 'bit'), Ballance and Harty's focus was on atomic ions, which they planned to manipulate with trapped-ion processors. Hauser's response to this novel approach was a simple and enthusiastic return to the scientific method: "Go and do it then."
A quantum marriage of minds
Fast-forward to 2019 and that is exactly what the pair did. Just as the quantum computing world was gaining traction, Ballance and Harty were ready to pull together all they had learned during their Oxford University PhDs (which had been focused on trapped ion quantum computing) and a decade-long working relationship that has endured longer than most marriages. In addition, their credentials were stellar: they had already set world records including the highest-performance quantum logic gates, the longest qubit memory coherence time, and the fastest and highest-performance quantum network. What followed was the pair setting out on an entrepreneurial path to put all they had learned into practice by creating Oxford Ionics.
The company was about to move into its first 40-person office space just as the Covid-19 pandemic hit. "We managed to negotiate a very good lease," says Ballance, smiling. Finding the right skill sets is becoming increasingly difficult in the quantum computing space and the company has recruited talent from all over the world, with some employees relocating to Oxford (where the company is based) from locations including South Korea, the US and Germany. Harty and Ballance feel at home in Oxford, where the company was spun out of the prestigious university and what has become a global centre of excellence for quantum computing. The start-up's workforce now comprises 36 employees, 25 of whom are based in the UK. "Talent is always going to be the most important thing for any company, but in quantum computing is really is," says Ballance.
Quantum computing investment set to explode
Although quantum computing represents a lifelong passion for people such as Ballance and Harty, it is also, potentially, an extremely lucrative business. Market size predictions are best guesses, but most industry commentators estimate that the industry's size in 2020 was somewhere between $80m and $500m, rising to anywhere between $1bn and $5bn by 2025. So, the market is definitely at an investment inflection point.
Oxford Ionics has just completed a series A funding round of $36.4m – which Hauser was part of. Compared with some of the more well-funded start-ups the sum is relatively modest, but it will see the company continue to develop its trapped ion technology to compete in what is essentially a space race to quantum supremacy – the point at which error-free quantum computation overtakes classical computing.
How well do you
really

know your competitors?

Access the most comprehensive Company Profiles on the market, powered by GlobalData. Save hours of research. Gain competitive edge.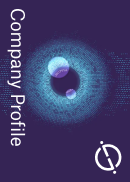 Company Profile – free sample
Thank you!
Your download email will arrive shortly
Not ready to buy yet? Download a free sample
We are confident about the unique quality of our Company Profiles. However, we want you to make the most beneficial decision for your business, so we offer a free sample that you can download by submitting the below form
By GlobalData
Oxford Ionics may be viewed as somewhat of a David to its corporate-sized Goliath competitors, including US company Quantiniuum – a subsidiary of US tech giant Honeywell that is also using trapped ion quantum technology – along with Oxford Ionic's other technology competitor, IonQ. Revenue-producing business within the quantum computing industry currently lies in the growth of cloud-based quantum computing services that are being led by tech giants including IBM, Google, Microsoft, Amazon and Alibaba. These cloud-based business services allow cross-sector clients to experiment with the technology in the hope of identifying use cases. Ballance says that although there is no killer app so far, he is most excited about what a quantum computer can do for financial services.
Quantum computing close to commercialisation
By the end of 2023, Oxford Ionics expects to offer a paying service, but the strategic value of building specific customer relationships will be just as important as creating revenue. "We will be carefully vetting our customers and considering the balance between building up a system that generates us the most value in three years and having enough customers on board, that we build up some special relationships to have their steer in our tech road map early on," says Ballance.
While companies are starting to experiment with the technology, commercial-scale quantum computing has an unknown timeline. There are already some signs of market maturation as consolidation has seen smaller start-ups acquired by larger players. Ballance notes that some companies are pushing very hard on building a sales pipeline while under-funding research and development in the hope that they can "put some lipstick on it in order to get acquired or merge with a larger company".
The best quantum computing systems today have 10–12 useful qubits (useful means without errors, which is very difficult to achieve in quantum states). A useful quantum computer would have to scale up by about an order of magnitude in both the number of qubits and error rates, Ballance points out. "We are among those companies that are focused on that point in the development of quantum computing when you can really access this large value creation market, and [we are] building out the technology to get there," he adds. In contrast, there are other companies that won't get there without a lot of investment so they are only investing what they need to keep the journey going for another year or two, and see what happens.
Therein lies an existential difference between these two types of quantum computing companies, "whether the company is being built to last or to be acquired", says Ballance, who adds: "And I think this depends a lot on how companies view the development of the marketplace over the next year or two, or three or four." Oxford Ionics, led by Ballance and Harty, is a company firmly in the 'built to last' category and is set to make its mark on an industry on the cusp of technology breakthroughs and subsequent commercialisation.