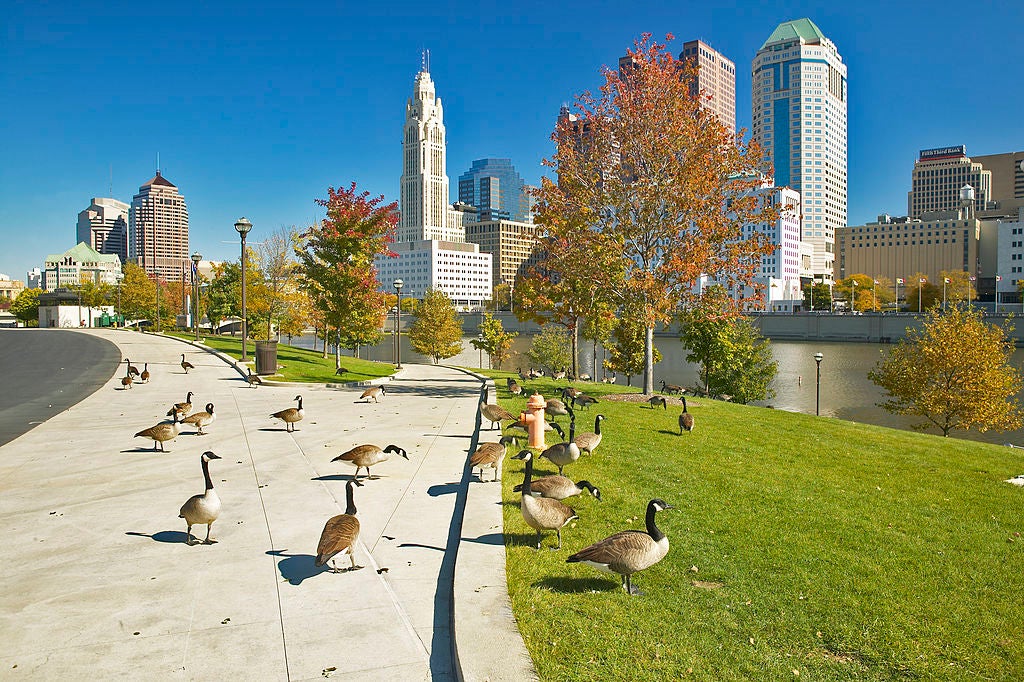 Ohio's capital city, Columbus, was founded in 1812 on the banks of the Scioto River. While the river would frequently cause floods in those formative years, and subsequently bring economic hardship, Columbus experienced both industrialisation and prosperity.
Columbus's growth was at its highest in the 1950s, and by the 1990s it had become Ohio's largest city in terms of both population and land. According to the US Census of 2020, it had a population of 905,000, making it the 14th-largest city in the US and the second-largest in the Midwest after Chicago. Its metropolitan population is 2.1 million.
Today, Columbus offers a highly diversified economy, with heavy representation from aviation, banking, defence, education, energy, food production, government, healthcare and medical research, hospitality, insurance, logistics, retail, steel and technology.
It also turns out a consistent stream of graduates from, among other institutions, Ohio State University, which is one of the largest in the US.
Columbus has a stellar reputation for research, thanks mainly to the Battelle Memorial Institute, the world's largest private research and development foundation.
The city hosts the headquarters of six Fortune 500 companies – Alliance Data, American Electric Power, Cardinal Health, Huntington Bancshares, L Brands and Nationwide Mutual Insurance – while the Wendy's hamburger chain was founded in the city and is headquartered in its Dublin suburb.
Foreign investment snapshot of Columbus
Investment Monitor's FDI Projects Database shows that Columbus is Ohio's most popular foreign direct investment (FDI) location, accounting for 16% of greenfield projects into the state across 2019, 2020 and 2021.
Since 2019, the city has attracted 19 greenfield FDI projects, 14 of which were new investments and only five were expansions. Across these three years, Columbus's FDI activity shows just how diversified the city's economy now is, with new FDI projects going into ten different sectors. Although there was no clear leading sector, software and IT services and logistics came out on top with four and three new projects, respectively.
As the chart above shows, the highest proportion (32%) of new FDI projects to have gone into the city since 2019 had business and professional services as the function. After that, FDI projects with a function in headquarters, manufacturing, and logistics and warehousing followed with an equal percentage of 16%.
"The Columbus region boasts a highly diversified base of companies and industries," says Deb Scherer, managing director, global trade and investment, at regional promotion agency One Columbus. "Such variety translates into market stability and because of this the Columbus region doesn't suffer from industry-specific dips like other cities might. Columbus's strategic position allows companies prime access points to the US marketplace, both for production and distribution."
The first foreign investor to come to the Columbus region was Honda, and it is still the area's largest foreign investor. The Japanese automotive company entered the region in 1979, initially for motorcycle manufacturing, but it then expanded to cars. Many others have since joined Honda in Columbus, however.
"Another notable foreign investor is DHL, which has its regional supply chain headquarters in Columbus," says Scherer. "Apart from historical investors, Columbus is attracting some interesting new ones. In 2022, France's Foresee Power, which specialises in smart battery systems for sustainable electromobility, established its US headquarters in Columbus's suburb of Hilliard."
From rust to semiconductors
As one of the so-called Rust Belt states, Ohio has suffered from the US manufacturing sector's regression, which resulted in a process of deindustrialisation, economic decline, job losses and general urban decay.
The city of Columbus has had its social and economic challenges, but it has not been sitting idly. "Columbus, like other cities in the US, has been dealing with challenges around housing and talent, and is working to address these challenges in order to grow and thrive in ways that are truly equitable and sustainable," says Scherer.
"The city and other regional partners are working to build more affordable housing units and preserve existing affordability. The city has also been focusing on initiatives to remove barriers to education and employment. The Columbus Promise, for instance, gives the possibility to Columbus city schools graduates to have tuition and fees covered for Columbus State Community College."
Much of the recent investment into the city, both foreign and domestic, shows that Columbus has moved on from its industrial past and is now a rising power in more cutting-edge sectors.
In 2022, Intel announced plans to invest at least $20bn in two chip factories in the eastern side of Columbus. It is the largest investment the state has ever received. "[This] is monumental news for the state of Ohio," said Ohio Governor Mike DeWine at the time.
"Intel's new facilities will be transformative for our state, creating thousands of good-paying jobs in Ohio's manufacturing [sector] in the strategically vital semiconductors [field]," he added. "Advanced manufacturing, research and development and talent are part of Ohio's DNA and we are proud that chips – which power the future – will be made in Ohio, by Ohioans."
Being 10% more affordable than the average US city, Columbus also offers a competitive quality of life, says Scherer. This strongly challenges the image of a post-industrial declining city, with the reality being that Columbus has diversified its business proposition and is ramping up its strengths in research, talent development and innovation.
"As a Midwest state, Ohio used to be thought of as a Rust Belt state," concludes Scherer. "Over the past ten years, however, we have undergone nothing short of an economic transformation, with areas such as semiconductors and smart batteries starting to attract investors' interest. We are the Rust Belt no more."