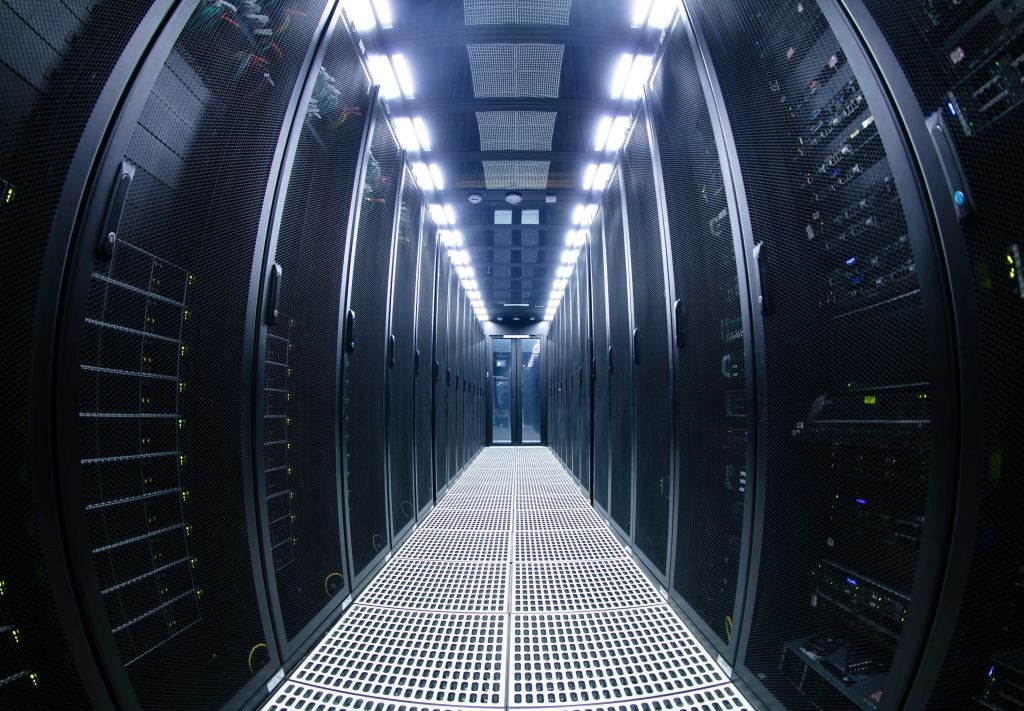 Digital technology, including data centres, has been playing an increasing crucial role in the business world and, more broadly in recent years, has been among the few sectors to emerge as winners from the pandemic.
However, technology in general is also a large contributor to global energy consumption and the more demand there is for it, and for data centres more specifically, the more pressure this space will come under from regulators and consumers alike to fall more in line with net-zero targets.
A study from the European Commission estimates that digital technologies account for between 5% and 9% of global electricity consumption and this is likely to increase with the rise of digitalisation and emerging technologies such as AI, the internet of things and blockchain.
The enormous amount of data being created on a daily basis worldwide has driven the need for companies to increasingly rely upon data centres – and the level of data used is set to skyrocket over the next three years.
The World Economic Forum (WEF) reported that, in 2020, data created daily was about 44 zettabytes and estimated that by 2025 that rate would go up to 463 exabytes daily.
Specifically looking at data centres, the chart above shows how the energy required for servers is set to soar by 2030 compared with that required in other sectors.
"We predict a combined growth of data centre electricity needs of 286 terawatt-hours [TWh] in 2016 until about 321TWh in 2030, if all currently known growth factors remain the same," Professors Martijn Koot and Fons Wijnhoven of the the University of Twente said in a paper.
Industry pressure on data centres
Large companies including Amazon, Google, Oracle and Microsoft have been investing heavily in data centres in recent years. With popularity, however, comes scrutiny and a need to fall in line with broader sustainable goals.
S&P Global Market Intelligence ran an industry survey in 2020 and published the results in its 451 Research Datacentre KnowledgeBase, showing that general awareness of data centres and their environmental impact was growing fast.
The survey focused on multi-tenant data centres (MTDCs), a part of the wider data centre industry alongside co-location and wholesale services.
"Global MTDC capacity by available power grew 62.4% in the five years through 2019, a compound annual growth rate of nearly 10.2%," the report said.
"By 2024, 451 Research projects global MTDC capacity to expand by an additional 35.2%, when it will have exceeded 32 gigawatts of electrical power available to customer IT systems.
"This is comparable to the total electricity needs of a mid-sized country such as Spain or the average consumption of California. The mushrooming of data centres has attracted attention to the growth in their resource consumption, however."
S&P Global surveyed more than 800 data centre service providers globally in the sector across more than two-dozen countries, dominated by the Australia, China, France, Germany, India, the Netherlands, the UK and the US.
The chart above shows how, in 2020, the vast majority of data centre providers globally already had either a strategic (43%) or major (41%) sustainability programme in place.
For 13% of respondents, efficiency and sustainability were not strategic issues, although they were running efficiency initiatives in specific areas. Only 2% were not factoring in the issue at all.
"While there appears to be some correlation with company size, the difference among regions is great," the report says. "Europe, Middle East and Africa-based operators on average are less strategic about efficiency and sustainability than their US-based peers (less than 30% versus 54%), but the Chinese MTDC providers stand out: 68% of them reported having comprehensive programmes."
In practical terms, companies surveyed were, for the most part, either optimising existing data centre power distribution (47%) or upgrading data centre power infrastructure.
Interestingly, however, cooling came in as a close second to those two, showing that significant steps had been taken in the industry's debate around the topic.
"Data centre cooling has been an area of significant innovation in the past ten years because of its historically high demand for energy, driven by a habit of overcooling – fans and compressors working hard all the time," the report says. "The MTDC sector has led much of the change with better-designed facilities and cooling architectures that require dramatically less energy through relaxed temperature settings, variable-speed fans and, crucially, reduced use of compressors."
Data centres undergo underwater experiment
When it comes to cooling problems, some companies are plumbing new depths – quite literally. In mid-2020, Microsoft resurfaced a containerised data centre that was submerged 36m underwater off Scotland's Orkney Islands, where it had been operating for two years,
The rationale behind the experiment – dubbed Project Natick – was that a sealed container on the ocean floor could provide ways to improve the overall reliability of data centres.
On land, corrosion from oxygen and humidity, temperature fluctuations and bumps and jostles from people who replace broken components are all variables that can contribute to equipment failure.
These data centres use heat exchange plumbing that is usually found in submarines. This could change the way data centre providers talk about going green by having small, containerised units located closer to a customer's location to reduce latency and maintain energy efficiency, given that it is stored deep in the ocean.
This would eliminate the need to construct large data centres on land, which means no multiple cooling systems, air conditioning or office complexes.
During monitoring and assessment at the end of the two-year experiment, the Microsoft team concluded that underwater data centres have one-eighth the failure rate of data centres on land.
"We are now at the point of trying to harness what we have done as opposed to feeling the need to go and prove [what we are doing]," said Ben Cutler, a project manager in Microsoft's Special Projects research group, who leads Project Natick. "We have done what we need to do. Natick is a key building block for the company to use if it is appropriate."
How is Digital Realty innovating with data storage?
Two years on from the S&P Global Market Intelligence report, companies are still working hard towards building sustainable data centres and have made further improvements to their efficiency and sustainability programmes.
"Data centres have become the central nervous system of the global digital economy and can enable the kind of transformation we need to see," says Aaron Binkley, vice-president of sustainability at data centre provider Digital Realty. "However, technology can also contribute to the challenge – data centres themselves consume energy. The industry therefore sits at the crossroads of the sustainability challenge."
Back in 2020, Digital Realty set aggressive science-based carbon emissions targets with the Science-Based Target Initiative.
To reach these targets, the company looked across the breadth of its business to see how and where it was having the biggest impact and identified three areas of focus as a result: designing and constructing more sustainable data centres; finding new ways to power them; and driving continuous improvement in how it operates them.
Supporting the development of new renewable energy supplies and exploring ways to reduce reliance on fossil fuels was the main focus to reach the second objective.
"We currently have 100% renewable energy powering our European portfolio and our US co-location businesses," says Binkley.
"We also use pioneering dock and river water cooling schemes in Marseille and London, ground-sourced cooling in South Korea, which leverages local resources to naturally cool our sites, and the use of deep-well aquifers to cool our data centres in Amsterdam. This approach returns all the water to its source and reduces our cooling system's energy consumption, dramatically reducing our emissions."
In terms of continuously improving operations, Digital Realty is investing in new technologies to improve performance and reduce overall environmental impact.
"We have more Energy Star certifications than any other data centre provider," says Binkley. "In Sweden, we have been an active partner of the Stockholm Exergi Open District Heating Initiative since 2015, a project that enables waste energy to be used to heat surrounding homes. We contribute to similar projects in Switzerland and Austria, and have plans to do the same in France when the infrastructure is in place in 2025."
Equinix targets data centre sustainability and efficiency
Reaching 100% renewable energy coverage across its existing and future data centres is also a crucial focus of Equinix's efficiency and sustainability agenda.
"A key component of our climate-neutrality goal is to reach 100% renewable energy coverage across both existing and future data centre sites by 2030," says Michael Winterson, managing director of Equinix Services, a unit of digital infrastructure company Equinix. "Since we became a founding signatory to the EU Climate Neutral Data Centre Operator Pact, we have made tremendous progress toward that goal, reaching 95% renewable energy consumption in 2021."
In line with this goal, the company recently signed a wind power purchase agreement with the Björkliden wind farm in Finland, which will be used to power both Equinix customers' IT equipment and its overhead load.
The company is also developing new technologies to build green and sustainable data centres. For example, it is working towards generator-less data centres.
"Working in partnership with Bloom Energy, we are testing solid oxide fuel cells as a potential replacement for traditional diesel generators and uninterruptible power supply units," says Winterson.
Achieving sustainability targets is not an endeavour that can be undertaken on its own, so Equinix has joined forces with a number of industry consortia that work towards the same goals.
As part of this effort, it has established the Co-Innovation Facility in Washington, DC to partner with leading enterprises to develop and test new methodologies.
It has also joined the EcoEdge PrimePower consortium along with six other companies to support the further development of low-carbon fuel cells, which received a grant of €2.5m from the Clean Hydrogen Partnership, part of the European Commission's Horizon Europe programme.
"The fuel cells use a unique tri-fuel design, allowing them to consume whichever fuel source is locally available: natural gas, green hydrogen or liquefied petroleum gas," says Winterson. "Each of these fuels can be transported over existing pipelines, meaning the fuel cells can be easily integrated into data centres without expensive infrastructure upgrades.
"Replacing traditional generators with alternative power solutions such as fuel cells will not only reduce carbon emissions but also cut capital expenses, shrink data centre footprints (allowing them to be deployed easily in densely populated areas) and minimise time and resources required for maintenance."
Airflow management, high-density cooling and intelligent power management are other areas in which Equinix is investing to research new technologies.
"Equinix data centres include physical barriers that help contain cold air in supply aisles (to keep data centre equipment cool and functioning properly) and hot air in exhaust aisles (to remove waste heat from the data centre as quickly as possible)," says Winterson.
"By minimising the amount of air mixing between the cold and hot aisles, we can ensure the most efficient distribution of cooling air possible, and therefore minimise the amount of power dedicated to cooling."
Traditional air cooling may no longer be enough to support new power-dense technologies such as AI. To address that, Equinix is investing in liquid cooling technologies as an alternative.
Intelligent power management – delivering the right amount of power to the right place at the right time – is another important focus. "No matter which technologies are being deployed in data centres or what energy sources are used to power them, it is impossible to maximise energy efficiency using manual power monitoring and delivery methods," says Winterson.
"By deploying sensors to identify potential energy waste and leveraging software management platforms to adjust accordingly, the data centre of the future will ensure power is delivered to equipment in the most efficient, uniform way possible.
"One example of this is our work with Virtual Power Systems and Natron Energy to support the development of a software-defined power management solution. When used together with our cabinet-mounted battery energy storage solution, the software-defined power solution can help manage power draw and limit power stranding to nearly 0%. We estimate that proper use of this solution could improve power efficiency in data centres by as much as 30–50%."
The need for data will keep on growing and so will its impact on the environment. Data centre providers are acutely aware of the importance of harnessing an efficiency and sustainability programme and it seems like efforts will continue to be made in this direction.