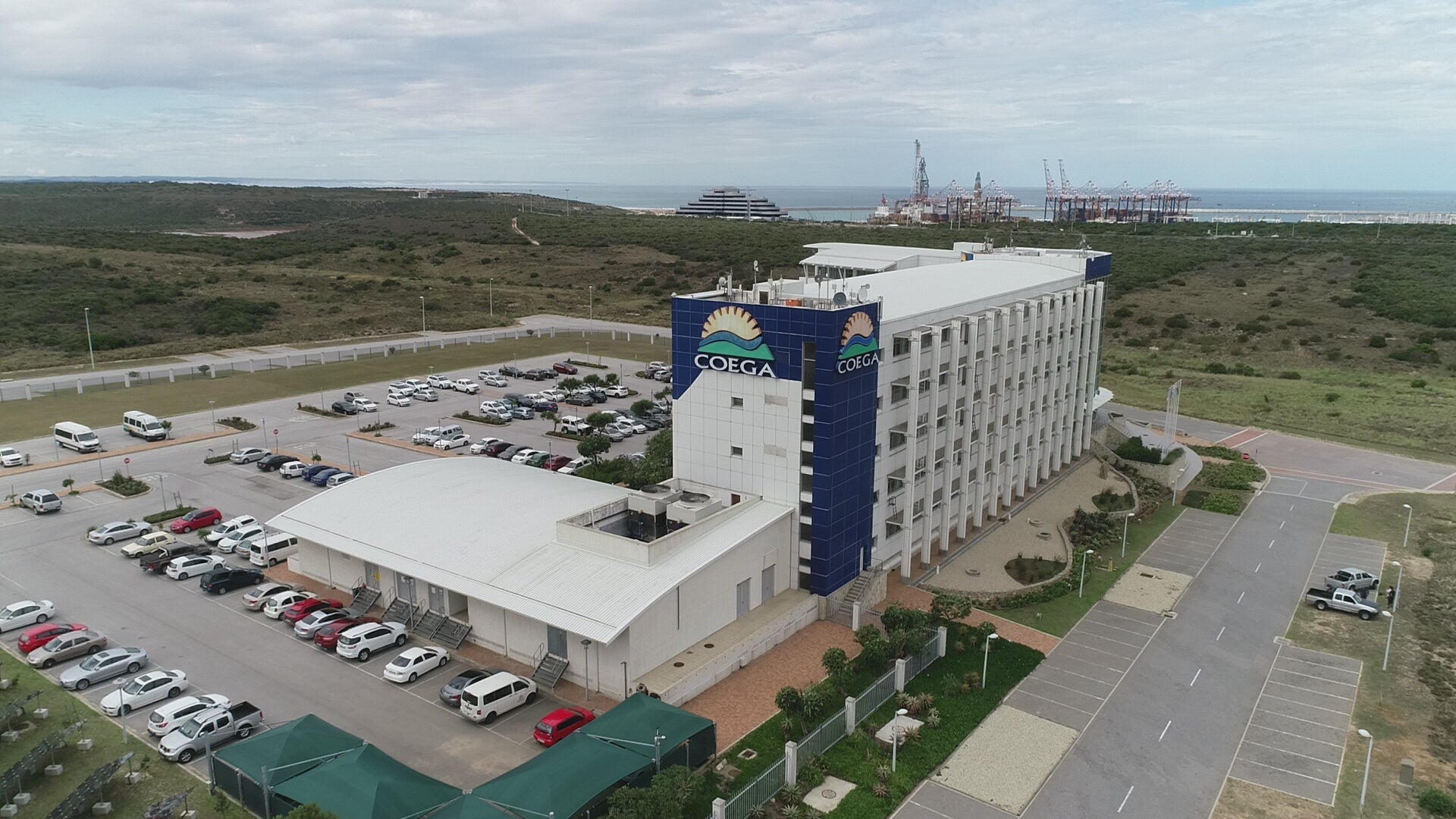 South Africa's 9,003-hectare (ha) Coega Special Economic Zone (SEZ) is fully equipped and ready for international investors to 'plug and play'. The Zone's developed infrastructure, sustainability focus, incentive programmes, investor support services, alongside the region's ready labour force, means that Coega is a prime location for businesses across multiple sectors – including business process outsourcing (BPO) and communications, automotive, energy, and more – to establish a footprint in Africa or expand further.
The Coega SEZ is the place for today's investment to fuel tomorrow's sustainable growth.
Located in the bustling, world-class city of Gqeberha in the Nelson Mandela Bay Municipality, the Coega SEZ is located on the main southern hemisphere east-west shipping routes. The Zone is served by two ports, with the deep-water Port of Ngqura serving as a designated hub for container traffic, while the Port of Gqeberha operates as a container, vehicle, breakbulk and bulk terminal. Volkswagen South Africa and other leading OEMs export new vehicles to the rest of the world through these ports.
CDC results from December 2021 found that 83% of its operational investors said the Coega SEZ is a suitable location for their business, with 91.6% saying they would encourage other businesses to establish operations within the Zone. Similarly, 91.7% of investors said their key performance indicators had improved since moving to the Zone.
Belgium-based green energy production company Electrawinds installed the Coega windfarm, the first commercial windfarm in South Africa. Additionally, Spain-based automotive company Grupo Antolin has established a warehouse and offices in Coega SEZ. Moreover, Chinese-based automotive companies BAIC and FAW established CKD manufacturing facilities for local and export markets in Coega SEZ. Recently, another Coega SEZ investor, Orion Engineered Carbons, increased its exports of black carbons to Europe. DHL is one of the recent investors in the Coega SEZ. In the energy sector, Hive Ammonia South Africa, backed by Hive Energy and Built Africa, is planning to invest $4.6bn in a green ammonia plant to produce 780,000 tons of green ammonia a year for export to world markets. The export list will include the Far East, Europe and the US. Below is a Coega map indicating its energy products: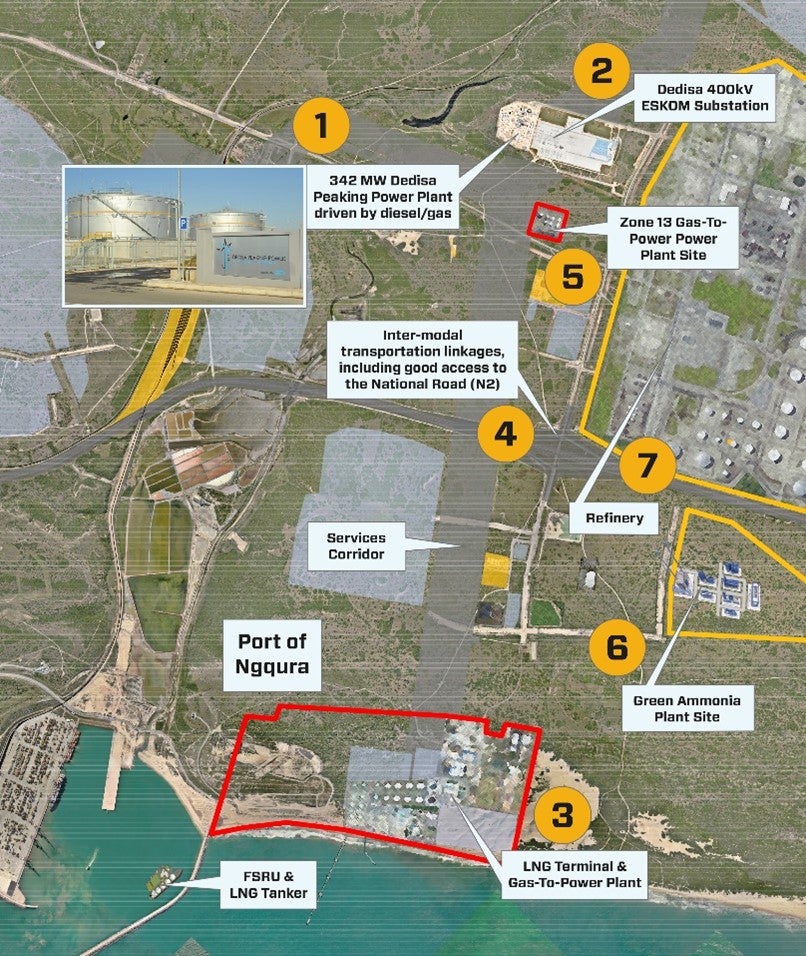 The CDC's high-performance ethos is grounded in its commitment to sustainable development, the protection of its people and the planet, and the delivery of infrastructure solutions that support a just social and economic transition to a low-carbon, resource-efficient and climate-resilient future.
Overall, South Africa accounted for 26% of FDI into Africa in 2021, with 219 greenfield FDI projects last year, GlobalData research found. The country also recorded the most FDI growth on the continent when comparing countries' FDI projects from 2019 to 2021.
South Africa does face certain challenges including power supply issues and high unemployment. However, one researcher found that the state-owned power company Eskom preserves supply for large industrial users and essential services, even during power cuts, translating to minimal interruptions for certain businesses. The jobless rate hit 32.9% at the end of the third quarter of 2022, down from 33.9% in the second quarter, according to the government's quarterly labour survey. In addition, there were about 370,000 more people employed in the first three months of 2022 than in the last quarter of 2021. Coega itself created 19,199 new jobs and trained 3,296 people last year, according to the Coega 2021–2022 Annual Report (Audited Results).
Meanwhile, with 10,000 potential employees in the Coega precinct, including the BPO Park, alone, Coega has actively worked to train labour in close collaboration with the adjacent Nelson Mandela University and other tertiary institutions. The most recent World Bank data shows that South Africa spent 6.6% of its GDP on education in 2021, and companies setting up shop in the economic zone will not be hard-pressed to find skilled labour. Additionally, Coega has created an online portal that investors can utilise to find skilled employees.
CDC has invested heavily in developing space and world-class infrastructure to meet the needs of a sustained organisational focus on investment attraction and retention for back of office operations outsourcing.
The Coega BPO Park is ideally situated for businesses serving Europe, Africa and South Africa and is particularly well-placed to serve the English-speaking world. The Coega BPO building has top-notch facilities, accommodates more than 1,500 seats and covers 16,600m2. The Coega BPO Park also offers customisable space that will meet user requirements at competitive rates.
Furthermore, it will provide in-house recruitment and training and development support. Companies already operating in the park include South Africa's Discovery Insurance Group and global technology solution service provider Startek.
Africa falls behind other regions in terms of attracting BPO, but South Africa is making a strong case for companies to do their BPO in the country through devoted infrastructure and human capital development.
Split into 14 specialised zones, Coega is the biggest SEZ in South Africa, of which 5,730ha (63%) is developable land. As of March 2022, the overall percentage of developable land that is operational stood at 16.8%. However, operationality is heavily dependent on zoning; for example, zone 1, which is in high demand for port logistics activities, is 54% operational.
With incentives ranging from the 12I Tax Allowance Incentive, Automotive Investment Scheme, Global Business Services Incentive and Capital Projects Feasibility Programme, to mention a few, Coega SEZ is well-positioned to support businesses in the zone, providing some of the most affordable rates for developed and zoned industrial land in Africa.
For more information on the benefits of expanding or establishing your business in the Coega SEZ, download the document below.