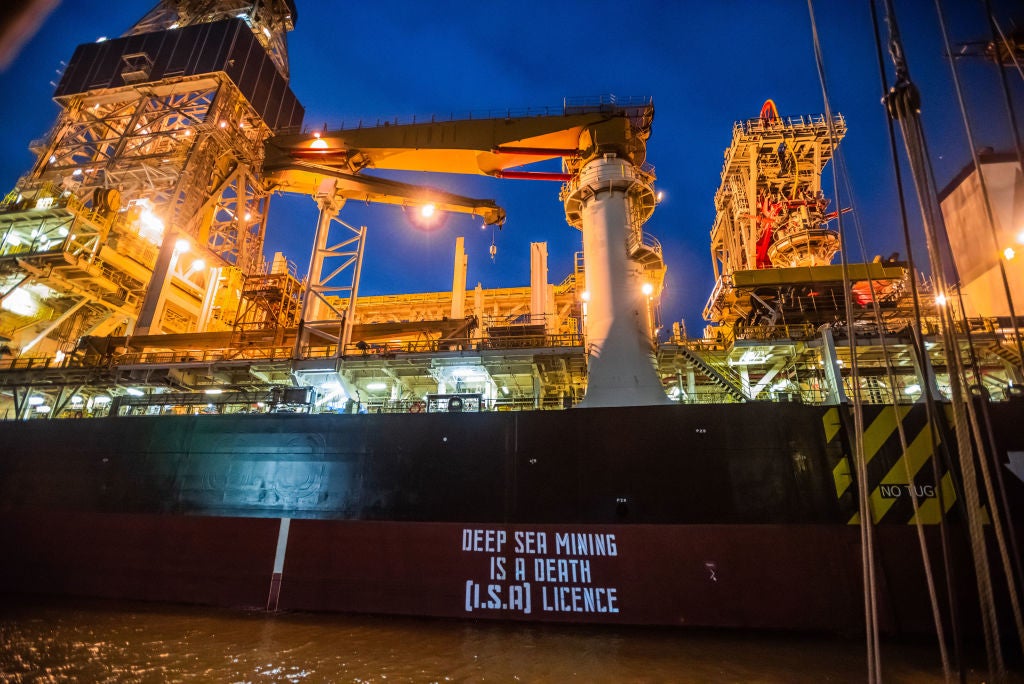 The treasures of the deep have enticed mining companies for several decades. The seabed is made up of a rich variety of metals and minerals. It is only in recent times that it has been technologically possible and commercially viable to exploit these resources, but deep sea mining has been stalled by a growing international dispute about potential environmental harm.
Mining activities in international waters are regulated by an autonomous intergovernmental body called the International Seabed Authority (ISA). To date the ISA has awarded 31 exploration contracts, although no contracts for mining have been awarded, or even considered. This is because the ISA has not agreed a regulatory framework for deep sea exploitation.
In July 2021, the pacific island of Nauru triggered a treaty provision that requires the ISA to introduce regulation within 24 months. Nauru and The Metals Company (TMC), a Canadian-based mining start-up that Nauru is sponsoring, were attempting to accelerate approval for a mining licence having already undertaken exploration.
Yet this attempt to call the ISA's bluff may backfire. Although the treaty says the ISA must consider and provisionally approve any application if the regulations are not in place before the deadline, this is not binding.
Over recent years, awareness of deep sea mining and its potential environmental impact has spread. This has led to growing opposition to the nascent industry from governments and major companies around the world.
At recent ISA meetings it has been clear that many aspects of the regulations remain contested and a growing number of countries back a moratorium on exploitation of the seabed. Its next meeting, scheduled for March, could be the last chance for deep sea mining advocates to push for a resolution on the regulations.
"I really think 2023 is the critical year for deep sea mining", says Louisa Casson, senior political strategist at Greenpeace International. "It will either see a killer blow given to the industry, or it may be able to [use] every tool and trick it can to give itself a lifeline."
What does deep sea mining involve?
The area of the Pacific Ocean seabed that Nauru and TMC hope to exploit is known as the Clarion-Clipperton Zone, which is home to hundreds of billion of tonnes of valuable metals including polymetallic nodules, which are potato-sized lumps covering the bottom of the ocean at about five kilometres deep. They are formed of manganese, nickel, copper and cobalt, which has gradually accumulated over millions of years.
While the polymetallic nodules have attracted the most interest from mining companies, there are also deep sea vents and cobalt-rich crusts in shallower seas that could be exploited for metals. To do so would involve disturbing the sediment on the sea floor, potentially destroying barely understood ecosystems and any living organisms caught in the crossfire.
The process also creates a plume on the ocean floor as well as one that is released into the water as the mining vessel captures the metals and deposits back, plus anything else collected in the operation.
The full environmental impact of the commercial scale reaping of the sea floor is not fully known given it has not been attempted, but many scientists say it could be catastrophic for sea life.
Rising political opposition to disturbing the seas
Since Nauru set the clock running on the two-year deadline, the list of countries opposing deep sea mining has grown. It includes Chile, Costa Rica, Germany, New Zealand, Panama, Spain and a number of Pacific island states.
At the COP27 summit in Egypt in November 2022, President Emmanuel Macron of France clarified his country's position, saying he opposed deep sea mining permits but supported exploration. "The oceans must be what space was, in essence, a few years ago: a new frontier for cooperation and multilateralism", he said.
Casson says that the profile of deep sea mining has risen dramatically in recent years, thanks to scientists and pressure groups drawing more attention to the environmental issues connected to it. This in turn has made governments more sensitive to the risks involved.
At the UN Biodiversity Conference (COP15) in December 2022, signatory countries agreed a target of protecting 30% of the planet for nature by 2030. "Of what we know of it, deep sea mining would lead to irreversible impacts, unavoidable harms and potential extinctions," says Casson. "These are not good outcomes for governments if they are serious about upholding their commitments to nature."
The commercial case for deep sea mining
The attraction for mining companies is the vast deposits of metals such as nickel an cobalt that are essential to the manufacture of electronic devices and batteries, the demand for which is expected to grow strongly as countries transition from petrol cars to electric vehicles.
According to data from S&P Global Market Intelligence, global cobalt supply will outstrip demand this year and next, but by 2026, demand will reach 256,000 tonnes (t), while only 242,000t will be supplied.
The Clarion-Clipperton Zone is estimated to hold around 46 million tonnes of cobalt, and 270 million tonnes of nickel.
Yet the demand argument is undermined by an increasing number of car and battery manufacturers making statements against deep sea mining.
BMW, Volvo, Google and Samsung have all signed a petition calling for a moratorium on deep sea mining. Battery producers Tesla and Panasonic have previously said that they intend to develop cobalt-free batteries in the future due to human rights concerns linked to its extraction.
Deep sea mining companies face financial troubles
During an earnings call on 15 November 2022, TMC CEO and chairman Gerard Barron said that the company had just 12 months of cash on hand to reach commercial production. Without approval of a regulatory framework in July 2023, the company faces a worrying future.
TMC would not be the first deep sea mining company to fail. The first exploration project in the world was undertaken by Papua New Guinea and spent $120m (K422.86m) backing developer Nautilus, which eventually fell into administration in 2019 having failed to reach commercial operations.
The costs involved for exploration of the seabed are significant, and investors in these projects were already assuming a lot of risk shouldering these costs without any exploitation regulations being in place.
Even if deep sea mining in international waters is kicked into the long kelp, nations are still entitled to dig in their own national waters. Norway introduced a seabed mining law in 2019 and the following year the Cook Islands granted its first exploration licences after agreeing a mining code.
If the ISA misses the deadline, it won't mean the opportunity to exploit the seabed is gone. However, it will add further uncertainty, making it difficult for projects already under way to continue, and likely deter future investors in the industry.