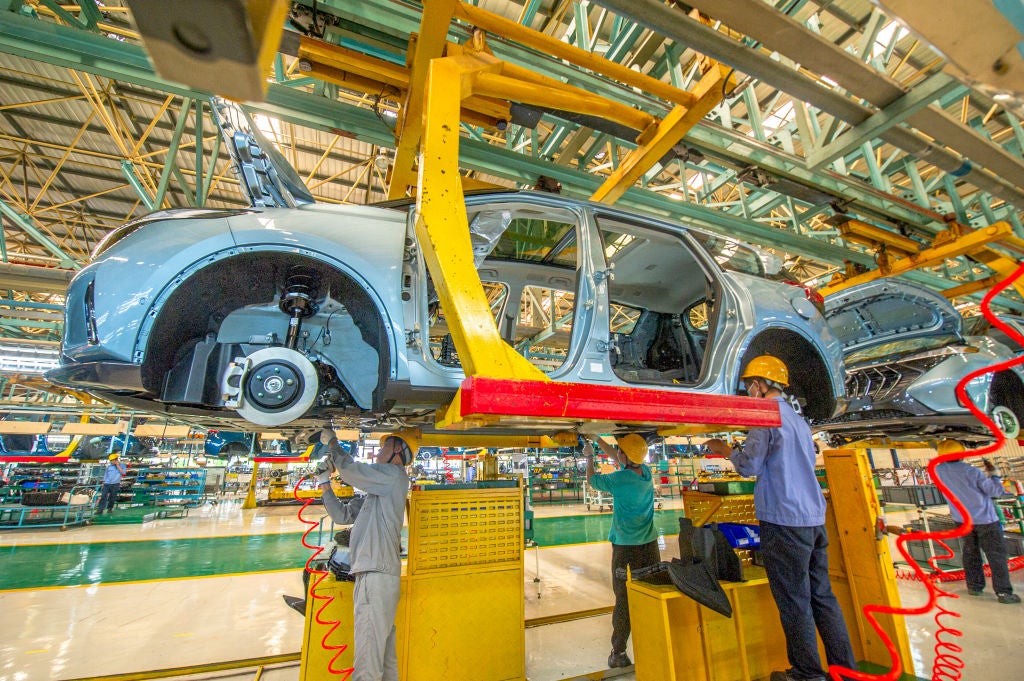 The Covid-19 pandemic caused overall greenfield foreign direct investment (FDI) project numbers to decline by 17.4% in 2020. Most sectors were negatively impacted, with lockdowns making site selections near impossible.
The automotive sector, as with many other manufacturing sectors, took a hit during the pandemic. Our FDI Projects Database shows that automotive greenfield projects declined by 19.7% between 2019 and 2020, going from 783 to 629 globally.
Out of the 1,412 projects over the course of this two-year period, nearly two-thirds were new projects and the rest were expansions. Between 2019 and 2020, expansion projects experienced a more pronounced slowdown (-25%) than new projects, which shrunk by 16.6%.
Where are the leading destinations for automotive FDI?
Asia-Pacific was the leading region in terms of greenfield FDI attraction in 2019 and 2020, despite a 52.2% year-on-year drop in the latter. The region still managed to attract a total of 306 projects, 21.7% of the global total.
Western Europe followed closely, with a total of 301 projects. The region was the best performing over the two-year period in regards to withstanding the worst of the pandemic, with a 23% growth in projects in 2020.
Central America and the Caribbean took the hardest hit, with projects going from 89 in 2019 to 43 in 2020, a drop of nearly 52%.
North America's levels of greenfield FDI into automotive remained stable over the two-year period. The US attracted the majority of these investments – 216 of the 241 total.
Despite taking a significant hit during the pandemic, Mexico and India still came out second and third as automotive FDI destinations, with 124 and 117 projects, respectively.
Germany, which had a healthy 27.5% growth over the two-year period, came fourth with a total of 116 projects.
What are the top automotive operations?
Despite taking a hit in 2020 because of the pandemic, manufacturing was the top function for greenfield FDI in automotive projects over the two-year period. Companies created 750 new projects in manufacturing, despite dropping by 39% year on year, going from 467 in 2019 to 283 in 2020.
Projects in automotive sales, administration and marketing saw the biggest increase in terms of FDI projects between 2019 and 2020, going up 74% from 81 in 2019 to 222 in 2020.
R&D and maintenance and repair operations came third and fourth, respectively, with 144 and 100 projects, representing slowdowns of 11% and 4%.
Training operations saw the biggest drop between 2019 and 2020, going from 18 projects to only two, an 89% drop.
What are the top subsectors for automotive FDI?
Automotive goes beyond the manufacturing of cars and means of transport, and includes a wide number of subsectors. Other parts and accessories for motor vehicles, for instance, was the largest subsector in the two-year period from 2019 to 2020, registering 353 FDI greenfield projects globally.
FDI projects in the manufacturing of passenger cars accounted for 23% of total projects in the automotive sector, coming second with 327 projects.
Net-zero goals have been increasing investor focus on the electrification of transport, which is mirrored by the respective third and fourth places of the subsector table being occupied by automotive electrical and electronic equipment and electric and hybrid vehicles, with 140 and 135 projects, respectively.
Where are the leading automotive investors located?
Perhaps unsurprisingly, our FDI data shows that Germany was the largest investor in the automotive sector globally in 2019 and 2020. The country invested in 341 outbound FDI projects, even though activity in the sector decreased in 2020.
The US's level of investment in automotive FDI increased by 12.4% over the period, going from 89 projects in 2019 to 100 in 2020. While suffering a 57% year-on-year drop, Japan's FDI in the sector still came in third at a global level, with 183 new projects across the two years.
China, which also invested 35.1% less in the sector in 2020 compared with 2019, came in fourth position having financed 122 projects in total. Among the countries that invested significantly more in automotive in foreign expansions in 2020 versus 2019 were the Netherlands (127%) and Italy (100%), with 36 and 30 new projects, respectively.