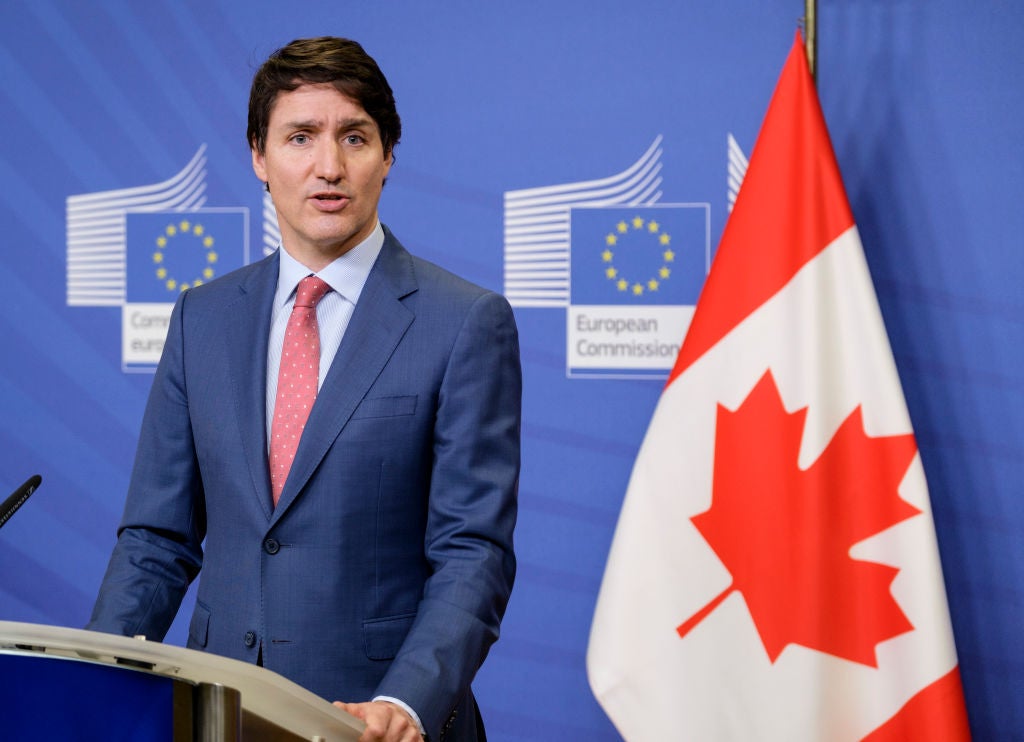 When global electric vehicle (EV) sales rose by 43% in 2020, Canada spotted an opportunity to leverage its lithium reserves and pivot its existing automotive sector – with includes operations of major companies such as Stellantis, Ford, General Motors, Honda and Toyota – to position itself as an EV leader.
Since then, investment into the country's EV and battery production sectors has come in the billions. Following the April 2022 federal budget announcement, Prime Minister Justin Trudeau highlighted the EV sector and connected supply chain as a key focus for the country's economy. Speaking at a press conference in Victoria, Trudeau said: "We are making smart, targeted investments to [make EVs easier to access]."
More specifically, the Canadian budget saw $2.9bn (C$3.67bn) earmarked for the building of a domestic critical metals supply chain, something widely considered to be crucial to implementing a successful and sustainable EV sector.
Liz Lappin, president and director of the Battery Metals Association of Canada, says: "There are no EVs without the raw materials that go in them, and all the refining and manufacturing steps along the way to make specialty chemicals and materials for batteries. Each step needs investment."
So what has Trudeau's government done with regards to tapping into its resources, and how imminent is a robust EV-centric supply chain for Canada?
Reaching the reserves to push Canada's EV drive
With an estimated 2.9 million tonnes of lithium (or 4% of global reserves), Canada's reserves are vast but they are also in remote locations and locked in the Canada Shield – a vast region of Pre-Cambrian igneous and metamorphic rock shield.
At a Wilson Centre talk in November 2021, Trudeau highlighted that mining and processing these hard-to-reach resources in an ethical and sustainable way was going to be expensive, but he added: "That is the trade-off people are waking up to, particularly post-pandemic, because [these resources] are more than worth it."
Through the aforementioned $2.9bn slice of the federal budget, the country appears to be committed to mining this notoriously tricky reserve, and working out the most environmentally friendly way to do this.
Katie Curran, interim CEO at investment promotion agency Invest in Canada, believes that this problem could provide an opportunity for investors. "Most of the critical minerals needed for battery manufacturing are in northern and remote areas of Canada," she says. "That reality requires continued public and private investment in the physical infrastructure needed to obtain the minerals efficiently and responsibly, and to move them to further stages in the manufacturing process."
Curran adds that mineral exploration and processing, cathode and anode production, battery manufacturing, end-use products and services (notably EV assembly) and battery recycling are the five key areas of focus for investors.
If Canada is successful in tapping into its reserves (bolstered by both government and private investment), it begs the question of how far its supply chain could stretch on a global level.
Tensions between Trudeau and Biden over EVs
With the bordering US aligning with Canada on climate change quota goals, the two countries might seem like natural partners when it comes to EVs.
In March 2021, Trudeau met with US President Joe Biden to pledge to create a supply chain in North America around EV production. This alliance was called into question, however, when Biden announced an EV tax credit that would favour US manufacturers as part of his Build Back Better Act and $1trn infrastructure bill.
Trudeau expressed concern over the impact the bill would have on Canada's auto industry and the jobs within it, and in November 2021 he entered into discussions with Biden to dissuade him from going through with the tax credit. Speaking to press following the meeting with Biden, Trudeau said: "The Americans are very aware of Canada's position on this, our concerns around it and, quite frankly, the threats it poses to more than 50 years of integrated automaking in our two countries."
Despite Trudeau's promise to continue to "find solutions" to this issue, at the time of writing Biden has announced no plans to scrap the proposed tax credit. As a result, Trudeau appears to be doubling down on his plans to bolster Canada's EV sector.
Billion-dollar investments
In early May 2022, automotive company Stellantis announced that it will spend $2.8bn to increase the production of EVs at two of its Canadian factories. This is part of the company's existing $35.5bn fund dedicated to its transition from internal combustion engines to EVs.
Approximately one-third of these funds are coming from Trudeau's government and the Ontario government as part of a $410.7m investment to support Canada's future production of EVs.
This investment followed an announcement in March 2022 that, together with LG Energy Solutions, Stellantis would invest more than $5bn in Canada's first large-scale battery manufacturing plant.
"This investment is a major step in making Canada a global hub for batteries and EV manufacturing, but it is far from the only such investment," says Curran.
Manufacturing outpaces minerals
With global demand for EVs expected to continue rising, the balance between investments into EV manufacturing and investments into mining the supplies needed to manufacture EVs in Canada is seen by some as skewed.
Curran highlights the need for cooperation with the country's regions in which the resources sit to bring a better balance. "Canada must continue its efforts to work with indigenous peoples, especially in the mining sector," she says. "Many mineral deposits are located in or near indigenous populations. Early and sustained engagement is critical to respecting Aboriginal and treaty rights, along with acquiring and maintaining community acceptance over the long term."
Yet gaining goodwill with locals is only part of the mining problem. Calgary-based E3 Metals – which changed its name to E3 Lithium on 31 May 2022 – projected that more than 300 million new EVs would be brought to market globally by 2025 and that this would require a global increase in lithium production of 500% over the next ten years.
Canada's rich resource of lithium could help the country realise its ambitions to become a global EV leader, but if the resource remains locked in the Canada Shield, progress towards an electric future will undoubtedly stall.