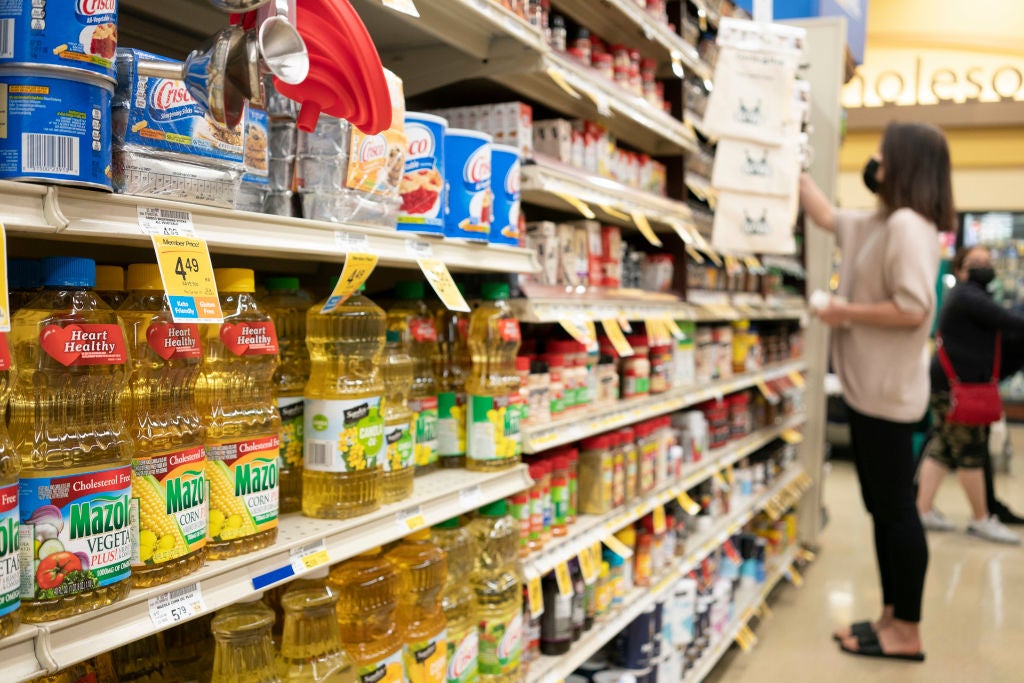 Global food prices rose by 13% between February and March 2022, according to the latest data from the UN's Food and Agriculture Organisation (FAO). That is by far the biggest monthly increase on record, a reflection of the severe supply chain issues plaguing the agricultural commodities sector.
The most severe price rises are being seen in oils and cereals (which have risen by 23% and 17%, respectively), both of which are at risk of shortages following Russia's invasion of Ukraine.
In 2021, the two countries produced 58% of the world's sunflower oil, 19% of all oats and barley and 14% of all wheat, according to the US Department of Agriculture. Much of this was produced for trade on world markets, where Russian and Ukrainian exporters accounted for 44% of rye, 30% of barley and 25% of wheat. 
The International Food Policy Research Institute has estimated that the two countries are together responsible for 12% of all calories traded on global markets.
Prices for other commodities are also rising as consumers shift their demand to substitute products. The sunflower oil shortage has driven up prices for palm, soy and rapeseed oils, while the hit to supplies of wheat, barley and rye has caused prices of sorghum to rise as well.
Food prices likely to stay high
With no end to the war in sight, the FAO expects prices to remain high for some time. Even if Ukrainian farmers are able to make their harvests, due in late April for corn and late July for wheat, yields are likely to be low. Many have been unable to fertilise their fields, whether due to high prices, military conscription or active fighting in the planting regions. The FAO expects the war to reduce Ukraine's wheat harvest by one-fifth.
The latest bout of food price inflation has added to price pressures resulting from the Covid-19 pandemic and ongoing disruption to world trade. By February 2022, prices were already 38% higher than they had been in January 2020. With prices now 55% higher than before the pandemic, the UN is warning that inflation is "imposing extraordinary costs on global consumers, particularly the poorest".
Consumers in the Middle East are particularly reliant on Black Sea grain, with Ukraine accounting for 96% of Lebanon's wheat imports. Food prices in Lebanon have already risen by 628% in the past two years, the result of an economic crisis that has left 77% of the population unable to afford basic nutrition. Egypt, struggling to fund its bread subsidies in the wake of rising prices, has turned to the International Monetary Fund for support. 
The crisis is being exacerbated by a slew of export restrictions, as producer countries race to secure their own supplies. Thirteen countries have introduced food or fertiliser export restrictions since the war began, according to the World Bank, including Russia, Ukraine, China, Kazakhstan, Egypt, the UK and Indonesia.
In March, World Food Programme executive director David Beasley warned that, without billions of dollars in additional aid, the war in Ukraine would bring "famine, destabilisation and mass migration" to the Global South.
"If you think we've got hell on earth now, you just get ready," he said.