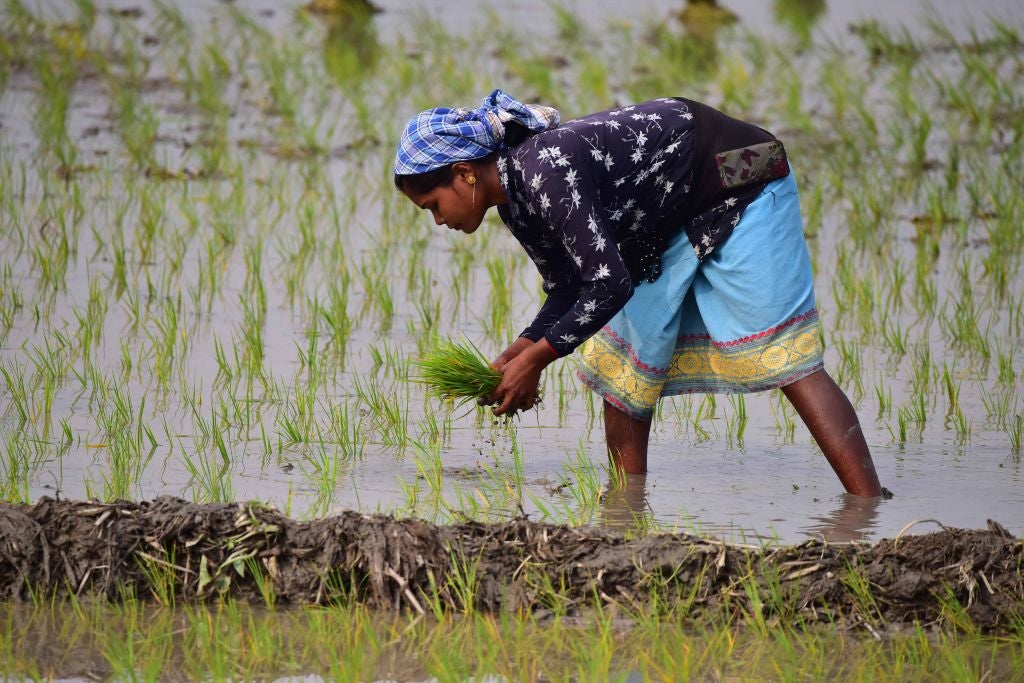 Rice is the third-most cultivated cereal crop globally, after maize and wheat. It is a vital staple food for the world's population and critically important to many developing countries, particularly in Asia.
However, rice is facing numerous challenges. Rice is a highly water-intensive crop and its sustainability is put in doubt by the climate crisis and growing water scarcity issues. The use of fertilisers and pesticides in rice paddies is also harmful to the environment.
China and India represent more than 50% of global rice production. In 2019, China produced 211.4 million tonnes of rice, equivalent to 28.2% of the world's total, while India produced 177.6 million tonnes, or 23.7% of global production.
The top nine rice producers are in Asia and make up 85% of global production. Asian countries also lead the way in rice exports, with India the top exporter in 2019 with a total of $6.8bn exported, according to the UN's Comtrade. Thailand is the second-largest exporter ($4.21bn), followed by Vietnam ($2.43bn) and Pakistan ($2.27bn). The US comes in fifth with $1.88bn worth of rice exports in 2019.
Rice's sustainability challenges
The widespread cultivation of rice and the demand for this versatile crop creates serious environment and social damage, but the Sustainable Rice Platform (SRP) is working to mitigate some of the problems caused by rice production.
SRP is a global multi-stakeholder organisation originally co‐convened in 2011 by the International Rice Research Institute, the UN Environment Programme and the German Agency for International Cooperation.
SRP is now an independent membership association comprising more than 90 institutional members from public and private sector stakeholders, research, financial institutions and NGOs. The SRP's stated aim is to transform the global rice sector by:
improving smallholder livelihoods
reducing the social, environmental and climate footprint of rice production
offering the global rice market an assured supply of sustainably produced rice to meet the growing global demand for rice
In 2015, the SRP launched the world's first-ever voluntary sustainability standard for rice – the SRP Standard for Sustainable Rice Cultivation. The first SRP Standard-compliant rice was produced by farmers in Ratchathani, Thailand, in 2017. The project was piloted by the Better Rice Initiative Asia (BRIA), in cooperation with the Thai Rice Department.
One of the main challenges with rice cultivation is that it is a thirsty crop. According to the World Wide Fund for Nature, rice requires between 2,000 and 5,000 litres of water per kilogram of crop.
This reliance on water makes it particularly vulnerable to the droughts brought about by the climate crisis. At the same time, the use of fertilisers and pesticides in rice paddies and the flooding cultivation method produce methane emissions and water pollution.
The way in which rice is cultivated, in rice paddies (flooded fields), prevents oxygen from penetrating the soil, as it is blocked by the water. This causes bacteria to proliferate and emit methane.
Introducing methods that reduce flooding will not only see a decrease in methane emissions but also make the crop less water-intensive. It could also potentially increase yields.
Support for smallholder rice farmers
Shifting towards more sustainable rice production methods will also bring positive outcomes for smallholder rice farmers, according to the SRP.
The alliance highlights that rice provides livelihoods for nearly one billion people but that these livelihoods lack resilience. According to the SRP, "the world's 144 million rice smallholders disproportionately bear the risks of production, but are inadequately equipped to safeguard their livelihoods against turmoil – ranging from the current Covid-19 pandemic and its health and economic impacts, to the climate crisis".
At the end of 2021, the SRP had 22 registered SRP projects active in 19 countries globally. Together, the projects involved a total of more than 400,000 farmers, contributing to SRP's goal to reach one million farmers adopting climate-smart, sustainable practices by 2023.
More rice without more environmental damage
Producing more rice and minimising the negative environmental impacts that come with it is definitely a challenge, and even more so as the global population continues to increase. A recent paper in the scientific journal Nature analysed 32 rice cropping systems – covering half of the global rice harvested area – and showed that "achieving high yields and high resource-use efficiencies are not conflicting goals".
The study assessed the yield gap and resource-use efficiency (including water, pesticides, nitrogen, labour, energy and associated global warming potential) and showed that most cropping systems "have room for increasing yield, resource-use efficiency, or both".
Additionally, the study showed that – in aggregate – total rice production could be increased by 32%, and excess nitrogen almost eliminated.
Innovative ways of producing rice to feed the world are being trialled. China, one of the world's largest producers and consumers of rice, is looking into rice production in seawater. Salt-tolerant strains are reported to produce higher yields than other strains of rice, making them an attractive option as China seeks to increase its food security.
Traditional rice production is tough on both smallholder farmers and the environment, but the crop is essential to achieving food security. Steps such as the ones backed by the SRP's projects could help to increase rice sustainability while helping achieve the UN's Sustainable Development Goals. These could help us all feel more certain of the sustainability credentials of our rice bowls and paellas.
This is the fourth in a series of articles profiling big crops. Previously, we covered wheat, maize, and soybean production.