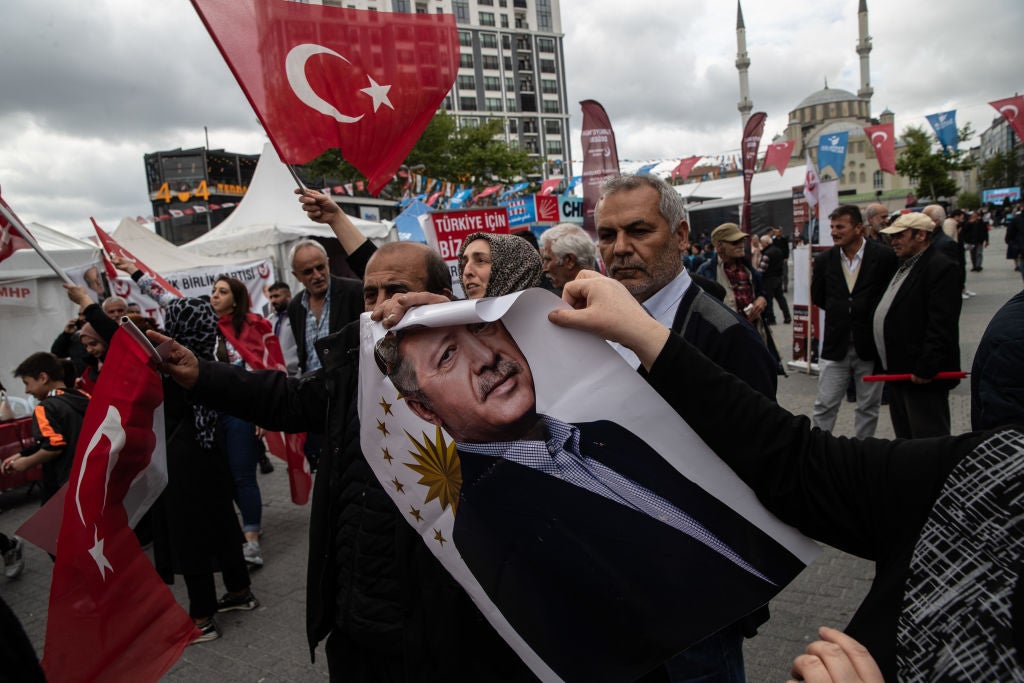 Turkey's general election, which includes the parliamentary ballot as well as the first round of presidential elections, takes place on Sunday 14 May, and it is set to be one of the most tightly fought in the country's modern history.
The outcome will not only shape Turkey's political and economic landscape, but also its relationship with other Nato members, as well as its attractiveness to foreign investors.
The elections come at pivotal time for Turkey as it copes with a struggling economy and the aftermath of a devastating earthquake in early February that claimed an estimated 50,000 lives in the country and left millions homeless.
The World Bank estimates that the two earthquakes in south-east Turkey in February 2023 caused an estimated $34.2bn (Tl671.63bn) of direct physical damages in Turkey, the equivalent of 4% of Turkey's gross domestic product in 2021.
All eyes on Erdoğan
The presidential elections are attracting global attention because Recep Tayyab Erdoğan, the incumbent, authoritarian leader who has dominated Turkey's political scene throughout the 21st century, is looking vulnerable to the threat from his opponent, Kemal Kilicdaroglu.
Kilicdaroglu, the leader of the Republican People's Party, is a well-known figure in Turkish politics, has rallied an alliance of the six opposition parties in the Turkish parliament, and has taken a consistent (if narrowing) lead in the opinion polls leading up to election day.
In a client note on 3 May 2023, Dan Alamariu, the chief geopolitical strategist at global investment research company Alpine Macro, explained that the opposition has focused on issues such as high inflation, which is deeply unpopular with voters, as well as Erdogan's poor handling of the rescue and relief efforts after February's earthquakes.
On 10 May, Kilicdaroglu's presidential campaign received a boost after Muharrem Ince, one of other candidates running for president, withdrew. Ince had been criticised for splitting the opposition vote and potentially handing a victory to Erdoğan. Shortly before this, a poll by Konda Research and Consultancy Company had given Kilicdaroglu a lead over Erdoğan of 49.3% to 43.7%.
"All indications show that Kilicdaroglu is likely to win the presidency in the second round of the elections," says Atilla Yesilada, country advisor at business management consultancy Global Source Partners. "The parliamentary elections are less clear, and the Erdoğan alliance looks likely to lose those elections too, although it is close to call. The next real test will come in local elections in 2024, which elect the leaders of large towns and cities."
Maya Senussi, senior economist for the Middle East at Oxford Economics, believes that whoever wins the presidency will inherit an overheated economy, micromanaged through a combination of low interest rates (negative real rates), fiscal stimulus, and myriad macro-prudential and non-market measures.
"These [measures] have propelled domestic demand, fuelling the biggest cost of living crisis in Turkey in more than two decades – official inflation peaked at more than 85% – and creating the largest current account deficit in a decade, and one of the biggest among major emerging markets, 5.7% of GDP in 2022," she says. "A return to orthodoxy is needed for the economy to rebalance, but there are no quick fixes."
How Erdoğan used FDI to boost Turkey's economy
For much of the time since 2003, under the rule of Erdoğan and his Justice and Development Party (AKP), Turkey's economy has expanded and foreign direct investment (FDI) flows have increased. The introduction of the country's FDI law under Erdoğan attracted investment in many different sectors. Turkey claims to have attracted around $225bn in FDI between 2003 and 2021, compared with $15bn from 1980 to 2002, according to a report by the President's Investment Office.
Since 2018, however, Turkey's economy has suffered, with many blaming Erdoğan's unorthodox monetary policies. He has repeatedly rejected conventional economic theory, believing that lower interest rates result in low inflation. He argues that low interest rates increase productivity and investment, resulting in higher levels of employment and exports.
As a result, Turkey has suffered runaway inflation, which peaked at 85.5% in October 2022, a 24-year high. The Turkish lira has also been badly weakened. Fitch Ratings estimates that Turkey's inflation will average 56.5% in 2023. It forecasts that economic growth will slow to 2.5% this year (compared with 5.6% in 2022), principally because of the impact of the earthquakes.
In April, Turkey's central bank cut interest rates to 8.5%, despite the high inflation rates. Unlike most major central banks, it began loosening monetary policy in late 2021 when interest rates were about 19%. This has led to a further weakening of the Turkish lira. As of mid-May 2023, one US dollar equated to around 19.57 lira.
Furthermore, increasing autocratic steps, including a controversial referendum in 2017 that transferred Turkey's executive decision-making from parliament to the president's office, have spooked many onlookers, both domestic and international. Erdoğan accelerated this amendment to Turkey's constitution after a failed military coup in 2016. He also appointed his son-in-law as finance minister in 2018 and was widely criticised for interfering with the appointment of the central bank governor, a key position within the country when it comes to setting interest rates.
"Under Erdoğan there have been erratic policies along with inconsistent regulations and tax policies," says Yesilada at Global Source Partners. "Foreign investors require key things such as accountability, property rights, political stability and policy visibility."
Foreign investors told Investment Monitor that if an opposition government does win power in Turkey, it should raise interest rates and liberalise the lira. "If the opposition comes in, they should hike interest rates to 25–30% and devalue the Turkish lira. After rate hikes I would expect inflows to follow, but it would take time," expressed one Dubai-based fixed-income investor.
Chris Celio, senior economist and strategist at ProMeritum Investment Management, a London-based emerging markets hedge fund, believes that if the opposition wins there will be an influx of portfolio flows to start with, although FDI may take longer to appear.
"Companies will want to wait and see how the new government progresses on reforms," he says. "The first stages will entail a decent amount of volatility and a likely slowing of economic growth. If the new government manages to stick to reform plans ahead of [local] elections next year, then we could see some initial FDI coming in. Though some may wait and see how stable the government is."
He acknowledges that Turkey will present a difficult operating environment for a while, given that an opposition-led government will need to hike interest rates sharply and gradually remove many Erdoğan-led regulations first. Conversely, Celio adds that if Erdoğan and the AKP remain in power, limited FDI inflows, similar to those of recent years, will continue to be the norm, due in large part to excessively loose monetary policy and credit stimulus.
"These have led to lira volatility and bouts of rapid depreciation, which do not encourage international investment," says Celio. "Subsequently, the government has had to impose market-unfriendly, macro-prudential measures to stem deposit dollarisation. Banks have had to buy government securities in excessive amounts, which expose their balance sheets to interest rate risk."
Who does FDI in Turkey?
Should Kilicdaroglu prevail in the presidential elections, foreign investors are keen to see what approach to FDI and foreign relations the new administration takes. In 2021, Turkey's top export trading partners were Germany ($19.3bn), the US ($14.7bn), the UK ($13.7bn), Italy ($11.5bn) and Iraq ($11.1bn), according to the UN Conference on Trade and Development.
In 2022, Germany was the largest foreign investor in Turkey with 58 projects, followed by the US with 38, the UK with 23 and Italy with 18, according to GlobalData figures.
Although Turkey's most lucrative economic relations are with Western nations, Erdoğan and the AKP-led government have increasingly deepened trade relations with the likes of the United Arab Emirates (UAE). Turkey signed a free-trade agreement with the UAE in March 2023. It hopes to increase bilateral trade with the country to $40bn within the next five years.
In addition, Turkey maintained a neutral position towards the Russia-Ukraine war, despite being a member of Nato. It has also acted as something of a conduit between Russia and the West by, for example, facilitating a deal to export Ukrainian and Russia wheat exports via the Black Sea.
Yesilada believes that Erdoğan has steered Turkey much more in the direction of China and the East, turning a blind eye to issues such as human rights records and a lack of democracy. He adds that a Kilicdaroglu-led administration would adopt a more Western0-leaning outlook and potentially revisit the issue of EU membership. "This would benefit the Turkish economy and open more opportunities for FDI," he says.
"I believe Turkey's trade relations will only change if the opposition wins," adds Celio. "They are likely to lean more to the West, engage more with Europe and distance themselves from Russia, though this will be a tricky balance given oil and gas imports and tourism Turkey [receives from Russia, which could take a hit if it] becomes a more reliable Nato ally."
All of this leaves investors in wait-and-see mode until the results of the elections are known and the victor makes their stance clear.
"Whatever the outcome, the transition will be bumpy, and the next three to six months will carry a lot of risks," says the Dubai-based investor. "However, I am bullish for medium term... but after so many years of Erdoğan, investors will take time to put money [into Turkey]."