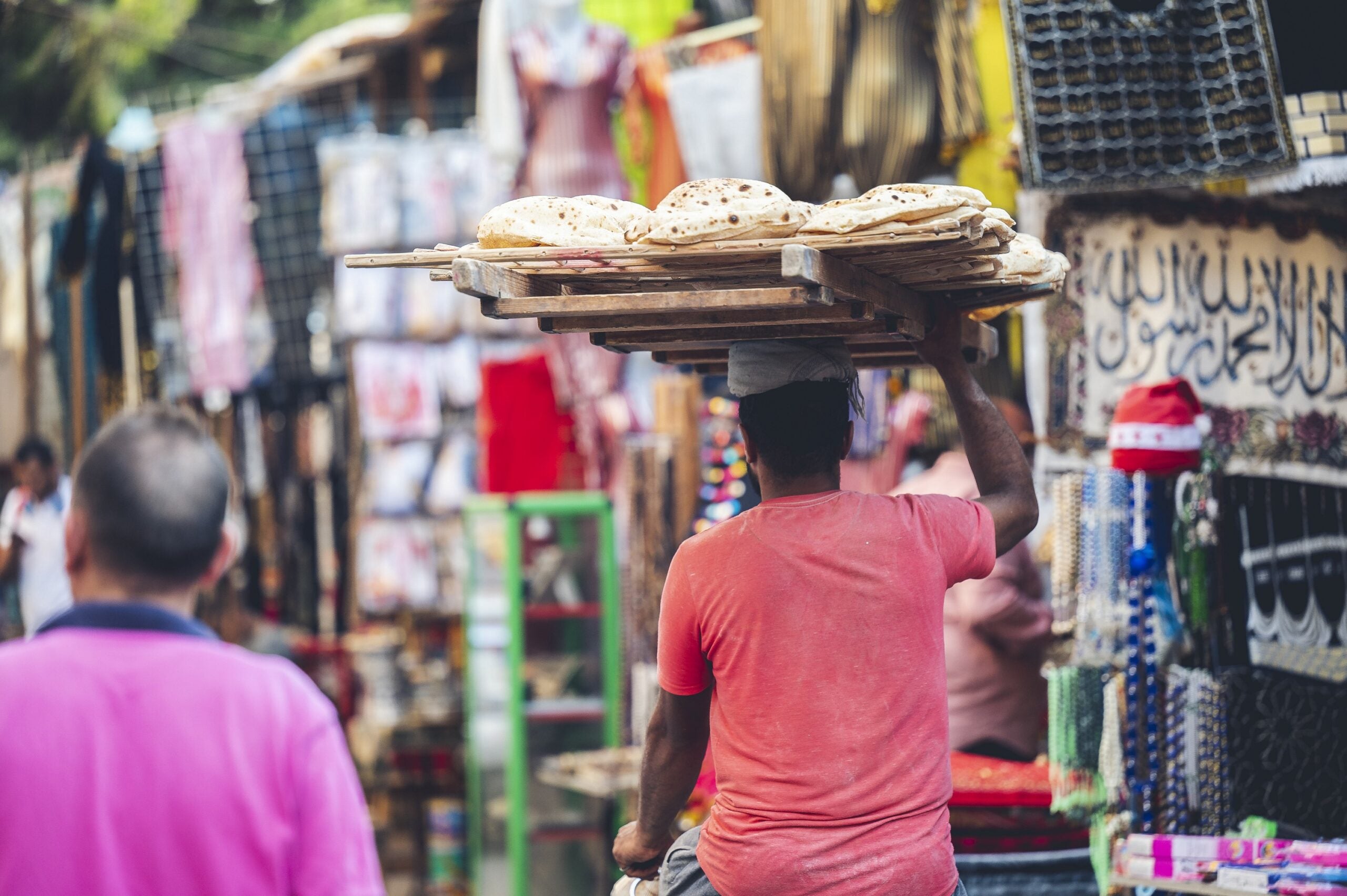 It is well documented the war in Ukraine has led to problems with the world's food supply – but while Western countries should be able to find alternative commodities or new sources of supply, that may not always be an option for poorer countries. And experts are warning the situation could have dire consequences for food security.
Last week, the United Nations' World Food Programme (WFP) set out estimates for how much "acute hunger" could increase due to the Ukraine conflict. It set out two scenarios: one for the conflict ending within the next month; and another if the war continues beyond April. In the 81 countries where the WFP has operations, the programme estimates an additional 33 million people would be hit by acute hunger in the first scenario, or an additional 47m people in the second scenario. The WFP says there were already 276m people in the grip of acute hunger before the Ukraine conflict begun.
Terrifying new data. Before #Ukraine, we already had unprecedented levels of people marching toward starvation. Now, 47 million MORE people may be pushed into hunger if the Ukraine war does not end soon.

No peace = 323 million people with no food and no hope in 2022.

— David Beasley (@WFPChief) April 7, 2022
Russia and Ukraine are among the most important producers of agricultural commodities in the world. According to the UN's Food and Agriculture Organization (FAO), in 2021 either Russia or Ukraine (or both) ranked amongst the top three global exporters of wheat, maize, rapeseed, sunflower seeds and sunflower oil. Russia also stood as the world's top exporter of nitrogen fertilisers, the second leading supplier of potassium fertilisers and the third largest exporter of phosphorous fertilisers.
"Both countries are net exporters of agricultural products, and they both play leading supply roles in global markets of foodstuffs and fertilisers, where exportable supplies are often concentrated in a handful of countries," the FAO says. "This concentration could expose these markets to increased vulnerability to shocks and volatility."
Joseph Glauber and David Laborde, senior research fellows at the Washington DC-based International Food Policy Research Institute (IFPRI), agree. In a paper published at the onset of the conflict, they said: "Russia's invasion of Ukraine will further disrupt global markets, will have negative consequences for global grain supplies in the short term, and by disrupting natural gas and fertiliser markets, have negative impacts for producers as they enter a new planting season.
"This could push up already-high food price inflation and have serious consequences for low-income net-food importing countries, many of which have seen an increase in malnourishment rates over the past few years in the face of pandemic disruptions."
Where things stand
The situation is different in Ukraine and Russia.
Ukraine is a war zone and so its ability to sew crops and gather them going forward will be a challenge, to say the least.
Of more immediate concern is Ukraine's ability to export agriculture commodities already gathered is profoundly difficult.
Goods bound for export face extreme logistical challenges. The country's main ports are blocked off and roads, railways, and rail stations have been destroyed or badly damaged.
Last week, reports emerged of 1,100 train wagons carrying grain being stuck near the main rail border crossing with Poland in western Ukraine, unable to transport their cargo abroad.
It was suggested the sheer volume of goods that needs to find an alternate route is causing the blockage, compounded by logistical issues differences in rail-track gauges used by Ukraine and Poland. Before the war, Ukraine exported 98% of its cereals via the Black Sea so this problem had not arisen.
Russia is a different case. The war is not being fought on its territory but, according to the IFPRI, "Russian exports are severely hindered because of a lack of maritime traffic in the Black Sea, payment issues related to international sanctions and export restrictions implemented by Russia itself".
Moscow, meanwhile, has said it plans to restrict exports of sunflower oil and has imposed a ban on the shipment of sunflower seeds to relieve pressure on domestic prices.
Which countries are most exposed?
The problem is twofold. The supply of key commodities and their derivatives has become extremely restricted, leading to price hikes.
The FAO revealed last week that world food commodity prices reached their highest levels ever in March, as the Ukraine war spreads shocks through markets for grains and vegetable oils.
Poorer countries are likely to face the brunt of this threat from limited supply and soaring prices.
Statistics provided by Comtrade reveal that in the period 2016-2020, Ukraine's largest markets for wheat and maize exports were (in order) Egypt, Indonesia, Bangladesh, Philippines and Morocco while for Russian exports of the same commodities it was Egypt, Turkey, Bangladesh, Sudan and Nigeria.
According to the FAO, six West African countries import 30-50% of their wheat from Russia and Ukraine,
Amira Freyer-Elgendy, an analyst at London-based research and analysis company GlobalData – Just Food's parent company – details those nations she sees as vulnerable. "Egypt is a key import market and has tried to combat the price push of local bread and the pressures on disposable incomes by fixing the price of unsubsidised bread. Iraq, Syria, Lebanon, Yemen are likely to suffer due to having a relatively weaker infrastructure in place. there is a real risk of famine for some of these, due to the already high levels of food insecurity present."
At the IFPRI, Laborde is looking in the same direction. He tells Just Food: "North African and Middle East countries are the most vulnerable due to their high wheat consumption and their high dependency on imports, especially those sourced from the Black Sea.
"The exact level of vulnerability depends a lot on existing pre-conditions in terms of political stability, macroeconomic strength and lack of food insecurity.
"Then you have a few countries in the horn of Africa, Somalia, or in west Africa, like Nigeria, that rely on wheat imports for specific needs and that will face varying degrees of adjustment based on their coping capacities.
"Countries like Bangladesh will also be in a difficult situation, with higher food prices, higher fertiliser prices – for their own farmers and additional costs for the government to subsidise them."
What are the options?
With a shortage of supplies, poorer countries are also likely to be impacted by a bidding war.
The jockeying for position has already started. At the end of March, it was revealed India had contracted 45,000 tonnes of Russian sunflower oil at a record high price for shipments in April as edible oil prices in the local market surged after supplies from rival Ukraine stopped.
David Jackson, director of agri-business research group LMC International, describes this as "trade diversion".
He says: "That Russian sunflower oil has not been created from thin air, India has merely bid it away from some other destination, which will now have to find their own alternative."
Meanwhile, at the time of writing, a delegation from Egypt was due to visit India to facilitate wheat imports as part of efforts to secure supplies.
Jackson adds: "You can divert trade by paying more than someone else is prepared to pay, but that just leaves them with less, so you are robbing Peter to pay Paul."
Laborde at the IFPRI points to some short-term alternatives. "Thanks to globalised markets, we have more opportunities to find alternative suppliers today than we did 40 years ago," he says. "In particular, having large producers in both the southern and northern hemispheres provide more options but also the capacity for farmers around the world to change their planting decisions at a different point in time."
"For now, current wheat supplies are composed of crops harvested last summer in the US and EU, crops harvested from the end of last year for some countries with large wheat spring crops – like Canada and US – or the 'winter' crops harvested during the local summer in Argentina or Australia.
"As of today, they are the countries that could address the wheat gap, in addition to India. Argentina and India had particularly good harvests recently, so they have a surplus to trade. Still, these opportunities could be limited by ill-advised local policy responses, especially export restrictions from Argentina.
"Overall, it could be difficult to replace all the missing wheat from the Black Sea, but things could be managed until the summer."
Future concerns
"The big 'gaps' will occur if Ukraine cannot attend its growing crop of wheat – for example, fertiliser applications which would normally take place in spring – and even worse if farmers are unable to harvest during the summer or if exports are hampered due to damaged infrastructure," Laborde says.
"Similarly, if Russia exports fall, or if their agricultural sector is hurt but the economic crisis coming from the war and the sanctions, the gap will be much bigger."
In terms of alternative suppliers who might pick up the future shortfall from the Black Sea region, GlobalData's Freyer-Elgendy says: "Regions that have large quantities of those alternatives are likely to see high demand – Canada, India and the EU have large rapeseed production volumes. Australia has seen an above-average rainfall this year and so has predicted a record level wheat crop, which stands in contrast to other wheat-producing regions – the US and Canada – that were affected by last year's drought."
Nevertheless, poorer nations facing a shortage of supplies and a lack of funds to compete in a restricted market against wealthier nations may need to depend on aid to get them through the crisis.
Qu Dongyu, the director-general of the UN's FAO, suggested last week a global food crisis of the scale seen in 2008 can still be averted. In an address to the 169th session of FAO's Council, convened to discuss the consequences of the war in Ukraine on global food security, Qu emphasised the importance of keeping global supply chains functioning and highlighted the FAO's work on the ground.
"We must not shut down our global trade system and exports should not be restricted or taxed," he said.
But the FAO has sought to come up with more concrete proposals to help poorer countries through the crisis. These include fast implementation of detailed soil maps, supporting the most vulnerable countries to use fertilisers efficiently.
Qu's colleague Maximo Torero – the FAO's chief economist – tells Just Food financial aid will also have to be forthcoming. "It will be a mixture of grants and loans," he says.
Torero says the FAO is drawing up plans to help countries cope with the price of food. Its "mechanism of allocation" will be based on a country's level of income and dependency on imports.
"There are different levels of vulnerability. Some countries from directly importing but some are indirectly affected by the increase in prices, such as Mozambique and Benin," he explains.
But even having that financial aid may not mean they get the supplies they need.
In a bleak assessment, Torero adds: "It will be impossible for other countries to cover the [supply] gap if both countries [Ukraine and Russia] don't produce next year.
"I hope that won't be the case."
For more on Just Food's coverage on how the conflict is affecting the food industry, please visit our dedicated microsite.
Just Food parent GlobalData is providing an ongoing analysis of the war's impact across business sectors.