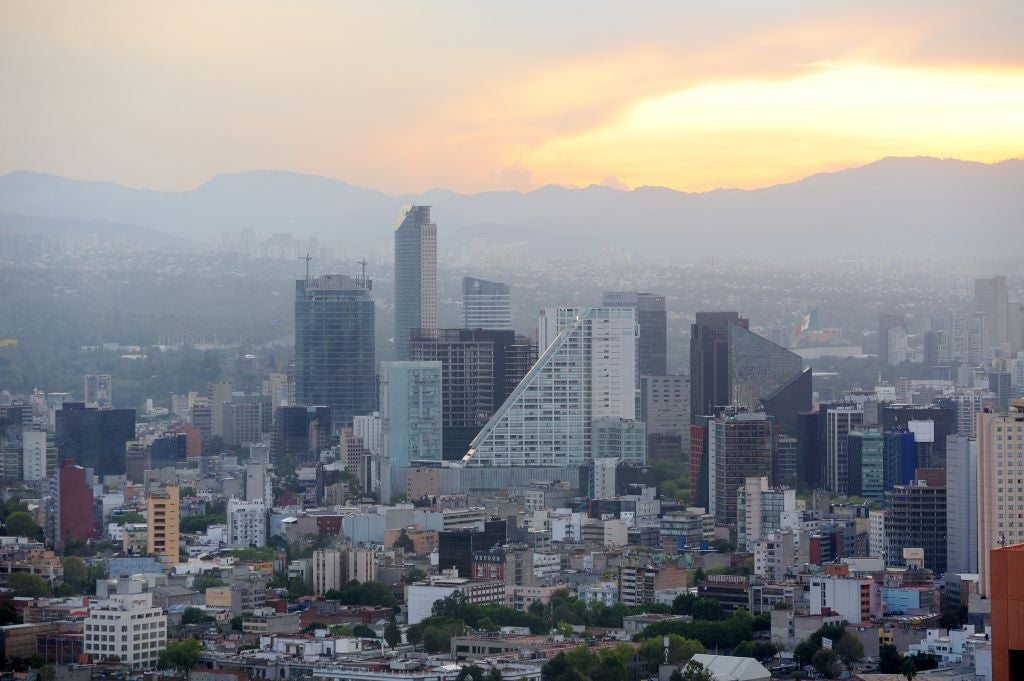 The proximity of Central America and Mexico to the US, the region's cost competitiveness and its valuable natural resources make it an attractive destination for investors. The region's GDP had been on the rise in recent years, growing steadily between 2017 and 2019 before falling by 13.7% in 2020 in the wake of the Covid-19 pandemic. Overall, the economies of Central America and Mexico contribute about 30% to the overall GDP of the Latin American and Caribbean region.
How are the region's economies performing?
Mexico, which straddles North and Central America geographically but economically operates in a North American bloc, is the second largest economy in the Latin America and Caribbean region, accounting for one-quarter of its GDP in 2020. Despite this, Mexico's GDP per capita ($8,347) is below the Latin American average ($9,863). It also lags behind neighbouring Costa Rica and Panama for GDP per capita.
After a dramatic drop in GDP in the wake of the 1994 peso crisis, Mexico's economy then grew rapidly and was only slightly impacted by the 2002 economic crisis that engulfed South America. It was, however, one of the Latin American countries most affected by the 2008 global recession with its GDP contracting by 18.9% in 2009 in comparison with the previous year. After another fall in 2015 due to a dip in oil prices, Mexico's economy increased steadily until 2020. GDP fell by 15.2% between 2019 and 2020 due to pandemic-related supply and demand shocks.
Mexico is a member of the World Trade Organisation, the Asia-Pacific Economic Cooperation, the G20 and the Organisation for Economic Cooperation and Development. It is also a member of the Pacific Alliance, a trade bloc established in 2012 by Mexico, Chile, Colombia and Peru.
Mexico has free-trade agreements with 50 countries. The US-Mexico-Canada Agreement was introduced in July 2020, replacing the North American Free Trade Agreement. Key changes under the new deal include expanding the tariff ban on new technologies and industries such as digital music, e-books and other digital products. The new agreement also tightens labour laws in Mexico and makes it easier for workers to unionise. As part of the deal, by 2023, 40–45% of automobile parts must be made by workers who earn at least $16 an hour.
Guatemala is the largest economy in Central America itself. The country's GDP has been growing steadily over the past decade following a slight decline in 2009 due to the global recession. Agriculture is a key sector, accounting for approximately one-quarter of the country's GDP and employing half of the labour force. Its main crops are coffee, sugarcane, bananas and cotton.
Guatemala was also one of the few countries that experienced an increase in GDP in 2020, growing by 0.8%. According to the World Bank, the country's GDP is estimated to rise by 5.1% in 2021 and 4.1% in 2022.
The country experienced a surge in economic growth following the end of a 36-year-long civil war in 1996 and has introduced various reforms to sustain investment.
The Dominican Republic–Central America Free Trade Agreement between Costa Rica, the Dominican Republic, El Salvador, Guatemala, Honduras, Nicaragua and the US was introduced to promote stronger trade between the countries. Critics have argued that the agreement offers too much protection for foreign companies.
The countries with highest GDP per capita in 2020 were Panama ($12,269) and Costa Rica ($12,077). Both countries exceeded the Latin America and Caribbean average of $9,863.
Panama is a fully dollarised economy with the lowest inflation rate of all countries analysed at -1.6%.
The services sector accounts for almost 80% of Panama's GDP and key areas include banking, commerce, insurance, healthcare and tourism. Investors also benefit from access to the Panama Canal, regarded as one of the most important pieces of infrastructure in the world, and the Colón Free Zone, the world's second-largest free trade zone.
The US-Panama Trade Promotion Agreement came into force in 2012 and removes tariffs to US services. Prior to its implementation, US Senator Bernie Sanders criticised the agreement given Panama's reputation as a tax haven.
Panama has struggled to shake off the label of tax evader, particularly following the publication of the Panama Papers in 2016. In September 2021, it was announced that the country would stay on the EU's tax haven blacklist.
Costa Rica's GDP has grown steadily since the early 1990s, achieving a record $64bn in 2019.
Costa Rica's economic success can be attributed to its trade openness and embracing of foreign investment. Key sectors range from tourism and ICT to medical manufacturing and business services. The country is also home to many free zones, offering member companies a wide variety of financial incentives and benefits.
In August 2020, Costa Rica launched its ten-year National Bioeconomy Strategy. The plan aims to strengthen the country's position as a knowledge-based economy while promoting sustainable production and fair use of its biodiversity.
According to the World Bank, the country's GDP will grow by 3.8% in 2021, reaching pre-Covid levels by the end of the year. This period of economic growth is expected to continue into 2022.
Belize has the highest population growth rate out of all Central American countries analysed at 1.85% in 2020. It also has the lowest population and population density in Central America. Key areas of its economy include agriculture, tourism and energy. The country's primary exports are citrus, sugar and bananas.
Belize was once considered one of the region's premier tax havens. In December 2018, Belize passed a series of reforms to its International Business Companies Act to ensure that offshore companies would no longer receive preferential tax treatment. As a result, the EU removed Belize from its tax haven blacklist.
Nicaragua is one of the least-developed countries in Latin America. Agriculture and textiles are among its leading economic sectors. The country's tourism industry experienced considerable growth throughout the 2010s, particularly eco-tourism due to Nicaragua's rich biodiversity.
However, a revolt against President Daniel Ortega plunged the country into crisis in 2018 and brought inbound tourism to a virtual standstill. The protests, which initially rallied against Ortega's social security reforms, corruption and police brutality, were the country's deadliest civil conflict since the Nicaraguan Revolution ended in 1990. The country's GDP has suffered, decreasing year on year between 2017 and 2019.
The conflict is ongoing, with Nicaraguan police detaining at least five opposition leaders in July 2021. In August, the country's main opposition party was disqualified ahead of its next general election in November.
Costa Rica leads for FDI per capita
Mexico surpasses its Central American neighbours for volumes of foreign direct investment (FDI). However, it lags Costa Rica and Panama when FDI is measured per capita.
Mexico attracted more than 300 greenfield FDI projects in 2020, accounting for roughly 30% of Latin America's overall project numbers. Despite this, the country's FDI figures were heavily impacted by Covid-19, falling from 641 in 2019.
The majority of Mexico's FDI comes from companies based in the US, Spain, Canada and Germany. As of 2020, Mexico was the US's third-largest trading partner in goods and services and second-largest in goods only. Key sectors for investment include the automotive industry, financial and insurance services, telecommunications and tourism.
Foreign investors benefit from Mexico's strategic location and large domestic market. The country also has an abundance of natural resources and is among the world's largest producers of copper, gold, lead, natural gas, oil, silver, wood and zinc.
However, the prevalence of corruption and organised crime continue to be investment barriers in Mexico, with gang-related violence regularly disrupting businesses in different parts of the country.
Costa Rica is a heavy FDI hitter in the region. It attracted 102 FDI projects in 2020, accounting for roughly one-quarter of the inward investment in Central America and Mexico combined. Costa Rica is also the leading FDI destination by projects per capita.
Once heavily dependent on agriculture, Costa Rica has since diversified with smart manufacturing, knowledge-intensive services, and health and well-being among its key sectors. The country's life sciences cluster is home to 70 multinational medtech companies including 13 of the world's top 20 original equipment manufacturers. Investors include US-based medical devices company Boston Scientific, Netherlands-based healthtech company Philips and Swiss pharma giant Roche.
Costa Rica Investment Promotion Agency, better known as CINDE, offers potential investors a wide variety of tax incentives and benefits as well as talent development initiatives. Its $2.8m Crystal Ball programme involves the development of an AI-based digital employment orientation platform to help match the supply of knowledge economy jobs with the demand for them.
Guatemala's President Alejandro Giammattei was elected in early 2020 on a pro-business agenda. Under his National Innovation and Development Plan, Giammattei aims to improve the country's business friendliness with the aim of attracting $5bn in FDI annually.
The textiles industry is one of Guatemala's main sectors for investment. The country has about 170 apparel factories, known as maquilas, many of which are owned by South Korean companies. About 90% of the items produced are exported to the US. Trade unionists and activists have criticised the establishment of maquilas due to their unsafe working conditions and exploitatively low wages.
These poor conditions were further exacerbated in light of the Covid-19 pandemic. In early 2020, more than 200 staff at KP Textil's factory in San Miguel Petapa tested positive for Covid-19. The incident was one of the worst Covid outbreaks across the country. The facility manufactures items for Gap, American Eagle and Amazon. Data from local non-governmental organisation Coverco suggests that measures to protect staff are not a priority with just two out of the 89 factories investigated following safety protocols.
Honduras was the only country in the region to experience an increase in foreign investment in 2020. The value of FDI increased by 22.4% between 2019 and 2020. Services, manufacturing, hospitality and utilities are the country's key industries for investment. North America is the most popular source region, followed by South America, Central America and Europe.
Honduras's strategic location and its young and growing workforce make it an attractive destination for investors. It is also home to the Puerto Cortes seaport and several free trade zones.
However, the country struggles with high levels of poverty and inequality. In addition to the significant economic impact of Covid-19, Honduras is also dealing with the aftermath of hurricanes Eta and Iota in late 2020.
Where is best for doing business?
As of 2019, 100% of Mexico's population has access to electricity. Both its fixed broadband subscriptions and internet access rates are above the Latin America and Caribbean average.
Mexico's business climate is traditionally welcoming, but investors has expressed their dissatisfaction with reforms brought in under President Andres Manuel Lopez Obrador, also known by his initials AMLO. These include the cancellation of the Mexico City New International Airport at a cost of $16bn.
In addition, the country's investment promotion agency, ProMexico, was scrapped in April 2019. The government claimed that its closure would free up public finances to further economic development. Experts have warned that the decision may impact the efficiency of investing across the country.
In Panama it takes just six days on average to start a business, a substantial reduction from 18 days in 2003. Panama's open, dollarised economy makes it an attractive destination for investment. In addition, the country offers political stability, a favourable tax climate, good quality infrastructure and robust privacy laws.
Out of all the countries analysed in the Central American/Mexico region, Costa Rica has the highest number of fixed broadband subscriptions and the highest internet access rate. It is also the region's least corrupt country, scoring 57 on Transparency International's Corruption Perception Index.
Despite this, a major corruption scandal was unearthed in Costa Rica in June 2021. Dozens of people were arrested in relation to the scheme that involved the awarding of road construction and maintenance contracts. The plot created a $127m budget deficit in the roads department between 2018 and 2020. Among the alleged crimes were bribery, embezzlement, irregular payments, influence peddling, misuse of funds and illegal association.
Costa Rica leads on human capital
Costa Rica excels across the human capital and quality of life indicators. The country has the highest tertiary enrolment rate out of all countries analysed at 57.7% as well as the highest literacy rate (97.9%) and percentage of people with access to water (99.8%).
Costa Ricans also have the longest life expectancy in the region at 80.1 years old. Citizens and permanent residents are entitled to universal health care, known as 'La Caja'.
Following the end of country's civil war in 1948, the national army was formally abolished and military spending was redistributed into education, health and the environmental initiatives. As a result, Costa Rica has one of the highest-quality public education systems in the Central America/Mexico region.
However, Costa Rica is not without problems. According to the National Institute of Statistics and Census, the number of people living in poverty has dramatic increased because of the Covid-19 pandemic. The number of households in poverty surged by 5.2% between July 2019 and 2020, to a level not seen in the country since 1992. The government launched the Plan Proteger strategy in April 2020 to provide those most affected by the pandemic with financial support.
Guatemala has seen the largest increase in life expectancy in Central America over past three decades. Average life expectancy has increased by 12 years from 62.3 in 1990 to 74.3 in 2019. Guatemala also had the lowest unemployment rate out of all countries analysed at 2.2% in 2019.
Despite this, poverty and inequality levels remain high in Guatemala, especially among indigenous and rural communities. The country has the highest chronic malnutrition rate in the whole of Latin America and the Caribbean region, affecting 47% of all children under the age of five.
Three fiscal packages were introduced in 2020 to mitigate the impact of the Covid-19 pandemic in Guatemala. The poverty rate increased slightly from 45.6% in 2019 to 47% in 2020. It is estimated that without these measures, poverty levels would have increased by three or four times as much. Poverty in the country is projected to decrease to 45.9% in 2021.
At 73.3 years, El Salvador has the lowest life expectancy of all the countries analysed in the region. El Salvador has one of the highest rates of violent crime worldwide with organised crime and gang-related violence widespread. According to government statistics, 1,322 homicides occurred in 2020, a dramatic drop from 6,600 in 2015 and the lowest rate in more than 20 years.
President Nayib Bukele has attributed the decline to an increased police and military presence on the streets, and tighter security in jails. However, human rights groups have cast doubt on the accuracy of the local statistics. The Brussels-based International Crisis Group has suggested that other factors, including an informal agreement between the gangs and the government, may be the reason for the fall.
Panama recorded the highest unemployment rate in Central America/Mexico in 2020, increasing from 4.7% in 2019 to 18.6% in 2020. The economic impact of Covid-19 is a key factor in Panama's surging 2020 unemployment rate. However, its unemployment levels had already been on the rise since 2013. The Economist Group attributes this to a weak education system and a lack of jobs for younger workers.
How green are these countries?
More than 98% of electricity generated in Costa Rica in 2018 was derived from renewable energy sources. The country's largest source of energy is hydroelectricity followed by wind power. Costa Rica also recorded the lowest change in temperature out of all the countries analysed, going from 24.9°C in 1991 to 25.1°C in 2020.
Environmental protection has long been a concern for Costa Rica. Despite its small size, Costa Rica is home to 6% of the world's biodiversity. Thanks to a government-led initiative introduced in the 1980s that pays local communities to help protect the natural ecosystem, it became the first tropical country to slow down and ultimately reverse deforestation.
In more recent years, the government has unveiled plans for Costa Rica to achieve zero emissions by 2050. As part of the new strategy, the government plans to modernise public transport, establish an electric train line, phase out the use of fossil fuels and further expand its forests.
Belize produces the lowest amount of carbon dioxide (CO2) emissions in the region. As a small state situated on the Caribbean Sea, Belize is among the most vulnerable and disaster-prone countries in the world. The impact of climate change is evident with sea temperatures on the rise and storms becoming more intense and frequent.
In 2015 the Belize government launched the Marine Conservation and Climate Adaptation Project supported by the World Bank and financed by the Adaptation Fund. The five-year project was implemented with the aim of strengthening the climate resilience of the Belize barrier reef.
Mexico is the least environmentally friendly country in the region, producing the highest amount of CO2 emissions. Mexico's average temperature also increased by 1.2°C between 1991 and 2020, the biggest jump out of all countries analysed.
More than 80% of electricity generated in Mexico in 2018 was derived from fossil fuels. President AMLO's energy strategy is largely focused on new hydrocarbon projects and strengthening state oil company Petróleos Mexicanos and state electricity company Comisión Federal de Electricidad.
AMLO is also heavily critical of the renewable energy sector and has accused previous governments of using it as an excuse to give away subsidies to private investors. At the Leaders' Summit on Climate in April 2021, Mexico avoided committing to reducing carbon emissions and instead announced the discovery of three large oilfields by Pemex that will help meet domestic demand.