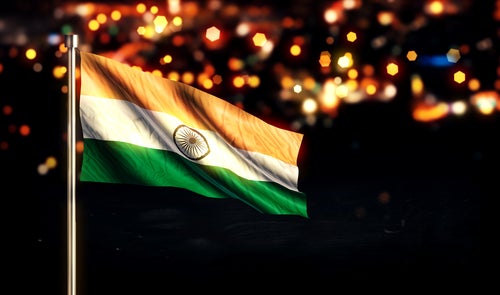 The large and diverse apparel sector in India is said to be flourishing through sustained domestic sales growth and lucrative government incentives.
The India apparel sector focuses on man-made fibres and technical textiles
Its increased reliance on man-made fibres (MMF), a sharper focus on technical textiles and the construction of mega production units have been major features defining the progress of the India apparel sector.
According to Invest India, a central government's investment promotion agency, the country's clothing and textile sector manufactured goods worth US$108.5bn in the financial year ending March 2020. 
"MMF will be our engine of growth supporting 80% of the capacity addition in the near future," Kandasamy Selvaraju, secretary general of Southern India Mills Association, told Just Style. He said that no realistic increase in India's cotton or any other natural fibre production could fulfil a projected additional annual demand of 10bn kgs of fibre in the country.
Man-made fibres will help the country reach new apparel export targets
Until now India's textile and clothing manufacturing industry has thrived on the reliable supply of domestically produced cotton. However, now with the country's ministry of textiles setting a target to increase the country's textile and clothing exports to $100bn by 2026 – up from $30.4bn in the financial year ending March 2021, MMF will be key.
In September 2021, the central government announced a Production-Linked Incentive Scheme to boost MMF apparel and technical textiles manufacture, which provides direct subsidy incentives of up to 15% on companies' additional sales over a base year for five years.
In March 2020, the government removed a long-standing anti-dumping duty on purified terephthalic acid (PTA) from China, Iran, Indonesia, Malaysia, Taiwan, South Korea and Thailand, (a key raw material for polyester filament yarn), to bring down its prices for the domestic MMF textile industry.
Another scheme to boost investment in the industry and enable the ease of doing business – an Amended Technology Fund Upgradation Scheme – was launched in January 2016 with an outlay of Indian Rupees INR178.22bn ($2.38bn) to be spent until 2023 on granting subsidies aiding new investments.
There are several other infrastructure development programmes, including the Scheme for Integrated Textile Parks scheme, under which the government develops land by linking it to highways and providing power, water and sanitation facilities before selling it to the textile units.
Also, the 'Samarth' scheme funds skill development, especially in the technical textile segment and the PowerTex programme helps find upgrades in the power loom and knitting sector.
These schemes have become increasingly important as the export of Indian readymade garments had been falling since 2017 by around 4% per year until February 2020. And following the outbreak of the Covid pandemic, this decline became a collapse – apparel exports fell in the financial year ending March 2021 by 20.8% over the previous year. There has been a recovery, however with figures released by India's ministry of commerce, in that year, showing India exported readymade garments worth $12.27bn, while in the nine months from April to December 2021, $11.13bn worth of exports have been made, that accounted for a growth of 35% over the same period in the previous year.
India is optimistic about future growth in 2022
India's Apparel Export Promotion Council, a trade body with nearly 8,000 member companies, is very optimistic about future growth and in a communiqué, issued in January 2022, it said: "We have a fast-growing order book from brands and buyers across the world."
The US, United Arab Emirates (UAE), Bangladesh, the UK and Germany are the top five destinations for Indian textile and clothing exports, according to the ministry of commerce. There are special hopes to increase UK sales through an anticipated conclusion of a UK-India trade agreement in 2022 that, according to Selvaraju could increase Indian garment exports to the UK by 30% to 40%.
There is room for growth with ministry of textiles data highlighting that India's share in global exports is only 5%. According to Rahul Mehta, president of the Clothing Manufacturers Association of India (CMAI), in Mumbai, finishing is one weak link in the Indian textile industry that has impeded progress.
It is important that India demonstrates quality throughout the supply chain, said Mehta, noting to Just Style that in the global market, India is fast losing its 'cheap source' tag and major exporters have realised that to compete solely on price will not work. "To grow, the Indian garment exporters are shifting to larger scale, broader product-mix, and productivity enhancement measures," he said, "They can no longer depend on the old trustworthy women's cotton blouse as their main source of exports."
Exploring new opportunities
Should Indian manufacturers raise their game, there are major opportunities to grab. Buyers are only too aware of the rising cost of Chinese exports and an embargo on Chinese cotton over human rights abuses in Xinjiang province could benefit Indian exporters. There will be less choice for brands seeking deals: "The future is not going to be the buyers' market as it has been," Ashesh Amin, New York-based global sourcing executive specialising in the Indo-US apparel trade told Just Style. "It is going to be a manufacturers' market for the next few years," he said, even with high international freight and container costs raising prices.
Indeed, Amin stressed the fast-growing Indian domestic market will be an increasing distraction for manufacturers – strengthening their bargaining position with international brands: "More and more of my exporter friends are going into the domestic market," he said.
With an expanding population of 1.4 billion and a $2.9 trillion economy, with a projected 2022 growth rate of 9.1%, domestic demand will only grow.
On the plus side for overseas brands, however, in the financial year ending March 2020, $8.6bn worth of textile and apparel products were imported into India. And while Covid-19 during the nine months from April to December 2020 saw these imports fall by 41% compared to the corresponding period in the previous year, consultancy firm Wazir Advisors anticipates that Indian clothing and textile imports will grow by 10% year-on-year on average going forward to reach $15.2bn by 2026.
Another impact of the Covid pandemic is that e-commerce sales of clothing have grown fast in India, while, as elsewhere in the world, more work-from-home has driven the demand for casual wear apparel over formals, said Mehta.
On the production side, Covid-19-related lockdowns from March to May 2020 caused severe disruption by halting the economy for several weeks, seeing urban migrant workers return to their home villages and towns, impacting the whole supply chain.
The problem was compounded by the fact that a large proportion of the clothing and textile industry workforce had migrated to manufacturing hubs in southern India, Gujarat, Haryana, Punjab and towns neighbouring Delhi and Mumbai, from poorer and more populous states of Bihar, Jharkhand, Odisha and eastern parts of Uttar Pradesh, located 600km to 1,000km away from these industrial centres. During the first lockdown in April 2020, these distances not only created a huge human suffering but were the main cause of delay in restarting the factories, as workers were reluctant to return to factories once they were reopened.
These supply chain uncertainties forced many large companies to firm up their vertical integration through supply agreements and investments in production, as well as installing ERP (enterprise resource planning) systems, management supply chain reforms and electronic business assistance services, said Amin. This will pay off in the medium-to-long term: "They will have a fully vertical ability to go back and to do everything from start to finish," he said.
In October 2021, Mumbai-based Welspun India, one of the country's leading home textile manufacturers and exporters, installed end-to-end traceability technology to track textile raw materials throughout its supply chain. Other major clothing and textile companies with the scale to make such technical investments include Arvind Ltd, from Ahmedabad in Gujarat; Raymond Ltd, from Mumbai; and Vardhman Textiles Ltd plus the Trident Group, from Ludhiana in Punjab.
According to Mehta, the pandemic also forced the companies to prune overheads and manpower costs: "Having survived with a drastic reduction of these costs, manufacturers have realised that they can do with less," he said.
Making major investments for long-term success
Some Indian companies are trying to match the large-scale production of the level already achieved in China and Bangladesh, said Selvaraju: 40 to 50 of his association's member companies are going to make major investments to drastically increase their output. This is a long-term strategy given the low profit margins – with serious returns not expected for 10 years.
Such investments are particularly focused in Tirupur, in Tamil Nadu and Ludhiana, in Punjab, India's two large knitwear hubs, while for spinning and weaving Ahmedabad, in Gujarat, and Coimbatore, in Tamil Nadu, are the major centres. Additionally, the government has been setting up new clusters for various segments of the textile sectors. Power loom mega clusters have been set up at Erode, in Tamil Nadu; Ichalkaranji, in Maharashtra; and Surat, in Gujarat, for instance.
Meanwhile, Mumbai, Ahmedabad, Coimbatore and Ghaziabad (near Delhi) have been designated by the central government as Centres of Excellence for various segments of technical textiles, and so the target of financial support. In March 2020, the government announced an INR14.8bn ($212m) allocation for three years to be spent on research, market development and export promotion.
In the financial year ending March 2020, the country's technical textiles industry turnover was estimated to be $20bn by India Invest, a figure that has grown at a year-on-year rate of 10% since 2015-16. For synthetic polymer producers, the national turnover was valued at $7.1bn in 2020 and is projected to reach $11.6bn by 2027, growing year-on-year at 7.2%. And the woven technical textile market is expected to grow at 7.4% to $15.7bn by 2027, up from $9.5bn in 2020. During the pandemic this sector received a special fillip through a spurt in demand for PPE masks, gowns and other medical equipment.
The textile and clothing industry will remain a key priority for the government, notably through the separate ministry of textiles looking after planning, development and policy formulation. A ministry note stressed the clothing and textile industry employs about 45 million people and in the financial year ending March 2019 it contributed 7% to the country's industrial output, 2% to the GDP and 12% to export earnings. It also attracted $3.75bn worth of foreign direct investment in the financial year ending March 2021.
"Government's central focus has been on increasing textile manufacturing by building the best-in class manufacturing infrastructure, upgrading technology to foster innovation, enhancing skills and traditional strengths in the textile sector," said the ministry's 2020-21 annual report.
To achieve such goals, more coordination across government is needed, said Harminder Sahni, managing director of Wazir Advisors. He stressed that the textile ministry has limited powers and for all major decisions it must rely upon decisions and assistance from the more powerful commerce, industry, labour and finance ministries.
Government incentives for apparel businesses
Sahni explained development work, and coordination with the private sector, should be more focused. The textile sector has too many industry associations and representatives who spend a lot of time visiting the government offices to ask for incentives and not focusing on improving their own businesses, he argued: "The government is doing much more than what it should be doing," he told Just Style, "Everything becomes too political and too enormous."
Lobbying can still work as in December 2021, the government was forced to stall a planned increase in goods and services tax (GST) on textiles from 5% to 12%. The Confederation of All India Traders had argued that such an increase would be "extremely irrational and will impact the livelihood of small manufacturers, artisans and other sections".
Under the right-wing Hindu nationalist Bharatiya Janata Party (BJP)-led government, India is becoming more authoritarian and its society more radicalised, however these political trends have yet to have any obvious direct impact on business. Indeed, with a more controlled society and less media scrutiny for human rights, labour welfare and environmental concerns, industry may even find it easier to function more freely.
However, Mehta pointed out: "The increasing emphasis on environment, sustainability, fair wages etc. are issues which could prove roadblocks" to international and national sales, if the clothing and textile sector does not "keep pace" with global standards.
According to Selvaraju, zero effluent discharge guidelines for the textile industry have not been followed properly by many processing units and manufacturers have even been requesting the government allows marine emissions.
Such arguments are backed up by the fact many units are located near the coast, given the importance of sea shipments for inputs and exports within the Indian textile and clothing trade, for instance through major ports such as Kandla, in Gujarat; Jawaharlal Nehru Port Trust – Nhava Sheva and Mumbai Port, both in Maharashtra. Also, VO Chidambaranar Port, Tuticorin and Chennai Port, in Tamil Nadu, are the main shipment points for manufacturers in Tirupur and Coimbatore.
Assuming such sustainability issues can be dealt with acceptably, and barring any major disruption – such as another major Covid outbreak in a country with a 44.5% vaccination rate (as of January 2021), India's clothing and textile industry is on track to solid expansion.
In fact, Amin made the prediction that: "As the consuming and spending power of the Indians grows the textile industry is going to grow dramatically, overcoming all the bottlenecks."
Click here to read Just Style's essential sourcing guide for the Bangladesh apparel sector.