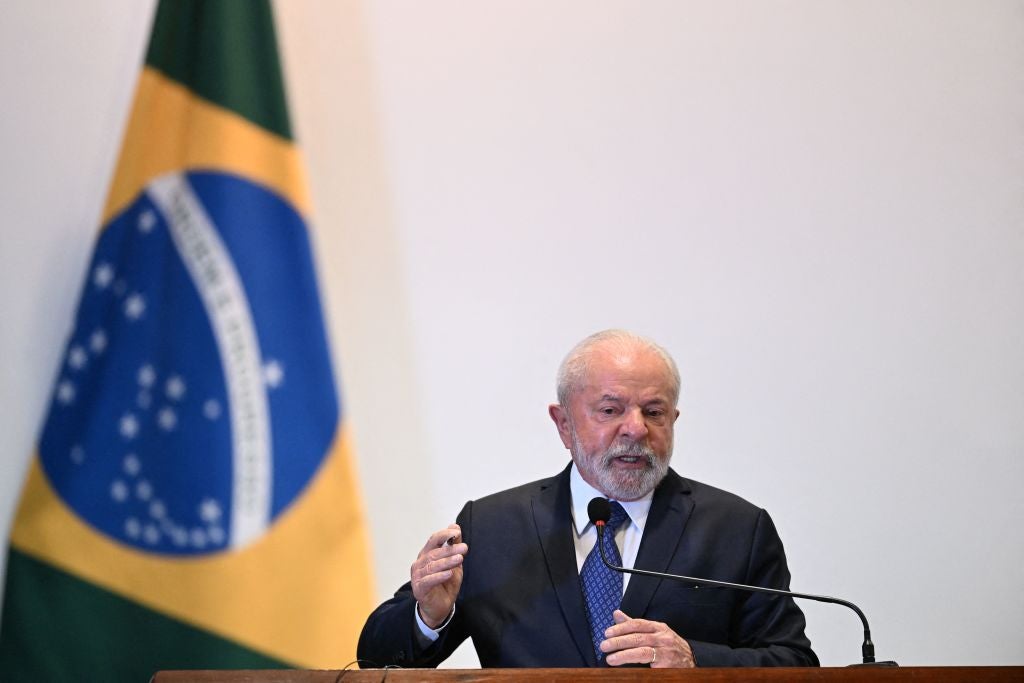 All but one of the region's heads of state travelled to Brasilia on 30 May for the first South America Summit in nine years, where a regional free trade zone, infrastructure investment and environmental preservation were among topics discussed in the context of reintegrated action.
South America – along with Central America and the Caribbean – has endured a long history of US intervention, occupation, invasion, sanctions and 'dollar imperialism'. Reduced dependency on the US, or 'dedollarisation', has long been an objective of South American nations – but with limited success.
As the largest economy (and country) in South America, Brazil holds considerable regional influence as the leading force behind continental integration. In stark contrast to previous Brazilian President Jair Bolsonaro's isolationist policies, current incumbent Luiz Inácio Lula da Silva (better known as just 'Lula') has an aim of reviving the Union of South American Nations, or Unasur, which would boost cooperation and trade across the region.
Would reinvigorated Unasur bring more FDI to South America?
Tangible steps towards that aim were outlined in Brasilia at the South America Summit, attended by 11 South American presidents, with Alberto Otárola, the Peruvian Prime Minister, standing in for President Dine Boluarte, who faces charges and cannot leave Peru. Lula's proposal of a regional currency will be of particular interest to foreign investors – as will floated ideas of joint ventures on climate change and in the energy market.
Calls for a common currency are not new in South America. As recently as January, Brazil and Argentina agreed a preliminary plan to launch 'el sur', a trade currency that would coexist alongside the Argentinian peso and Brazilian real. Lula's latest proposition appears to have supplanted the sur – and it could have a wider impact on the region's trade.
At the summit, all 12 leaders present signed the Brasilia Consensus, a document that pledges increased investment, widened market access and the elimination of unilateral trade measures. For South American investors, significant opportunities will arise if economic policies are passed in alignment with this Consensus.
South America's pink tide
As a staunch leftist and former trade unionist, Lula's election victory reflected the spread of another 'marea rosa', or 'pink tide', across South America. Last year saw former student protest leader Gabriel Boric gain office in Chile in March, while one-time guerrilla fighter Gustavo Petro became Colombia's first ever left-wing president in August. Lula, Boric and Petro join Argentina's Alberto Fernández and Bolivia's Luis Arce as leftist leaders in the region.
Questions have been raised as to whether this represents a long-lasting ideological realignment or a shorter-lived anti-incumbent movement. Greater integration should precipitate more liberal trade agreements, although Ken Shadlen, professor of development studies at the London School of Economics, points to "collaborative efforts to build connective infrastructure" as a more pressing factor than initiatives such as Unasur, given that "in most of South America, it is often easier to transport people and goods out of the region than to other countries within the region". Regardless, greater integration should precipitate more liberal trade agreements and, consequently, favourable conditions for foreign direct investment (FDI).
While Lula's calls for a regional currency reflect much of the zeitgeist in South America around de-Americanisation, economic hardship requires even the most ideologically driven leader to be pragmatic. The likes of Lula and Petro are expected to prioritise FDI projects from other Unasur nations – but not at the expense of losing out on investment from other countries entirely.
What impact will Argentina's elections have on South American integration?
A key factor in the move towards a dedollarised South America is the upcoming Argentine general election, due to be held in October 2023.
Libertarian economist Javier Milei, a presidential candidate and federal deputy since 2021, is running on a campaign of radical proposals such as "burning down" Argentina's central bank and replacing the peso with the dollar. The tanking economy under current President Fernández has given rise to more right-wing economic ideas, while foreign exchange restrictions and the daily devaluation of the peso have fuelled calls for greater dollarisation in Argentina.
Milei is still considered an outsider – but so was Bolsonaro in the run-in for the Brazilian election in 2018. "No one can be shocked if Milei gets to the final round and even wins, particularly given the depth of the economic crisis and the extent of political polarisation," says Shadlen.
Public opinion polls, however, show that 60% of Argentinians are not in favour of dollarisation, according to El Pais. After Brazil, Argentina is the region's second-largest country (and third-largest economy), wielding considerable influence. Lula's plans to reintegrate the region will take a serious blow should Argentina emulate Ecuador in becoming the second South American country to adopt the dollar, so he will no doubt be hoping that those opposition figures remain in the majority.
Challenges facing a Unasur revival
Ideological differences have caused South American trade blocs to fail previously, and there are already mutterings that Unasur will have a left-wing bias.
Uruguayan president Luis Lacalle Pou's centre-right policies indicate a preference for investment from China ahead of other South American countries. China has overtaken Brazil as the top importer and exporter to Uruguay amid formal negotiations of a free-trade agreement (FTA) between Beijing and Montevideo. Signing an FTA with Uruguay is expected to catalyse any ongoing Chinese negotiations with other Unasur members.
Fragmentation is a major impediment to a stable investment environment. In South America, an area of potential tension is Unasur's acceptance of Venezuela's authoritarian leftist president Nicolas Maduro. Lula's warm welcome of Maduro and criticism of US sanctions on Venezuela were in turn criticised by Uruguay's Lacalle and Chile's Boric after the summit in Brasilia.
Undeterred, Lula called on all emerging markets to reduce their reliance on the dollar at the Paris Climate Finance summit in late June. This issue is unlikely to go away any time soon, even if Lula's critics would like it to.