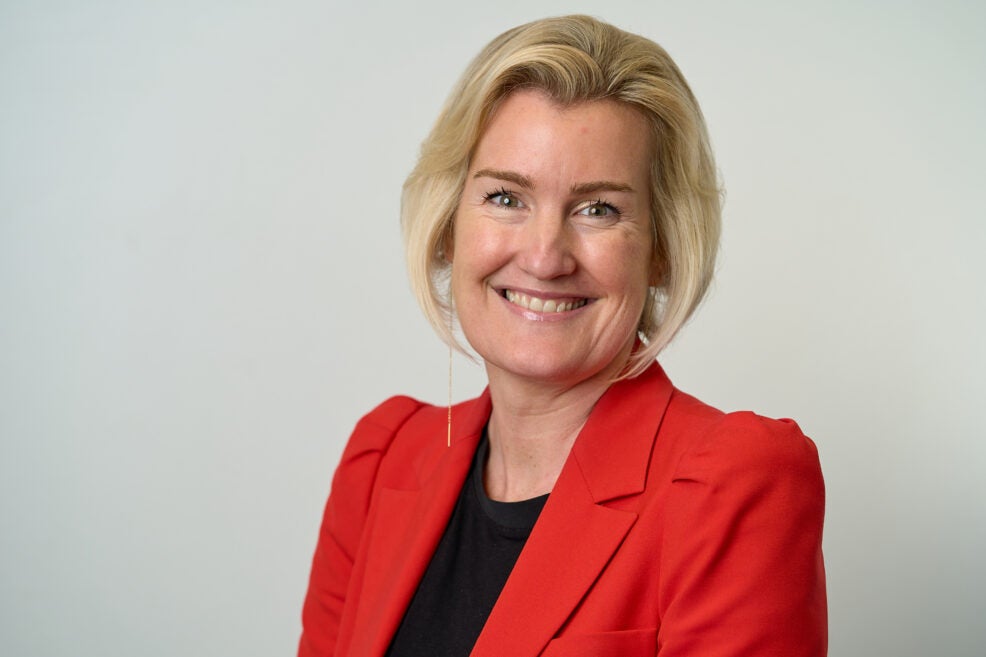 Shevaun Haviland of the British Chambers of Commerce stresses that the UK is still an "incredibly attractive place for inward investment". (Photo by British Chambers of Commerce)
What is your reading of the current mood or sentiment among the British business community?
Clearly, we are coming out of a situation, the speed and scale of which we have never seen before. Businesses have been through an incredibly difficult period – some of them have, effectively, been closed by law. We are keen to see how things adjust – we are seeing two sets of data.
We run a quarterly economic survey, which is the UK's biggest private-sector survey, about 6,000 businesses a quarter, and it has been running since 1989. What we are seeing is some upturn in business confidence. To give you a stat, 64% of companies overall said they expected their turnover to increase over the next 12 months, so we are beginning to see some positive noise. The Office for National Statistics published its labour market data in September, showing a significant decrease in unemployment, down to 4.6%, but interestingly there are now more than one million vacancies, open job roles out there, which is the highest since records begun. So, it is positive on one side, but some concerns, such as the labour shortage, on the other.
We are definitely beginning to see some upturn in business confidence, which is great. However, it still feels quite fragile, so we are currently talking to the government about two main things. One is our winter plan for business. We would like the government to go a bit further [than what has been announced], for the prime minister to say: 'We now understand a lot more about the pandemic thanks to the data we have, so these are the data thresholds at which business support will kick back in again.' That will help drive confidence; businesses would get a view of what is coming down the track.
And the other one would be: how are we addressing in the short term those skill shortages? Now we are more in control of our immigration policy, [let's consider] where can we turn the taps on and off in specific sectors where we see the need in the short term.
What are the other concerns that your members have, and what other requests would they have for the government in terms of the UK's operating environment for business?
We have seen businesses show incredible resilience in the face of not just the pandemic, but also the huge generational changes around Brexit.
There were skill shortages before the pandemic, but the twin issues of Covid-19 and Brexit have really exacerbated these shortages quite dramatically, across most sectors, and are impacting huge swathes of the economy. Our latest survey on skills showed more than 60% of the businesses that responded were recruiting, and 77% of those were experiencing difficulties recruiting into those roles. There are long-term solutions, such as lifelong training. We are also working with government on local skills investment plans, which are excellent ways of matching the skills needed to local small and medium-sized enterprises, and to make sure that what colleges are teaching matches long-term business needs. In the short term what we would like to see are temporary visas for specific roles and sectors, and more roles added to the shortage occupation list would really make a difference.
What we want to see now is for the government to build on it [the trade deal with the EU], to streamline it, to simplify it, to reduce the burden of paperwork.
The other issue involves the new challenges of moving goods and services across our borders; 40% of our trade goes through the EU. [Prior to Brexit] exporters didn't have to fill out any paperwork but now they have to fill out up to 26 different bits of paperwork; and our EU partners, we are hearing, are interpreting the rules slightly differently. Paperwork and rules of origin are particularly challenging for businesses. We are working with the government to say: 'We have got the free trade agreement, how do we build on that, streamline it, make it clearer and easier for people to move goods?'
The British Chambers of Commerce is rooted in helping our members to be able to trade. About 10% of businesses [overall] in the UK export, while 50% of chamber members export, which is my favourite stat. It just shows the strength we have in helping them do that, and that [involves] trade advice, trade documentation, customs. We also have a network of 75 international chambers that can also assist. So trade is really one of our huge assets. The other thing of course is that businesses that export tend to be more innovative.
What we want to see now is for the government to build on it [the trade deal with the EU], to streamline it, to simplify it, to reduce the burden of paperwork. The UK is now striking new trade deals with the rest of the world, so there will be interesting opportunities globally as well.
In terms of foreign investment, how optimistic are you about the UK's future prospects as an inward investment destination?
The UK is, and will always remain, an incredibly attractive place for inward investment. Apart from advantages such as English language as a global language, the time zone between US and Asia, and the rule of law, the UK is still seen as a great entry point for the European market – and, of course, we have got a diverse market with world-class clusters in technology and science, finance, bioengineering and aerospace. The other, hugely exciting, area for investment is the green agenda and the innovation supporting it.
[To stay competitive] we need to ensure that the right infrastructure is in place and ensure we have the right skills.
In supporting UK competitiveness, there are three main pillars for the British Chambers of Commerce. One is building an ambitious trade strategy. The second is unlocking the skills system so we can deliver against that trade strategy. Then the wrap-around all of that is the green and sustainable agenda and how we can help our businesses tell that story. We know businesses that are more sustainable, that build social value and have a stronger bottom line are the ones that attract better talent. We want to help our members tell that story so that consumers and their trading partners also understand and know that.