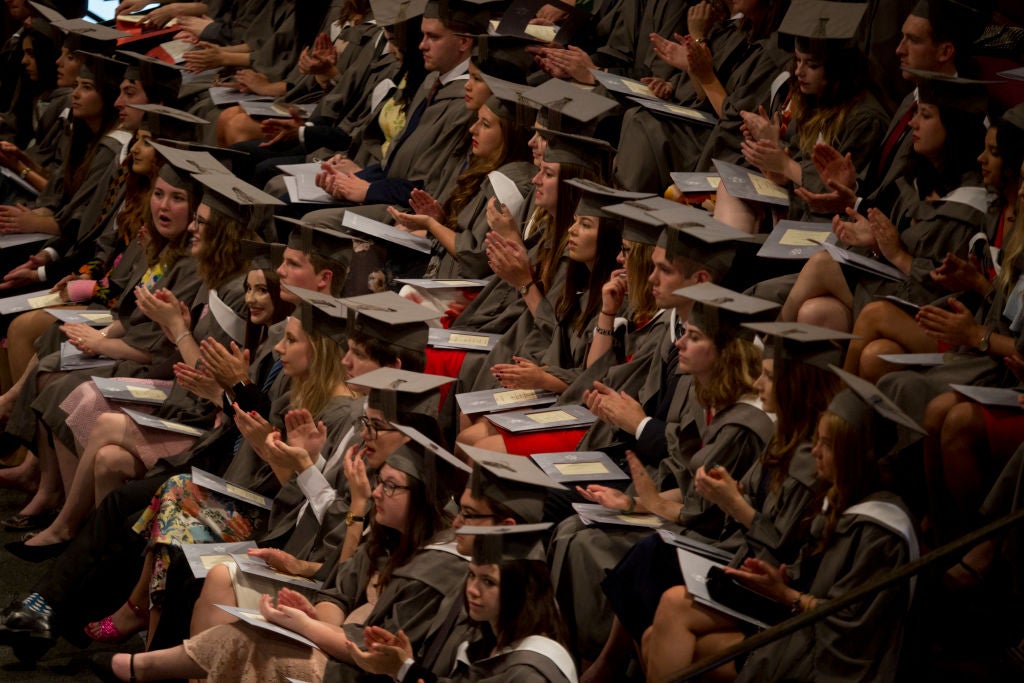 Around this time of year, millions of students globally will be returning to university campuses for what will hopefully be a more normalised student experience. I have just returned from Manchester where I left one rather nervous but excited daughter as she embarks on her higher education journey.
Even though I'm slightly daunted at the prospect of my daughter having some of the same (and god forbid better!) student experiences that I did, the vibe of possibility and opportunity for these young people is more contagious than Covid.
Unexpectedly, due to Covid, universities are largely oversubscribed in the UK in 2021. While that's driven by a domestic cohort, there still appears to be strong international representation. My Irish daughter is very much the 'local lass' in her student halls, with her neighbours hailing from Sri Lanka, India, Nigeria and Hong Kong, testament to the enduring attractiveness of top performing institutions even during these strange times.
This is good news for the UK's universities clearly but also reassuring to physically see the abundance of diverse talent and skills that we talk about in such a functional and sometimes abstract way as part of investment promotion. These bright young things and the higher education system itself has always been an important part of the investment ecosystem but its role and influence has been steadily growing.
The universities are not only a key investment actor in attracting and producing skills for the future.
Linkages with companies are now mission critical for Universities. At its most basic level, it supports employability for graduates, an important KPI. But the relationships run much deeper, driven for Universities by the need for additional revenue streams and to build credibility as Research Institutions – the key differentiator and signifier of quality. Look at any University website and you will see 4 promotion categories – Undergraduate, Postgraduate, Research and Business.
Business is also important from an executive education perspective – and the Universities are capitalising on this space – providing experienced professionals an opportunity to upgrade and keep their skills relevant with internationally recognised qualifications and accreditations – we're all life learners now – whether we want to be or not!
For companies, it's driven by access to research skills, IP and innovation as well as identifying the ready source of skills to support expansion. The Oxford/Astra Zeneca vaccine highlights the power of utilising the top talent and research resources in the Country to expedite solutions. For many pharma and tech companies, the University relationships are becoming the most important strand of their R&D investment, and provides a more agile, cost-effective and results orientated approach due to the competitiveness of Universities in the R&D space. Perfect symbiosis.
Increasingly, Universities are also adapting their curriculum in response to the needs of companies to have work ready graduates. It's a hard skills and soft skills play – be it the latest programming language or even straightforward languages for operational excellence or internships that allow students the opportunity to smoothly transition into a worker bee.
And of course, for companies, there's also the need to retain or even retrain existing talent and Universities have a growing role here. Individual economic potential is predicated on how we choose to adapt and pivot our skills as industries change. Companies need to offer us more then good salaries, we need the flexibility and support to stay relevant in changing marketplaces to maintain that economic potential.
Students are also important for cities and regions, not just as part of the skills narrative, but they have a huge role to play in animation of the city. The physical presence is unavoidable in Manchester and in other "student cities" across Europe where Universities dominate like Lyon, Utrecht and Pisa. Students lend their vitality to a place to create vibrancy. Their promise and intellectual capital traded in the investment community like a commodity. They contribution to the local economy often underestimated. And their importance for sustained economic growth and expansion paramount.
So, here's to all the freshers, many of whom don't yet understand their value and contribution to place, investment, company success and our economic future.