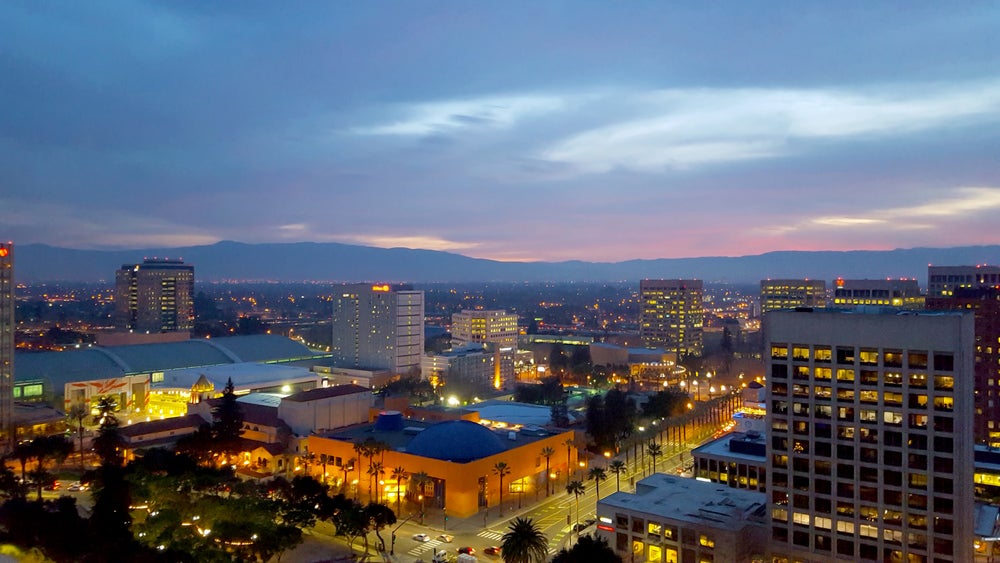 San Jose is one of California's oldest cities, developed around a Spanish settlement in 1777. The city lies between the Santa Cruz and Diablo mountain ranges, forming the largest metropolitan area within the Santa Clara Valley. With a population hovering around one million and covering an area of 465km2, San Jose is northern California's largest city, the third largest in California, and the tenth largest in the US, making it a city of international significance.
San Jose's economy was largely based on agriculture until it was transformed by the development of the technology industry from the 1970s onwards. San Jose, along with a number of other cities along the Santa Clara Valley from Redwood City, Menlo Park and Palo Alto to Mountain View, Sunnyvale and Los Altos, would become known as Silicon Valley. Silicon Valley proper covers the southern San Francisco Bay Area and roughly corresponds with the geographical footprint of the Santa Clara Valley. Although predominantly a global hub for technology and innovation, San Jose's business activities also include commercial, retail, professional, high-tech manufacturing, electronic assembly and service businesses.
Much of the city's success is predicated on attracting international and out-of-state businesses and workers. The city has long been a beacon for international economic migrants as well as US citizens from across country. The US Census Bureau shows that between 2016 and 2020, San Jose's population was made up of 40.1% foreign-born citizens and, according to the city's statistics, 57% of residents are non-native English speakers.
Attracted by a booming tech industry and attractive lifestyle, the city's working population swelled over the years in what seemed like never-ending growth. According to the city's council, more than 2,500 high-tech companies and 90,000 jobs are located in San Jose. Its location at the heart of Silicon Valley gives it access to the wider Bay Area and a talent pool where one in five residents has a degree in science, engineering, technology or mathematics.
This educated talent pool has been central to San Jose's growth as a global innovation hub with world-renowned universities Stanford and Berkley nearby, in addition to San Jose State University's student body of 36,000. According to the city, local universities provide businesses with 10,000 new science and engineering graduates each year. The result is that San Jose has more MBA jobs per capita than any other US city and 40% of San Jose residents have bachelor's degrees or higher. Between 2016 and 2020, the US Census Bureau found that 68% of the city's population was participating in the civilian labour force, with the median household income recorded as $117,324.
Is Silicon Valley's so-called business exodus overblown?
Despite San Jose's economic strength, the city has fallen victim to a number of state-wide challenges. State-level government has long been viewed as increasingly anti-business, and the California state government's response to the Covid-19 crisis with extended lockdowns was regarded by some as the tipping point for an exodus of flagship businesses and population decline.
The city's 2021 annual report stated that the long period of economic expansion from 2010–19, fuelled primarily by technology sectors, came to a sudden end in the first quarter of 2020 as the city was forced to abide by restrictive public health orders to combat the spread of Covid-19. "Future economic prospects will depend on the status of public health orders, public health conditions and consumer confidence, which remains uncertain," said the report.
The US Census Bureau recorded 1,013,240 San Jose residents in April 2020. A population estimate in July 2021 showed that this figure had dropped by 3.1% to 983,489. Factors for San Jose's population decrease include increasing state taxes coupled with a diminishing quality of public services. A poll carried out in October 2022 by the non-profit business association Joint Venture found that nearly three out of four residents said their quality of life in the Bay Area had declined over the past five years. Respondents were worried about crime and pessimistic about the regional economy.
According to CB Insights, Silicon Valley had created 24.2% of the world's unicorns by the end of 2021. However, by 2022, some of Silicon Valley's most high-profile businesses faced their first significant growth challenges. In July 2022, Meta announced it would "steadily reduce headcount growth over the next year" and Microsoft has implemented a company-wide hiring freeze. Google shut down its gaming division Stadia in February 2022 and it has become widely accepted that the days of company perks such as complimentary restaurants and in-office massages are over.
More concerning still is what some are calling a business exodus. Anchor companies including HP Enterprise, Oracle and Tesla have all moved their headquarters from California to Texas, signalling a wider exodus of small businesses across all sectors. Businesses choosing to leave California cite state-level economic policies as the primary reason for leaving. Stanford University's Hoover Institute tracks all businesses moving headquarters out of California, finding that, in 2021, business headquarters left the state at twice the rate of both 2020 and 2019, and at three times the rate of 2018. Between 2019 and 2021, California lost 11 Fortune 1000 companies.
Though many companies are choosing to move their headquarters out of San Jose, many of the companies garnering publicity around leaving haven't really left San Jose, and the claims of a business exodus are overblown, according to City of San Jose director of economic development and cultural affairs Nanci Klein. "Companies may move headquarters because of tax purposes, but in terms of research and development and company representation, they remain in San Jose and Silicon Valley," she says. Indeed, San Jose is the country's top patent-producing city, originating one of every eight patents, according to the city.
Klein notes that the strengths that have historically made San Jose a northern California economic powerhouse remain intact. The twin pillars of a highly educated workforce and one of California's best transit systems mean that San Jose is in a good position to build on its existing business ecosystem. Long-term reasons for investment in San Jose all pertain to this established business ecosystem.
Indeed, Klein claims that there is nowhere else in the world a business can take its innovation right through to commercialisation, and that is because of Silicon Valley's unparalleled established ecosystem. "Silicon Valley is as strong as it ever was," she adds. "You can bring an idea here, and you can get it commercialised faster than anyplace else."
This remains true, despite other competing US tech hubs growing across the country, says Klein, who also notes that the Bay Area still has the most venture capital dollars expended in the world. "San Jose has the deep networks associated with innovation, rapid prototyping, digital scaling, marketing, business planning and growth, as well as the opportunity to commercialise and sell," she says. "So what remains incredibly important here is the deep layering of resource overlapping resource."
Foreign direct investment snapshot of San Jose
According to Investment Monitor's FDI Projects Database, the city of San Jose saw a significant decline in inward investment between 2019 and 2021. San Jose ranked joint 21st in the US by number of inbound greenfield foreign direct investment (FDI) projects between 2019 and 2021, alongside Cambridge (Massachusetts) and Nashville (Tennessee). In 2019, San Jose ranked joint 16th with San Diego, and in 2020 it ranked joint 24th with Orlando and Jacksonville, both in Florida. In 2021, however, it ranked joint 48th with many other US cities.
Within the county of Santa Clara (considered Silicon Valley's geographic area), San Jose attracted the most FDI projects between 2019 and 2021 with 42.1% of inbound greenfield FDI, ahead of all other major cities along the Santa Clara Valley. Overall, Investment Monitor found that San Jose recorded 24 greenfield FDI projects from 2019–21. Of these, 20 were new investments and four were expansions.
Japanese tech investment fund SoftBank was the city's biggest foreign investor between 2019 and 2021 with four new greenfield projects. All other investments between 2019 and 2021 were single project investments by companies in a range of sectors, including Netherlands-headquartered semiconductor multinational ASML, Germany's electronic appliance company Busch Group and the Saudi Public Investment Fund.
The sectors attracting the most FDI projects to San Jose between 2019 and 2021 were software and IT services and electronics with six FDI projects each. The city also attracted greenfield FDI in a mix of eight different sectors. Construction and real estate both recorded four projects, automotive, tourism and industrial machinery, equipment and tools recorded two projects each and business and professional services and communications and media recorded a single project each.
The leading business function for San Jose's FDI projects is sales, administration and marketing with nine projects recorded between 2019 and 2021. Business and professional services recorded five projects, four companies moved their headquarters to San Jose in the three-year period, research and development recorded three projects, construction recorded two and one technology infrastructure was recorded.
San Jose's established business ecosystem is such that the city's industry sectors are expanding within and beyond just technology. Klein notes that because the technology sector is so strong, associated sectors such as medical device innovation, biotech and clean tech, to name just a few, have the opportunity to grow and are all seeing increasing investment.
"I think it just depends on what you call tech," adds Klein.
The US federal government's semiconductor chip bill, inflation bill and climate bill will all have an effect at a city level on San Jose, says Klein, who believes they will bring further opportunities for international investment. While the city has been confronted with both economic and public health challenges over the past couple of years, Klein believes an enduring business ecosystem will hold the city on course for future growth.