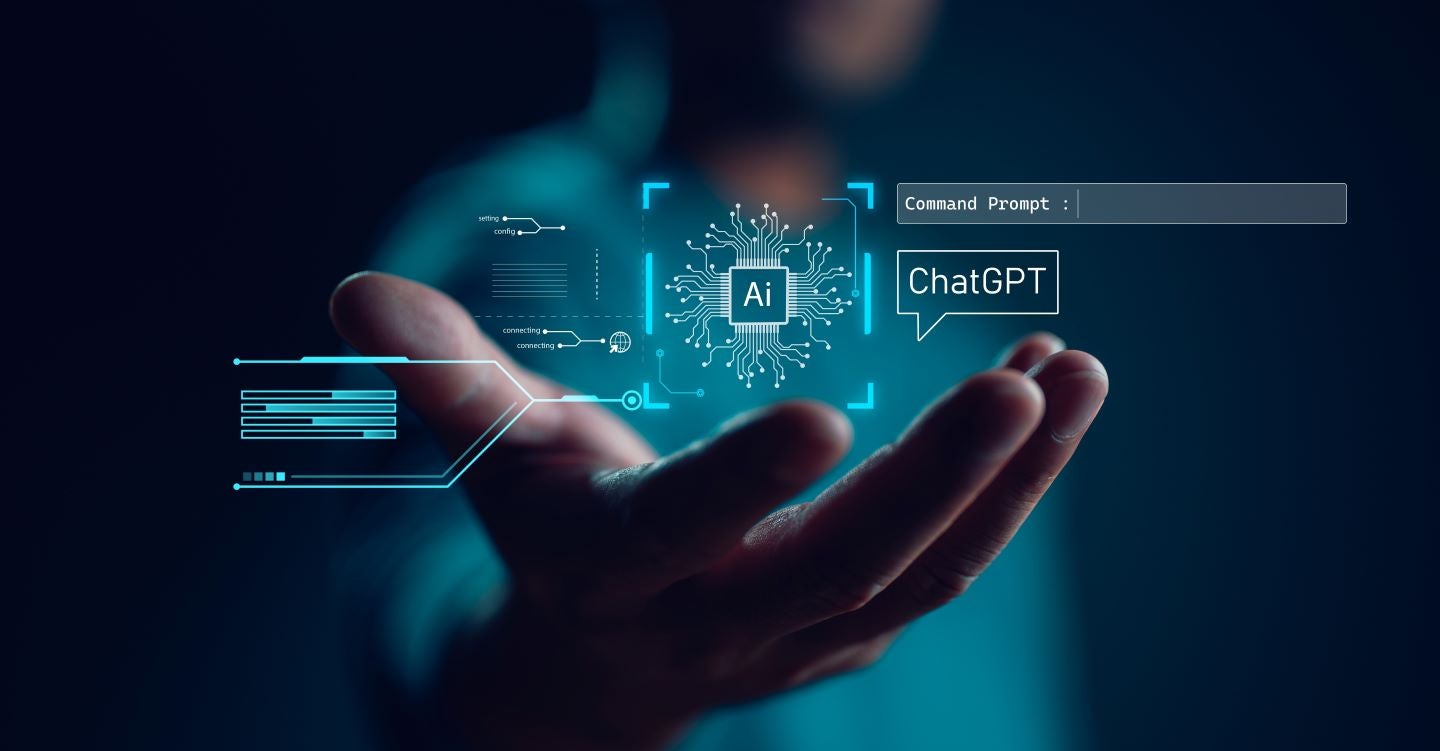 2023 started with a buzz around ChatGPT, and more generally around the immense potential that generative artificial intelligence (GenAI) holds.
The initial buzz has now reached a feverish pitch with more than 100 million ChatGPT subscribers and almost two billion site visits per month with an average time spent of around ten minutes – similar to Twitter and Facebook. One is almost immediately reminded of Bitcoin and Metaverse in recent years, which similarly burst on the scene, but have quietened down a lot. Will GenAI go the same way?
Chart-1: Google Search Trends [max=100]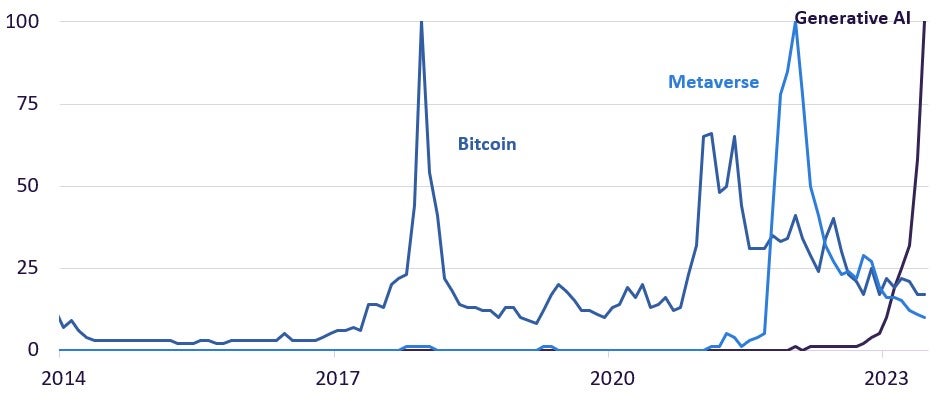 Five reasons why Generative AI, beyond the hype, means all business
We think there are strong underlying signals that show GenAI's emergence is backed by fundamentally sound drivers – such as rapidly accelerating innovation, plentiful funding even in a subdued macro environment, increasing demand for human capital, growing focus among company senior management and investors, and mostly viewing GenAI to tangible disrupt their business in the next five years.
A) Majority of businesses expect GenAI to disrupt their industries in the next five years
A recent survey by Verdict Media shows that 73% of respondents either partially or fully understand GenAI, with 29% already using GenAI tools in their business, but the key insight is that 52%+ expect GenAI to have a meaningful, tangible, disruptive impact on their businesses over the next five years.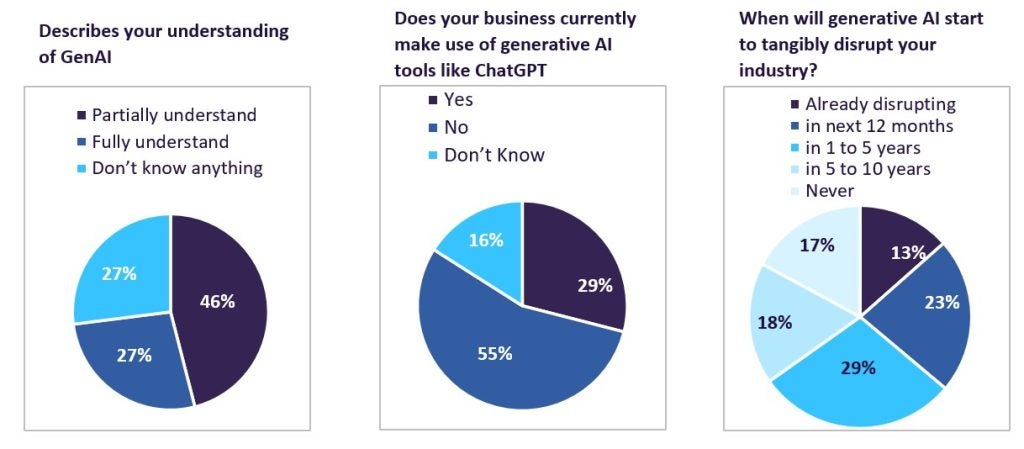 Powerful data signals from GlobalData, a leading data and analytics, corroborate the above industry view. Leveraging novel alternative datasets such as patents, filings, jobs and deals help provide unambiguous insights into the transformative potential of GenAI, and why its influence will persist well into the future.
How well do you
really

know your competitors?

Access the most comprehensive Company Profiles on the market, powered by GlobalData. Save hours of research. Gain competitive edge.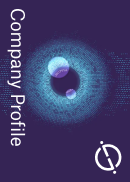 Company Profile – free sample
Thank you!
Your download email will arrive shortly
Not ready to buy yet? Download a free sample
We are confident about the unique quality of our Company Profiles. However, we want you to make the most beneficial decision for your business, so we offer a free sample that you can download by submitting the below form
By GlobalData
B) Patents – Early indicator for technologies emergence, shows massive future potential
Patenting activity in GenAI innovations has shown a massive acceleration in the last four years, growing almost 5x, from around 1,450 patents to 6,000+, or 83% compounded annual growth over the last five years. This rapid acceleration shows the belief of researchers in the immense potential GenAI holds. And right on cue, their belief was born out in 2023 when the whole world is talking about it.
More importantly, we think this will continue to show acceleration in the future, as more people realise the potential this technology holds.
Chart-2: Patenting Trends in Generative AI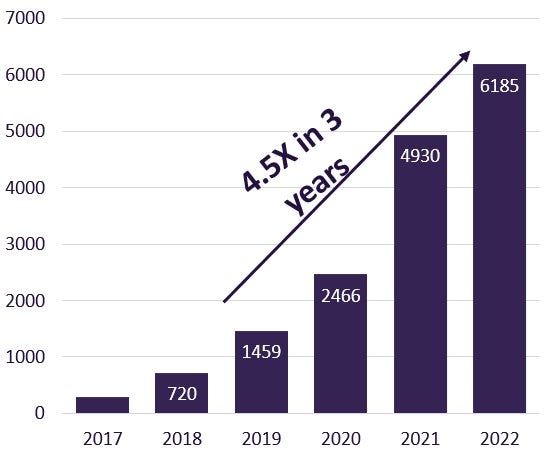 It is worth pointing out that patenting is a non-trivial pursuit, with significant resource requirements in terms of time, labour and money. So, each patent represents a meaningful addition of knowledge to the field in expectation of monetary rewards in the future.
GlobalData's Technology Foresight model, a proprietary innovation intelligence tool, using cutting-edge AI algorithms was picking early signals of GenAI's rise pretty early on.
Below is the innovation S-curve for GenAI – which identifies the disruptive innovations within AI from millions of patent filings within artificial intelligence using proprietary AI algorithms. And as can be seen, the majority of the innovations were either 'emerging' or 'accelerating' stages.
Chart-3: Generative AI – innovation S-curve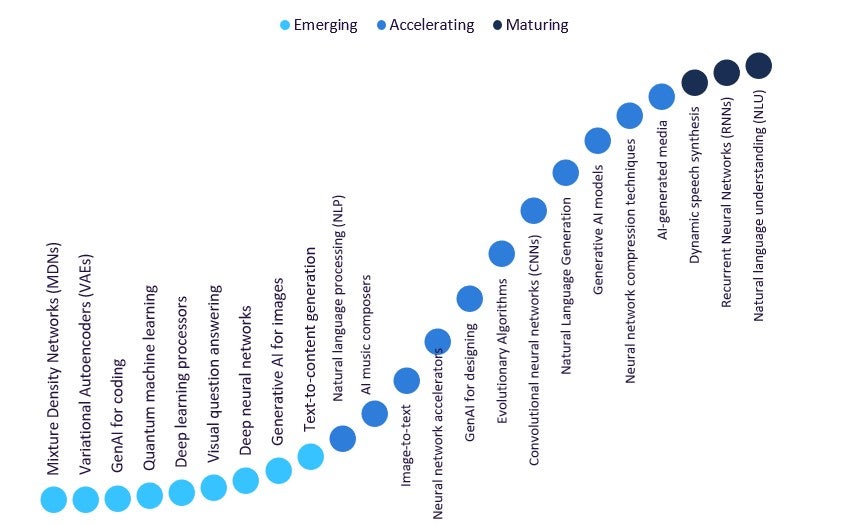 Some of the major GenAI innovations are around GenAI for coding, Generative AI for images, GenAI for designing and AI-generated media, and clearly show how broadly applicable these innovations are and their potential to impact business across industries. The attached document, available for download, deep-dives into these four areas and shows patenting trends, application areas, leading companies and start-ups and real-world applications of these innovations.
More importantly, what the above chart also shows is that just focusing on broader AI will mask the disruptive pockets of innovation within AI, which are the real source of disruption. The Technology Foresights model has identified more than 150 AI innovations to watch for, and above is a subset focusing only on GenAI.
C) Generative AI is front and centre – for company management and investors alike
Another way to understand a technology's relevance is to understand how much mind space they dominate – particularly for investors and senior management of companies.
Recently, GlobalData's filing analytics showed a massive surge in analysts asking GenAI-related questions to the top management of companies to assess their preparedness for this emerging threat/opportunity for their business.
Chart-4: Number of questions on GenAI by investors/analysts to company management, as transcribed in call transcripts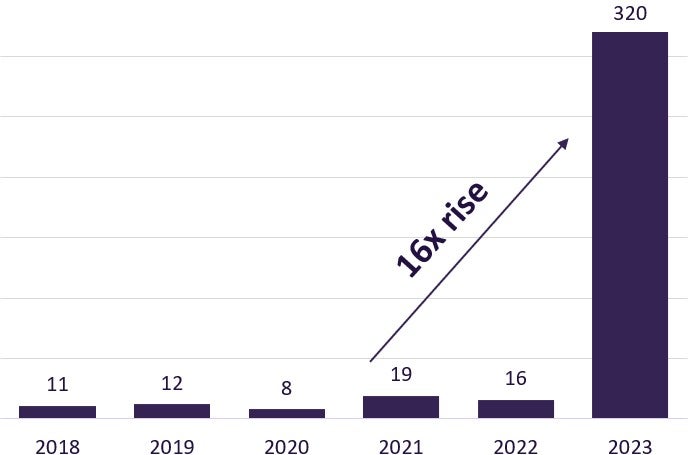 And some companies have been very vocal about GenAI in their filing documents. NVIDIA is one to highlight here as it's been the most consistent and most outspoken about GenAI in its filing documents. And this isn't surprising as its AI accelerators and graphic processing units (GPUs) are foundational in companies running GenAI models. For example, OpenAI used over 10,000 Nvidia GPUs to train it to the ChatGPT model. And it has been amply rewarded with share prices tripling from the start of the year.
Chart-5: Count of GenAI mentions by companies in their filings, conference calls etc.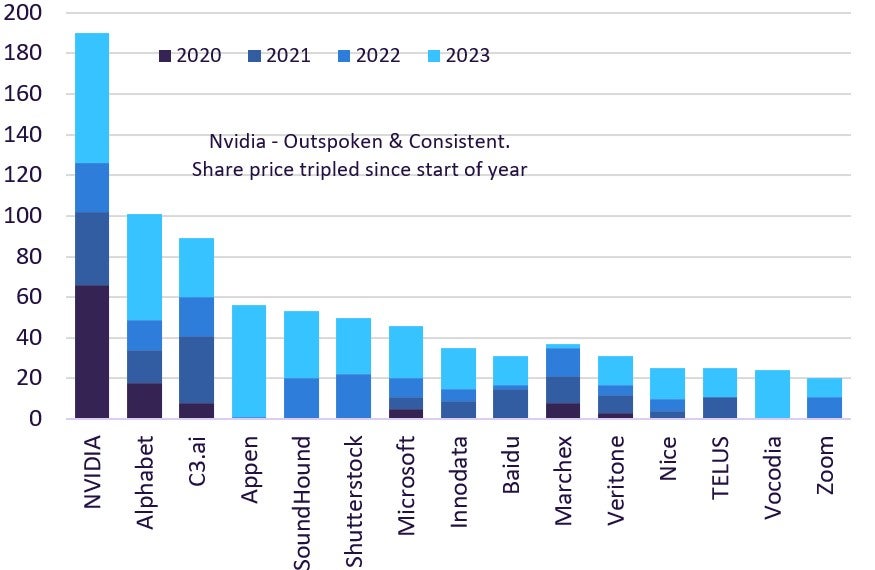 IBM in its filing documents thinks GenAI will provide explosive growth over the next ten years, starting now. Nvidia views all enterprises needing high supercomputing in a GenAI world, for which it is well placed. Snowflake foresees consumers to be able to write their own queries on Snowflake using ChatGPT. Salesforce also highlights some risks, including massive investment needs, and the need to test for accuracy, bias and other variables which are inherently complex and can impact profit margins.
D) GenAI skillset in demand, across sectors
One other reason why GenAI is more substance than hype is that companies across sectors are? participating in developing their human capital in this niche area. This suggests a very broad applicability across industries, and we think, there will hardly be any business in the future which will not be transformed by it.
Table-6: Active job opening that demand GenAI skills across sectors

The above also demystifies some people's belief that GenAI skillsets will only be in demand at technology companies. Ultimately, companies invest in human capital only when they think it has the potential to generate future revenue streams or augment the current revenue base, and hiring trends is another signal of GenAI being a powerful driver of businesses in the future
The document available for download below details examples of job openings at companies across sectors. Examples include media houses needing skills to translate creative visions into prompts, auto companies seeking skills to generate data for simulations, and financial firms leveraging GenAI models to augment financial risk models.
E) GenAI start-ups still a bright spot on investors' radar despite chills from start-up winter
Funding start-ups is in our view, a key driver of technology innovation. And despite the start-up funding squeeze in general, start-ups with GenAI products/services are still attracting investor dollars in a tight funding environment. Seasoned investors clearly think GenAI holds massive future potential.
Chart-7: Start-up funding – All start-ups and GenAI start-ups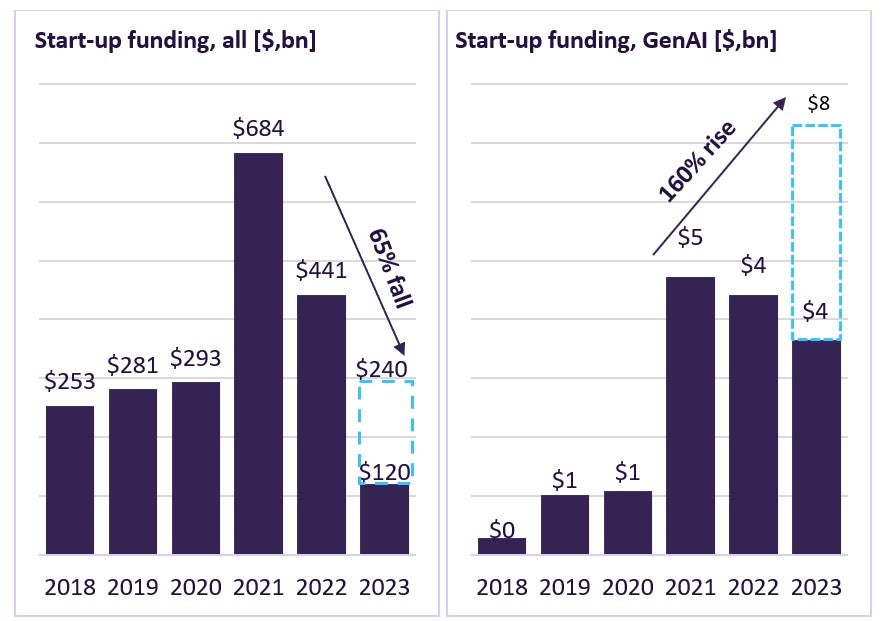 GlobalData's Deal analytics reveals that overall start-up funding has collapsed 65% since the peak of 2021, from $684 Bn to $240 Bn in 2023 (annualising first-half trends to full-year). In comparison, start-ups with a GenAI focus are going strong with a 160% rise in the same period (annualising first-half trends to full-year).
This document discusses select recent deals, which include the likes of Tomorrow.io – which is the world's first weather and climate-generative AI, as well as Mistral AI, which is just four weeks old, with no product and currently just hiring staff.
Is there any evidence that GenAI will lead to future business success though?
That's a fair question, and we can look to financial markets – which are predominantly pricing the future potential of businesses – to understand how influential GenAI is.
Chart-8: Performance of AI winners/losers since ChatGPT launch in Nov-2022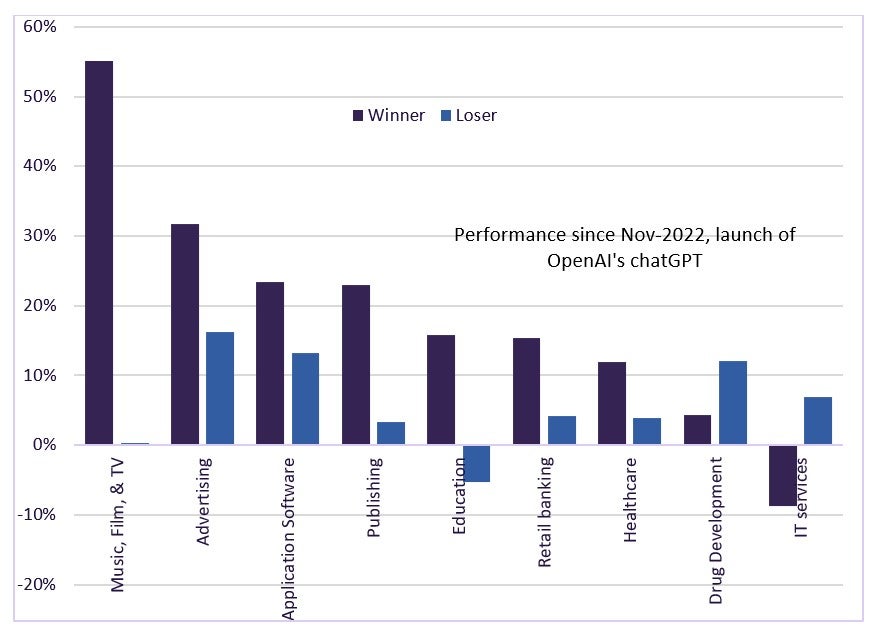 Using GlobalData thematic scorecard, which ranks each company on their thematic capabilities into winners and losers, we construct the AI winners and AI losers' portfolios and measure their performance since the ChatGPT launch in Nov-2022. Companies which are in the AI winners portfolio have outperformed the AI loser portfolio across most sectors, especially, those related to media.
In conclusion, powerful signals as discussed above, help look beyond the GenAI hype and confirm it means all business. In fact, from drug discovery to spaceships, nothing is out-of-bounds for GenAI. Recently, Nasa has started using GenAI to develop spaceship parts – which, although look weird, massively improve performance, and Nvidia employs GenAI models to generate protein molecules to fasten the drug discovery process while also cutting down costs significantly.
There are ample examples from across industries where GenAI is being used in novel ways, and we think GenAI adoption at companies will play a crucial role in determining the winners and losers of tomorrow.