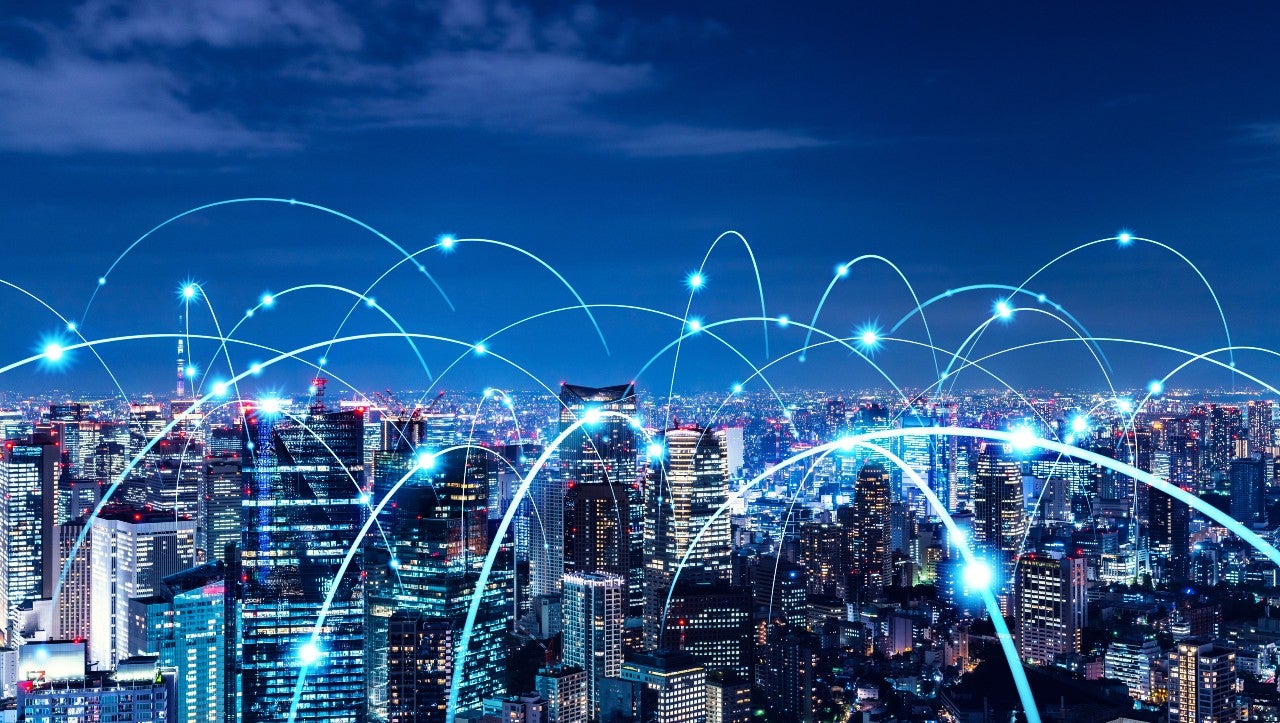 5G will transform every aspect of the way people work and live, with Nokia predicting that the technology will enable $13.2trn in global economic output by 2035. Businesses that want to make the most of the opportunities that come with this transformation need to locate somewhere that is not just at the forefront of 5G roll-out, but where the government and regulators are laser-focused on enabling innovation and growth.
Abu Dhabi is an ideal choice for ambitious businesses. Investment Monitor examines the advances the emirate has made to date and considers how the next generation of innovative businesses are poised to achieve both regional and global success from the capital of the UAE.
Understanding 5G technology
5G is the fifth generation of cellular networks. It allows data to be transferred up to 100 times faster than 4G. The combination of faster connectivity speeds, ultra-low latency and greater bandwidth will radically change the way we engage with technology. Consumers will be able to download a film in a few seconds, and the floodgates of opportunity will be thrown open for businesses, with immense possibilities across the internet of things (IoT), edge computing, Big Data and automation.
UAE was the first country in the Arab region and fourth country in the world to roll out 5G, and Abu Dhabi is leading the way when it comes to 5G provision, with the fastest download speeds in the Middle East. The emirate is one of the top three fastest 5G capitals in the world and home to the fastest overall mobile network on Earth. These findings come from network testing specialist Ookla, which recorded median 5G download speeds of a remarkable 421Mbps in the first half of 2021.
Early 5G commitment has enabled success
The UAE's Telecommunications and Digital Government Regulatory Authority (TDRA) has been a driving force behind the establishment and growth of the country's market-leading 5G provision. In 2016, the authority created a road map that included establishing use cases, trial installations and commercial partnerships with leading providers. Since then, success has followed success, and the UAE is committed to remaining at the forefront of 5G provision while also looking to the next generation of telecoms.
Commenting on the analysis by Ookla, Majed Sultan Al Mesmar, director general of TDRA, said: "This global achievement is a testimony to UAE leadership's vision and commitment in bringing the country to the forefront, taking a lead in the ICT sector while being the most advanced country in digital innovation. 5G is a huge leap forward and a powerful catalyst for digital transformation, bringing new opportunities to various industries and the country."
He added: "This further highlights the country's readiness to attract the best in world-class talent and global conglomerates from across sectors."
A world of future opportunities
Abu Dhabi's commitment to world-beating 5G provision creates numerous opportunities for businesses of today and for the innovative businesses of tomorrow, which will be first to identify new applications.
Analysis by GlobalData found that, despite the impact of Covid-19, there were multiple 5G commercial launches worldwide in 2020, with 400 million 5G subscribers recorded by the end of the year. That figure is predicted to rise to three billion subscribers by 2025 – but the applications for 5G extend far beyond consumer use with opportunities across multiple commercial sectors.
Heathtech innovation driven by 5G
Healthcare is set to be transformed by 5G, benefitting providers, patients and the businesses that serve them. Automation and robotics will take quantum leaps, telemedicine will become increasingly powerful and remote surgery will be more widespread. Tracking patient health, as well movements of staff and equipment in hospitals, will create a wealth of data that will drive better outcomes and increase efficiencies.
Abu Dhabi's Department of Health (DOH) is committed to innovation, as demonstrated by the implementation of its pioneering health information exchange (HIE) platform Malaffi, which became operational in 2019 and was one of the world's fastest HIEs to be rolled out.
The DOH is also looking to encourage innovative healthtechs to locate in Abu Dhabi with initiatives such as the Plug and Play programme, which aims to attract up to 36 global healthcare start-ups to Abu Dhabi by 2022, in partnership with ADIO.
Enabling AgTech
5G will take smart agriculture to the next level by boosting yields while conserving water. The ability to collect, relay and analyse huge amounts of data from agricultural and monitoring equipment will be transformative. The opportunities for sectors such as robotics and drones are significant, with IoT enablement creating multiple efficiencies. Additional opportunities for cutting-edge businesses will be generated around irrigation, sensors, precision agriculture, traceability and blockchain, as well as AI and farm automation.
Abu Dhabi is supporting this future-facing approach to agriculture, as demonstrated by the planned creation of the UAE's first fresh produce AgTech Park in the emirate. Located in Al Ain Industrial City, the 200-hectare site will have a production capacity of 39 kilotonnes, with the technology that 5G enables being integral to future innovations.
Accelerating innovation in agriculture is a priority for Abu Dhabi. In 2020, ADIO announced more than Dh500 million in incentives to bring global AgTech pioneers to Abu Dhabi, as part of its overall Dh2bn Innovation Programme under Ghadan 21.
Smart cities run on 5G
The next generation of smart city solutions require excellent and ever-improving 5G provision for data-dependent applications like autonomous vehicles. Innovative businesses operating from the UAE will benefit from the country's long-term commitment to next-generation telecoms technology, as well as its competitive and regulatory environment, designed to facilitate technological advances and attract investment and talent from around the world.
Having been named the most liveable city in the Middle East and North Africa and home to a well-educated, affluent population, Abu Dhabi is a perfect place to develop the next generation of IoT technology for the smart cities and homes of tomorrow.
Industrial applications for 5G in Abu Dhabi
It is within the industrial sector that 5G, and especially edge computing, may have the greatest impact. Applications across mining, oil and gas, shipping and logistics will allow better ways of working that will not just be more profitable but will also help reduce carbon emissions by creating efficiencies and smarter ways of working.
The Maqta Gateway initiative is a perfect example of Abu Dhabi's commitment to future-facing technology and digital solutions. Owned by Abu Dhabi Ports, Maqta Gateway has developed a digital port community system that acts as an information portal for all port stakeholders, authorities and traders. Maqta Gateway is committed to being a leader in the development of integrated regional and global trade, and it is exactly this approach that creates the possibility for similarly ambitious businesses to develop 5G use cases that enable such innovation.
Adding a new dimension to tourism
5G is also set to enhance the experience of the millions of visitors that come to Abu Dhabi every year. Those attending sporting events will be able to view multiple livestreams and replays on mobile devices, even if surrounded by thousands of people doing the same. Augmented reality and virtual reality could add extra dimensions to the visitor experience at everything from cultural sites such as Louvre Abu Dhabi to unique attractions such as Ferrari World.
Tourism was identified as an engine for economic growth within Abu Dhabi's economic vision and ADIO's modern incentive and facilitation programmes are driving growth for global investors. It is against this background of investment and enablement that start-ups and larger organisations that look to leverage the power of 5G will be able to fast-track their development and market penetration.
Whatever the sector, Abu Dhabi is ahead of the game when it comes to both 5G provision and the commitment to provide innovative global businesses with an ideal environment for growth.
To find out more about technology and innovation investment opportunities in Abu Dhabi, download the Abu Dhabi Prospectus whitepaper above/below, today.