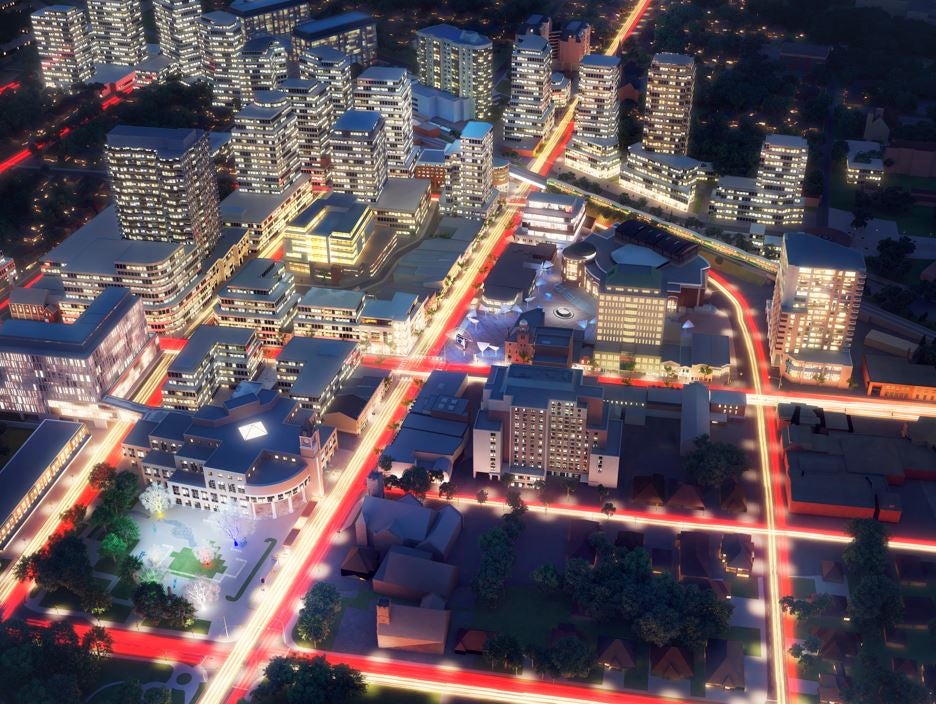 The City of Brampton is having a moment. Located in the heart of Canada's Innovation Corridor between Toronto and Waterloo, the country's fastest-growing city has recently made international media headlines for athletic achievements in women's and men's sport. Brampton's Ashley Lawrence and Kadeisha Buchanan helped to lead the women's Canadian soccer team to gold in the Tokyo 2020 Olympic Games. Meanwhile, an unbelievable seven of the players in the men's 2022 Canadian World Cup soccer squad hailed from the pitches of Brampton.
Before Qatar, the last time a Canadian men's team qualified to play in a World Cup was in 1986. Called the 'Brampton boom', there has been much head-scratching among commentators about how it came to be that more than a quarter of the 2022 qualifying squad hailed from this previously under-the-radar Ontario city.
Some experts believe it could have something to do with immigration.
Of the 700,000 people that call Brampton home, there are 250 cultures speaking more than 170 languages. It is one of the most diverse cities in North America with many of its people coming from soccer-loving countries. In fact, every one of the Brampton-based World Cup players are from newcomer families and some of the immigrant parents of the star athletes have told news reporters of how they gravitated to soccer for their children as a result of it being a more financially, socially and ethnically inclusive activity than some of the sports considered more entrenched in Canadian culture.
The power of diversity and inclusion
Of course, these things are never straightforward, but glory on the soccer – or football – pitch bodes well for this hyper-ambitious city that is as focused on sustainability, cultivating health and well-being, and inclusive, equitable growth as it is on fostering an innovation-centric, future-focused economy, where the hottest tech start-ups in every sector are setting up shop.
Clare Barnett, director, economic development at the City of Brampton, says that around 14,000 people a year are coming to Brampton to make a new life, making it the fastest-growing city in Canada.
In Brampton, entrepreneurs from all over the world with big dreams rub shoulders with global corporations such as automotive manufacturers Stellantis and Magna International and medical technology leader Medtronic Canada. In February, Magna International announced it would build a 490,000ft2 facility to manufacture battery enclosures for electric vehicles in Brampton as part of a $470m (C$628.53m) expansion project across Ontario.
Barnett says: "Great things are happening in Brampton and we want to harness this momentum so that Brampton by the year 2040 is memorable in the region, in the country and in the world."
To that end, the City of Brampton has launched a vision for what the Ontario city will look like by the year 2040. Over 97 pages that is deeply reflective of the feedback and views of thousands of people, Brampton 2040 lays out the building blocks and catalytic actions required for it to achieve its aims – a city co-designed by its citizens that optimises technology and sustainability principles to create a template of a magnet city in the 21st century.
Brampton is already an Urban Sustainable Development Goal (SDG) City, which means UN Habitat recognises that the UN's sustainable development goals are integrated in its policies and future plans for growth.
"This 2040 Vision is called 'Living the Mosaic' – because the essence of Brampton is diversity and the essence of what the people who live here want for the future is that their city be arranged, governed, seen and celebrated as a mosaic of people, places and endeavours of all kinds," Barnett says. "The jobs of the future are being created today in this city that is undergoing the kind of transformative change that most cities will never be fortunate enough to experience."
Magna International is posting jobs for robotic technicians in Brampton, while Canada's largest space technology company, MDA, has been advertising for an electro-mechanical assembler, among many other highly technical future-oriented positions, after investing $100m-plus into its Brampton global HQ for space robotics. From here, MDA will eventually offer on-orbit operations capabilities to commercial and government clients.
Barnett says: "Brampton's population is growing at a rate of 10.6% a year, while most cities in North America are growing at approximately 2%. We need to put every effort into creating the most attractive location for the world's brightest, exciting and most skilled students, entrepreneurs and workers to come here and create our future world."
Incubating our future economy
Historically known for its manufacturing, food and beverage processing and logistics, Brampton has been on a mission in recent years to position itself as a leader in the innovation economy to rival Silicon Valley. Its multi-city-block Innovation District is now home to a number of accelerators.
These include the Brampton Venture Zone, Rogers Cybersecure Catalyst – a global centre of excellence in cybersecurity – as well as Altitude Accelerator and the BHive, which helps international founders navigate the visa and immigration process with the Startup Visa so they can scale their businesses in the North American market.
Brampton's academic institutions such as Algoma University and Sheridan College, and their cutting-edge degrees, programmes and initiatives, are core to enabling the city's ambitions. One example is Algoma's partnership with Unity, the company behind the popular Pokémon GO game. Algoma University and Unity have launched a National Centre of Excellence to expand the VR and AR talent pool for the future metaverse economy.
Cybersecurity is a particular focus for Brampton. The Catalyst Cyber Accelerator is backed by Rogers Communication, as well as Toronto Metropolitan University and the Mastercard Foundation. The Catalyst is also a National Centre of Excellence for cybersecurity training, policy and start-up innovation. The Rogers Cybersecure Catalyst empowers start-ups to tackle the thorniest challenges in the cybersecurity sector through collaboration with industry, government and academic partners. It also offers world-leading training and certification support for cybersecurity research and development.
In March 2023, the Catalyst announced the launch of a new dual-certification six-month programme called CLIC in partnership with SANS Institute, with graduates receiving two globally recognised SANS GIAC certifications, the highest assurance of cybersecurity knowledge and skills. CLIC was designed as a response to unprecedented demand for SANS-trained and GIAC-certified cyber professionals, as well as a vast cybersecurity labour shortage that currently sits at 3.5 million unfilled positions worldwide.
Returning from an international cybersecurity conference in Tel Aviv in Israel earlier this year, Catalyst executive director Charles Finlay wrote of an unusual cross-industry consensus that the cybersecurity threat in our modern age was a "disaster". He said new technologies, such as artificial intelligence chatbot ChatGPT and quantum computing, are increasing risks to our security climate in ways that even today's cybersecurity professionals cannot yet grasp, while increasingly tech-enabled and connected organisations and critical city infrastructure and public services are creating ever more serious vulnerabilities to be exploited by growing gangs of sophisticated cybercriminals.
According to an April 2022 GlobalData report on the state of cybersecurity, from 2020 to 2025, spending on the Internet of Things will increase at a compound annual growth rate of 11%, with smart city, condition monitoring and smart metering seeing significant interest.
Barnett says: "The City of Brampton has partnered with local industry, our Innovation District accelerators and academic leaders to help address the global shortage of cybersecurity talent. We are one of the only cities in the country with two cyber ranges – training spaces that simulate a wide range of security incidents – and we have Canada's only accelerator for cybersecurity start-ups. We are quickly earning our place as Canada's centre for excellence for cybersecurity, the enabling technology to smart city infrastructure."
Creating the workforce of the future
Brampton's Innovation District provides support for technology entrepreneurs and founders at every stage of their journey from hiring local talent to accessing capital and scaling – and the accelerators and universities that operate there have an intentional focus on nurturing women, minority and underrepresented founders, and start-ups.
The Innovation District is also home to cultural spaces such the Rose Theatre and Peel Art Gallery, around which stylish coffee shops and cosy restaurants are flourishing. On the doorstep is the GO train, a regional train connecting the city to Toronto and Waterloo in only a few stops.
The city must be doing something right to appeal to the world's future workforce. A quarter of Brampton's population are under the age of 25, and at 36, Brampton has the lowest average age in Canada.
"Brampton is shaping up to be a global competitor, doing the right things to attract entrepreneurs and to build the underpinnings of what an innovation economy needs," says Sunil Sharma, managing director of the Toronto arm of TechStars, one of the largest pre-seed investors in the world.
Brampton 2040 means plans for progress will ramp up. The public transit system is going to be fully electrified. The city is investing $400m in electric buses – the largest global deployment in the world. The north-south Hurontario light rail transit is coming to uptown Brampton in 2024, further connecting Brampton with the Greater Toronto and Hamilton Area.
Brampton has also launched the Centre for Community Energy Transformation to steer Brampton's journey to a greener future.
The 'Brampton boom' is gathering momentum. Watch this space.