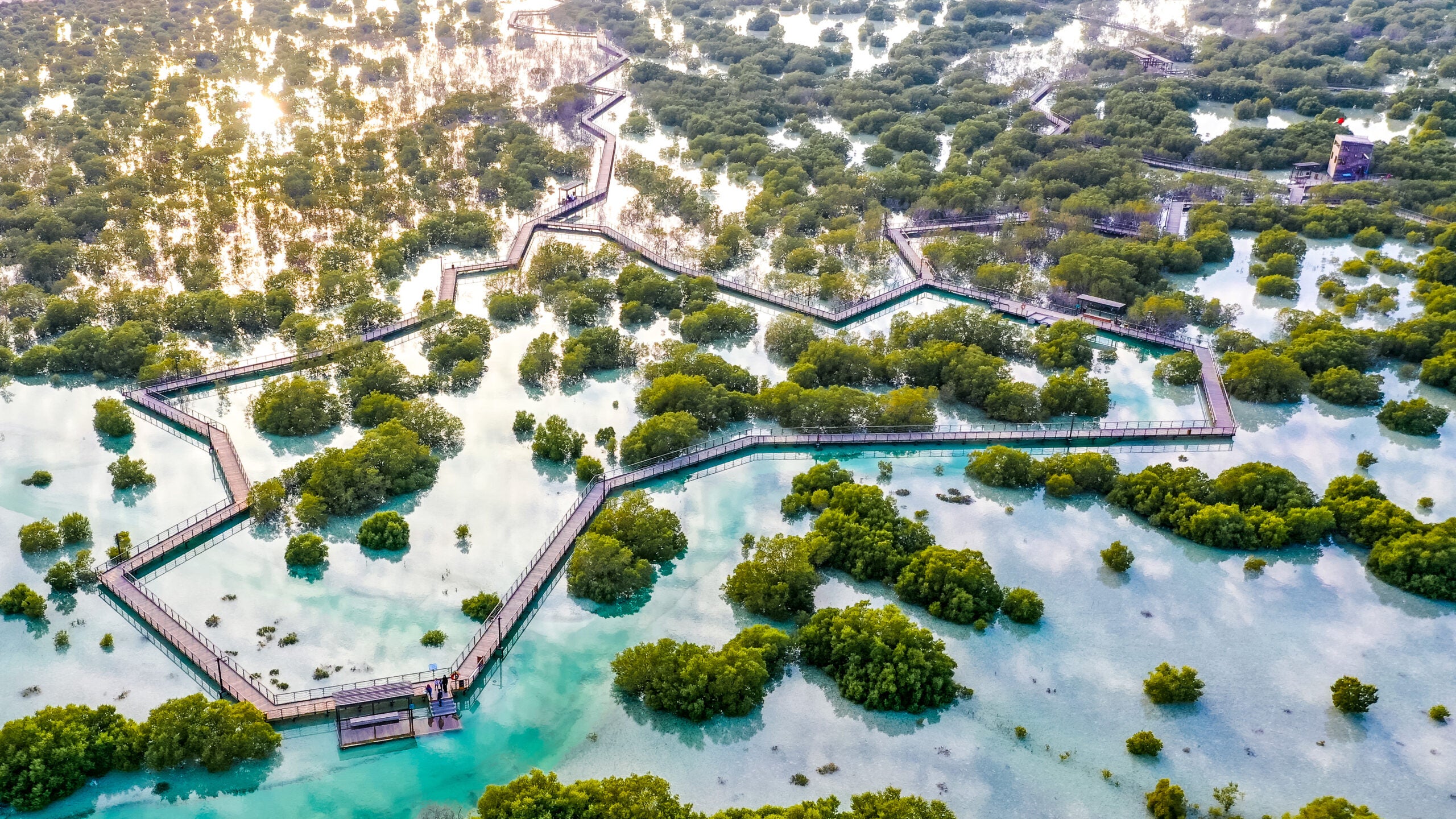 The Covid-19 pandemic grounded planes and shut down tourist destinations across the world. At the same time, well-informed consumers were becoming increasingly concerned with climate and sustainability issues. Now, as the tourism industry recovers, the time is ripe to reconsider how we travel, and for a new kind of tourism to emerge.
In recent years, responsible tourism has gained momentum as an important market trend. Global travellers are seeking ways to reduce their impact on both environment and culture. Destinations that can respond to this demand will lead the future of the tourism industry.
One of the most popular destinations in the world, the UAE is at the vanguard of this trend, and its capital, Abu Dhabi, is making important, material strides towards becoming a global hub for responsible tourism. With all the advantages of its outstanding natural resources, a dynamic environment for business innovation and inspiring investment opportunities, Abu Dhabi is helping to define responsible tourism, backed by institutions including the Department of Culture and Tourism (DCT).
H.E. Ali Hassan Al Shaiba, executive director of tourism and marketing for the DCT, explains the emirate's vision for the tourism industry and outlines the abundant opportunities for investors.
What do you understand by the term 'responsible tourism'?
Responsible tourism means building a more sustainable and reliable future for tourism, making our cities safer and better to visit, and ensuring every aspect of the tourism industry, including the environment and culture, is involved in creating a sustainable tourist destination by cultivating meaningful relationships between locals and tourists to create memorable experiences. It also means being culturally appropriate, reducing environmental and social impacts, and enhancing and conserving cultural heritage.
Abu Dhabi's commitment to responsible tourism
As one of the world's favourite destinations, the UAE and Abu Dhabi feature some of the most stunning landscapes and beautiful natural attractions in the region. We are dedicated to developing low-impact, eco-friendly tourism, so visitors can take in the natural majesty that stretches across the country, while leaving the landscape pristine and untouched. We are also keenly aware that ecotourism helps drive conservation efforts, protecting wildlife for generations to come.
Abu Dhabi is the home of a unique array of protected areas, and perhaps the best-known 'green' destinations in the UAE lie within the emirate of Abu Dhabi. This includes Al Ain, which is one of the world's oldest permanently inhabited settlements.
What makes Abu Dhabi such a key focus for responsible tourism?
Developing Abu Dhabi's natural resources
Abu Dhabi's strategy ensures that commercial interests and environmental sustainability initiatives align with the UAE leadership's vision: to be a global and regional hub for tourism and culture. We are continuously exploring new ventures within this remit to provide local and international communities with new, sustainable experiences.
For ecotourism, DCT Abu Dhabi has worked with the Department of Municipalities and Transport to open five natural sites, which were made available to the public in Q1 of 2020 as part of the government's accelerator programme, Ghadan 21.
These include the Al Reem Mangroves preservation project to protect the precious mangroves of Abu Dhabi, whilst providing ecotourism activities such as kayaking and birdwatching, as well as Habitat Island (an eco-tourism beach experience located close to Abu Dhabi Island) with its tourism activities, including snorkelling, swimming and beach games. Further afield, Jebel Hafit offers safe routes for visitors, hikers and cyclists to ascend the mountain and enjoy views from the top, while the Sweihan Desert area is a haven for desert explorers and campers.
Abu Dhabi: An ideal destination for responsible tourism
Abu Dhabi ranked 31st overall and first in in the Middle East and North Africa region in the Economist's Safest Cities Index 2021, making it an ideal destination for travel. The destination's success in 2020 was due to our unwavering commitment to community and visitor health and safety. Abu Dhabi conducts extensive research on travel trends across the world in order to tailor its offering to visitors as well as adapt to the ever-changing market conditions caused by the pandemic.
This year marks the 50th anniversary of the UAE and we are predicting a substantial recovery for Abu Dhabi's tourism sector. We look forward to welcoming more guests to our emirate, and so our focus remains on delivering high-quality, exciting experiences with health, safety and well-being as our number one priority.
Our responsibility is to develop new and innovative experiences for guests to enjoy safely during their stay in our emirate.
Responsible tourism investment focus
As the Abu Dhabi Convention and Exhibition Bureau aims to champion the emirate as a global business events leader, focusing on responsible tourism is essential for foreign investors. It functions as a one-stop shop for all business event planning requirements, further offering assistance including tailored research and bid strategy advice that ensures competitiveness, provision of destination promotion collaterals, and boosting delegate numbers through combined efforts with its international offices.
Focusing on fostering the development and promotion of business events throughout the emirate, Abu Dhabi aims to attract more investors by encouraging responsible tourism, aligning with their values and taking more sustainable approaches as a whole.
What part does safety play in responsible tourism today?
The health and safety of guests and residents are Abu Dhabi's utmost priority, while empowering the economic contribution of our partners in the hospitality and entertainment sectors. We will continue to responsibly welcome visitors while ensuring the health and well-being of those who live and work here in the emirate. By utilising key measures that ensure and raise the level of safety, Abu Dhabi has conducted business and strengthened the confidence of customers and visitors in all its commercial areas.
Through Abu Dhabi's rigorous testing and safety precautions in dealing with the Covid-19 pandemic, the capital has cemented its position as one of the safest cities for visitors, which will, in turn, promote the emirate's competitiveness and attract more investment, business and tourism footfall. These are essential steps that will enable the emirate to maintain a growth trajectory, especially in its vital sectors.
Why responsible tourism investors choose Abu Dhabi
Abu Dhabi is a favoured destination.

Welcoming more than 11 million tourists per year, the emirate is ranked among the top 100 busiest global association meeting destinations, and 89% of visitors to Abu Dhabi say they would visit again. Over the next decade, Abu Dhabi's tourism sector is forecast to grow at more than 5% per year.

Abu Dhabi is a green destination.

A World Expo 2020 report found that travellers have a positive perception of locations within the UAE as sustainable desintations, and Abu Dhabi is home to some of its leading attractions. In the World Travel awards, Abu Dhabi's Sir Bani Yas Island has won the World's Leading Sustainable Tourism Destination award every year since 2014.

Abu Dhabi has outstanding natural resources for ecotourism development.

The emirate has 400km of coastline, 200 islands, mountains, oases and deserts, and 19 protected areas, situated within a region whose population exceeds 50 million people. One of its oases, Al Ain, known as the 'Garden City', was the UAE's first Unesco World Heritage Site. Al Ain is 90 minutes from Abu Dhabi's city centre and home to 147,000 trees and 100 different types of vegetation.

Abu Dhabi provides strong support for the development of responsible tourism.

Tourism, which currently supports 300,000 jobs, is a priority area within the Abu Dhabi Investment Office (ADIO)'s AED2bn Innovation Programme, which offers incentives, both financial and non-financial, to businesses.
To find out more about tourism investment opportunities in Abu Dhabi, download the Abu Dhabi Prospectus above today.