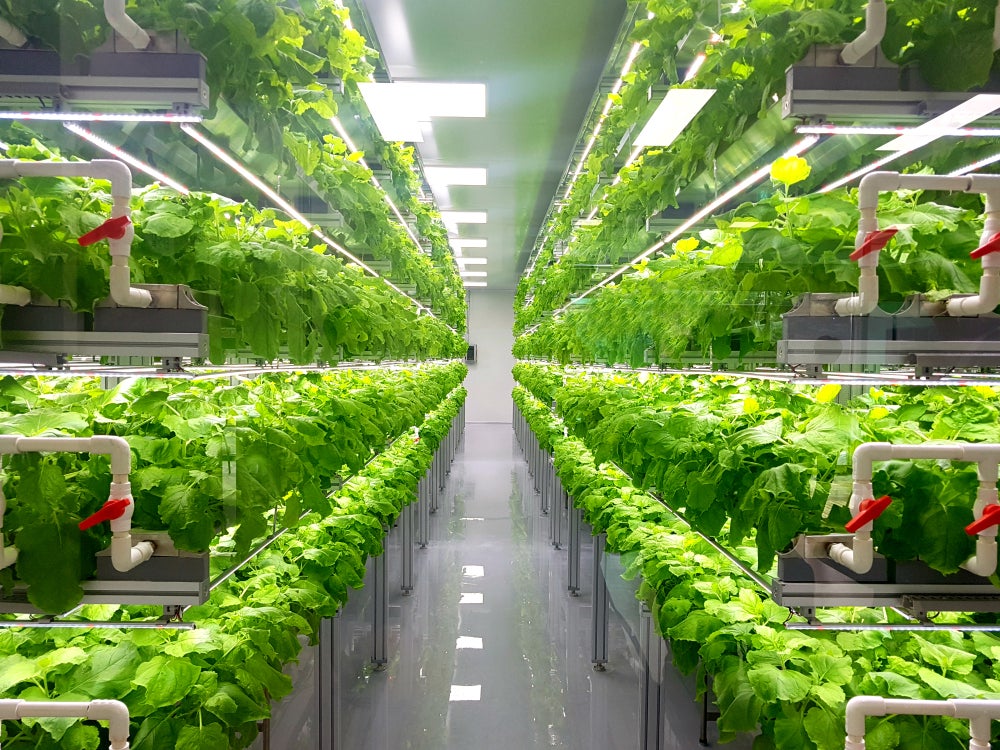 In the arid Gulf region, a new trend is forming – new varieties of berries and leafy greens are being developed in the desert, growing indoors in trays climbing stories above the ground and incubated by LED lights.
Vertical farming companies are moving and expanding their operations to the UAE where they are finding lower electricity prices, which are crucial to their operations, and willing investors. Import-reliant countries across the Gulf are seeking ways to bolster food security. Those lower electricity prices are offered as the UAE is actively seeking to bolster its local production capacity and Abu Dhabi, in line with the nation's efforts, has unveiled its own Abu Dhabi Industrial Strategy to incentivise local manufacturing.
At a new research and development centre in the capital of the UAE – the largest of its kind in the world – AeroFarms, supported by the Abu Dhabi Investment Office (ADIO) via a $150m investment in 2020, is testing new varieties of crops to bring new products to consumers, boost local production and help strengthen regional food security, which is a major priority in the Gulf.
The company is one of several that have within the last one to two years expanded in or relocated their headquarters to the UAE. Countries in the Gulf import the majority of their food; in the UAE, that figure stands at 85%, making the region an attractive option for companies tackling food security.
The UAE Government, like those across the Gulf, has sought to bolster its food security via local production and is willing to support companies that are helping the country do so.
"[AeroFarms solves] some of the challenges in the region," says David Rosenberg, the co-founder and CEO of New Jersey-headquartered AeroFarms. "We grow a plant using 5% of the water that is otherwise used. There is not a lot of fresh water in the Middle East. We don't use any soil, we use cloth, and there is not a lot of farmland in the region." The company, founded nearly two decades ago, sells a variety of greens in the US and is now actively expanding in the Middle East.
Among entrepreneurs, scientists and investors, there is a general enthusiasm that vertical farming, or growing plants in stacked containers indoors, has the potential to be the answer to a growing global population faced with rising food insecurity.
Feeding a growing population
According to the UN Food and Agriculture Organization, to feed the growing population the world must increase food production by 70% by 2050, the year that the world's population is expected to hit 9.8 billion.
The problem is, while we need more food, fresh water supplies and arable land are dissipating as climate change continues apace. Traditional agriculture uses 70% of the world's fresh water supply, according to GlobalData analysis on agricultural technologies. Agriculture is also responsible for around 30% of total greenhouse gas emissions, according to statistics from the International Atomic Energy Agency.
Vertical farms are especially attractive in urban areas because rather than taking hectares of land, they go straight up, conserving space. These farms provide everything a plant needs to grow – water, nutrients, sunlight.
"In typical farming, you bring the seed to the environment," Rosenberg says. "We match the environment to the seed. With the touch of a keystroke, we get the environment we want by programming humidity level, airflow, CO₂ level."
Vertical farms use significantly less water and because plants are grown indoors, there is no need for pesticides. Crops can be grown faster and with fewer defects than they would have when left to the whim of outdoor elements.
"We used to grow a seed to maturity in 22 days. Now we do that in 14 days. Two years ago, it was 16 days," Rosenberg says.
The small amount of land needed means vertical farms can exist nearer to cities, cutting down supply chain lines, which have been tossed into disarray as a result of the Covid-19 pandemic and geopolitical events. Shorter supply chain lines could improve food security, quality and shelf life. In the UAE, industrial zones are near the cities, further cutting down the distance that food has to travel from the farm to the grocery store shelf.
The costs of vertical farming
However, the general enthusiasm surrounding vertical farming is tempered by the reality that, despite the potential, it remains expensive. Vertical farms are expensive to build, requiring a lot of upfront capital. They also require a lot of energy – which largely comes from LED lights – to grow plants indoors.
Crops produced indoors need light provided for them at a cost, where field crops get sunlight free of charge. In Abu Dhabi, energy prices are subsidised for the industrial sector, meaning that for vertical farms in the emirate, their costs are lower than in other countries. The emirate is also bringing online new solar and nuclear energy projects.
While vertical farms use much less water and pesticides than field-grown crops, high energy use means some vegetables grown vertically can have higher CO2 emissions than their land-borne counterparts.
These drawbacks mean the potential has remained limited, largely to leafy greens that are fast-growing, high-value crops. Expanding beyond these, AeroFarms is now also growing berries to further the potential for vertical farming. So far, they have grown 70 types of berries and are focused on delivering products that taste good and at a price point in line with organic field-grown berries. Another ADIO-supported vertical farm, UAE-based Pure Harvest Smart Farm, which also grows leafy greens and strawberries, has started growing tomatoes indoors as well.
Further, the industry is incredibly vulnerable to fluctuating electricity prices. Powering LEDs that grow plants requires a lot of energy, and if prices rise, operations can be at risk. Some vertical farms in Europe have gone under due to rising electricity costs. A number of vertical farms are now turning to the Gulf where electricity prices remain stable, relatively low and are subsidised in some places.
Rising investment in vertical farming
The industry is relatively young, having only taken off in the last two decades. Experts believe that, like with many industries, costs will come down as advancements are made. For example, the massive drop in price of LED lights, which plummeted as much as 95% between 2008 and 2015, has made indoor vertical farming a more tangible reality.
"Although currently vertical farming methods are not quite cost efficient given the energy costs of sustaining the environment, it is likely by 2050, when the world's population is expected to reach nearly ten billion, that efficiencies will have improved to the extent that goods produced in vertical farms will make up a significant proportion of consumer produce," a GlobalData report titled 'Vertical Farming: the Future of Agriculture' finds.
Funding R&D is a major component in eventually driving prices down. In the UAE, ADIO has doubled down on backing vertical farms. The new AeroFarms AgX research and development centre was supported by ADIO. At 65,000ft², it is the largest indoor vertical farm of its kind for research and development in the world. The recently opened facility is part of a series of collaborations between ADIO and pioneering AgTech companies to boost research to improve food security. The collaborations are in line with the UAE's National Food Security Strategy 2051, which aims to move the country to the top of the Global Food Security Index.
Covid-19 has also accelerated global investment. Indoor farming raised more than $1bn in 2021, bigger than the combined sums from 2018 and 2019. By 2026, the industry is expected to grow to $9.7bn worldwide, according to Research and Markets.
Why Abu Dhabi?
With low electricity costs and a supportive government, vertical farms are finding a home in Abu Dhabi. iFarm in November joined Abu Dhabi's Hub71, the global technology hub led by Mubadala Investment Company and backed by the Government of Abu Dhabi. Now, it is moving its global headquarters to the UAE as well as launching an R&D facility there.
Similarly, for AeroFarms, the UAE expansion made perfect sense.
AeroFarms AgX has made several key hires locally and will employ more than 60 engineers, horticulturists and scientists in its laboratories conducting organoleptic research and precision phenotyping, phytochemical analysis, as well as research on next-generation machine vision, machine learning, robotics and automation. Rosenberg comments that finding female STEM talent in the UAE has been easy, hiring several Emirati women as engineers and plant scientists. The US company will also work with local companies and universities on research projects to tackle problems of agriculture within desert and arid climates.
Rosenberg says: "As an entrepreneur, one wants to go to places where they are early adopters of technology, not laggards. You don't have to do more than drive around and look at the amazing architecture in the UAE to see that there is a boldness to innovate and a willingness to be first, and that mentality is attractive to an entrepreneur."
To learn more about how Abu Dhabi might be the right fit for your AgTech or vertical farming business, download the whitepaper here.