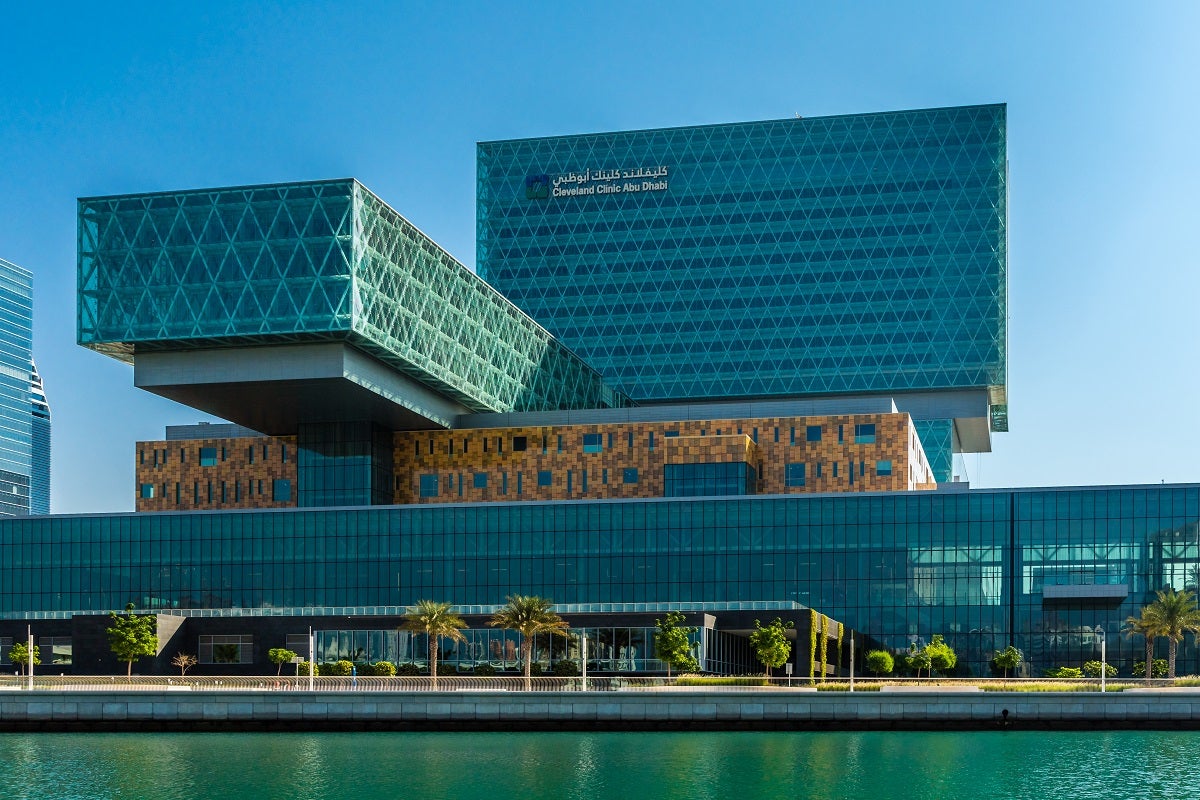 The global medical and health and wellness tourism industry is set to expand over the next two years, with the United Arab Emirates (UAE) at the forefront of this growth.
According to GlobalData, "the UAE is quickly becoming a popular medical tourism destination […] The UAE offers affordable state-of-the-art medical procedures that are continuously advancing, attracting medical tourists from Asian and Arab countries."
Abu Dhabi, the capital of the UAE, offers a world-leading environment for established medical institutions and pioneers alike. The emirate is already home to best-in-class healthcare facilities and trailblazing labs, having attracted top international hospitals from around the world, including Mayo Clinic, Cleveland Clinic and Kings College London, it and ranks first in healthcare testing capacity globally. In Abu Dhabi, innovators in the medical sector can access all the financial incentives, technological infrastructure and collaborative support they need to capitalise on a booming medical tourism market.
On average, over 15,000 medical tourists travel to Abu Dhabi to take advantage of its medical institutions every year. For businesses, these visitors represent a growing opportunity in an environment which is designed to support healthcare innovation and entrepreneurship.
Medical tourism expected to grow globally
The medical tourism industry is growing worldwide,and the UAE is set to see the largest inbound expenditure in the medical tourism industry in the Middle East and Africa region, followed by South Africa and Egypt.
"The UAE, Turkey, Thailand, Philippines, and Mexico are among the top countries with the fastest growth in medical tourism and are all expected to grow at high single-digit and low double-digit CAGRs during the forecast period [through 2024]," GlobalData research finds.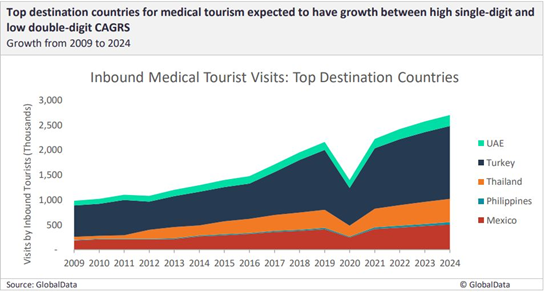 Increasing healthcare costs, decreased travel costs, ease of access, and advancements in technology have all driven the heightened popularity of medical tourism, and, according to GlobalData, "medical tourism will continue to grow as healthcare costs continue to rise".
Abu Dhabi offers state-of-the-art treatment and a leading location
As the medical tourism market grows globally, patients seek the right destination for treatment. GlobalData finds that cost and safety are two of their main considerations, as well as overall experience.
Abu Dhabi is centrally located between east and west, accessible to millions of people within a four- to five-hour flight. Healthcare in Abu Dhabi is a public-private mix, with the shared ambition to develop state-of-the-art medical facilities. Part of the Abu Dhabi government's economic vision includes achieving excellence in the medical tourism market: "Abu Dhabi intends to successfully compete in this market by developing world-class healthcare facilities".
The emirate is already home to world-leading clinics such as Cleveland Clinic Abu Dhabi. Patients travel to Abu Dhabi from around the world each year to receive care in Cleveland Clinic's world-class, multi-speciality hospital that offers complex and critical care expertise across 14 institutes and 40 specialities. In 2018, Cleveland Clinic Abu Dhabi treated 1,380 international patients from more than 93 countries. Etihad Airways and Cleveland Clinic Abu Dhabi have signed an agreement to help ensure receiving care in Abu Dhabi is affordable for those seeking treatment.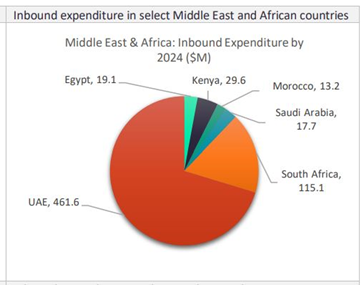 According to the Medical Tourism Association (MTA), Abu Dhabi ranked 8th out of 46 destinations for medical tourism in the 2020-2021 rankings and ranked 9th for the quality of facilities and services. Patients can access not only high-end medical services, but also a relaxed medical visa, on-ground transportation, involved hotels and tourism agencies.
Healthy investment in healthcare pioneers
Abu Dhabi continues to invest in healthcare innovation. The emirate has partnered with the MTA to promote Abu Dhabi as a medical tourist destination with focus on specialty areas like cardiology, oncology and executive screenings. Orthopaedic and cosmetic surgery, as well as dentistry, are some of the most popular specialities for medical tourism globally, according to GlobalData. The top specialities attracting health tourists to the UAE include orthopaedics, sports medicine, dermatology and skin care, dentistry and fertility treatment.
As part of the MTA agreement, Abu Dhabi is targeting medical tourists primarily from markets such as Russia, China and the GCC. China has seen one of the largest increases in healthcare costs since 2010, growing at a compound annual growth rate (CAGR) of 12% between 2010 and 2018.
The Abu Dhabi Investment Office (ADIO) offers support to healthcare businesses in the form of financial and non-financial incentives. Healthcare & Biopharma is a target sector of its AED 2 billion ($545 million) Innovation Programme, which has helped establish prestigious partnerships to bring advanced healthcare technologies, best practices and world-class standards to the emirate and to access emerging investment opportunities.
One of the emirate's focuses is on early detection and prevention, says Dr Omniyat Al Hajeri, Executive Director of Community Health Sector at Abu Dhabi Public Health Centre: "We have a programme in Abu Dhabi that brings together cardiovascular screening and cancer screening as well as mental health early detection, and [we also] target senior citizens for possible early signs of dementia and hearing and vision abnormalities," Al Hajeri said at a recent UAE Business Council and Healthcare UK event.
Technology gives medical tourism a boost
For patients seeking health services overseas, barriers to treatment planning and consultations have been alleviated by telemedicine, which leverages advanced technologies to improve patient convenience and adherence.
"Cloud technology has enhanced medical tourism by allowing patients to seek the care they require and have their health information stored digitally," finds GlobalData. Home to large-scale data centres and leading international cloud service providers including Oracle, AWS and Microsoft, Abu Dhabi is primed to offer the next generation of healthcare to international patients.
As part of its support for healthcare innovation, ADIO has announced a new partnership with health cloud company Innovaccer. The partnership aims to improve the accessibility, affordability and quality of healthcare in the Middle East. Innovaccer will receive financial and non-financial incentives to set up its regional headquarters in Abu Dhabi, under ADIO's Innovation Programme. The company's regional headquarters will create more than 80 jobs to support development, marketing, sales, implementations, customer support, and other operations throughout the region.
Medical tourism benefits the whole economy
"Overall, the countries expected to have the largest inbound expenditures by medical tourists by 2024 have an established medical tourism industry, and most are building off their existing tourism structure," GlobalData analysis finds.
In Abu Dhabi, tourists and medical tourists alike find a buzzing city filled with experiences for everyone. For those looking to unplug and relax, the city offers a range of spas and resorts dedicated to health and wellness, as well as state-of-the-art medical research. According to Dr. Omniyat, "We are open for innovation, and we are open for clinical trials that are safe to our patients to decide on future ways to save lives."
Medical tourism presents a win-win. Patients can receive better, more affordable care than they would at home and businesses benefit from the market's rapid expansion. In Abu Dhabi, healthcare businesses can find a well-developed healthcare sector and an ideal environment for continued growth, which is supported by government commitment to developing the sector and investing in healthcare innovation.
To find out more about how to develop your business in Abu Dhabi, download the whitepaper here.