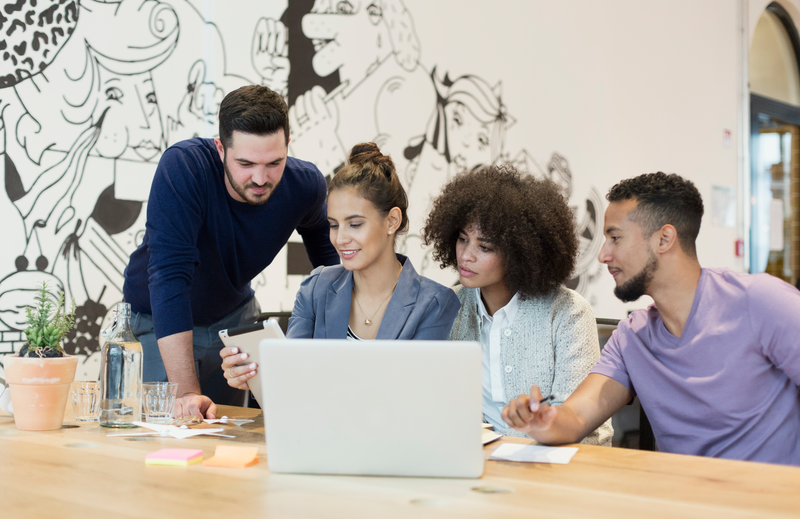 Around the world, only 9% of start-ups are initiated by women, according to the OECD – and the 2020 Female Founders Monitor found that only 1.7% of private capital in the EU went to female founders.
In Germany, this figure is higher, but still only 17.7%. As Veronika Reichboth, director of the Startup Unit Hamburg, points out: "There are comparatively many female founders in Germany, but given that women make up 51% of the population, there is still a lot of room for improvement."
Female entrepreneurs face barriers that include a lack of role models, greater risk awareness, less access to funding and less awareness of business opportunities. "Women's start-up activity continues to be influenced by gender stereotypes," says Dr Fritzi Kohler-Geib, chief economist at state-owned investment banking company KfW. One of the world's leading promotional banks, KfW has been committed to improving economic, social and environmental conditions on behalf of the Federal Republic of Germany and the federal states since 1948.
Women have also been disproportionately affected by the Covid-19 pandemic, due in part to market damage and increased caring responsibilities. After the first lockdown, 23% of female-owned businesses remained closed, compared with 14% of male-owned businesses.
"The share of women in the start-up ecosystem, especially in the finance sector, is under-represented, and thus talents are not used equally," says Dr Shoshana Feingold-Studnik, ambassador at GINSUM, the German Israeli Network of Startups and Mittelstand. "This will have a long-term impact on the economy. Profound changes need to take place here."
Hamburg has a thriving startup ecosystem, with 3,800 new businesses set up in the first nine months of 2021, a year-on-year increase of 17% and the highest figure since 2008. In the 2021 ING Innovation Index, the state ranked second behind Berlin, receiving top scores for the 'start-ups', 'business dynamics' and 'youth potential' categories. With more than 9.6 million customers in 2020, ING-DiBa AG is the largest direct bank in Germany, a subsidiary of the Ditch ING Group headquartered in Frankfurt am Main.
Hamburg also recognises the importance of supporting women in business – and is working proactively to do so. Thanks to a flourishing network and a wealth of initiatives and opportunities for female entrepreneurs, the proportion of female founders is already particularly high in Hamburg, and it is set to grow. This year, Hamburg has seen the highest share of female entrepreneurs since 2011. These founders are highly active, providing robust support for other entrepreneurs and their projects.
The value of female founders
Female-led start-ups are of huge value to society and the economy. Female founders tend to be more motivated by social issues: almost 17% of female-led start-ups are in the essential healthcare sector, compared with 6.5% of male-led teams. Female start-ups also generate almost twice as much return on investment dollar as male start-ups, according to Boston Consulting.
"It is important that highly qualified startup teams emerge regardless of gender and origin and find the best possible conditions for financing growth and success," says Kohler-Geib.
Women also have the drive to succeed. According to Hamburg's Startup Unit, 68% of the users of its advisory services are women.
Hamburg: A land of empowerment
Hamburg is developing a thriving ecosystem for female entrepreneurs to realise and exceed their business potential, in which stakeholders from across academia, industry, government and start-ups work together to overcome the barriers that women and underrepresented groups face.
Startup Unit Hamburg has helped set up networks to connect entrepreneurs with essential services such as Haspa, the bank for SMEs, the Existenzgründungsinitiative hub and feminist co-creation space Eeden Coworkingspace for female founders.
Along with organisations in Berlin, Munich and Cologne, Startup Unit Hamburg also launched its Femup Startups Initiative, and hosted its interactive 'Walk the Talk' panel to mark International Women's Day this March with participants discussing the importance of gender diversity in start-ups and how it can be achieved.
Female StartAperitivo is a new event that aims to increase funding opportunities for women by creating access to investors and representatives of established companies and institutions, set up by the Startup Unit, Hamburgische Investitions – und Förderbank's (IFB) Hamburg Investors Network and the WEstartupSH female start-up platform.
"The Startup Unit is keen on bringing together female founders, start-up backers, media representatives and other strong women," says Reichboth. "We always have them in mind in our advisory services, at events and during international networking. Women founders are the future."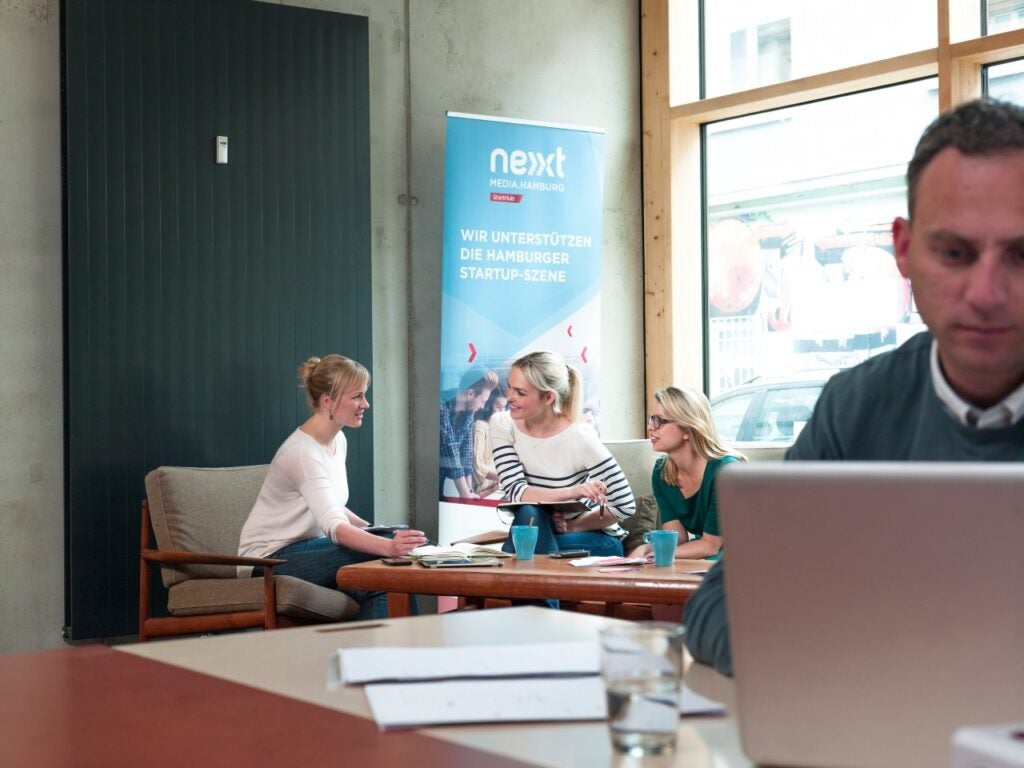 The Hamburg Chamber of Commerce has created the e trifft u (Women in Start-ups meet Women Entrepreneurs) to promote dialogue between female-led start-ups and female entrepreneurs, and the innovation system Factory Hammerbrooklyn has launched the Female Incubator Stealth Mode mentorship scheme. The scheme offers mentorship to women and under-represented founders between September and December to help entrepreneurs scale their businesses.
The female business network nushu was founded in Hamburg, and has now extended to Munich and Dusseldorf/Cologne. Its aim is to make women in business visible and promote knowledge sharing, networking and best practice.
AI is one sector where gender diversity is particularly crucial. "AI is trained by humans, so the technology must cover every possible perspective," says the VP of AI at Lufthansa Industry Solutions, Dr -Ing Susan Wegner. In Hamburg, AI company Synergeticon, AI centre ARIC and the proTechnicale education initiative are raising the visibility of women in AI to inspire more women to enter the industry.
According to Livia Toth, venture director at Plug and Play Hamburg: "The different stakeholders from academia, industry, the government and start-ups really work together [in Hamburg]." This empowering environment sets female founders up for success.
Success stories
Supported by a thriving network and a wealth of opportunity, female founders in Hamburg are having huge impacts in the most critical industries.
In sustainability, plastic innovation Traceless, started by Dr Anne Lamp and Johanna Baare, was awarded the Future Hamburg Award 2021 and received €2.42m from the European Innovation Council. "The proposed innovation represents a true breakthrough in the field of plastic materials," the Council said. "It combines a circular and sustainable approach and will bring a fully biodegradable solution to many sectors."
Frischepost, the sustainable digital farm shop, was set up by Juliane Willing and Eva Neugebauer in 2015. Since then, the start-up has gone from strength to strength, having raised millions in funding, and is now expanding across Germany and Europe.
In AI, the automatic text recognition innovation ai-omatic was founded by Lena Weirauch and has received funding from initiatives including the Innofounder programme. The programme has applications for social analytics, knowledge management and predictive maintenance.
Miramind, set up by Sofia Gertzen and providing intelligent solutions for sharing software knowledge, has received grands from IFB Hamburg and EU funding.
Female innovation continues to be championed in the city on the Elbe. Recently, the STARTERiN contest aimed to find the city's best female founders, and awarded Yesica Rios of JOBMATCH.ME, Madeleine von Hohenthal of Bracenet and Britta Wiebe of Vulvani.
This month, LignoPure GmbH, a Hamburg-based start-up founded at the Technical University of Hamburg, received this year's KfW Hamburg award, winning €1,000 in prize money for its innovation developing a lignin alternative to plastic. Managing director Joana Gil said: "We are delighted that KfW Award Gründen has noted our objective and honoured us with a prize."
In a global business environment that continues to underestimate the value of female entrepreneurs, Hamburg is developing a thriving, trailblazing hub that nurtures innovation and capitalises on the power of collaboration. The networks and opportunities in Hamburg provide female and other under-represented entrepreneurs with unmatched support to realise their business ambitions. The Startup Unit Hamburg is at the heart of many of these initiatives and the key to making the most of what the Hanseatic city has to offer.