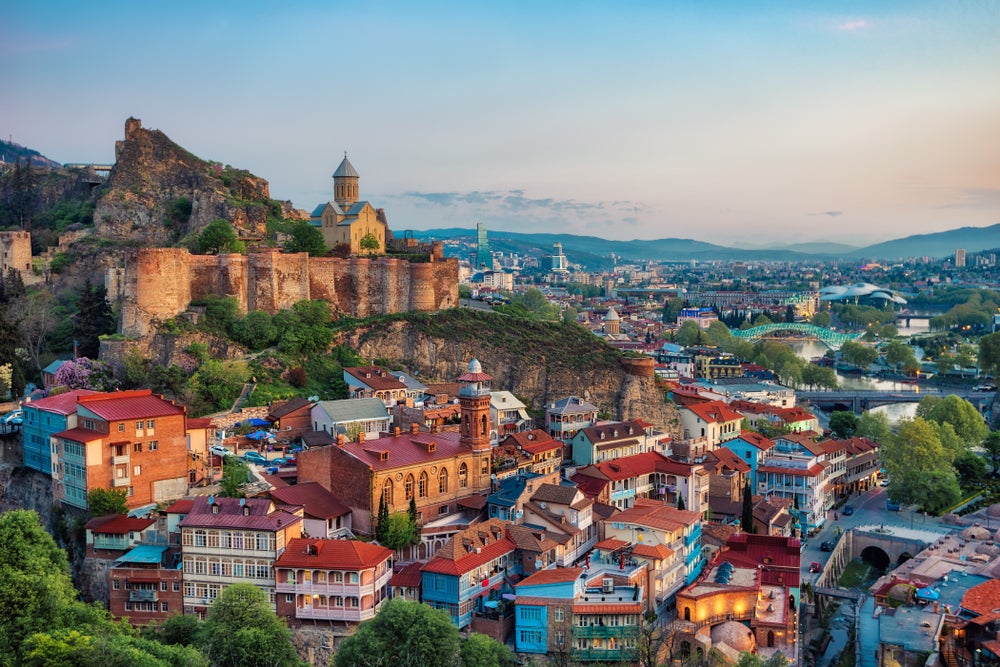 According to GlobalData, the worldwide market for travel and tourism reached a value of $631bn in 2021. That represents an increase of 43% year on year. With Covid restrictions on travelling continuing to decline and wealthier consumers eager to make the most of global reopening, investors are flocking to the tourism industry in the hope of financial returns.
However, travel, tourism and hospitality companies are still sensitive to shocks. Geopolitical instability and inflation could stymie the sector's resurgence. The trick for investors is to target the regions that combine a thriving market with a great environment in which to do business – not an easy combination to chance upon.
Consider the Caucasus
Situated on the border of Europe and Asia, the Caucasus offers tourism entrepreneurs something unique. Pulling in wealthy travellers from both regions thanks to its convenient location, rich history, spectacular scenery and low prices, the Caucasus is ideally placed to profit from a tourism sector bouncing back from decline – and so are businesses based there.
One standout example is Georgia. Tbilisi – the bustling capital of Georgia – is the gateway to the country's culture. It benefits from a thriving hospitality sector, boasting 12,430 rooms spread across 541 hotels – accommodating growing tourist numbers and catering to the needs of discerning travellers. Batumi, the capital of the Adjara Region, is less frequented but just as alluring. Its picturesque coastal location and vibrant atmosphere has made Batumi the second most visited city in Georgia; in 2019 alone, around two million travellers flocked to Adjara.
For travellers seeking adventure and exhilaration, Georgia's vast mountainous terrain covers 80% of the country's territory. Snowfall at Georgia's main mountain resorts – Bakuriani, Goderdzi, Gomarduli, Gudauri, Hatsvali, Racha and Tetnuldi – is guaranteed for up to six months per year. Ski brands and enthusiasts are flocking from far and wide to take advantage of a landscape that rivals Europe's most magnificent. During the winter season alone, Georgian ski resorts can welcome as many as 550,000 visitors. It is a number that is sure to increase over the coming years.
The majority of visitors to Georgia arrive by air or land, with three international airports serving as entry points. While arrivals at airports have yet to fully recover to pre-pandemic levels, strong growth rates over 2021 and 2022 indicate the country is on the right track. With a notable increase in first-time visitors in 2022, new market opportunities are expected to flourish for dynamic tourism sector entrants over the coming years.
Arrivals in Georgia are treated to a luxurious, steadily expanding hospitality sector. After the temporary closure of accommodation businesses in 2020, the number of active hotels quickly rebounded in 2021, recording an impressive 69% increase in supply. Daily rates exhibit some seasonality, with regional hotels experiencing more pronounced price increases during the summer season; but there is something for everyone, with Tbilisi stays maintaining more stable pricing structures throughout the year.
The result of this solid foundation for tourism and hospitality has been strong growth in visitor numbers over recent years. Georgia's tourism sector experienced significant growth between 2015 and 2019, with a steady increase in international visitor trips. Despite the severe blow from Covid-19 lockdowns and travel restrictions, tourism rebounded, with revenues from international visitors surpassing $3.5bn (La8.98bn) in 2022 – an impressive 4% growth compared with pre-pandemic levels. Rapid recovery rates point to a positive outlook for the industry's future; little wonder international hospitality conglomerates like Hilton, Marriott and Ramada have already set up bases in the country.
Georgia: hospitable to hospitality
Georgia's growth as a tourism hub owes a lot to its geographical and historical appeal, but it wouldn't be possible, nor would it be on its unstoppable upward trajectory, were it not for the stream of reforms designed to make doing business as smooth as possible.
Georgia has become a magnet for entrepreneurs thanks to forward-thinking legislation and policymakers' commitment to creating an ideal business environment. By reducing unnecessary bureaucracy, the country has eliminated more than 900 licensing requirements, simplifying commercial operations. State services have been digitised, and the innovative "Public Service Hall" allows access to more than 400 services needed to start and run a business in one convenient location. Establishing a new company takes just a few hours with minimal paperwork.
Georgia is a flat tax economy. With only six taxes – amounting to a total tax rate of under 10%, the third-lowest in the world according to the World Bank – entrepreneurs can keep more of their revenues and pump them into further expansion. The World Bank ranks Georgia among the top countries globally for both ease of starting a business and overall ease of doing business.
Tourism businesses that do set up in Georgia enjoy access to a thriving market. Citizens of nearly 100 countries – and visa or resident permit holders in an additional 50 – can travel to Georgia visa-free and remain there for up to a year. Georgia is an increasingly appealing destination for both long and short-haul visits. Hospitality companies already with a presence in the country are poised to take advantage.
It is an environment in which tourism and hospitality investors are perfectly placed to reap the rewards. As growing numbers of travellers move across the Caucasus, having a base there will offer indispensable opportunities to profit over the coming years. Georgia is the perfect location, and Invest in Georgia, the country's investment agency, is on hand to help entrepreneurs get started.
Download the whitepaper on this page to find out more