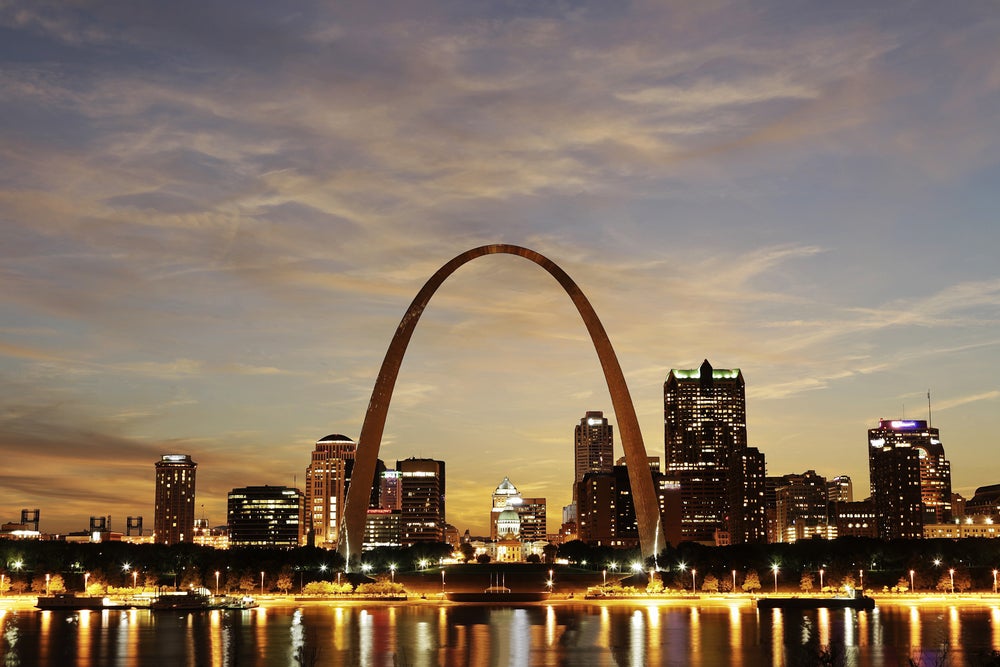 Almost overnight, a new industry has emerged in Missouri with the potential to revolutionise food production.
In 2021, the US National Geospatial Agency (NGA) announced a $1.75bn new west headquarters in St. Louis. Then, something curious started happening – agtech companies began moving to the city.
"We woke up one day and realised we have a new industry sector in St. Louis," says Elliott Kellner, who heads the Center for AgTech and Location Science Technologies (CATALST) programme. This new industry sits at the nexus of agriculture and geospatial technologies.
In the US Midwest, Missouri is known for its extensive history in agriculture that more recently gave rise to a burgeoning agtech industry. The announcement that NGA would move its headquarters to St. Louis meant those in the precision agriculture industry would have access to new tools and expertise.
The new NGA centre designed its new space to be more collaborative and a portion of its workforce will be non-governmental contractors. This will allow for greater partnerships with outside organisations, academic institutions and private industry – notably start-ups.
"This was big news for the nascent, regional geospatial industry, and start-ups began relocating to take advantage of anticipated government contract opportunities," Kellner says.
One of those start-ups was Deep Grain, the brainchild of British entrepreneur George Worrall, who moved to the city known as the 'Gateway to the West' to develop his young company.
Worrall tells Investment Monitor he was at a conference in Kuala Lumpur, Malaysia, when someone told him if he was going to do agtech and geospatial, he had to move to St. Louis. So that is exactly what he did.
"I was finishing my PhD in Florida, and I graduated and moved to St. Louis, and I have been running ever since," Worrall says, who is based in St. Louis's geospatial-centric T-REX Innovation Center, which counts life science giant Bayer among its sponsors. Worrall says being based at the centre allows him to focus on engineering and sales without having to worry about office administrative work.
With Deep Grain, Worrall is building systems that provide geospatial intelligence on agricultural production in un-surveyed regions. Currently, he is focusing on cocoa production after identifying a need for better production forecasts for the crop.
Other companies headquartered in St. Louis whose core technology is agtech and geospatial include Habiterre, Impossible Sensing, Tolam Earth and Climate Corporation. Some companies have offices there, such as Esri, Planet and Eiwa.
"We have many agtech companies with geospatial tech needs, and we have several geospatial companies that are interested in entering the agtech space, but at this point, we only have a few firms whose core technology is agtech/geospatial," says a source at the Danforth Plant Science Center.
A new kind of precision agriculture
Using geospatial techniques in agriculture isn't a new concept. Precision agriculture, as it has been called since around the 1990s, has been used to map fields, ensure soil health and monitor crops to boost crop yields.
"There has always been an overlap and intersection between agricultural technology and geospatial technology," Kellner says.
However, over the past decade, geospatial and locational sciences have improved dramatically, meaning the scope of work that can be done using those technologies has also rapidly changed.
"We have come so far with our computational power with cloud-based technology, AI and machine learning techniques, that just in the last ten years, all of a sudden, advanced integrated models are now possible," Kellner says. "And they are easily achievable."
These more advanced models being produced at the intersection of agriculture and geospatial can help improve crop yields for farmers across the world, with the technology ultimately having the potential to bolster global food security.
Agriculture is big business in Missouri, contributing $93.7bn to the state's economy in 2021, according to the state's Department of Agriculture. Meanwhile, geospatial is rapidly growing in the state thanks to NGA's presence. According to a report from development research company TEConomy Partners, the geospatial sector has an economic impact of $4.9bn in Missouri, with 10,598 jobs in geospatial and location technology, including 3,700 at NGA and 235 in university research and development.
Impossible Sensing and Wing Xpand are two additional companies in St. Louis spanning the agriculture and geospatial sectors. Impossible Sensing is developing a next-generation soil monitoring system, while Wing Xpand produces lightweight drones that can be flown over fields.
Missouri Partnership, the state's economic development entity, identified six geospatial companies that have recently expanded into St. Louis and one company relocation.
To support this fledgling industry, the state has dedicated resources to ensure it continues growing.
Supporting a new industry
For those in this new industry, the CATALST program through Danforth Plant Science Center is designed to cater to start-ups' needs.
"The whole idea behind CATALST was to apply intention and funding to a strategic and purposeful development of that intersection," Kellner says. "For a start-up in agtech, it is extremely difficult to scale into the market on your own. You typically need to work with a strategic corporate partner at some point, either as a technological or commercial partner."
St. Louis is home to the big ag players, including Bayer and Monsanto, and one of Kellner's focuses is making introductions between nascent companies and established players.
More broadly for the geospatial industry, eight research institutions recently announced plans to join forces to create the Taylor Geospatial Institute, a new entity aimed at expanding St. Louis' position as a hub of geospatial research and innovation.
Arch Grants recently announced a multi-year commitment to awarding geospatial technology companies to build a pipeline of talent and help grow the geospatial hub in St. Louis. Cultivation Capital, a prominent venture capital firm, has launched a new investment fund of more than $50m focused on geospatial technology.
Investment Monitor asked Deep Grain's Worrall how he sees this niche industry growing in St. Louis.
"I don't think it will be a niche in St. Louis for very long," he predicts. "It already feels like it isn't, and I think that a lot of companies that are starting up somewhere else will move to St. Louis."
To learn more about the investment opportunities available in Missouri, download the document below.