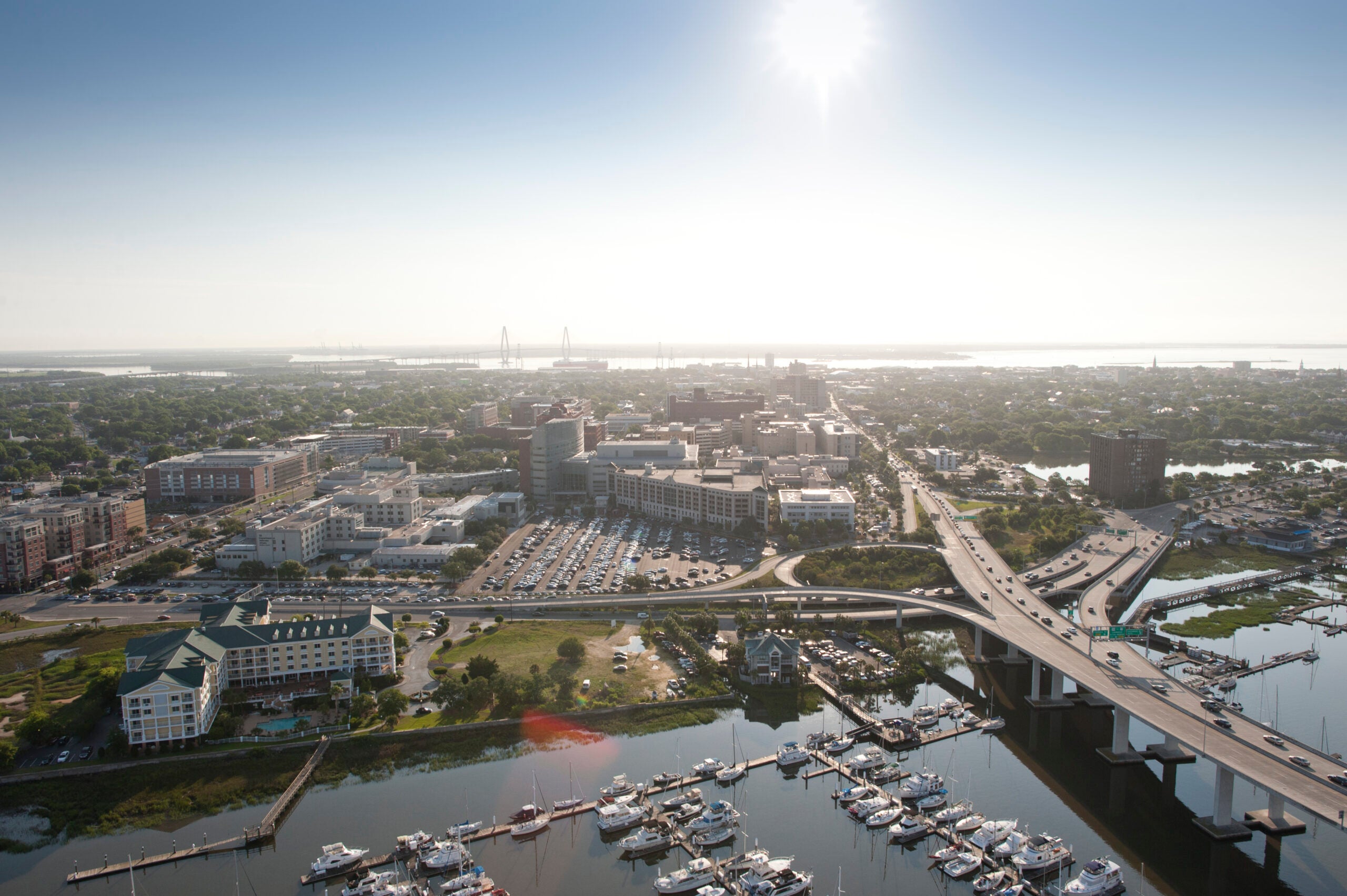 From the Human Genome Project to contemporary drug development, collaboration is critical to the life sciences. It is also an important factor in the success of life sciences clusters, where a high concentration of pharmaceutical or medical device companies can all be found in one district, city or region.
Being part of an industry cluster can create valuable opportunities for knowledge exchange, a phenomenon that is particularly noted across emerging life sciences sectors of mid-sized metros. Take Charleston, South Carolina, for example, where a growing number of medical device and pharmaceutical manufacturers, research laboratories and service companies have sprung up or settled in recent years.
In mid-sized Charleston, connections and collaborations are a constant. As the premier biomedical research institution in South Carolina, the Medical University of South Carolina (MUSC) is involved in many exciting collaborations and innovations in the state's life sciences community, all from its campus in downtown Charleston.
According to the university's president, David J Cole M.D., "innovation is our fuel here at MUSC; it is part of our core in changing what is possible. We want to continue to facilitate the development of processes, technologies and strategies that produce real-world, beneficial impact for those that we serve."
By facilitating shared learning, collaboration and joint ventures, hospitals and universities are typically at the core of knowledge economies and industry clusters. They are where innovative companies can look to access research and tap into networks, cross-pollinating ideas and talent and testing products to accelerate development. Collaborations like this are critical to MUSC's innovations, although it is not always a classic case of industry working with academia.
For example, the university's Department of Surgery Human-Centered Design Program recently embarked on a joint effort with the business innovation lab of the Citadel, South Carolina's military college. The aim is to create a core team of medical students, residents and Citadel cadets and students who will develop innovative and patentable health products aimed at solving unmet surgical and medical needs.
"Through this new partnership, we can seamlessly innovate a design, develop a business plan and produce products that improve patient care," said MUSC's chief of surgical oncology David Mahvi.
Structured for business
As Charleston's life sciences cluster grows, the demand for appropriate real estate has risen. The city has listened. Pine Hill Business Campus, Charleston Tech Center and Camp Hall are among some of the key developments aiming to attract life sciences tenants and inspire creative relationships. For life sciences companies eager to share a single roof, Charleston's crown jewel is 22 WestEdge – a modern mid-rise office and lab building with a prime downtown location overlooking the Ashley River.
Offering traditional office and lab space but also restaurants, a fitness centre, dining and event club, rooftop terrace, common conference facilities, co-working suites and incubator space, 22 WestEdge provides a place to meet, connect, collaborate and work.
The WestEdge campus is surrounded by MUSC, Roper St Francis Healthcare, the College of Charleston, the Ralph H Johnson Veterans Affairs Medical Center and the Citadel. In fact, MUSC was also their its tenant. Since then, 22 WestEdge has become a hub for ground-breaking research and innovation. A key example is the work of molecular diagnostics company Vikor Scientific, which, from its headquarters on the eighth floor, is leveraging its partner's revolutionary platform to accelerate the speed at which we diagnose and treat patients for cancer.
"Vikor is excited to lead the commercialisation and expand on our mission of driving clinical outcomes," said co-founder Scotty Branch. "We are particularly excited to do so here in Charleston, where we envision a dynamic future for innovation, growth and expansion of the booming life sciences hub here in South Carolina."
Native and new players
While many innovative start-ups like Vikor Scientific are born and bred in Charleston, many others are moving to the region to take advantage of its opportunities. Among the latest arrivals are Swiss drug delivery solutions provider SHL Medical and Australian digital body composition analytic company Evolt, who join the more than 300 life sciences companies with operations in the tri-county region. Speaking about Evolt, Charleston County Council Chairman Teddie Pryor called the news "a testament to our business-friendly climate and globally connected infrastructure".
Another win for the region was announced recently when chemicals giant DuPont opened its expanded Liveo™ Healthcare manufacturing facility in Berkeley County. The company is using the site to produce medical-grade silicones designed for a range of healthcare applications, from drug delivery to implantables.
Attracting many of these recent investments is the area's impressive talent pool. The Charleston area currently has a regional workforce of 30,000, including 2,000-plus physicians. In addition, between 2010 and 2019, Charleston's workforce has grown three times faster than the US average and twice as fast as South Carolina's average.
The growth rate for healthcare jobs is also on the rise, and Charleston is ensuring it has the necessary talent to fill the demand. This August, the Charleston Chamber Foundation won a competition ran by the US Department of Commerce, which will award an $8.4m-dollar grant towards the Foundation's Lowcountry Healthcare Careers Collaborative.
The collaborative is part of an industry-led economic development strategy to train a "diverse coalition" of healthcare workers in Berkeley, Charleston and Dorchester counties, said assistant secretary for Economic Development Administration Alejandra Y Castillo. She added that the programme will involve "partnering with local employers to facilitate job placements".
With life sciences considered the fastest-growing sector of South Carolina's innovation economy, South Carolina Biotechnology Industry Organization was established to build relationships among life science companies and other allied groups, and create greater business opportunities. Industry events and conferences are an essential part of growing networks and sparking collaborations, and the SCBIO holds multiple every year, including its annual conference in Charleston.
While Charleston has a lot to offer life sciences businesses, the connectivity of the mid-sized market is one of the things making the location so special. There is clearly a bright future ahead for Charleston's life sciences community influencing even siloed organisations to join the collaborative community.