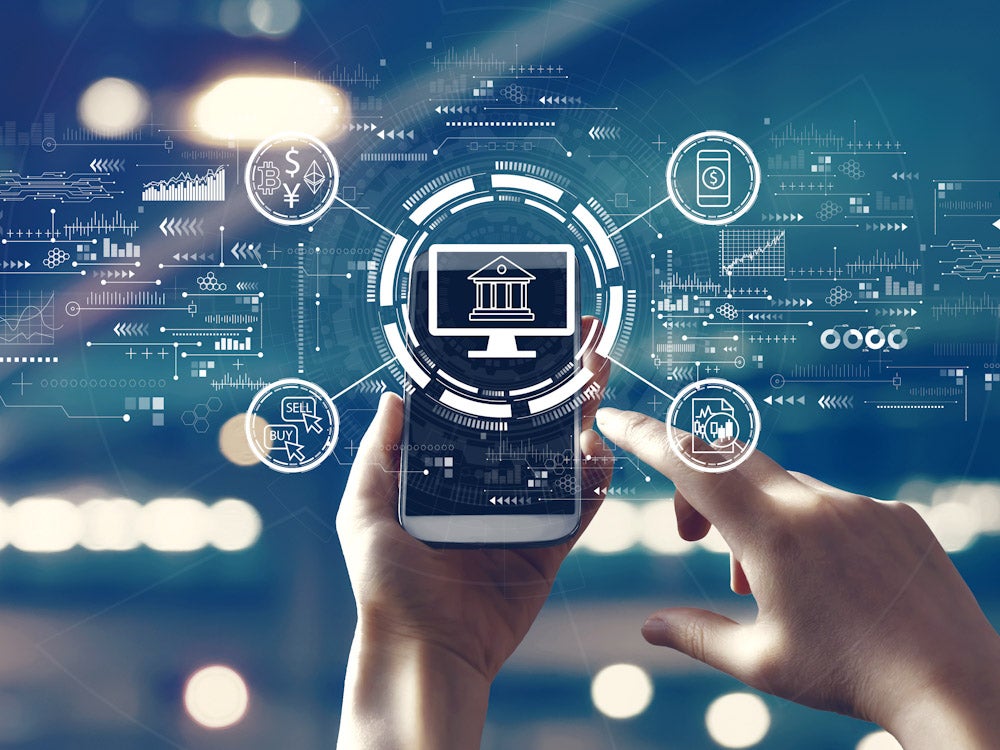 The cost of living crisis is pushing growing numbers of people and businesses into uncertainty as they struggle to keep up with soaring bills. With everything becoming more expensive, there is an increased need for financial help.
Big banks are seeking to support their customers during these times of economic hardship, with smaller fintech companies providing further support.
In Scotland, tech and data solutions are enabling more people to access financial services and benefits they are entitled to, while small businesses, currently struggling with higher energy costs and rising inflation, can use new technologies developed in Scotland to manage their cash flows, collect debts and access credit if necessary.
"We have a host of fintech organisations in Scotland that are focusing on being purposeful and striving to enable better outcomes for people," says Nicola Anderson, CEO of FinTech Scotland.
"Their mission is to provide good access to financial services and products, encourage financial literacy, provide access to fairer lending products, and swifter access to debt solutions.
"The leaders behind these businesses all come with a range of different life experiences, and perhaps a different mindset for problem-solving. With that fresh approach, they are able to create new ideas and solutions that are serving the fintech-for-good purpose really well."
Fintech solutions to access financial support
One example of a Scottish fintech company helping those in need is Inbest, which uses data-driven solutions to identify financial vulnerability and enable early intervention. The company recently announced a three-month trial partnership with NatWest to enable bank customers affected by the cost of living crisis to access benefits that might otherwise remain unused.
"There are billions in unclaimed benefits every year and Inbest helps customers tap into that," explains Anderson. "Once they know a little bit more about you, they can point you to potential benefits that you are entitled to and help you with the application. In some circumstances, they have been able to find as much as £900 a month in unclaimed funds.
"It is just one example of a fintech innovator leaning into a problem and doing some outside-the-box thinking using technology."
Another company with a Scottish presence that is helping users to access financial support is Lightning Reach. The business works with charitable organisations such as the Royal British Legion/Poppyscotland, and government bodies like Lambeth Council, to help connect individuals in financial need with charitable grants, local welfare funding and other support that could otherwise remain undistributed. The company has seen its user base double to more than 25,000 in the last three months, with more than £2m awarded to successful applicants to date.
"We know that more than 56% of people don't know what support there is out there," says Lightning Reach founder and CEO Ren Hooi. "We are bringing people to a single portal that helps them find and apply for support they might be eligible for based on their location and circumstances, within minutes – while enabling partner organisations to save time and streamline administration using modern technology such as open banking."
Supporting communities through fintech
Public and private sector organisations such as Scottish Enterprise and FinTech Scotland are working with businesses to build a fertile ecosystem that enables companies to deliver innovative tech and data solutions.
Hooi says her business has benefitted from being part of the growing Scottish fintech community, and the range of connections and expertise available. In addition, Scotland's culture of helping those in need enables the provision of greater levels of support.
"It is a very active and vibrant fintech community in Scotland, supported by fantastic networks such as Fintech Scotland," she says. "It is a smaller community here than in England, so I think it is easier to bring people with similar interests together.
"The Scottish ecosystem also has a strong social fabric when it comes to welfare assistance, with Scotland spending £9.05 per capita on local welfare assistance in 2020/21, as compared to £1.30 per capita in England. Being able to use a system like ours makes it easier for people to access the support out there – we have spoken to many users who have said they would never have found that support without us. One recently mentioned that applying through the Lightning Reach portal was the easiest application he had ever done in his life.
"But we are not here to replace the great work that other organisations are doing, or the human touch they bring – we exist to complement and streamline their process."
As well as offering insights into financial entitlements, Scottish fintech companies are also providing the unbanked and those new to the UK with the tools to access vital financial services during difficult economic times.
One such company is Scottish fintech company MoneyMatiX, which aims to improve financial literacy in the immigrant community through innovative workshops and educational programmes.
"Immigrant individuals often have a very steep learning curve to learn about how the UK works," says Anderson. "MoneyMatiX supports that community and looks to improve financial literacy in the UK generally.
"They are informing and empowering people to make good financial decisions, and also educating children to help build good financial capability from a young age."
Tech to help businesses through uncertainty
Scottish fintech company Float, a cash-flow forecasting tool provider, and AI-driven debt support software providers Inicio.AI – which has a base in Scotland – are helping to relieve pressure on businesses and individuals during the current economic uncertainty.
Aveni is another AI-driven tech company headquartered in Scotland and focuses on helping financial institutions identify vulnerable customers. The company uses technology that reacts to the customer's voice and other modes of communication, automating customised services and increasing efficiencies in quality assurance. To enable the company to develop further, it secured £2.75m in funding in the past year, and Scottish Enterprise was one of the investors.
In addition, Scottish company Know-it provides a platform to simplify credit management – offering credit and debt positions automatically and helping business owners collect overdue invoices, while also making informed decisions when issuing credit.
Know-it founder and CEO Lynne Darcey Quigley describes the Scottish fintech community as "welcoming and super supportive", and praised the vital support from Scottish Development International and the UK Department for International Trade for helping her company.
"The way we incubate businesses in Scotland is unique, and it is a very positive environment for entrepreneurs," she says.
"We are looking to spin-out our business in Australia and eventually the US, and the Scottish fintech community, and particularly FinTech Scotland, couldn't be more supportive. They are making the journey as easy as possible for us in terms of providing contacts, understanding local laws and the rules, and suggesting locations."
Fintech with a purpose
DirectID is a further notable example of fintech with purpose in Scotland, offering credit support for workers of the gig economy or those with multiple jobs. The Edinburgh-based company uses open banking to help verify potential employees' income, or approve individuals for loans, among other capabilities.
"As we have more gig economy workers, we have many different sources of income, so there may be more to your monthly or weekly pay than just one payslip," explains Anderson.
"By verifying income and expenditure, DirectID can support the lending market and allow people who have disparate income streams access to more mainstream credit."
This streamlining of the verification process can also help society absorb shocks such as the Covid-19 pandemic by enabling organisations like the NHS to onboard workers more quickly and efficiently.
"It is a combination of being purpose-driven and being at the intersection of technology and finance that makes these companies so innovative, and Scotland is leading the way with its approach," adds Anderson.
"We are seeing year-on-year growth and investment in fintech in Scotland, and 27% of the fintech community in Scotland has an international headquarters. It really demonstrates the opportunity that international businesses see in creating a base here in Scotland.
"Fintech can create the tools that will allow people to make good choices about how they live their financial lives. That intersection between financial policy and financial services is vital as we think about the evolving digital economy."
To learn more about the impressive growth and performance of Scotland's fintech sector in 2022, download the document on this page.