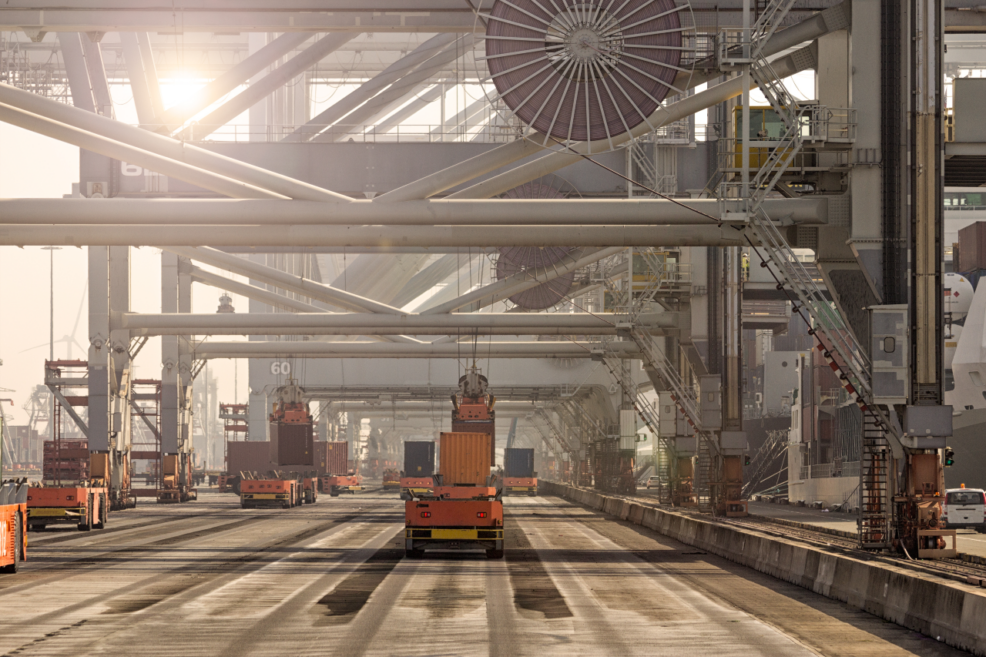 Abu Dhabi offers businesses and investors a strategic location, world-class infrastructure, and competitive investment landscape and Abu Dhabi Ports provides a unique environment for businesses to target a growing region with increasing consumer demand for different products. Part of Abu Dhabi Ports' Industrial Cities and Free Zone Cluster, Khalifa Industrial Zone Abu Dhabi (KIZAD) is Abu Dhabi's integrated trade, logistics and industrial hub with a well-established business community of over 600 projects.,
Multi-modal connectivity is at the heart of the industrial zone's offering. Interconnected with Khalifa Port, the region's first semi-automated port, which was crowned the fastest growing port in the world in the 2020 edition of Lloyd's List Top 100 Container Ports, KIZAD is part of the region's advanced infrastructure enabling businesses to take their operations to the next level.
Abdullah Al Hameli, Head of Industrial Cities & Free Zone Cluster at Abu Dhabi Ports, explains how the emirate is continuing to deliver outstanding business growth and investment potential in the Middle East.
What does KIZAD offer?
As the largest integrated trade, logistics, and industrial hub in the region, we believe that KIZAD transforms possibilities into reality. It is an integral part of Abu Dhabi's economic vision, empowering businesses from small SMEs to multi-million-dollar enterprises.
Businesses enjoy a tax-free environment in a designated free zone, as well as mainland industrial zone solutions, competitive operating costs and multi-modal connectivity, with two major seaports and four major international airports within a two-hour drive. In addition, the zone will soon be bridged by rail, ensuring maximum connectivity. Flexible ownership structures empower companies and investors, quick start-up times boost new ventures and predictable pricing provides the stability that long-term operations require. This combination of business scalability and connectivity is complemented by collaboration opportunities within a diverse business community.
The team at KIZAD supports seamless business operations, offering a local dedicated relationship manager to provide ongoing advisory and reduce complexity and waiting times, working side-by-side with domestic and international teams to ensure that businesses can open in KIZAD on time and within budget. With our experience and willingness to listen, we can help customers overcome most challenges.
As a consistent contributor to the business sector, KIZAD has had a tremendously positive impact on the creation of non-oil-related jobs in the UAE, fostering a diverse industrial and logistics base. KIZAD's vision is to set new standards for industrial zone infrastructure, environment, and operation while supporting the sustainable growth and diversification of the emirate's economy.
What makes KIZAD's offering unique?
KIZAD's ecosystem-based approach brings similar businesses together in proximity to help streamline operations and create synergy. We have a growing number of clusters including automotive, energy, food, metals, polymers, logistics, and chemicals.
With one-of-a-kind infrastructure to support the specific needs of several industries, as well as economic incentives to attract and retain their largest global players, KIZAD has created an outstanding value proposition. Our ultra-modern, purpose-built infrastructure is designed around our customers and reimagines what is required to support the needs of twenty-first-century manufacturing.
Our innovative hot-metal road, for example, was designed to save time, slash costs, and reduce energy waste for our metals sector customers. Add to this KIZAD's modern road network and connections, with direct access to and from Khalifa Port and connecting to the main highway, as well as proximity to airports and soon, rail connection.
Dozens of examples of investment projects across many vertical sectors highlight how we are distinct from other global industrial zones. This year we announced the formation of one of the region's first green ammonia plants by Helios Industry, which plans to invest more than $1 billion in the construction of a facility at KIZAD, targeting regional and international markets.
What makes Abu Dhabi such a desirable location for business?
For many local, regional and international organisations, Abu Dhabi is a bridge to the world. The emirate's strategic location, coupled with advanced integrated infrastructure, offers unmatched global access. For example, pharmaceutical companies benefit from proximity to 4.5 billion consumers in the region.
KIZAD, as well as the Industrial Cities & Free Zone we manage, provides investors unprecedented connectivity to the markets that matter most to them.
The emirate is home to the flagship deep-water port, Khalifa Port. Its deep seaport capacity and the linkage to a world-class industrial zone enables companies operating in KIZAD to trade seamlessly and cost-efficiently with the world, and it continues to innovate.
The opportunity to establish sizeable operations — including complex temperature-controlled warehousing — so close to a deep-water port and in such a strategic location is unprecedented, setting Abu Dhabi apart from its competitors in the international trade and logistics industry.
Abu Dhabi is leading the way to Industry 5.0. What is the role of automation in Abu Dhabi Ports' vision?
Automation is the future of transport, trade and logistics. Although automation technology is not yet widely used in the port industry, we firmly believe that our approach will transform the way business is done, not only at Khalifa Port but across the entire shipping industry.
Last year, Khalifa Port Container Terminal (KPCT), one of the most technically advanced terminals in the region, received a batch of ship-to-shore (STS) cranes, which are among the largest in the world and will play a key role in the technologically advanced operational ecosystem at Khalifa Port.
Abu Dhabi Ports has recently announced our partnership with Microsoft as part of Khalifa Ports' digital transformation plans. Abu Dhabi Ports will continue to invest in this technology over the coming years.
At KIZAD, we are also witnessing the advancement of automation among our manufacturing customers, for instance in automotive, energy, foods, metals, pharma and polymers.
Abu Dhabi is the GCC's hub for biopharmaceuticals. What are the key benefits for pharmaceutical manufacturing companies?
The life science sector in Abu Dhabi and the UAE is expanding because of increasing demand and a growing healthcare sector.
Abu Dhabi Ports' industrial cities and free zones cluster, comprising KIZAD and ZonesCorp, recently unveiled its new Life Science Park, welcoming international and local businesses looking to invest in the life science sector. Further to this, KIZAD hosts a dedicated 19,000 sqm temperature-controlled warehouse facility with the capacity to hold more than one million vials of the COVID-19 vaccine as part of our role as a member of Abu Dhabi's 'Hope Consortium'.
In addition to Abu Dhabi's robust regulatory environment, which protects intellectual property rights and assures 100 percent foreign ownership, pharmaceutical manufacturers enjoy transport and logistics benefits, especially related to the cold chain. KIZAD is located just 25 minutes by road from the Abu Dhabi International Airport, which has a dedicated air transport hub for pharmaceuticals.
What are some of KIZAD's most exciting investment projects?
There are dozens of examples of investment projects at KIZAD across many vertical sectors.
One is the multimillion-dollar investment announced last year by Indian plastics manufacturer Shrinath Flexipack that is set to establish a new plastic packaging plant at KIZAD.
And as I mentioned earlier, there is Helios Industry's creation of the region's first green ammonia plant.
Other prominent project names of direct investors at KIZAD include: Emirates Global Aluminium, BRF Foods, Gallega Global Logistics, and Binghatti Group, to name a few.
Key facts: Why businesses that need excellent transport and logistics choose Abu Dhabi
– Khalifa Port will be connected to the national railway network, because of an agreement between Etihad Rail, Abu Dhabi Ports, Fujairah Terminals, and KIZAD, as part of the 1,200km Etihad Rail Project transforming connectivity in the UAE.
– Port semi-automation is set to grow by 4.4 percent over the coming years, optimising processes, and maximising efficiency.
– Automation at port gates is accelerating logging, verification and docking payments.
– Automated or unmanned ship-to-shore cranes allow hyper-efficient planning and execution processes.
– Abu Dhabi is within an eight-hour flight of 80 percent of the world, thanks to its location at the intersection of Europe, Asia, and Africa.
– Abu Dhabi's non-oil sector now contributes over half of its GDP and continues to grow.
– Abu Dhabi ranks 12th in the world and first in the Middle East for ease of doing business.
To find out more about innovation investment opportunities in Abu Dhabi, download the Abu Dhabi Prospectus above.