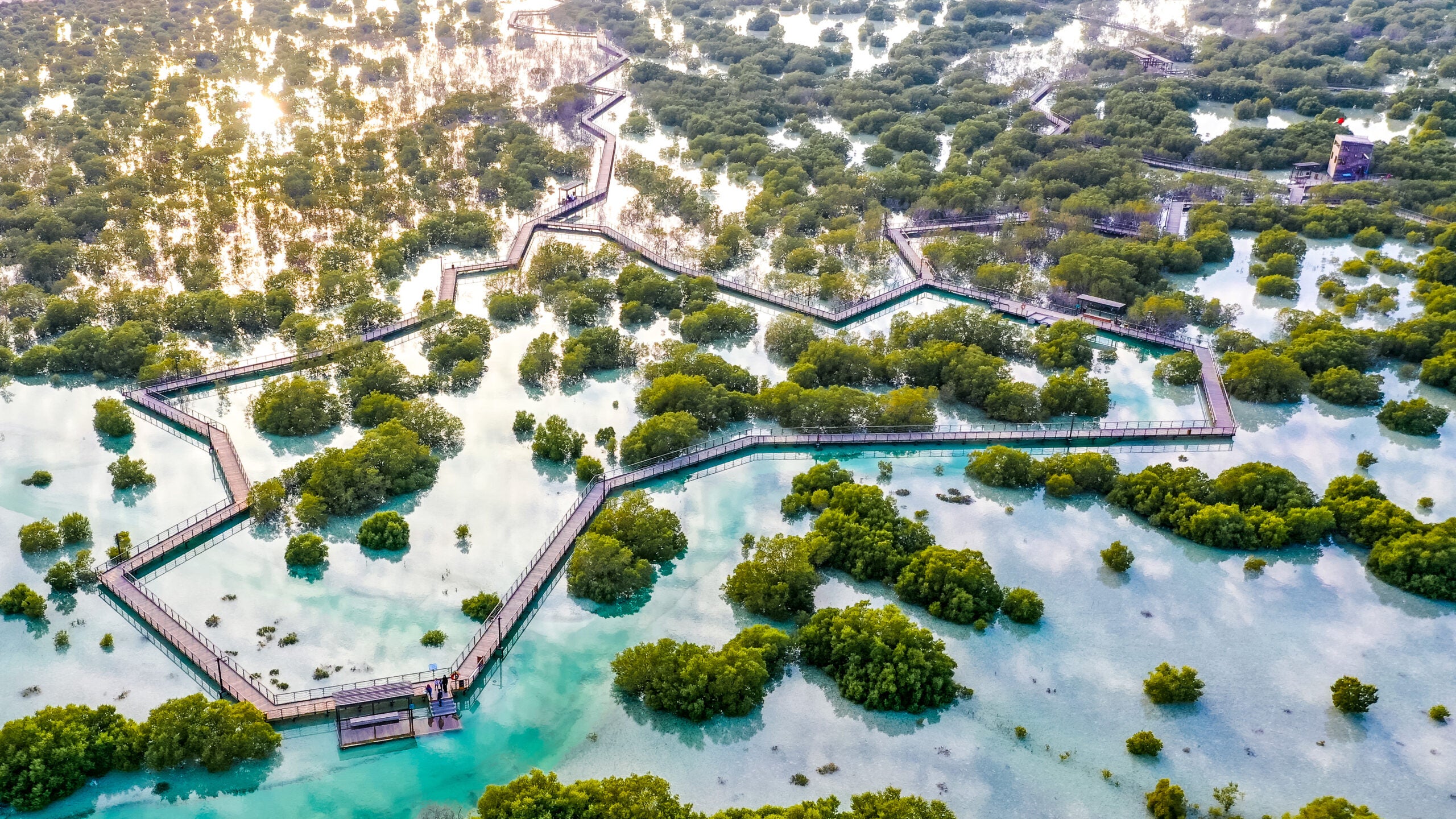 This year, millions of tourists will descend on Abu Dhabi to see what the emirate has to offer. With more than 15 million annual visitors, tourism is a well-established sector in Abu Dhabi offering unparalleled experiences across turquoise seas and into the golden desert. With the government committed to further development of the sector, a slew of new attractions are in the pipeline.
"Tourism has been earmarked as a key growth sector as the government looks to reduce its reliance on oil," says GlobalData's head of research and analysis for tourism Nicholas Wyatt.
Saadiyat Island – home of the Louvre Abu Dhabi, and top-rated resorts and pristine beaches where Hawksbill sea turtles can be found – in particular, is expected to drive the emirate's tourism sector, contributing Dh4.2bn ($1.14bn). Currently supporting more than 300,000 jobs, Abu Dhabi's tourism sector enjoys significant investment of $7bn per year. The sector is forecast to grow by more than 5% per year over the next decade.
Something for everyone in Abu Dhabi
For investors, the tourism industry is an exciting prospect.
"There are possibilities for investors across a number of sectors," says Wyatt. "When we talk about travel and tourism, there are a lot of different sectors that are included, such as airlines, transport, infrastructure, hospitality, car rental firms and potentially cruises. There is scope for a lot of businesses to seriously explore Abu Dhabi as a potential destination for investment."
The emirate aims to attract 24 million visitors this year as part of its expanding tourism sector.
"[Abu Dhabi] is perfectly located to bring people in from east and west. There is a huge number of people within a four or five-hour flight," Wyatt says.
Whether coming for business and looking to take in a tourist experience on the side, or coming as a dedicated tourist, tourist visas on arrival for many nationalities mean entering the emirate is simple.
For tourists coming in from around the world, there is something for everyone. With traditional cuisine, bustling souqs (markets), thrilling sports and unforgettable sights, Abu Dhabi is the ultimate holiday destination for inspiring, exciting and restorative experiences.
In Abu Dhabi, visitors can embark on a culinary journey with a traditional meal, shared in an Emirati home, visit a local ranch and sample traditional Arabic coffee (gahwa) and dates and discover the local fish markets. These experiences are led by an Emirati tour guide, allowing visitors to learn first-hand about the local culture and traditions.
For adventure seekers, Yas Island is home to the world's largest indoor theme park, Warner Bros. World Abu Dhabi. Minutes away, thrill seekers can discover the world-famous Yas Marina F1 Circuit racetrack, indoor adventures at CLYMB and an array of theme park rides at Ferrari World Abu Dhabi.
For tourists arriving in Abu Dhabi this year, new experiences await them, including new amusement parks, hiking trails, an indoor snow park, art museums, dining options and opportunities to experience the culture like never before.
Sports fans can time their visit around mega-sporting events including the Abu Dhabi Grand Prix F1 race, the Abu Dhabi Golf Championship, the World Tennis Championship, or see a match at Fight Island.
New attractions in Abu Dhabi include the recently opened SeaWorld Abu Dhabi and Snow Park on Reem Island, which is the world's largest indoor snow park, and the Jebel Hafeet Mountain Trail. By 2025, Guggenheim Abu Dhabi, teamLab Phenomena and the Natural History Museum Abu Dhabi will open. In 2022, Middle East's first Harry Potter-themed land was announced at Warner Bros. World Abu Dhabi.
Also in the emirate, Al Ain, a city approximately 170km from Abu Dhabi, offers the Al Ain Oasis, a zoo and the 19th century Al Jahili Fort, one of the biggest forts in the UAE. For those looking to get out of the hustle and bustle of the cities, the coastal town of Mirfa is a quiet village in the western region of the Abu Dhabi emirate. One of Abu Dhabi's best-kept secrets and home to the Al Dhafra Watersports Festival, this is the Al Dhafra area's only developed beach where visitors can camp.
The annual Al Dhafra Watersports Festival brings global water sports champions and local enthusiasts together to take part in adrenaline-fuelled competitions such as kiteboarding, wakeboarding and surf-ski kayaking.
Back under the Abu Dhabi city lights, this year music lovers can look forward to performances by Andrea Bocelli, Blackpink, Imagine Dragons, John Legend, Kendrick Lamar, Post Malone, Sting and Swedish House Mafia.
According to Abdulla Yousuf, director of international operations at the Department of Culture and Tourism – Abu Dhabi (DCT Abu Dhabi): "As we see tourism continue to grow in Abu Dhabi, our cultural offering, infrastructure and entertainment attractions also continue to grow. There truly is something for everyone to enjoy in Abu Dhabi and now that travel restrictions have eased there has never been a better time to visit."