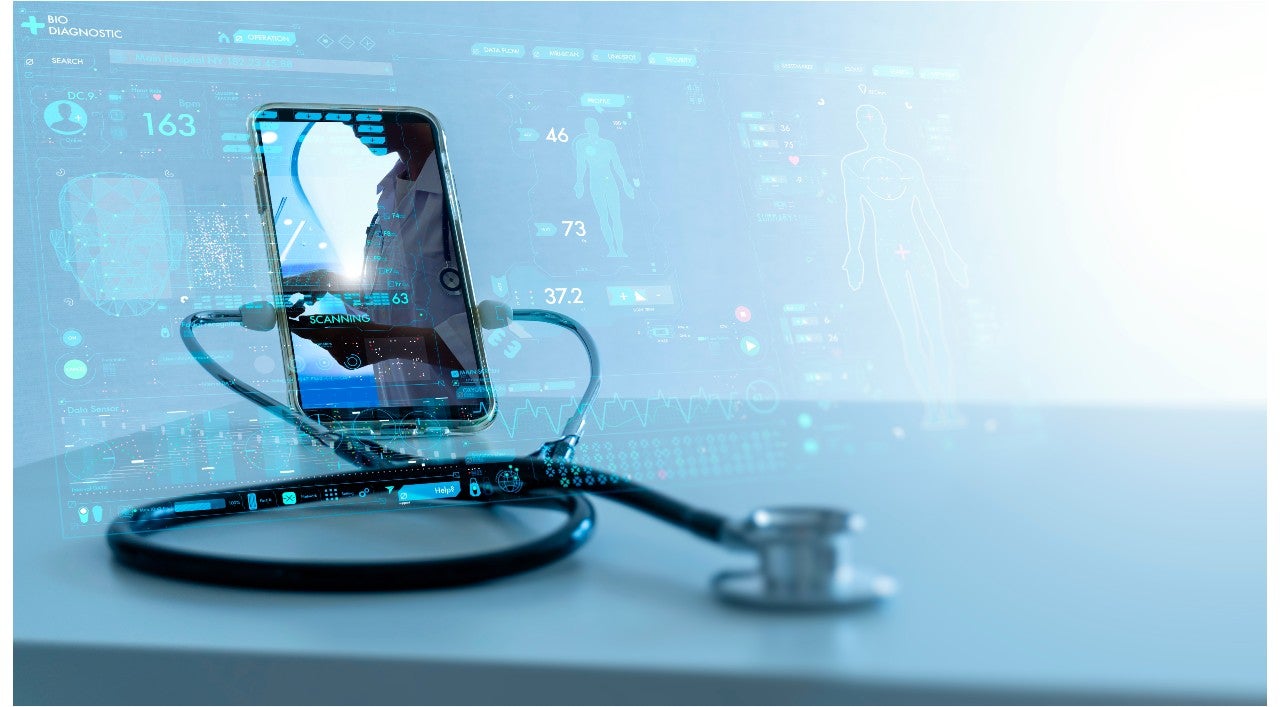 How patients receive treatment is being revolutionised by advancements in AI and machine learning, the internet of things (IoT) and extended reality, coupled with a growing comfort with digital devices including smartphones and telehealth, as a part of managing one's care.
Funding has followed the technology, with the digital health sector seeing significant growth globally due to strong investor confidence and perceived investment opportunities. The global market size is estimated to be more than $95.3bn1. By 2030, global spending on digital health is projected to represent 8% of all healthcare expenditure, up from 3% currently2.
"Digital health is the revolution in healthcare," says Doug Ward, the general manager of MEDIC at Mohawk College in Hamilton, Canada. "It is the thing that's going to change everything – from simple apps for managing your own health records, right up to digital therapeutics."
Digital health services are providing patients with more personalised treatment, which is ultimately more effective and improves the overall patient experience. Services such as Personal Health Records and diagnostic apps collect, store and analyse patient data, which assists healthcare practitioners with diagnosis as well as enabling them to create tailored treatment plans based on the needs of the patient.
Advances in big data and AI are taking this further, prescribing treatment plans that take into account a multitude of factors, even genetic predispositions. AI is also being used to diagnose conditions such as cancer earlier than is generally possible.
"These advancements can also be deployed to significantly improve aftercare monitoring, reducing readmission into hospitals and dropping the overall cost of healthcare," Ward says.
For example, he continues: "After knee surgery we can now provide the patient with an app that guides their daily recovery exercises, tracks any side effects they are experiencing, and warns them if they are doing too much or too little." Digital therapeutic apps are being built to help manage type 2 diabetes or assist with addiction.
At Mohawk College, some of the projects under way include a device and associated applications that assist caregivers in helping dementia patients improve their quality of life and live at home as long as possible; an IoT pupil scanning app that screens for conditions that can affect fitness for duty; and a visualisation system that works with any electronic medical record to display the data a doctor needs during encounters.
Working with CanChild, MEDIC previously developed an Apple Watch application, the Back2Play app, that helps adolescents with concussion safely return to activity and school by monitoring symptoms against evidence-based guidelines.
Demand for digital health services in Canada has increased substantially since the Covid-19 pandemic, where a survey conducted by the Canadian Federal Competition Bureau in December 2020 revealed that 72% of Canadians now obtain medical advice from healthcare providers by phone and 42% access websites, mobile applications, or interactive online tools and services3.
Canadians are increasingly looking to receive treatment from their family doctors and specialists via telephone or virtual means. These trends are further supported by the government of Canada through investments in programmes such as the Canadian Technology Accelerator, which helps Canadian businesses focused on life sciences, digital technologies and cleantech.
The Canadian digital health sector, like the global one, is growing. It is estimated to be valued at around $3.76bn (C$5.05bn), and the country has a strong ecosystem of digital health start-ups, which managed to collectively raise more than $884.5m in venture capital funding in the first half of 20204.
"There are hundreds, if not thousands, of innovators in Ontario alone that have great ideas," Ward says.
Turning ideas into real-world solutions
The mHealth & eHealth Development and Innovation Centre (MEDIC) at Mohawk College in Hamilton, Ontario, is helping entrepreneurs and small and medium enterprises (SMEs) develop their ideas.
"We help them design that technology, build it, implement it, and get them out there into the market," Ward says. "We also help those who already have a product available get connected to the healthcare systems."
MEDIC does not keep rights to the intellectual property, so everything entrepreneurs and SMEs build belongs to them.
"We have a lot of expertise in connecting to the hospital information systems, the government information systems and the payment systems," Ward says. "Until they can connect to those systems, a lot of them cannot actually take their ideas out into the bigger market and they can't sell them to the hospitals."
Because MEDIC is embedded in Mohawk College, the programme is also helping further develop R&D talent for Hamilton's digital health sector. At the core of those skills is good old-fashioned IT skills, Ward says.
"But then you must add in the industry skills, including management of data privacy, health-specific communication protocols such as FHIR, and a good understanding of how data flows through the healthcare system," he adds. To produce the devices themselves, and interface with them, knowledge of electronic and mechatronic engineering is important, and teams of these engineers also work in MEDIC and the parent Mohawk College applied research organisation, IDEAWORKS. The college itself offers programmes that provide the education and the hands-on learning opportunities related to technology that can be applied to digital health.
Further, Hamilton's healthcare ecosystem, which includes the fourth-ranked research hospital in Canada, offers significant opportunity for research collaboration, which has been beneficial to digital health companies. Groundbreaking discoveries are happening in Hamilton, which provides not only the ideal conditions for digital health innovation but also the necessary networks and infrastructure to support their commercialisation.
1,2,3,4 References available on request
To learn more about life sciences research and commercialization in Hamilton, download the whitepaper here.