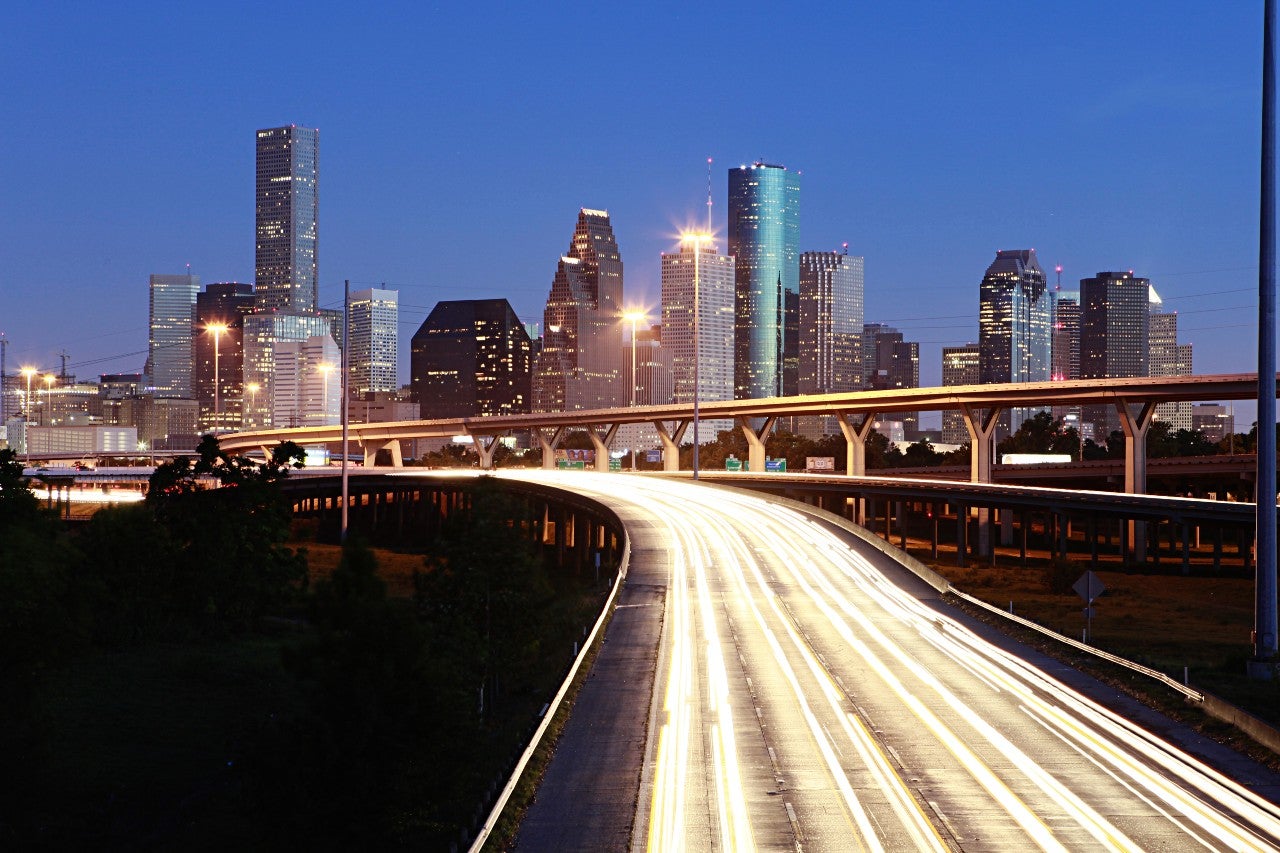 "We need to do two things simultaneously that sometimes seem at odds with one another," said Bobby Tudor, chair of the Houston Energy Transition Initiative, in a speech at the Future of Global Energy Conference in 2021. "On one hand, we need to meet a global demand for energy that will continue to grow well into the future. On the other hand, we need to protect that future from the real and growing threat of climate change caused by ever-increasing CO2 emissions."
Tudor's dilemma raises important questions about the future of the energy transition. Can fuel giants from the carbon age pivot towards cleaner, greener sources? What kind of regulatory and financial initiatives will catalyse energy innovation? And where is there a sufficient concentration of expertise, finance and government support to tackle the transition with the urgency it demands?
The locations coming the fore
The Houston Energy Transition Initiative (HETI) was launched by the Greater Houston Partnership in 2021 in an effort to answer these questions. It aims to leverage Houston's industry leadership to position the region as the energy capital of the world. In October 2022, HETI released a new report – 'Perspective on the energy transition capital of the world: Houston's opportunity to win by catalyzing capital formation' – in partnership with McKinsey, a global consultancy. It highlights how far Houston has come – and its growing role in the energy transition's future.
The report confirms that Houston has already seen a fourfold increase in new energy venture capital (VC) investment, with more than 60 new low-carbon and climate tech start-ups, supported by collaborations across universities, incubators, investors and corporates. Corporate VC investments grew in the region by 32% year-on-year between 2013 and 2019. In Houston alone, more than $2.6bn of VC has been raised since 2015, with the value of the average VC deal quadrupling between 2016 and 2021.
According to senior vice-president and executive director of HETI Jane Stricker: "HETI's objective is to create a vision and a blueprint for growing the region's economy, exporting low-carbon products and expertise, equitably creating new jobs, and helping the city of Houston achieve the goals of its Climate Action Plan. There is no geography in the world better positioned than Houston to lead the transition to and integration of abundant, low-carbon energy solutions."
The HETI report also details how well Houston is positioned to be a funding leader and how new legislation like the Inflation Reduction Act (IRA) can play a vital role in advancing Houston's ambitions. Kassia Yanosek, Houston-based partner and global leader in McKinsey's energy and sustainability practices, says Houston has plans to attract even more new capital. "Our city's financial sector leaders have great appetite to expand focus to the next investment wave – and face a pivotal opportunity in today's evolving market to grow and scale energy transition-related endeavours," she states. "To accomplish this, Houston's business community has turned its attention toward attracting financial decision-makers, capital and new talent to the city."
Recent energy transition investments
The new report follows hot on the heels of several huge energy transition investments into the region in the last couple of years. In February 2021, Chevron Technology Ventures announced investment of $300m into low-carbon energy sources. In June, Shell announced that it would start selling electricity from renewable sources generated across Texas. New initiatives have ramped up over the course of 2022. March saw ExxonMobil announce the creation of a new hydrogen production facility, reducing site emissions by up to 30% at the oil major's olefins plant. It simultaneously announced the development of one of the world's largest new carbon capture and storage (CCS) projects at its Baytown refining and petrochemical site. In May, Chevron declared it would be backing an expanded joint venture to develop the Bayou Bend CCS offshore carbon capture and sequestration hub – which could save up to 275 million metric tonnes of industrial carbon dioxide emissions in the area – currently held by Talos and Carbonvert. As recently as October, Air Liquide, Chevron, LyondellBasell and Uniper announced a new joint study evaluating the development of a hydrogen and ammonia production facility along the Gulf Coast.
While these investments have been grabbing the headlines, work has been ongoing in Houston to make it an energy transition hub for companies of all sizes. Boston-based Greentown Labs, the largest climate tech incubator in North America, undertook its first expansion in Houston on Earth Day 2021. It now hosts more than 70 cutting-edge energy start-ups at its 40,000ft2. The city's world-leading higher education institutions were already poised to offer a ready supply of new talent, with Rice University and the University of Houston both ranking consistently as the US's top two entrepreneurship programmes, and the recent launch of Greentown Lab's TEX-E programme creates even greater connectivity for Texas universities to climate tech entrepreneurship. The region is alive with action on the energy transition, such as the formation of the Houston CCS Alliance, a collective of Houston-based energy companies focused on decarbonising the Houston Ship Channel.
Key findings from the report
The report argues that Houston can become the world's energy transition capital by accelerating current activities. Houston's community, companies and energy financiers are highlighted as strengths that create an energy transition financing ecosystem that could become a benchmark for other cities, both in the US and globally, by 2040.
These strengths will boost Houston's energy transition leadership, says the report, particularly in clean hydrogen, carbon capture, renewable fuels, chemicals and plastics. With the passage of the IRA, even greater economic incentives exist for investors to allocate capital to many energy transition technologies.
Although the region is already attracting energy transition capital, with an estimated $15bn of energy transition-related investments coming into Houston in 2021 alone, the report says that bringing investment decision-makers to Houston, and further strengthening the city's capabilities, will be critical to increasing its global reach and impact on energy transition. Significantly, the 85 public oil and gas companies based in Houston – including global giants like Shell, Chevron, ExxonMobil and BP – are projected to have pledged more than $20bn towards the energy transition in 2022, highlighting the appetite from incumbents to help drive change. By 2040, it is estimated that annual capital flows to Houston's energy sector will reach ten times their current levels, peaking as high as $250bn per year. This would make Houston responsible for 15% of the $1.5trn energy transition spending that will be taking place in the US by 2040 if it maintains a net-zero pathway, nearly three times its current share. Although Houston is a diverting proposition for these capital flows – energy transition start-ups around the city raised around $700m in 2021 – more work remains to make Houston the world's energy transition capital.
The report emphasises that making Houston a hub for talent, innovation, project development and financing will all be essential. By serving as a centre of diverse, high-calibre skills and providing a supportive business and regulatory environment to develop projects through implementation and scaling, Houston will foster greater entrepreneurship. The region needs to enable capital formation by creating an ecosystem of capital providers, advisors (including financial and industrial players), policymakers and ventures to connect energy financiers to these projects.
Next steps to growth
For Houston to realise its full potential as the world's energy transition capital, decisive action is needed. The report lists three urgent next steps for the finance community.
First, close collaboration with the Texas state government. Financiers can only plan ahead when energy transition policy is predictable. Policymakers can catalyse these plans via incentives like tax holidays and direct pay subsidies. By working together, they can assure the right amount of capital is available at the right times without fear of delay or disruption. Second, rolling out a low-carbon bank could expedite energy transition infrastructure, provide capital to early-stage low carbon tech ventures and strengthen Texas's energy grid. In doing so it would create the foundations for the next stage of the energy transition; exploring its viability must be a priority. Finally, Houston enjoys a significant head start on energy innovation. Its oil-era infrastructure is being repurposed to use hydrogen composite fuels and it is a central element of the Texas power grid (which already generates more wind power than any other US state). Marketing these clear comparative advantages to investors outside Texas will help to suck in capital and accelerate change.
In the longer-term, urgent measures will dovetail with Houston's status as the energy capital of the world to turn the city into a transition epicentre. The region enjoys deep expertise in energy financing; incumbents are seasoned investors in funding projects ranging from seed-stage technologies to multi-billion-dollar, capex-intensive ventures. Their experience from the previous decade's shale revolution offers them a keen eye on where the next centres of energy innovation will be. Furthermore, Houston's physical infrastructure is unparalleled. Its network of pipelines and ports are ready-made for transportation of clean hydrogen and it is already one of the world's most prolific liquefied natural gas exporters. It is also a hotbed of talent, boasting by far the most petroleum and chemical engineers in the country and world-class academic institutions like the Rice Alliance and the University of Houston Energy Transition Institute feeding in new manpower all the time. Low living costs, cheap power and abundant land compared with traditional business hubs on the US East and West coasts continue to lure in a new generation of entrepreneurs. A total of 44 publicly traded oil and gas companies, almost 70 energy tech companies and more than 30 accelerator programmes are now doing business in the region.
Looking ahead to cleaner energy
"This report provides a critical perspective for how our region can continue to position itself as the Energy Transition capital of the world," says Stricker. "There is no geography in the world better positioned than Houston to lead the transition to and integration of abundant, low-carbon energy solutions." Houston's policymakers and business leaders are turning this vision into a reality. Houston's blossoming energy transition ecosystem – including universities, start-ups, accelerators and investors working on large scale project deployment – is fuelling energy transition efforts and attracting capital for both emerging and mature low-carbon technologies.
Houston's business and finance community will need to collaborate, evolving together and setting benchmarks to maintain Houston's energy leadership as the world moves towards an energy abundant, low-carbon future. Progress to date suggests it can lead the world in making this happen.
Energy companies, investment companies and growing businesses can get in touch with the Greater Houston Partnership to access support and assistance across the region. Download the free whitepaper below to find out more.