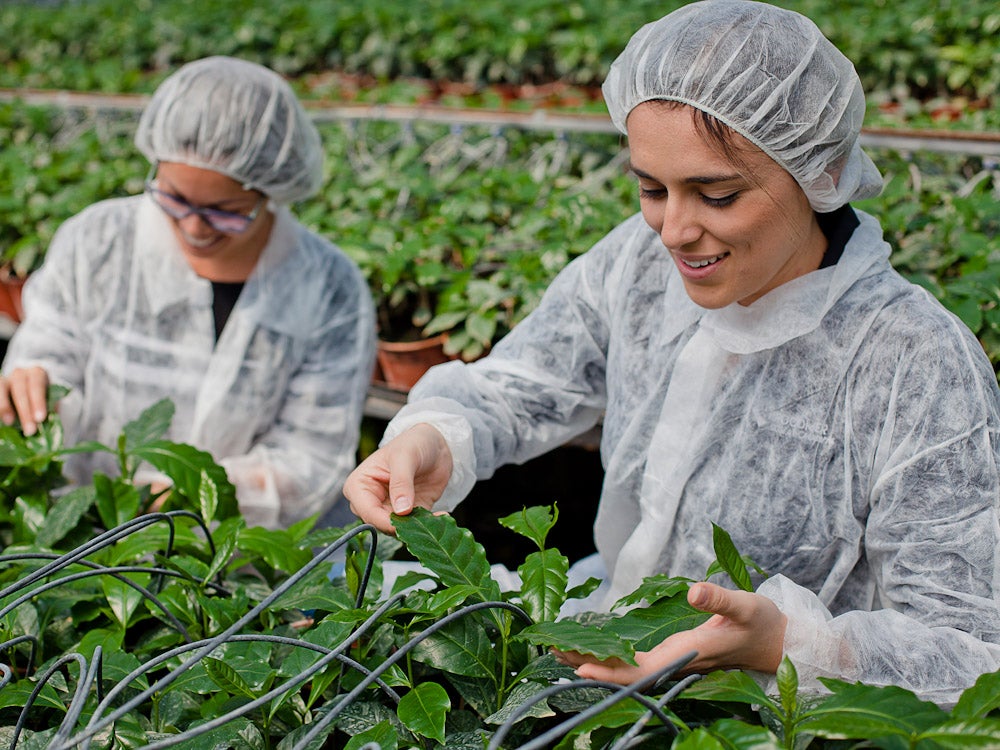 The global nutraceuticals market is predicted to experience an explosion in growth over the next decade as the health benefits of products become more widely understood and accepted.
This global growth reflects a significant and ongoing uptick in demand for health food products, natural therapies and wellness-focused diets.
One of the most prominent emerging segments is cannabis oil and hemp. Within this, the cannabidiol market alone is expected to be worth $22.05bn by 2030. In addition, nutraceuticals made from cannabis are being used to treat everything from anxiety to microbial infections.
Elsewhere, while the link between vitamin C and a healthy immune system is long-established, the importance of other vitamins has become more prominent in recent years.
The benefits of vitamin D were already receiving wider recognition in the last few years for people in countries or lifestyles with limited exposure to sunlight. However, demand for vitamin D nutraceuticals also saw a dramatic spike at the peak of Covid-19 after the virus was found to reduce the body's vitamin D levels.
Another emerging segment within nutraceuticals is probiotics, which are used to help increase gut health and treat mild digestive issues.
With nutraceutical products reliant on natural ingredients, it is green countries like Costa Rica, which have the optimum conditions for nature to flourish, that have a clear advantage for investors. Or to put it another way, plant growth will help drive economic growth.
An environment for nutraceuticals growth
Nutraceuticals is an area where Costa Rica has considerable strengths, with its long-standing commitment to "Pura Vida", abundant biodiversity, dynamic agricultural industry, and as the most peaceful country in Latin America, according to the Institute of Economics and Peace, it is a safe country to set up operations within the sector. All of these factors can help foreign enterprises unlock new possibilities and innovations.
A good example of how setting up operations in Costa Rica provides a strong return on investment for international companies is NaturAloe, a global leader in the aloe vera industry. NaturAloe's current operations in Costa Rica build on the work of Carrington Laboratories, which has more than 30 years of experience in the aloe vera industry. Years of research saw Carrington identify and isolate the active ingredient responsible for most of the benefits aloe vera provides. The result was registering the active ingredient under the name Acemannan. Carrington proceeded to develop a unique patented processing method that allows extraction of the Acemannan while maintaining its natural form.
Carrington set up operations in Costa Rica to scale up production and take advantage of the multiple benefits the country offers for nutraceuticals manufacturing. These include political and economic stability, a welcoming environment for foreign investors, a skilled workforce, a free trade zone, proximity to key markets and an ideal climate for agriculture. Over the years of operations, Carrington invested more than $80m in expanding multiple clinical studies and developing pharmaceutical and nutritional supplement products.
Then, in 2009, NaturAloe Costa Rica purchased Carrington's assets in Costa Rica. NaturAloe continues to develop the active ingredient in aloe vera based on the unique and proprietary process developed by Carrington while implementing new techniques to further improve products. In 2018, NaturAloe entered the production of nutraceutical products.
Gaining a competitive advantage in the nutraceuticals market
Over the years, there has been a significant shift in the perception of nutraceuticals. Consumers are increasingly seeking natural remedies over harsh medicines wherever possible, driven by greater awareness among younger generations of the health benefits. Furthermore, the internet expands the potential customer base and significantly increases the platform to inform and educate consumers about the benefits of nutraceutical products.
However, greater numbers of products flooding the market means more competition, and it can be a challenge to retain customers. Where Costa Rica has an advantage is in the country's regulations, which enable easy imports and exports of items. Costa Rica has proven how a collaborative ecosystem provides the least export volatility in the Americas, and the country is among the least volatile in the world, on a par with the US and Switzerland. This helps the country to be more efficient and enables companies to provide better service to customers.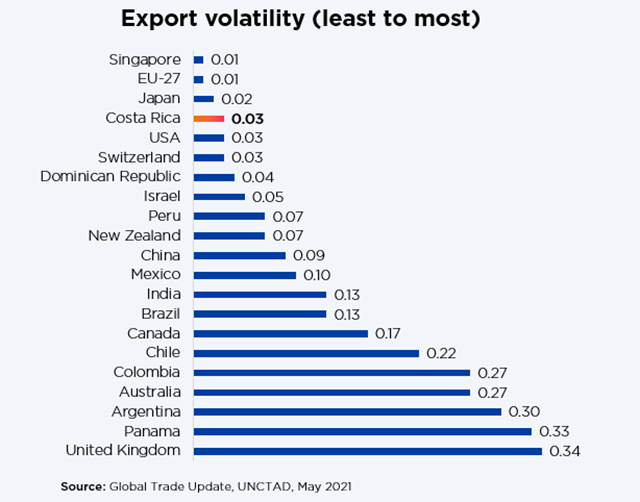 Another factor that could tip the balance in the favour of products made in Costa Rica is the opportunities for cooperation between different companies based in the country's wider nutraceuticals ecosystem to enable industry growth.
"We need to improve cooperation and start working together to develop and articulate policies, together with the regulatory authorities, that would help the industry grow," says Jose Zuñiga, operation manager at NaturAloe. "The addition of hemp and cannabis products may trigger this cooperation."
In 2022, a hemp and medicinal cannabis law was approved. This includes licences with a cost as low as $0 and presents opportunities along the entire value chain including seeds, research and development, production and value-added processes. The cannabis and hemp sector only looks set to grow in the future, driven by the sheer variety of products available across a broad range of uses from medicinal oils and nutraceuticals to fabric, and even concrete made from hemp stems.
A commitment to biodiversity in Costa Rica
Costa Rica contains 6.5% of all biodiversity on the planet despite the country only covering 0.03% of Earth's surface. In addition, 59% of the country is covered by forests. It was the first tropical country to halt and reverse deforestation, with 26% of Costa Rica protected in a combination of national parks, conservation areas and nature reserves.
This commitment to environmental responsibility is shared by NaturAloe. The company says it takes pride in the sustainability of its operations, recycling all the waste generated from operations. Any rinds not used in the manufacturing process are turned into compost and used as organic fertiliser to enhance the growth of new crops. Any water used in the manufacturing process is treated and reused for irrigation. It is part of the wider company culture that aims to not only look after the environment but also workers. Plus, with 99% of Costa Rica's electricity coming from renewable sources, businesses have significantly lower environmental footprints than in other countries.
"Our company is part of Grupo Pelon, a leading agriculture company certified carbon neutral," adds Jose Zuñiga. "We promote a work environment that helps to improve our workers' quality of life. Our company offers access to medical services, free transportation and the employees' solidarist association, among others.
"We believe that we need to reduce our footprint and leave a better world for our children. All these values fit with the Costa Rica government policies commitment to take care of our biodiversity."
The future for nutraceuticals in Costa Rica
Costa Rica has a natural environment to rival anywhere in the world. When combined with its business-friendly conditions, this positions the country strongly to gain a significant share of the global nutraceuticals market. What could further the success is consumers taking a closer interest in where products come from and the environmental footprint of their production. Products that come from Costa Rica are already way ahead of the pack in terms of their environmental profile.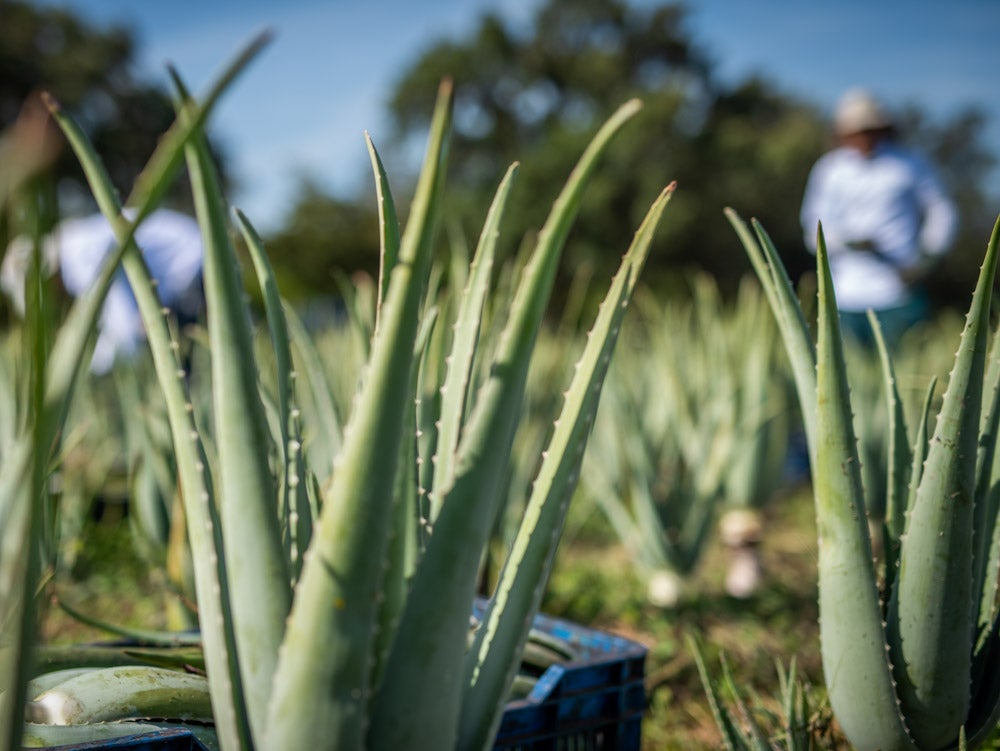 As for NaturAloe, the company is continuously improving and refining its production processes and has other markets in its sights as it seeks to expand further internationally.
"We keep working to be better each day," adds Jose Zuñiga. "We developed a formulation and powder filling line to allow us to offer more services to our customers.
"In conjunction with a company we established in Israel, we are developing pharmaceutical products based on our Acemannan. These products will be elaborated in our manufacturing facility and will allow us to reach new markets."
With manufacturers under pressure from consumers for products with a lower environmental impact, Costa Rica is well-placed to reap the opportunities available in the global nutraceutical sector as it grows over the next decade.