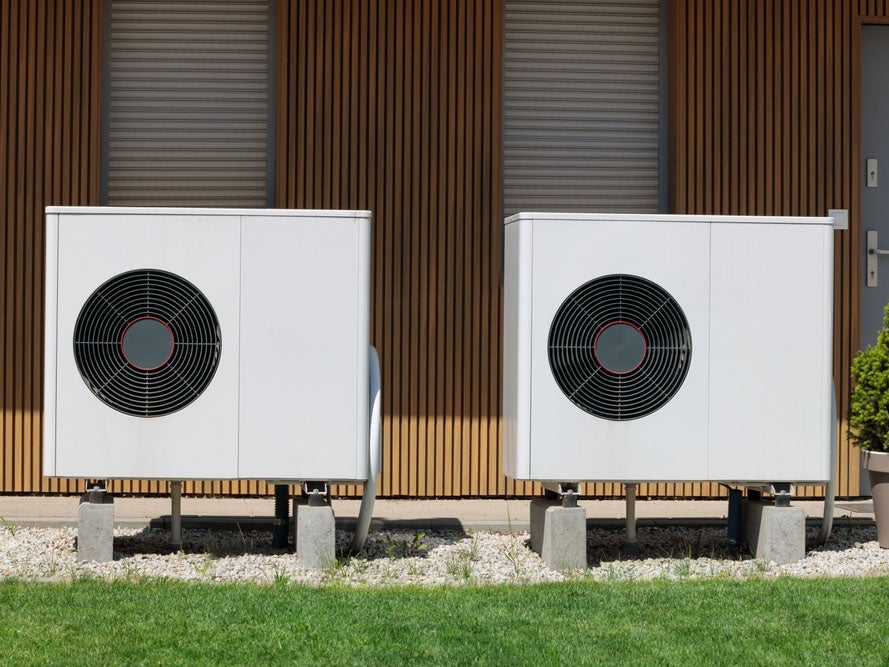 With time of the essence for the energy transition, heat pumps are viewed as a viable solution to decarbonise energy use and reduce bills for households and businesses.
While there are many promising clean energy solutions in development, it could take several years for the technologies to mature sufficiently and scale up to the necessary levels. Heat pumps are already a proven technology and could be installed in the right location within a matter of days.

Current heat pumps on the market can reach 300% to 400% efficiency, meaning they're producing three to four times as much energy in the form of heat as they're using in electricity. In contrast, the best-performing A-rated gas-fired boilers available have efficiency scores of around 90% or higher.
However, the key for heat pumps, or any heating system, is to use as little energy as possible while optimising the efficiency of buildings, all to reduce carbon emissions and better protect consumers against the fluctuations of international commodity prices.
Heat pumps and the energy transition
With one of the main objections to net zero targets being the scale of the changes required to decarbonise the economy, the heat pump industry is an example where small changes can make a big difference. For example, the chassis on Mitsubishi Electric's original heat pump was taken from one of its air-conditioning units, with many of the same components shared between the designs.
"People think heat pumps are new. But in every office block, there's a heat pump. It's just doing your air-conditioning and heating," says Russell Dean, residential product group director at Mitsubishi Electric UK. "All we've done is use that technology to move that heat from outside into water and into a heating system. It's exactly the same principle. All we're doing is moving energy around. We have a wealth of experience in that."
This year marked three decades since the opening of the Mitsubishi Electric Air Conditioning Systems Europe Ltd (M-ACE) facility in Livingston, West Lothian, which has a workforce of almost 1,900. As a sign of the changing market, Mitsubishi Electric's production used to be split between 80% for air-conditioning units and 20% for heat pumps. However, these proportions have recently swapped with Mitsubishi Electric now dedicating the majority of its production capacity to heat pumps.
"We didn't have to do anything radical to do that," explains Rodney Ayre, senior department manager at M-ACE. "We were already skilled in making products that supported the transfer of heat."
Mitsubishi Electric has been a long-term supporter of selling products close to where they are manufactured. With demand for heat pumps surging in Scotland, the company is in a strong position to serve the growing market.
"We have always had a policy as a company to build it where you sell it," says Ayre. "Even though we're now outside Europe, we continue to support the European market with over 76% of all products manufactured here [heading there]. Mitsubishi Electric has additional sites across Europe to support that large, growing market."
Reducing embodied carbon in heat pumps
Selling products closer to where they are manufactured also reduces carbon emissions from transportation and removes the need to ship products to the other side of the world. "Having that supply chain closer to where you are reduces that embodied carbon," adds Dean.
Then there are the greater efficiencies available from heat pumps as the technology evolves. Launching in Britain in December, Mitsubishi Electric's R290 air-source heat pump uses propane as a refrigerant – a natural substance.
"The propane that we use in heat pumps again has an incredible impact on reducing embodied carbon. But it also has improved performance," says Dean.
"So, you're now into the realms of a high-temperature heat pump that can very much compete with a gas boiler in the amount of heat it provides.
"That doesn't mean that we will use it as a direct replacement for a gas boiler, because we still want to use as little energy as possible. Our systems will be fighting to lower that flow temperature as much as possible to keep the efficiency. But when we need hot water and we need it quick, then we can certainly provide it at 75°C into the tank."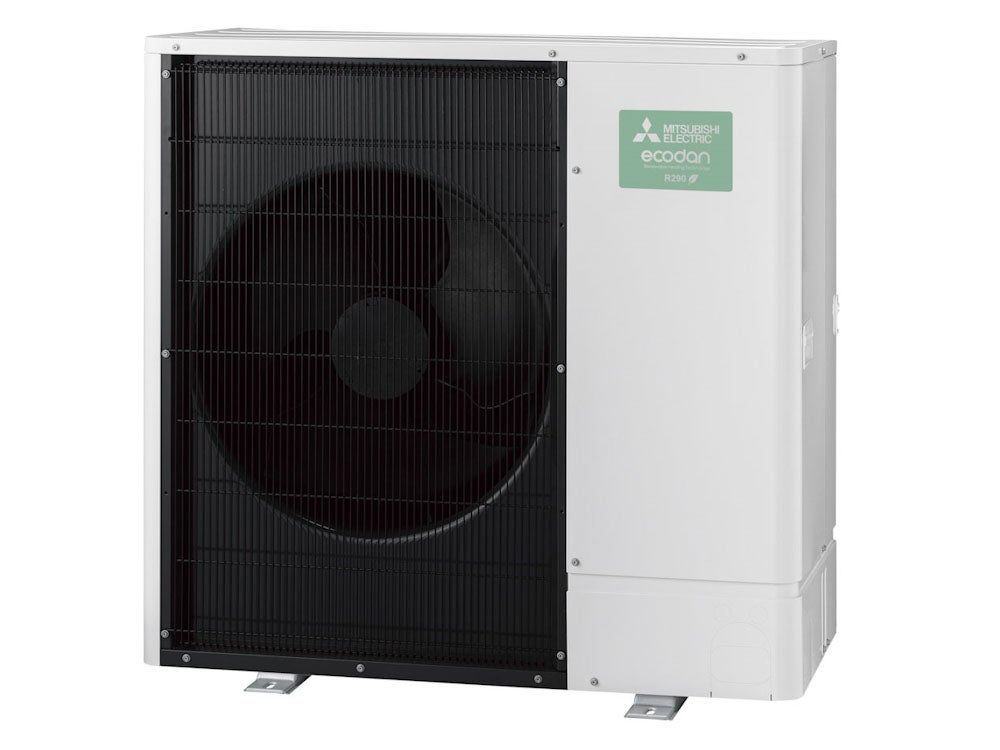 Government support for energy efficiency
The UK Government is heavily backing the roll-out of heat pumps, having announced a target to install 600,000 heat pumps a year by 2028. With an estimated 55,000 heat pumps installed in the UK in 2021, there is some way to go before reaching this target within the next five years.
Yet in Scotland, sales have grown by 95% in two years with the air-source heat pump market worth an estimated £70m in 2022, according to figures from the MSC Database. To date, 16.5% of all UK air-source heat pumps have been installed in Scotland. Further market growth is projected for 2023.
There is a real drive in Scotland to provide a significant share of the UK's target within the set timeframe, having set its own ambition to install 200,000 heat pumps a year before the end of this decade. There are already more than 365 companies involved in Scotland's green heat value chain. The Scottish Government has allocated £1.8bn of public funding to decarbonise heat and improve energy efficiency in buildings across the country, with plans to boost this amount significantly from private investment.
Mitsubishi Electric cites the importance of state and industry support as key factors in the success of the growing heat pumps market in Scotland.
"There's a long heritage and commitment here and there's a great deal of support," adds Ayre. "It's not just Scotland, it's also the whole of the UK. There's a significant relationship with the governments in trying to make sure that we form part of the solution in the Future Homes Standard and targets towards net zero."
With Scotland set to ban the sale of new gas-fired boilers as soon as 2024 in new-build properties, a year earlier than England, it has focused attention on developing low-carbon heating solutions sooner rather than later.
"We're starting to see the momentum picking up as the regulations start to kick in. The markets are definitely responding to the signals. There are lots of innovations happening. New products are being developed, and new companies coming into the market as well," says Doreen Reid, specialist in low-carbon energy at Scottish Enterprise.
The green heat supply chain
Scottish Enterprise is focused on developing a robust and sustainable supply chain for green heat within the country, with domestic firms working alongside international operators. In addition, Scotland is implementing local heat energy efficiency strategies, identifying the areas where properties are in greatest need of retrofitting with energy efficiency measures.
"If we hit the targets, then it will make us one of the leading countries in terms of heat pump manufacturing and installation across Europe," adds Reid.
One crucial scheme is Home Energy Scotland, which offers a combination of grants and loans to support heat pump purchases and energy efficiency improvements. This is especially important for buildings without proper insulation, where heat pumps will not operate anywhere near as effectively.
"Thanks to supporting measures promoting heat pumps and energy efficient measures and grants, demand is rapidly increasing. An example of this support is the 0% VAT on energy efficient measures, including heat pumps," says Barbara Monterrubio, managing analyst of energy at GlobalData.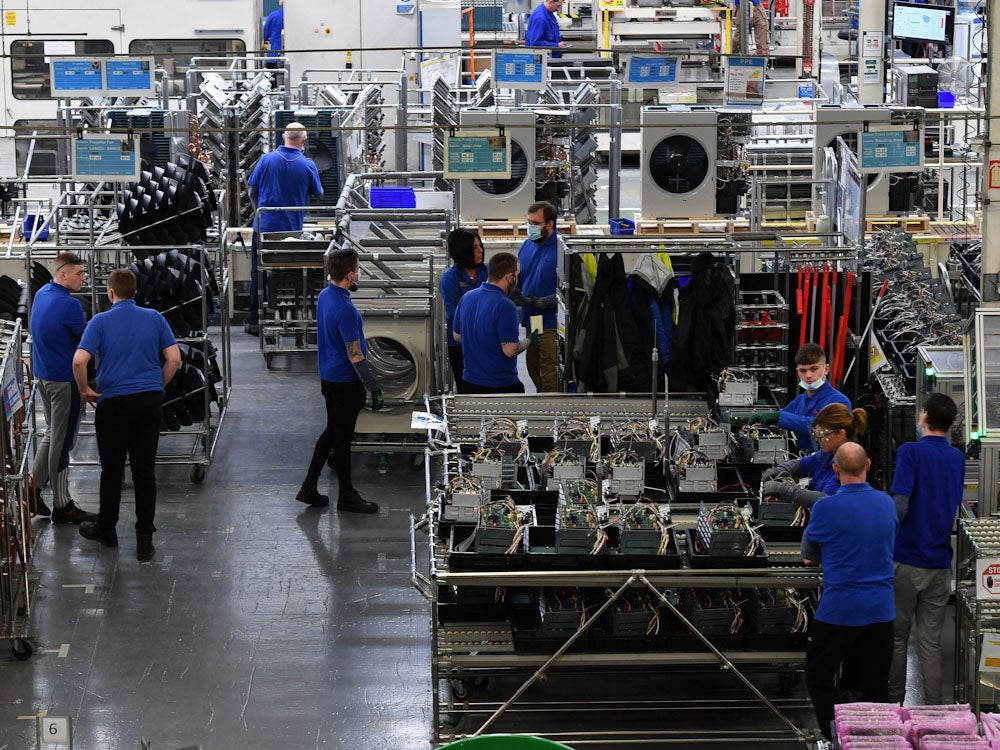 Solving future challenges for heat pumps in Scotland
While the heat pump industry is making strong progress in Scotland, there remain a number of challenges that must be overcome.
One of the most pressing issues is the skills required to accommodate the vast roll-out of heat pumps. But there are plans to address this from talent in Scotland. Mitsubishi Electric is busy training the next generation of heat pump engineers and installers for servicing, alongside reskilling experienced personnel – with the scalable capacity to increase this through flexible training models.
Scotland also benefits from 18 colleges running specialist training courses dedicated to equipping the future workforce with the skills that they need for energy efficiency and low-carbon heat projects. To boost workforce skills further, a certified Mobile Heat Pump Training Centre is routinely driven to 24 locations around Scotland, comprising colleges and low-carbon heat training facilities, to benefit installers living nearby.
Another challenge is ensuring that every part of the heat pumps supply chain keeps moving and growing at the same pace. "We have the technologies now to achieve net zero. What we require is collaboration," adds Dean.
It is safe to say that there is no single technology that will enable net zero, with no like-for-like replacement for fossil fuels available. However, combining a range of green and low-carbon solutions will enable the energy transition.
Heat pumps used as part of a broad energy mix alongside other technologies – such as solar panels, wind power, greater insulation, low-carbon hydrogen, heat networks, and battery storage – are what will ultimately deliver the decarbonisation of heat.
Scotland is already fostering these vital collaborations to grow its heat pumps industry and make a significant contribution to the country's ambitions to reach net zero by 2045 – five years ahead of most other countries. The development of a national Green Heat Hub will also increase the focus on creating net zero solutions. "Establishing a heat hub will really put Scotland on the map in terms of this industry," says Reid.
To find out more about how Scotland is developing its green heat industry, download the document below.