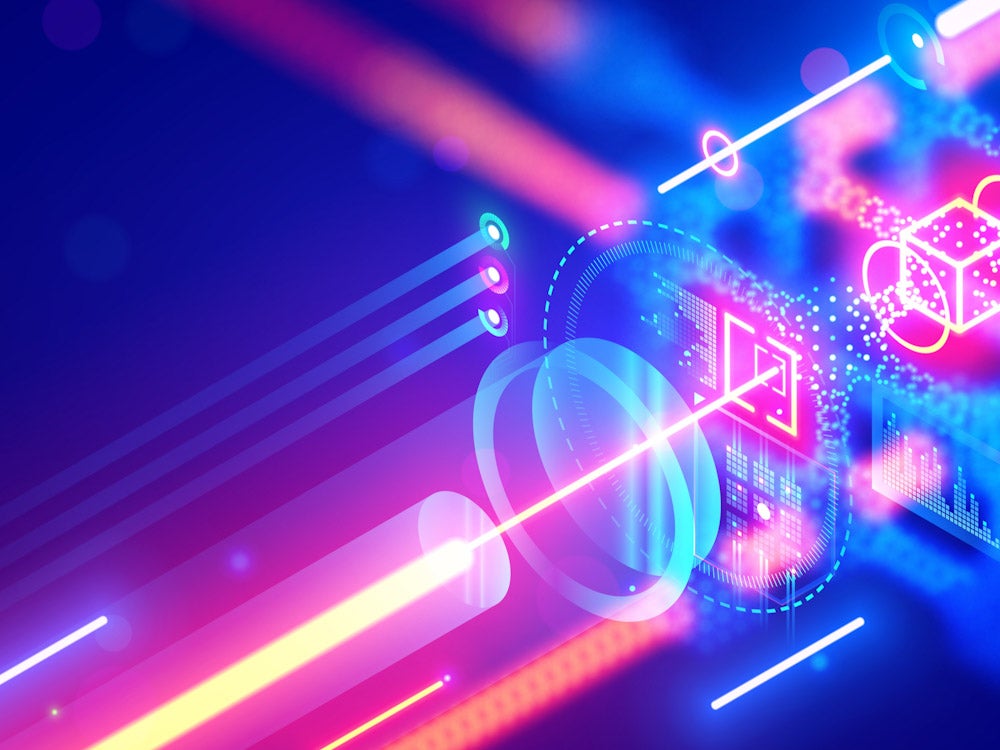 Quantum finance technologies are expected to provide a huge boost for fintech sector growth and transform the way services are delivered, while creating a fertile environment for start-ups and scale-ups, as well as established financial services companies.
The concept of quantum reimagines how computers will solve problems, communicate, and store data in the future. Instead of the classic 'zeroes and ones' approach, quantum technology harnesses the properties of atoms and photons – units of light – to develop ultra-high-performance applications.
Several world-class Scottish universities – including Glasgow, Strathclyde, and Edinburgh – are part of a coordinated effort to achieve rapid advances in the development of quantum finance software applications. This can offer previously unachievable levels of security and efficiency for fintech applications.
Professor Elham Kashefi leads the quantum computing team at the University of Edinburgh's School of Informatics and co-founded the fields of quantum cloud computing and quantum verification. She is a respected global authority on quantum applications and has been conducting cutting-edge research in areas such as quantum verification, programming languages, machine learning and cybersecurity. The National Quantum Computing Centre recently appointed Kashefi as its chief scientist.
"We have the largest quantum software team in the UK at the University of Edinburgh, and that's something we are very proud of," says Kashefi.
"We have been very focused on the application side and carrying out some pioneering work with fintech. We are already working with NatWest and HSBC to try and figure out exactly what their pain points are and come up with solutions."
Quantum finance technologies: driving financial services innovation
Kashefi works in collaboration with several other universities in Scotland to maintain a synchronised approach between hardware and software experts, with a joint aim of advancing the understanding of quantum tech and its potential.
Kashefi's team is part of the National Quantum Computing Centre and collaborates with supercomputing centre EPCC, which manages the Archer2 supercomputer.
"As the UK is relatively small, it allows us to be part of the national ecosystem – but still be leading from Scotland," adds Kashefi.
"We have created a quantum cluster of excellence here, focusing heavily on quantum computing applications.
"With that cluster of universities, hardware providers and the Scottish Government, we are very well positioned, and naturally we will take advantage of that in areas like fintech development."
The University of Edinburgh is also a member of a consortium that includes Standard Chartered Bank and Californian quantum circuits experts Rigetti Computing, to build a UK-based quantum computer, which will be offered for use in commercial projects globally via the cloud.
"Financial tech is open to innovation because it has always had very hard computational problems," says Kashefi. "When you bring a new computational capacity to the table, fintech companies can see the advantages and are naturally very interested."
Quantum applications for banks and fintechs
Banks and fintechs are drawn to quantum applications because of the potential to improve security, enhance the efficiency of algorithms and offer new data strategies. Several financial services firms, including NatWest and Morgan Stanley, already employ sizeable quantum teams in Scotland.
Khalid Rafiq, head of technology at Morgan Stanley's Glasgow office, says: "We believe that quantum computing has the prospect to help solve traditional interactive problems relevant to the financial industry.
"To remain at the forefront of this emerging technology, we have invested globally and more strategically in our Glasgow-based operation, as we see a level of expertise emerging among academia across Scotland."
This builds on Scotland's long history of innovation in computer sciences, photonics, cryptography lasers and informatics, making it a natural location to lead the way in quantum finance research.
Craig Skeldon, business development manager at the University of Edinburgh, told Investment Monitor: "Scotland has always been a little bit ahead of the curve when it comes to new technologies. It is small enough to be agile, has a rich tapestry of academic expertise and has the curiosity to embark on these things.
"There are a lot of training and development programmes and funding available for quantum technologies in the UK, and Scotland has been well-poised to take advantage. In fact, Scotland has had the lion's share of quantum funding in the UK."
According to Skeldon, Scotland's head-start in quantum research is such that there are probably as many people involved in quantum research in the country as there are in Silicon Valley at the moment.
"If you are a quantum software company developing applications for financial services, Scotland would really be the ultimate location for you, given the proximity of academic talent and the number of banks locally," Skeldon adds.
"Scotland has pretty much everything that they need: facilities, access to a talent pool, access to academic collaborators and access to FS customers who have a willingness to try new things. I don't see a concentration like that anywhere else."
To learn more about the fintech sector in Scotland that is accelerating growth and advancing technologies, download the document on this page.