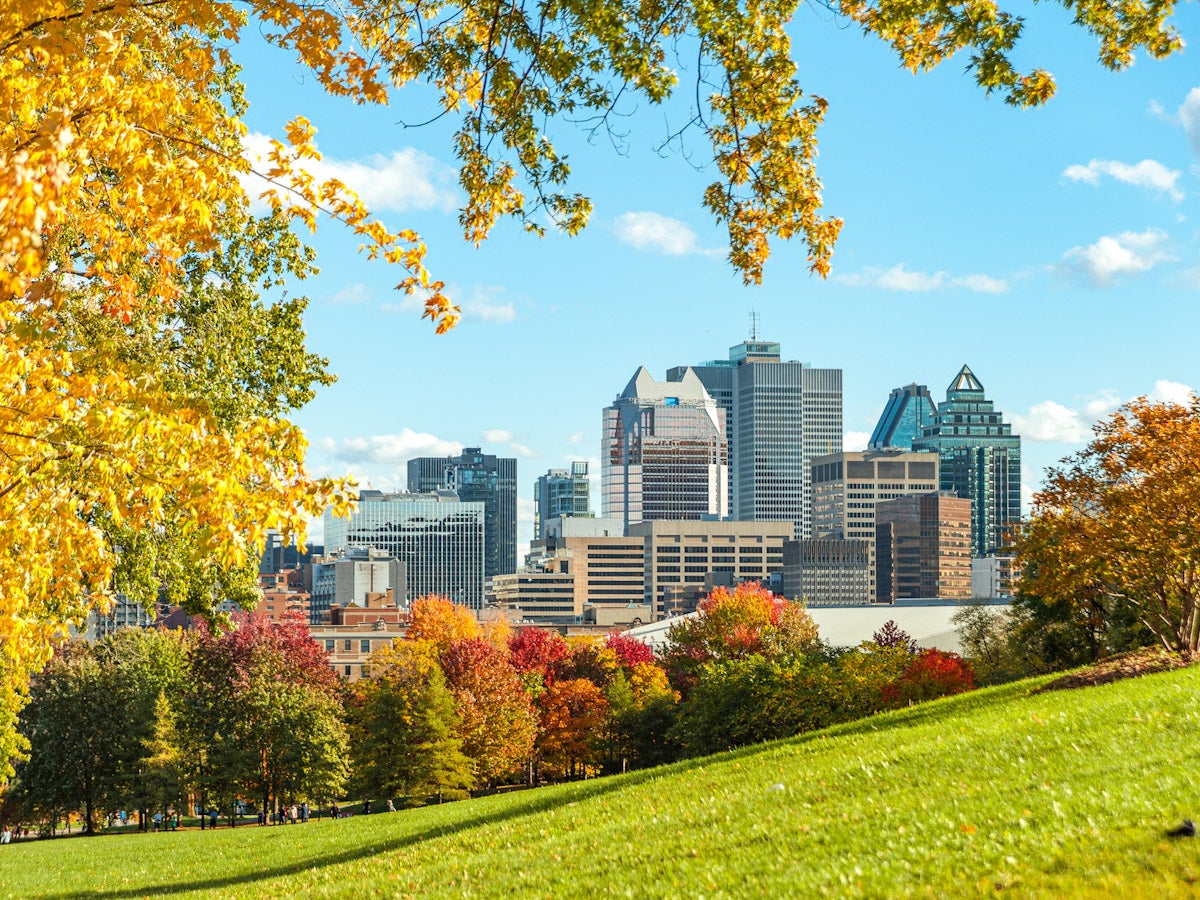 Montréal's AI scene is booming and attracting interest from governments and investors all around the world. When German chancellor Olaf Scholz visited Canada in the summer to discuss energy supplies, Canada's Prime Minister Justin Trudeau took him to visit Mila, Montréal's world-renowned AI research lab headed by Yoshua Bengio. It was an opportunity to showcase the city's vibrant AI ecosystem and how AI is applied to various industries.
Of particular interest to the German delegation was Montréal's expertise in AI applications in the life sciences and environmental sectors. What also attracted attention was how the city's collaborative AI ecosystem is driving cutting-edge research in fields as diverse as medicine, drug development and climate change mitigation.
Mila is the world's largest academic research centre for deep learning, and a cornerstone of Montréal's thriving AI hub. Recognised for the quality of its research, Mila brings together a community of scientists and other professionals committed to advancing AI for the benefit of all and working with industry partners to accelerate the adoption and deployment of AI in their operations.
This vibrant and dynamic ecosystem has contributed to the development of an ethical framework for AI research and application. It has also helped the city become a major AI hub.
Advantages for AI investors in Montréal
Montréal has many assets when it comes to AI. On top of being home to more than 27,000 workers with AI-related skills and 14,000 students enrolled in AI-related programmes, the city has a strong IT sector and offers the lowest operating costs in North America for software development. Montréal also enjoys strong government support.
"About five years ago, governments from various levels made the decision to make Montréal a major AI hub," explains Mark Maclean, senior director at Montréal International, covering foreign direct investment originating from the Americas and Asia. "That is when we started seeing serious investments in the city. Microsoft, Google, Facebook, IBM, Samsung. Many major players saw the potential in Montréal's network of university research and development (R&D) labs and highly qualified talent pool."
More investments followed from a variety of sectors, including telecommunications, manufacturing and life sciences. 
Why global leaders in life sciences and healthtech are coming to Montréal
As the life sciences sector seeks to enhance and accelerate patient treatments, AI has become a fundamental part of the industry's R&D.
As Montréal is a major hub in both fields, it attracts pharma and biotech companies seeking to leverage AI innovation to develop new technologies and medicines. In the past three years, some major multinational companies in the life sciences and healthtech sectors have chosen the city to conduct their AI-related R&D.
Among them is Servier, which in 2020 opened an AI hub focused on developing new therapeutic solutions for patients in partnership with Montréal's Centech, one of the most successful deep-tech business incubators in the world. Also with a base in Montréal is Novartis, which launched its Canadian Biome Digital Innovation Hub in 2021 to leverage Montréal's expertise in technology, data science and AI to develop digital solutions and specific therapeutic offerings. Being located in Montréal also enabled to company to further research activities and new business processes.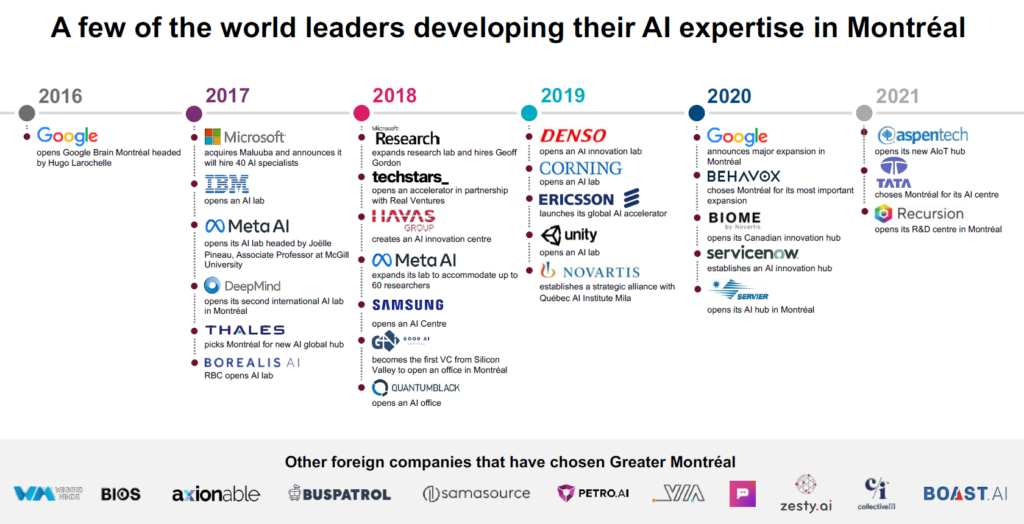 In addition, accelerating drug discovery by tapping into AI is what convinced Salt Lake City-based Recursion Pharmaceuticals to pursue a multi-year collaboration with Mila. The US company recently opened an R&D centre in Montréal to accelerate its machine learning capabilities.
An optimum location for AI start-ups
Montréal also attracts entrepreneurs looking to develop and grow their AI-driven businesses. Talent is drawn to the city because of the pool of expertise and collaborative culture within the AI ecosystem. Further appeal is in the funding opportunities that support AI development and adoption, as well as a solid flow of venture capital, with 50% of this invested in tech.
A great example is Ubenwa, a start-up launched by entrepreneur Charles Onu to tackle a key issue: newborn mortality. Ubenwa's mobile app uses AI to analyse the sound of a newborn baby's cries. The analysis detects the earliest signs of neurological and respiratory conditions that could be fatal to the newborn. The algorithms developed by Ubenwa can track cry activity, detect acoustic biomarkers and predict anomalies, turning infant cries into clinically relevant insights.
"Ubenwa is building a diagnostic tool that understands when a baby's cry is actually a cry for medical attention," says Ubenwa founder Charles Onu. "Thanks to Mila's support and the numerous resources available in Montréal, we were able to advance our research and secure some $2.5m in a pre-seed financing round, which will enable us to further develop this proprietary innovation."
This breakthrough technology is the result of years of research in close collaboration with Mila, as well as paediatric hospitals in three countries, including the Montréal Children's Hospital.
According to Mark Maclean, such stories are not uncommon in Montréal. "The city's success in AI is fuelled in large part by a close-knit community of experts working together to put AI to good use", he adds. "Gaining access to this kind of talent pool is invaluable for businesses looking to get an edge through innovation – and Montréal provides the right environment to do just that."
As more and more players integrate within the city's AI ecosystem, the more collaborative it becomes and the further it advances technologies.
To find out more about Montréal's AI hub and the benefits of moving a business to the city, download the document on this page.