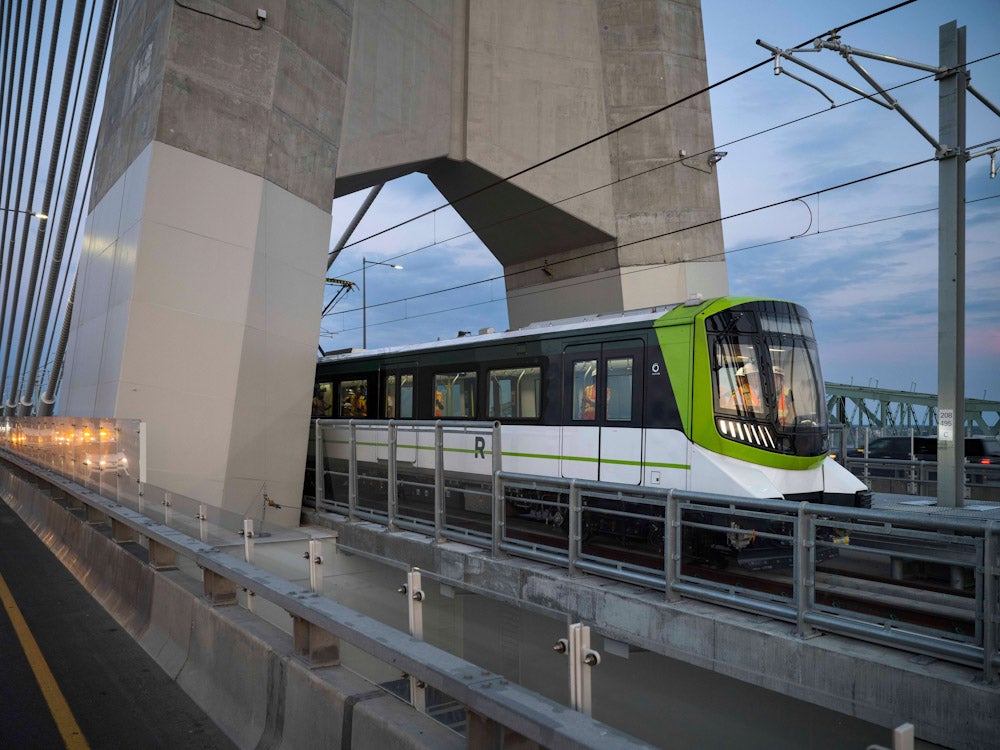 Montréal is fast emerging as a global leader in green transportation, with practically every mode of mobility seeing some form of innovation in and around the city.
One noticeable example of that can be witnessed by drivers crossing the St. Lawrence River on the iconic Samuel-de-Champlain Bridge in Greater Montréal, with new green and white metro cars now travelling at test speeds of 90km/h between the eastbound and westbound lanes.
The Réseau Express Métropolitain (REM) is testing its 100% automated electric light metro fleet that will further connect the metropolitan area with 26 stations spread across 67km. Upon completion, the network will be the longest driverless metro line in the world, a record currently held by Dubai, according to the Guinness World Records.
At the same time, the city's public transportation organisation, la Société des transports de Montréal, is investing to accelerate the electrification of its bus network. And by 2025, all new vehicles acquired for the network will be fully electric.
Electric vehicles (EVs) are not only increasing in public transport. Québec, a province of just over eight million people, is where you will find the highest number and percentage (39%) of new 100% EV registrations in Canada, ahead of British Colombia (29%) and Ontario (27%), according to Statistics Canada's data between 2017 and 2022.
The local electricity producer and distributor, Hydro-Québec, has developed a network of some 3,700 electric vehicle charging stations across the province. It is the largest network in Canada, and amongst the most important in North America.
Meanwhile, on Montréal's North Shore, Novabus, a subsidiary of Volvo Group, is developing technology for electric transit buses, and Lion Electric is also producing all-electric buses, school buses and urban trucks.
Electric transport in Montréal is not just limited to the ground, it will also take to the skies. Pratt & Whitney Canada is developing a hybrid-electric propulsion technology for aircraft in its Longueuil facility on the South Shore.
Trains, cars, trucks, buses and even airplanes are going electric in Montréal. How did the city become such a hub for vehicle electrification?
"To understand this phenomenon, you must go back to the 1960s, when governments invested massively to develop the hydroelectricity network that, to this day, supplies affordable, renewable and clean power to Québec and a few neighbouring jurisdictions," explains Teodora Toteva, Director of Business Development, Clean Technologies at Montréal International, the city's economic promotion agency. "Sixty years later, both the public and private sectors in Montréal are mobilised to take this asset further and develop a zero-carbon transportation network."
Who is investing in Montréal's clean transportation network?
With its first branch set to open in 2023, the REM is one of North America's largest ongoing public transportation projects. With a budget of nearly C$7bn, the project is Québec's most important undertaking since the inauguration of Montréal's metro system back in 1966.
Furthermore, some C$11bn in funding from the provincial and federal governments is currently available for strategic investments in lower-carbon modes of transportation, clean technologies, batteries and green hydrogen. And the private sector is very active in these areas.
"We've got 1,000 cleantech organisations, which employ over 85,000 people and generate close to C$8bn in total annual revenue," notes Toteva. "Québec and its economic centre, Greater Montréal, are emerging as a leader in sustainable development, especially in green mobility and smart transportation."
Greater Montréal's smart transportation sector boasts some 150 companies and 6,200 jobs across the entire value chain, including battery cell production, battery recycling, integration into the vehicles and software development.
Within that, international companies such as France's Alstom, the UK's Ricardo, Sweden's Novabus and others have chosen Montréal to develop green vehicles, technology for hybrid aircraft engines, and other clean transport components solutions, alongside local players such as Lion Electric, which is North America's manufacturing leader for electric heavy-duty transportation.
"Another factor that distinguishes Montréal from other jurisdictions is our dedication to research and development," notes Toteva. "With Mila and other top artificial intelligence research centres, the city has developed a unique ecosystem where fundamental research and the private sector collaborate to solve key issues such as climate change."
Greater Montréal is also home to the Innovative Vehicle Institute (IVI), a not-for-profit organisation dedicated to applied research and development of technology that reduces the environmental footprint of the transportation sector. The organisation's three main areas of expertise are electric, autonomous and connected vehicles, making it a powerful accelerator of innovation and enabling the Québec industry to receive support for driving the transition to all-electric mobility.
With some of the most generous incentives for R&D in Canada and the US, Québec is the top province in Canada for such investments in terms of percentage of GDP. The city is also home to 15 university campuses and some highly regarded researchers in intelligent transportation and sustainable mobility with engineering backgrounds, a key element for investors.
As Montréal emerges as a hub for green mobility, key players from the sector will converge in the city for three days in March for Impulsion – the International Summit on Electric and Smart Transportation. The event will bring together international players in sustainable mobility, as well as foreign delegations from Europe and North America, from 13–15 March, presenting another opportunity to discover and showcase the city's unique strengths in a vital field for achieving net zero by 2050.