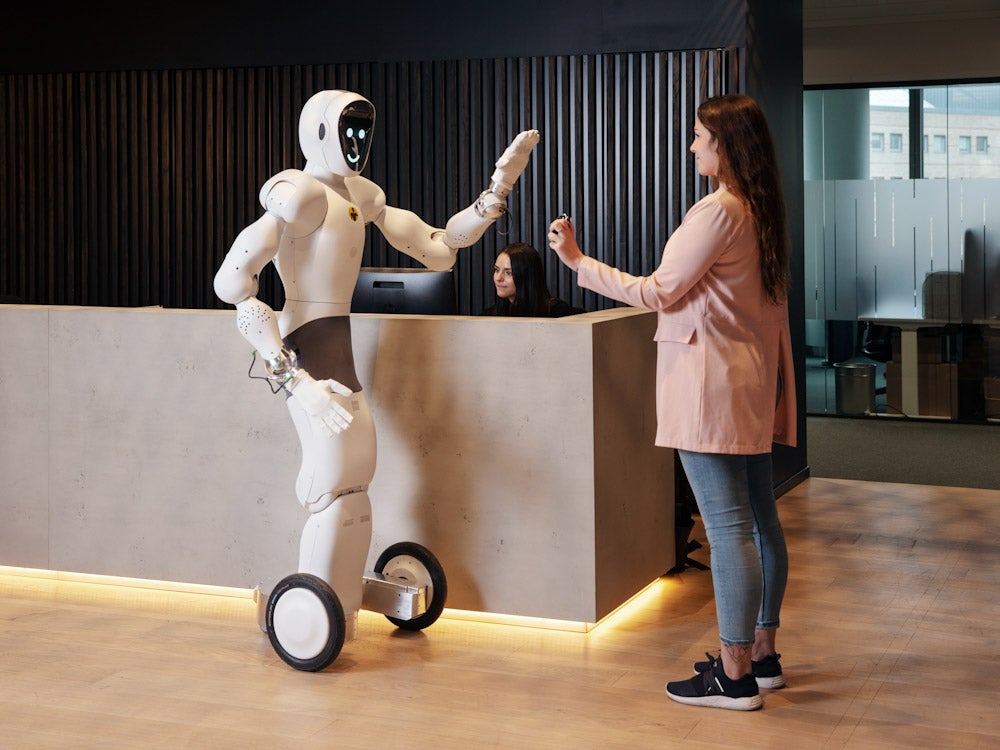 Robots developed in Montréal are starting to provide solutions that address the global labour shortage affecting multiple industries – and Montréal's growing strengths as a hub in artificial intelligence (AI) and other robotics-related sectors are accelerating this progress.
Robot workers have been a staple of science fiction for decades but have only become a reality in recent years due to technological advances. They are capable of handling increasing numbers of repetitive or dangerous tasks in various sectors, from agriculture to security, freeing up human workers to perform more rewarding duties that robots cannot.
In the Halodi Robotics lab in downtown Montréal, a team of software engineers are focused on their computers. However, their task couldn't be more hands-on as they are training a new generation of robots that will patrol office buildings in locations across North America.
The addition of these robots to the workplace comes at a time when the security sector is grappling with a workforce shortage made worse by the Covid-19 pandemic.
"Our mission is to build humanoid robots that will change the world and solve the labour shortage," says Nicholas Nadeau, CTO of Halodi Robotics. "The humanoid form factor is not simply a design choice; we believe it is the only choice for a system that needs to interact with the human world."
The robotics company recently signed an agreement with ADT Commercial to deploy 140 robots for security operations at various sites throughout North America.
"One of the reasons I chose Montreal as our North American headquarters was to leverage the multitude of different disciplines that we have available, not only AI, not only robotics, but video gaming as well," adds Nadeau. "I am able to get people from the different disciplines onto my team to bring their expertise into our organisation."
Robots in the workplace
Using autonomous technologies, Halodi's humanoid robots move around on wheels to patrol buildings, effectively functioning as mobile CCTV cameras. They carry out checks such as making sure that doors are locked and hallways are clear.
What provides another dimension is the virtual or augmented reality 'avatar mode', where a human operative can use an off-the-shelf VR headset to control the robot remotely. This allows the human operator to take a closer look at any areas of concern and use the robot's arms to remove any blockages from doors, for example.
While some people have concerns about AI-enabled robots, Nadeau is keen to stress that there are strict ethical and technological controls in place.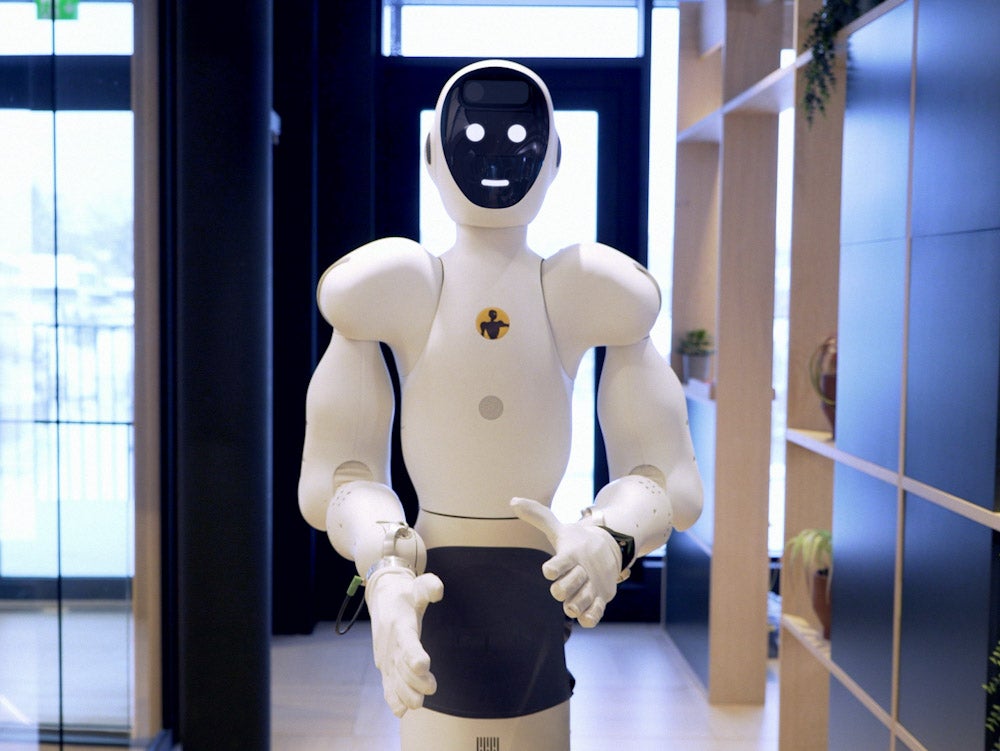 "One of our fundamental requirements with companies, especially in our shareholder agreement, is ethical use and safety," emphasises Nadeau. "Every robot is equipped with an emergency stop that cuts power. So, it is just going to fall over if you need it to."
The next step in development is to have Halodi's robots carry out health and safety checks in buildings, such as making sure that fire extinguishers are in working order or if any light bulbs need replacing.
In the longer term, Halodi intends to build helper robots in healthcare environments to assist nurses and porters, with pilot studies currently taking place in care homes in Belgium and Norway.
Opportunities for robotics developers
Mark Maclean is well versed in Montréal's AI ecosystem. He is a senior director covering the Americas and Asia-Pacific for Montréal International. For the past six years, he has been working with hundreds of international companies – most of them in the IT sector – setting up in the city.
Now, he sees the city's AI and IT ecosystems sparking the interest of local and international companies looking for highly skilled talent to develop their robotics projects. "A lot of companies are starting to look at Montréal, and we feel there is a big opportunity here," says Maclean.
"Montréal is a significant location for some of the important AI sub-sectors for robotics. Deep learning, reinforcement learning and computer vision — Montréal has really strong capabilities in those – and Montréal has always been an aeronautics hub. Our robots aren't necessarily actually humanoid things walking around. They could be a million different things such as drones."
Robotics is closely aligned with AI, and Montréal has more than 27,000 workers with skills in this area. Additionally, the future workforce will come from some of the 14,000 students taking AI-based courses at world-class institutions such as McGill University, which has the Centre for Intelligent Machines.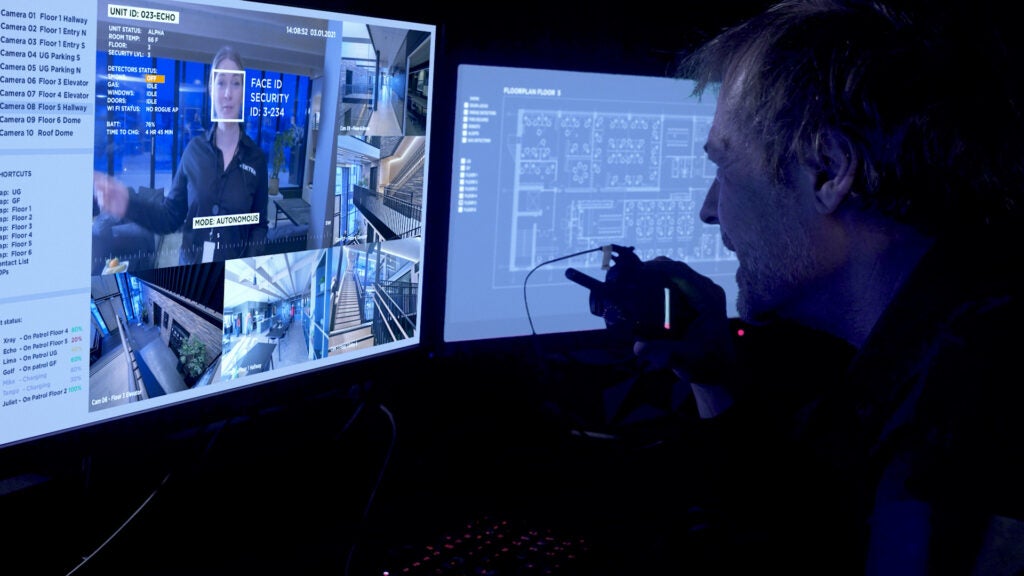 Montréal also has several universities within a relatively small area to help foster collaboration between industry and academia. Universities provide a safe environment to experiment with technologies.
"When I do a lot of research collaborations, I get to leverage the expertise of research labs for some of that higher risk, higher reward research that might fail but isn't necessarily business-critical for my next short-term goals," adds Nadeau.
In addition, there are more than 900 researchers and graduate students at Mila, which is the world's largest specialist academic research centre dedicated to deep and reinforcement learning.
Another key factor driving robotics and AI innovation in Montréal is the city's booming gaming industry. Technologies developed for video games such as augmented reality and virtual reality expand the possibilities for robotics.
Ultimately, Montréal's strengths in AI and gaming are built on the foundations of an established IT ecosystem, with approximately 160,000 workers from more than 7,000 businesses. Global tech leaders with offices in Montréal include Google, Meta and Microsoft.
For businesses carrying out research and development, Montréal offers a range of generous tax credits. Then there is the time zone, with Montréal positioned ideally for collaboration with both Europe and the US West Coast.
Mark Maclean will highlight the city's robotics assets at the forthcoming International Conference on Robotics and Automation (ICRA) 2022, which showcases what the city can offer investors and innovators. The event runs from 23–27 May at Pennsylvania Convention Center, Philadelphia, US. Halodi Robotics will also have a presence at ICRA for recruitment and research collaboration opportunities.
To learn more about what Montreal can offer robotics companies, download the document below.