Montréal's strong creative technology footprint makes it very attractive to the brightest entrepreneurs from around the world, with many attempting to break through with savvy technologies that have the potential to improve lives.
Thanks to a host of world-class incubators, accelerators, mentorship programmes, investment funds and organisations geared towards supporting entrepreneurs, the city offers an ideal environment for international entrepreneurs looking to turn their ideas into viable businesses.
A recent example is FemTherapeutics, which was co-founded by Negin Ashouri. She arrived in Canada from Iran towards the end of 2018 and has already helped invent a device with the potential to make a significant difference in the field of gynaecology implants and avoid surgery for countless women. From an undergraduate programme in Iran to a successful health technology start-up in Montréal, we follow Negin Ashouri's journey.
Montréal: bringing together tech and medical specialists
Ashouri completed an undergraduate degree in electrical engineering at the Islamic Azad University in Tehran. Upon graduation, she wanted to pursue her education in the US. When the Trump administration imposed visa restrictions on people from certain specific countries, Ashouri was forced to reconsider her plans.
A family member who was already studying in Montréal persuaded her that the city had some great things to offer.
"That is why I applied to Concordia," explains Ashouri. "I started the journey there."
Upon arriving in Canada, Ashouri joined a programme called Surgical Innovation. Hosted by McGill University's Faculty of Medicine in Montréal and led by Concordia University along with École de technologies supérieures, the programme brings together students from technical backgrounds and computer sciences, inviting them to shadow surgeons and medical specialists in operating theatres. That is where Ashouri became aware of issues with gynaecology implants called pessaries for women suffering from urinary incontinence and pelvic organ prolapse.
Designed about 60 years ago, pessaries come in more than 100 various shapes and sizes, are mass-produced, and cause pain and discomfort to patients. Impersonalised pessaries can also lead to a high infection rate, due to their reusable nature and often improper care. In addition, pessaries commonly get displaced during everyday activities and can require surgery to put right. As much as 40% of pessaries are discontinued within the first year.
Ashouri decided to do something about it. The result was the creation of FemTherapeutics, a Montréal-based start-up that uses AI to develop fully customisable pessaries made from 3D printing technology.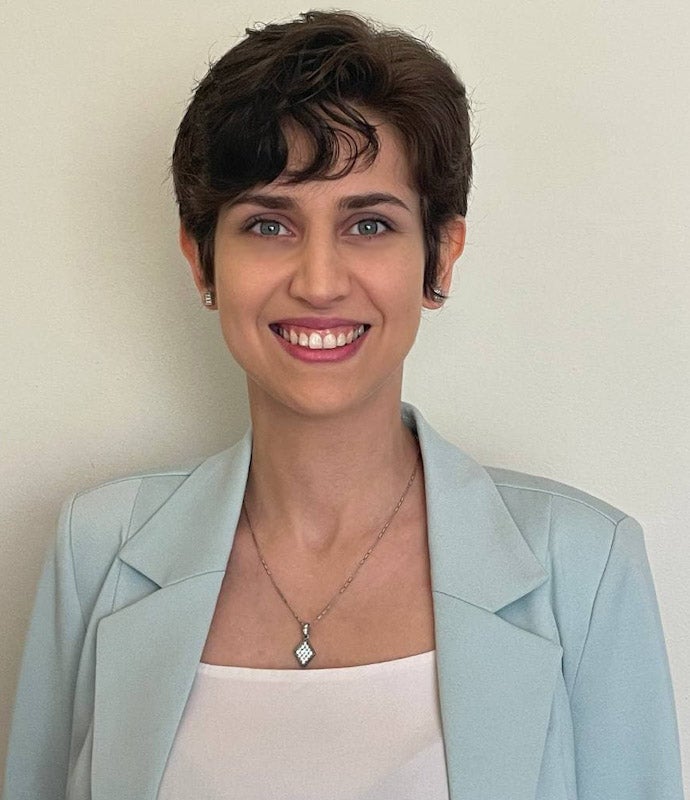 "3D printing allows us to have multiple dimensions and different shapes," says Ashouri. "It lets us use multiple materials in between, which wasn't possible even three years ago. We use AI to personalise the approach for each patient."
Collaboration between Montréal's AI and life sciences spaces
The 3D printing technology FemTherapeutics uses to produce the pessaries is capable of manufacturing around 70 devices in three hours. The use of AI also draws on another technological area of strength found in Montréal, as it is a globally recognised hub in AI and machine learning, where sits a high concentration of researchers in this field. This partly explains why Ashouri stayed in Montréal and chose the city to launch her start-up.
"We stayed because of the resources and the facilities that the university gave us," explains Ashouri. "There is an incubator course on tech, and they have a dedicated cohort to medtech. We started working there and kept going because of the support."
Montréal has an internationally recognised ecosystem in technological excellence and a large pool of skilled talent. Crucially, the city offers a broad spectrum of different specialists within a relatively close area, which can provide crucial support for start-ups in the early stages.
"We have come a long way in attracting tech companies and most recently start-ups," explains Olivier Rivas, director of business development at Montréal International. "We have been an attractive place for tech companies for quite a while in part because of tax credits, in part because of the talent pool that develops in the city's ecosystems."
Ashouri tapped into the local knowledge to build the company.
"That network is the most important thing that we need," Ashouri says. "Because without the right people in the industry, you cannot go one step further, especially as students and entrepreneurs. You never know what to expect, particularly in a field as complicated as healthcare."
Support for entrepreneurs in Montréal
The next step for FemTherapeutics is more testing and human trials, with clinical trials expected to begin in Montréal as early as February 2023. To develop the project further, Ashouri plans to raise C$2m ($1.46m) over the next two years.
Funding is another key factor that motivated her to stay in the city to launch her start-up.
More than half of the most active investors in Canada are in Montréal. Between 2018 and 2020, more than $2.7bn in venture capital funding flowed through start-ups in the city. Montréalboasts more than 30 incubators and accelerators in various sectors, including finance, the creative industries, AI and health sciences.
As Olivier Rivas points out, those start-ups can rely on some of the most advanced and collaborative business networks in the world, whether they are in the field of AI, health sciences, cleantech, aerospace or others.
"In Montreal, you get to share ideas with folks from all sorts of backgrounds," he says. "The city is full of opportunities and boasts a pool of highly qualified talent, whether they are young graduates or senior experts. Combined with some very strong public sector support, the city has all the elements to help entrepreneurs move their projects forward."
To learn more about the life sciences and heathtech sectors in Montréal and what support is available for foreign businesses, download the document on this page.