Barely 100 electric vehicles (EVs) were on the road 15 years ago. Today there are more than ten million. GlobalData projections suggest that in another 15 years this number will increase tenfold, as the environmental impact of petrol and diesel makes the case for alternative fuels all the more urgent. A total of 18 countries have pledged to phase out sales of gasoline and diesel-fuelled passenger vehicles altogether, nearly half of these by 2030 and by 2035 across the EU. Even fossil fuel giants Shell and TotalEnergies are rushing to develop their EV offering, including batteries and charging capabilities, to get in on the action.
Supplying runaway EV demand requires a unique blend of manpower, infrastructure, state aid and industry expertise. The e-mobility centres of tomorrow are looking for a solid base today. Germany, with its massive automobile industry – 30% of all EU passenger cars were manufactured there in 2020 – is transitioning towards an electric-driven consumer market. Many of its most prodigious producers are using expertise around conventional vehicles to help them pivot towards transportation of the future.
Germany is taking the e-mobility revolution seriously. It is now home to half of Europe's 20 new battery manufacturing sites, a foundation for the whole EV supply chain. It has ramped up charging infrastructure, with 50,000 fast-charging sites planned for completion across the country by 2022. "We are at the centre of e-mobility in eastern Germany and we have positioned ourselves well in recent years," says Jens Katzek, managing director of the Leipzig-based Automotive Cluster of East Germany (ACOD).
Charging up
Eastern Germany has developed into a hot spot for electric car and battery cell production in Europe. The German state of Saxony alone now produces one in four of Europe's EVs. As Saxony's economic centre, the Leipzig region's central location in Germany provides an in-built advantage. It is within two hours of landmark investment sites for semiconductor production announced by Bosch (Dresden) and Intel (Magdeburg), as well as Tesla's new gigafactory in Berlin-Brandenburg. Volkswagen's Zwickau production facility, which has completely shifted its manufacturing base from gasoline to EVs, is within 70km of Leipzig. Near Dresden, 150km, ACCUMOTIVE is manufacturing lithium-ion batteries for Mercedes-Benz in Kamenz, as is CATL in Arnstadt (Thuringia). Meanwhile, Opel, 250km from Leipzig, is assembling the Grandland Hybrid in Eisenach (Thuringia).
How exactly is Saxony – and Leipzig, its most populous city – transforming its mobility sector? Infrastructure has provided the backbone. Leipzig hosts a range of its own local OEMs – BMW and Porsche – which see the advantages of the location in availability of space, subsidies and skilled workers, and have massively broadened their operations into e-mobility over recent years.
Porsche's plant has been carbon neutral since 2021, and is manufacturing the Macan – a new generation of electric SUV vehicle, scheduled to launch in 2023 – in Leipzig. BMW has also been manufacturing batteries at its (soon to be zero emissions) facility in Leipzig since 2021 and will use it to launch its successor to the MINI Countryman in 2023. Katzek calls BMW a "role model" for the automobile industry thanks to its investment of more than €70bn to develop new battery technology, use of wind power on factory sites and deployment of hydrogen power to handle logistics.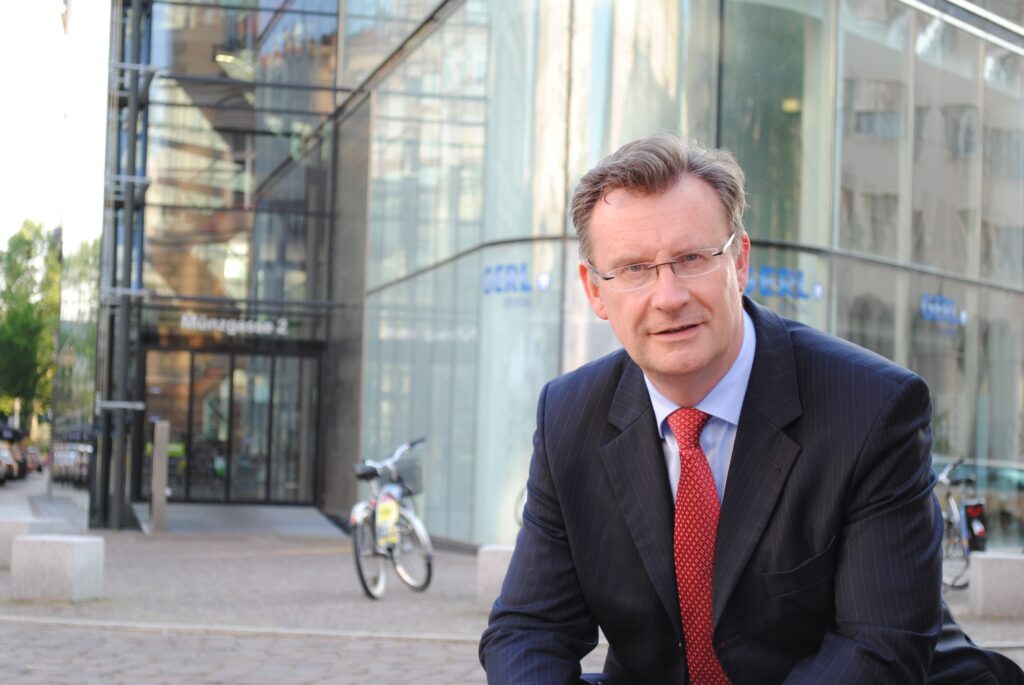 The Leipzig region's density of EV suppliers is, according to Katzek, "quite unique". Little wonder so many innovative companies have decided to settle and expand there. Bantboru, whose double-walled steel pipes can be found in the brake pipes and fuel lines of 4% of cars globally, announced earlier in 2022 that it would be building a manufacturing facility in the district of Leipzig. Dräxlmaier, while not yet a global household name, declared its intent to become a major e-mobility supplier with a new 25,000m2 battery producing plant. Likewise Skeleton, one of the world's foremost ultracapacitor and supercapacitor manufacturers, has launched a partnership with Siemens, ramping up capacity via full automation of its Leipzig production line by 2024.
The urban landscape is changing, too. The City of Leipzig's participation in 2050 CliMobCity, an EU-wide smart mobility action plan, is expanding charging infrastructure to make the city one of Germany's EV-friendliest locations. As one of the 12 Federal German Digital Hub locations, Leipzig also houses a Smart Infrastructure Hub bringing together scientists, entrepreneurs and corporates to work on new energy and urban planning initiatives. North Leipzig Industrial Park will soon be accessible around the clock thanks to autonomous e-shuttle busses funded by Germany's economic ministry. Already home to BMW and DB Schenker, the park has been earmarked to specialise in transportation innovation, while a new 13-hectare campus, TechPark Leipzig, will soon open to provide yet another site for researchers and start-ups collaborating on the energy transition.
As Katzek points out, people also form a vital part of the e-mobility equation in Leipzig. "We have developed our organisation over the last few years," he says of ACOD. "We are asking not only innovative new start-up companies but also companies with expertise in education and qualification to join our association. Although technical skills are fundamental, the upskilling of our workforce is a strategic task."
Electrifying progress
The onward march of e-mobility over the past decade, and the adaptability of some of Germany's foremost automobile centres, has been astounding. Will it endure? On the one hand, retrenchment could be on the cards. Energy costs are skyrocketing and economies are contracting. Although in the long-run e-mobility targets have been fixed, the capital spending needed to supercharge growth will become more elusive in the short-run.
However, Katzek hopes any market slowdown will be temporary. "The arguments for electric vehicles are very clear; as are the politically set carbon reduction goals, which industry is now working hard to meet," he says. Katzek gives the example of green hydrogen, the costs of which are coming down as its utilisation in steel production and as a gas alternative picks up. He also notes the "surprise" emergence of battery power as a clean fuel source for heavier vehicles like trucks. Once considered inconceivable because of space and weight requirements, continued improvements now mean batteries are light and efficient enough to compete with hydrogen.
The present developments point to ongoing advancements in e-mobility – and automotive hubs like Leipzig are at the centre. Companies based there are among the first to see the benefits thanks to their proximity to the industry's cutting-edge research centres. Organisations like the Fraunhofer Institute for Machine Tools and Forming Technology and the Leipzig Plastics Centre are pushing the boundaries of automobile efficiency by constantly improving the materials they use. Companies that do settle in Leipzig are met with a wealth of support. Consider SpinLab, a start-up accelerator connected with HHL Leipzig School of Management. It has secured millions of euros of funding for nascent companies in the sustainable energy sector thanks to its connections with industry partners, venture funds and regulators.
Leipzig has the manpower to support a growing EV sector, infrastructure to help new companies expand and the research clout to funnel new innovations to businesses driving the industry forward. Katzek's summary of the area's benefits? "I don't know any region in Germany which has this combination of qualifications and expertise so close by," he says. It is a business location that any company seriously hoping to play a role in the e-mobility revolution should be aware of.
To find out more about Leipzig's automotive cluster, download the 2021 Business Report on this page. To learn more about the support on offer for companies that may benefit from the region's fast-growing EV market, contact Invest Region Leipzig's mobility sector lead Nicola Fehr for a free consultation.