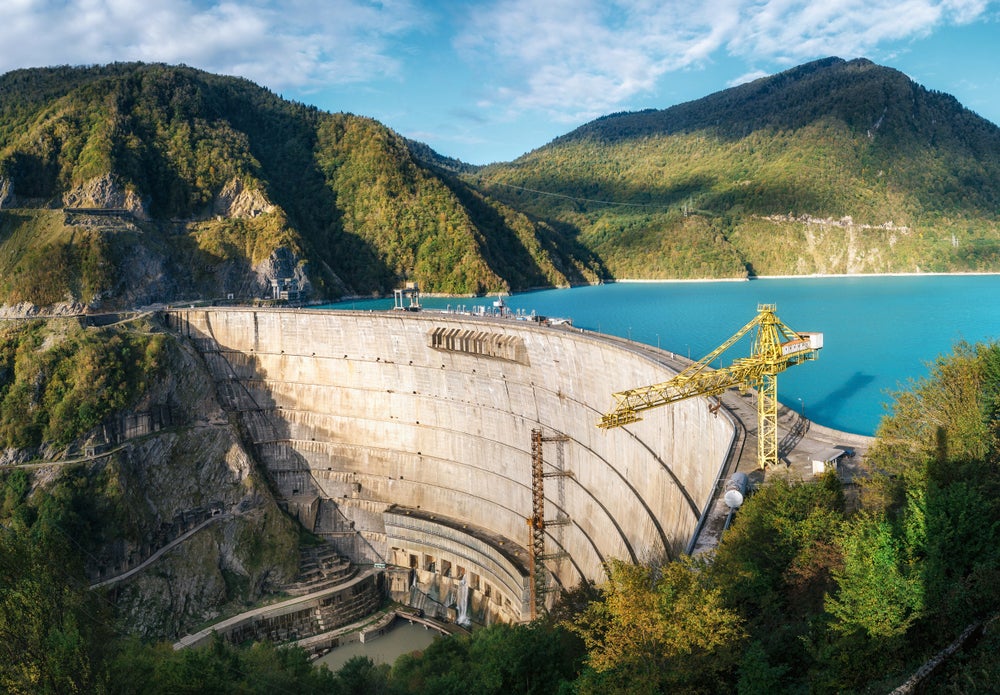 It is a tough time to be an investor. In its Risk Report for the first quarter of 2022, GlobalData analysis reveals Europe's businesses are now grappling with more risk than at any time since the onset of the Covid-19 pandemic. Russia's war in Ukraine sent gas prices soaring and continues to cause shockwaves in global energy markets causing vast energy uncertainty. Some government responses have been more generous than others – but businesses everywhere are worried.
Few countries have sufficiently highly developed energy sectors to insulate investors against international turmoil – but, thanks to years of shrewd reforms and targeted investments, Georgia is one of them. Electricity exports from Georgia were worth $65m (La179.72) between January and July 2022, a 337% increase year on year. Unlike many other countries adjoining Russia, Georgia's gas supplies are diversified, with reliable imports from Azerbaijan and Turkey. The energy sector is thriving – and businesses are benefitting.
How has Georgia risen to the energy uncertainty challenge?
With global energy uncertainty showing no signs of waning, the promise of stable supplies is a tempting one for capital owners. It is a promise that Georgia is uniquely well positioned to make thanks to two key developments.
One is specialisation in renewable energy, notably hydropower. According to Eurostat, the EU statistics agency, non-renewables like oil, coal and gas were the leading fuel source for electricity production across Europe in 2021. Meanwhile, in Georgia, nearly three-quarters of the country's 4,564MW of generating capacity comes from hydropower plants (HPPs) alone. This includes 2,381MW from "regulated" plants that store water and 973MW from "seasonal" plants, ensuring a ready source of electricity all year round. Jaba Khmaladze, head of the Georgian Energy Development fund, argues that energy generation in Georgia could soon become "self-sufficient".
"Up to 90% of the domestic consumption is covered by local generation," he says, "of which about 80% already comes from the local clean energy resources."
The market on which that energy is bought and sold is becoming increasingly vibrant. Deregulation since 2008 has helped energy companies thrive in the country: all new renewable projects are based on a 'build-own-operate' principle, meaning investors can choose buyers and negotiate prices on the open market. Fees to connect to the transmission grid have been abolished, licence requirements for exporting have been scrapped and sweeping VAT exemptions have been introduced. Small energy producers have ample opportunity to scale up, with no generation licence required for HPPs smaller than 13MW and immunity from environmental impact assessments for those smaller than 2MW. Integration with the wider European energy market is an added bonus thanks to Georgia's membership of the bloc's Energy Community.
According to Khmaladze, "untapped renewable resources in the country create a huge space for the development of new potential projects". Georgia is well prepared for fluctuations in energy consumption thanks to its carefully cultivated self-reliance – an achievement few other European nations can boast. More HPPs are on the way to keep supply abreast of demand, and a recently passed law on Energy and Water Supply – establishing a legal framework for generation, transmission, supply and trade of electricity and gas – will put stable energy stocks for companies on a legal footing. Action taken by policymakers of the past has secured the energy supplies of the future.
The business angle
International energy businesses have responded enthusiastically. Adjaristqali Georgia LLC, for example, is a joint venture between India's Tata Power, Norway's Clean Energy Invest and the World Bank Group to develop hydropower resources along the Adjaristqali River. It will add four power stations generating 400MW of power to the Georgian grid – 187MW of which is already operational. Along the Paravani River, Georgian Urban Energy – owned by a subsidiary of Anadolu Endustri Holding, one of Turkey's largest multinationals – is producing electricity for use in both Georgia and Turkey, highlighting Georgia's growing status as a literal powerhouse spanning Europe and Asia. Dariali Energy has invested nearly $130 million over the past decade to exploit the hydroelectric potential of the Tergi River, with a spokesperson noting Georgia's "unique opportunity for electricity generation". Acquisition of nearly a third of Dariali's shares by TEPCO Renewable Power, one of the world's largest energy companies, in 2020, has turbocharged the company's ambitions. Hydroelectric capacity is neatly placed to expand even further, with some estimates suggesting more than three-quarters of potential output remains untapped.
The result is that a boom is on the way for Georgia's energy industry. "Further development of local generation in Georgia is based on use of local green energy sources such as hydro, solar, wind and geothermal," says Khmaladze. Wind and solar, he estimates, will account for more than 10% of the grid over the next decade – making the Georgian market ripe for investment from market leaders in both areas. "New, more efficient thermal power plants are planned to replace existing inefficient ones, and additional measures to improve energy efficiency," he says.
Abundant opportunity in Georgian power points to a wider story: amidst widespread energy uncertainty, Georgia is a country that is open for business. Its flat tax economy means corporate profit tax is 15% and personal income tax just 20%, making it the world's third least tax-burdened country, according to the World Bank. The Bank also ranks Georgia as one of the top two countries globally for ease of starting a business. Recent reforms mean only two documents are required for incorporation, and activities subject to licensing have been slashed from more than 900 to just 150. As Khmaladze concludes: "The rich energy potential of our country allows us to consider it as a guarantee of a stable economic future for both the state and private individuals." For those businesses working directly with energy – or those worried about where they can get it – Georgia is the place to be.
For advice on accessing funding opportunities in Georgia and help on setting up a business in the country, Invest in Georgia can help. Download the whitepaper on this page to find out more.