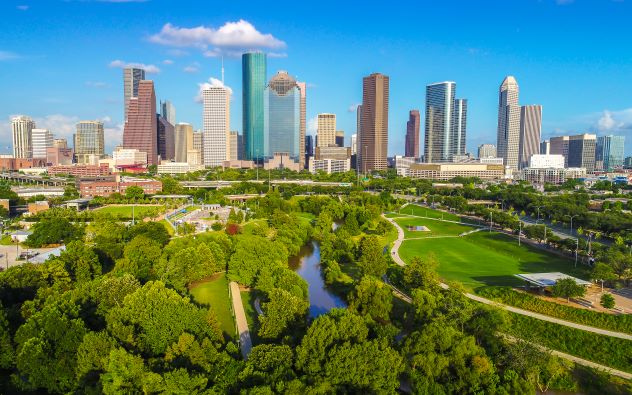 It may be hard to imagine the US's oil derricks and drills being replaced by wind turbines, solar panels and other new energy technologies, but that is exactly what is happening. According to GlobalData analysis, the US renewable power market has nearly quadrupled in size over the past ten years, from 67,794 megawatts (MW) in 2010 to 247,691MW in 2020. Projections suggest it will continue growing at a rate of nearly 6% per year in the next decade. By 2030, capacity could reach nearly 440,000MW.
This will pose more pressing questions to some regions than others. Texas's Spindletop oil field, for example, located 90 miles east of Houston, spouted a 150ft gusher upon its discovery in January 1901, symbolising the start of the age of oil in the US. Many global oil giants, including Texaco and ExxonMobil, trace their origins to the field.
Today, the Houston region is home to more than 4,600 energy-related companies, including 500 exploration and production companies, 800 oilfield service companies and 90 transmission companies. As the industry rapidly evolves, how will the 'Energy Capital of the World' secure its place as the 'Energy Transition Capital of the World'?
Leveraging ingrained advantages
Houston's preponderance of energy companies means the surrounding environs abound with sector-specific expertise around both digitalisation of oil and gas and the development of new technologies. Houston's infrastructure, designed to contain and transport oil supplies, is being repurposed for growing technologies like hydrogen-composite fuels and carbon capture, use and storage (CCUS).
It is a key node in the Texas power grid that already generates more wind power than any other US state and the second most solar power behind California – and, hosting the largest port in the nation, it holds unique logistical appeal.
Today, Houston is leading the way in digitalisation of traditional oil and gas. It has also become a hub of activity for renewables and the development of emerging technologies. The region is home to more than 200 renewable energy companies, 19 energy Fortune 500 companies, 22 corporate R&D headquarters focused on energy technology, and more than 80 energy tech start-ups.
Launching a strategy
Civic and business leaders are actively promoting Houston's evolutionary milieu. In 2020, Bobby Tudor, then-chair of the state's largest chamber of commerce the Greater Houston Partnership, told an audience of the city's business leaders that they had "both an opportunity and a responsibility to lead the transition to a cleaner, more efficient and more sustainable, lower-carbon world."
Tudor's speech ignited a region-wide effort to ensure Houston addressed the devastating effects of climate change while contributing its energy expertise towards deploying low-carbon energy solutions.
That same year, the City of Houston released its Climate Action Plan. According to Mayor Sylvester Turner: "No other city is better suited to tackle climate change than Houston." The plan lays out a timeline to achieving carbon neutrality in Houston by 2050, defining ambitious goals across four areas: transportation, energy diversification, optimisation of city-owned buildings and the management of materials.
As momentum began to build, Greentown Labs – North America's largest 'climate-tech' incubator –announced its first national expansion outside of Boston, Massachusetts, to Houston with a goal to help accelerate the energy transition. At the same time, many large integrated oil companies publicly committed to net-zero emissions and diversifying energy resources.
Last summer, the Greater Houston Partnership launched the Houston Energy Transition Initiative (HETI), which set forth a strategy for how Houston can leverage its energy leadership to accelerate global solutions for an energy-abundant, low-carbon future.
According to the report, decisive action to lead the energy transition could bring 560,000 additional energy sector jobs to Houston by 2050. In a speech in June 2022, Tudor summarised the approach that would be needed: "We will need to continue bringing new and innovative technologies together with existing energy systems and infrastructure to reach our collective goal of maintaining Houston's leadership in a changing energy industry, while, at the same time, limiting the worst effects of climate change."
Progress to date
A steering committee composed of more than 18 founding companies now guides HETI's efforts. The committee has prioritised areas of advantage and opportunity to establish four sector-specific, industry-led working groups around CCUS, hydrogen development, industrial decarbonisation and capital formation. Additional working groups are being organised in other critical sectors: power management, energy storage and advanced plastics recycling.
In the last 12 months alone, this strategy has translated into tangible projects and actions that demonstrate Houston's leadership in the energy transition. A total of 14 Houston-area companies, including ExxonMobil, are developing a CCUS-based plan for decarbonising the Houston Ship Channel. A whitepaper released by HETI's Hydrogen Working Group, calling for Houston to become the epicentre of industrial decarbonisation, ideally places the city to receive new Federal funding opportunities, and partnerships have ramped up across all low-carbon energy value chains.
New innovators are joining incumbent industry to accelerate the transition. Energy venture capital investment has seen a fivefold increase across the region in recent years, and more than 60 new low-carbon and climate-tech start-ups – founded in the US and beyond – have launched in or relocated to Houston.
The road ahead
The result is a diversity and vibrancy in Houston's energy sector that puts even the golden years of the early 20th century in the shade. The explosive growth of Houston's energy transition ecosystem has created unprecedented collaboration across universities, start-ups, incubators, investors and corporates to enable the development and scaling of impactful solutions to climate change.
The momentum evident from Houston's innovative approach offers grounds for optimism across the US and a blueprint for similar efforts across the world, but the energy transition is ongoing; its momentum must endure and accelerate. Cities across the world will be watching to see how Houston brings this blueprint to life.
For companies hoping to set up in Houston and make their mark on the global energy transition, the Greater Houston Partnership is on hand to provide advice, support and networking opportunities.