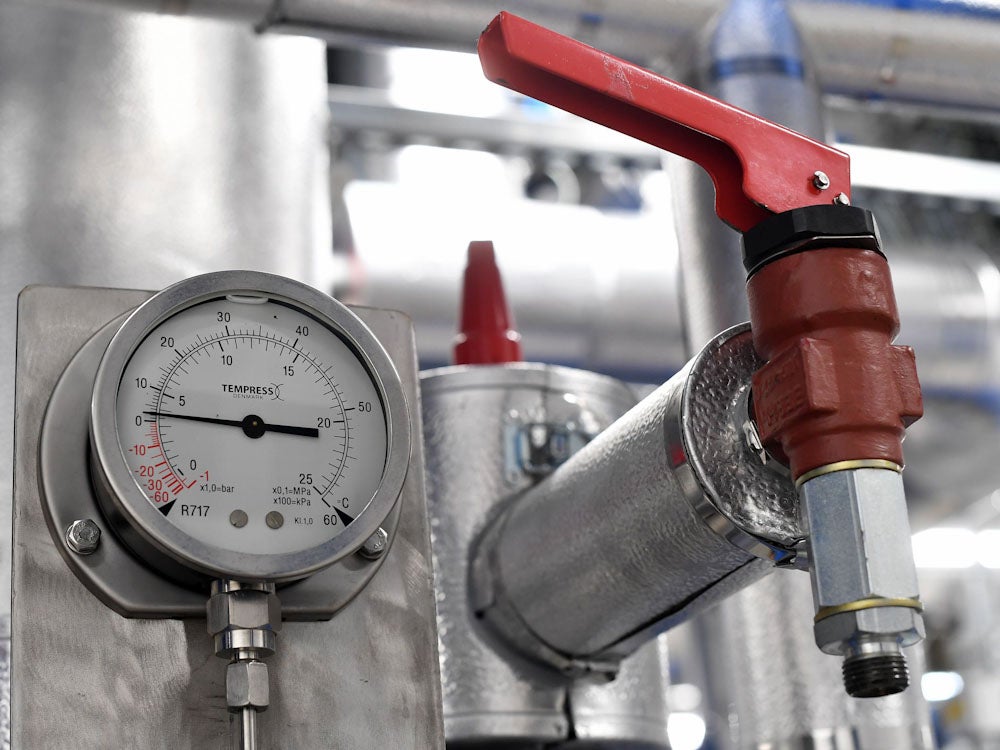 With heat the UK's heaviest carbon emitter when combining all industries and uses in buildings – even more than transport and electricity, according to official figures – district heating offers vital opportunities for savings in emissions and costs. Heat networks can be rolled out on the large scale required to make the biggest impact in reducing the country's carbon footprint, which is already happening in Scotland.
Unlike the gas-fired boiler model, where water is heated within a property, district heating involves heat being generated externally and carried into a large number of properties in the form of steam or hot water through insulated pipes.

The heat source is typically located near its end-users, reducing both the distance it has to travel and the potential for heat loss. For heat networks to have the highest impact on reducing carbon emissions, there must be greater integration of renewable sources such as geothermal, solar, and large-scale heat pumps, as well as waste heat from sewage and power plants. There are also options to utilise waste heat from industrial processes such as brewing and distilling.
Heat networks are most effective in towns or cities where people are living closely together, reducing their energy bills collectively. Savings can increase further by making the systems run more efficiently. In an era when many people have to choose between heating or eating due to the cost-of-living crisis, heat networks could make a significant difference – notably in social housing.
The method has been tested and proven, notably in the Nordic countries. Scotland is catching up fast and networks in the country provide hot water to more than 23,000 homes – delivering 1.5% of heat demand. By 2030, the country aims to increase this total to 650,000 additional buildings and meet 8% of heat demand.
To achieve this ambition, a range of innovations are being implemented around Scotland that are set to make a big contribution towards the energy transition.
Fourth-generation district heating projects
Fourth-generation (4G) district heating builds on the processes established by the third-generation (3G), which was heavily reliant on fossil fuels.
With 4G district heating, water-distribution temperatures can range from 50°C to 60°C, limiting the potential for heat loss and likely reducing installation costs. If additional energy is required to raise the temperature, it can be provided by renewable sources or waste heat from industrial processes, such as sewage plants or even data centres. The model is considered more efficient and environmentally friendly than 3G district heating, with lower levels of waste heat.
Near Glasgow, Queen's Quay 4G District Heating Network is one of the flagship projects that demonstrates Scotland's determination to decarbonise heat. The network features the first water-source heat pump in Scotland on an industrial scale, and it is a key component of the Clydebank regeneration project.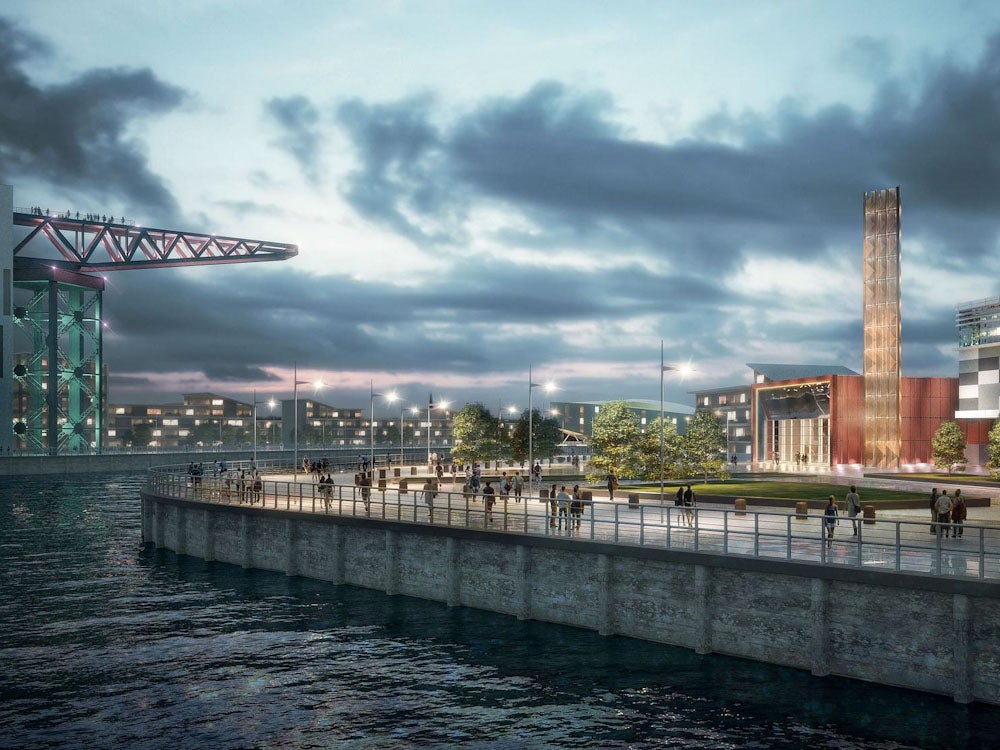 Queen's Quay network is operational and already connected to several commercial buildings and homes, with planned extensions of the heat network in development. It is estimated that the network will eventually decrease the carbon footprint of the area by 60%.
The network takes heat from the River Clyde and uses two 2.6MW water-source heat pumps, engineered by Glasgow-based Star Renewable Energy. The Glasgow-based company's industrial heat pumps use ammonia as the refrigerant. Being a natural substance, it avoids the risks associated with HFC refrigerants, also known as F-gases, which can harm the environment when leaked.
Dave Pearson, group sustainable development director at parent company Star Refrigeration, says there is a need to move away from technologies that may make a short-term reduction in carbon emissions but cause environmental problems over the longer term.
"We don't want to get into something that we have to get out of," he says. "This is the last generation we've got to deliver this – do it once and do it right."
Pearson's company has many years of experience in delivering heat pumps on an industrial scale. It won a contract to provide a 13MW heat pump for the city of Drammen, Norway. When it began operating in early 2011, it successfully met 85% of the city's heating demands by taking the 8°C fjord water and increasing temperatures to around 90°C. The heat pump is estimated to have delivered annual savings of €2.7m (£2.35m) for the city than if it were using gas, as well as removing millions of tonnes of carbon emissions.
What makes fifth-generation district heating different?
In the east of Glasgow, Clyde Gateway is one of the largest regeneration projects in the UK, covering an area of 140 hectares. Heating solutions are a fundamental consideration of the development, which is an initiative between Glasgow City Council, South Lanarkshire County Council and Scottish Enterprise.
The project features Clyde Gateway 5GDHC, a fifth-generation district heating and cooling network that involves demand-drive grids. Heat will be recovered from a wastewater treatment plant and will meet the heating and cooling requirements of office buildings.
What makes 5G district heating different is the combination of technologies connected and working together, as well as the lack of dependence on one centralised source of heat. 5G operates at lower temperatures of between 5°C and 25°C, meaning that uninsulated plastic pipes are suitable for carrying heat. However, for 4G and older generations, steel-insulated pipes remain necessary to handle the higher temperatures and are typically more expensive.
Clyde Gateway 5GDHC uses what is described as an ultra-low temperature grid that closes the energy loop while getting the most out of low-grade sources of thermal energy.
It will be possible to satisfy different energy needs for varying customer requirements and respond to changing demands. For example, providing cooling to one customer while giving heating to another at the same time, with capacities of 1,888MWh for heating and 1,027MWh for cooling. Heat can also be stored for use during peak times.
Alongside the heat provided by the wastewater plant, Clyde Gateway 5GDHC will feature localised heat pumps working in combination with each other, along with other renewable sources such as geothermal mine water. Additionally, research is underway at the nearby UK Geoenergy Observatory in Glasgow to determine the potential of geothermal mine water as both a source of heat and a form of heat storage.
"5GDHC is using effluent from the wastewater treatment plant as a heat source, passing through an ambient loop into plastic pipes, which are much easier to install and work with than steel-insulated pipes," explains Martin McKay, chief executive officer of Clyde Gateway.
"We feed that into the SMART Bridge. It's for use on Magenta (Scotland's largest urban office park), and that's where we've installed a very substantive, skilled solar ray, alongside battery storage."
According to Pearson, Clyde Gateway is a prime example of the ambition and initiative required for the large-scale decarbonisation of heat.
"We've got to think big, and that's what is impressive about Clyde Gateway. The authority has a massive regeneration area and they basically said: 'You're getting district heating – we are going to make this work for you'," he says.
Pearson and McKay both emphasise that it is not a case of 4G versus 5G for district heating. The deciding factor depends entirely on what is the best fit for the specific application, rather than preferring one solution over another.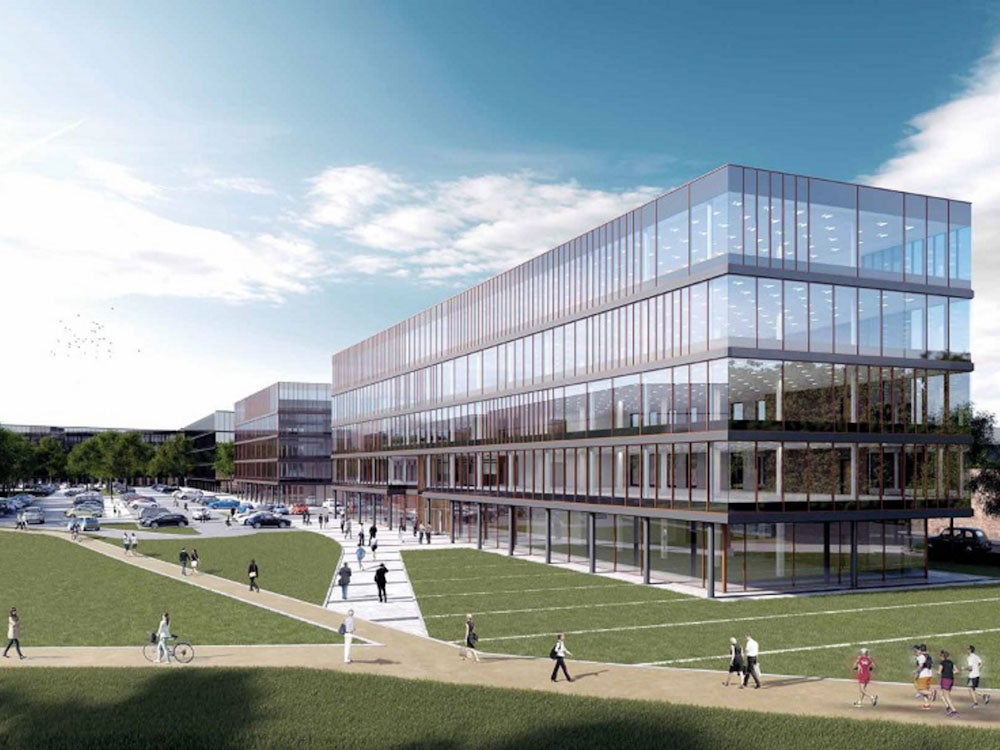 Supportive legislation for heat networks
Demand for components in the district heating supply chain is set to grow in Scotland due to the passing of legislation that will provide a platform for heat networks to expand successfully. The Heat Network (Scotland) Act 2021 established a regulatory system for district heating, along with designated heat network zones to make it easier for related businesses to invest in certain areas.
As of 30 May, there are also requirements for non-domestic public-sector buildings in Scotland to submit reports on the viability of connecting to a heat network.
In addition, all local authorities in Scotland will need Local Heat and Energy Efficiency Strategies (LHEES) to identify the necessary action on the heat transition. Rather than a one-size-fits-all approach, it is necessary to analyse where the demand for heat is to determine the optimum heating solution.
"LHEES is half of the conundrum around demand certainty, and the other half is the heat network bill, which has passed through successfully in the Scottish Parliament," says Pearson. "That's fabulous. The secondary legislation that's required to give it some teeth is the really important bit."
Then there is the £300m available from Scotland's Heat Network Fund to support the expansion of district heating initiatives. Any recipients of funds must be able to demonstrate that they are large-scale projects based in Scotland that reduce emissions and offer social and economic benefits.
"Where Scotland can and should be able to move quickly is down to a few things. First of all, is policy. The environment is really supportive of heat networks. The second element is around organisations like Scottish Enterprise and others who are leading and supporting innovation. And then you've got a growing and developing supply chain as well," adds McKay.
"Sitting alongside that are good-quality universities, good-quality research, and all of that is coming together. We're at a tipping point where we can see that everything is really starting to move."
To learn more about Scotland's growing green heat capabilities, download the document below.