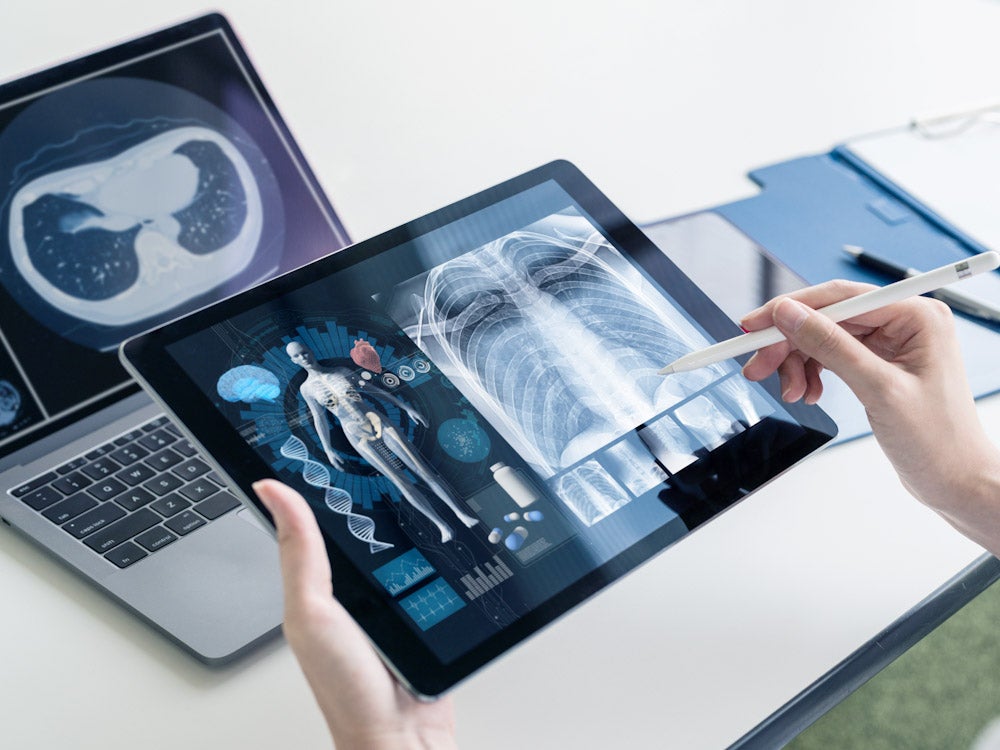 Healthtech has the potential to not only improve diagnostics but also transform treatments – particularly through personalising the delivery of healthcare plans, better known as precision medicine.
The use of technology such as AI and machine learning in healthcare is expanding the understanding of conditions and accelerating the development timelines for medical treatments.

Plus, as health services start to recover from the global pandemic, healthtech can also result in substantial financial savings.
To trial and prove healthtech capabilities, Scotland's interconnected network of health specialists, world-class universities and public-funded NHS present a highly productive and concentrated environment, which is attracting considerable interest from companies internationally.
Scottish projects are already showing significant potential in diagnosing and treating conditions such as liver fibrosis, dementia, multiple sclerosis, cancer and diabetes.
At the core of health innovation in Scotland is the collaboration between industry, academia and government. A prime example is the Precision Medicine Scotland Innovation Centre (PMS-IC) in Glasgow, a consortium of NHS partners across the country and associated universities that brings together a range of different companies and health experts in a dedicated precision medicine ecosystem. PMS-IC is funded by the Scottish Funding Council and Scottish Enterprise.
"Scotland is small enough to be manageable to do these projects but large enough to have a meaningful cohort of patients or areas to study to provide meaningful results," explains Marian McNeil, CEO of PMS-IC. "We act a bit like an introduction agency. That is a huge advantage for people looking to come and develop technology here or carry out research."
Health data and AI targeting liver fibrosis
Instances of liver fibrosis are particularly high in Scotland and continue to grow fast, which can lead to the development of cancer or liver failure. The need to understand and address this condition has led to the establishment of a dedicated data commons, which health experts, institutes and companies can access for research and developing treatments. All data is anonymised to protect patient confidentiality.
"We are trying to understand why it is increasing so much across the world, but Scotland in particular, and we are building this data commons, bringing in imaging data, genomic data, clinical health record data, which in Scotland is really well annotated already," says McNeil.
"Then we can use AI algorithms to read it and give us insights to say if all those patients had something in common, or the ones that are going to need a transplant, because there is no active treatment for people who have this disease at the moment.
"We are also looking for a way to help people prevent it, which will also benefit the health service. We are working with AI companies on that specifically and helping them grow their business within Scotland.
"It is making a real difference and there is already interest from other researchers and companies that want to come in and explore that dataset and see if they can develop treatments based on what we are finding.
"We are also really interested in talking to companies that are keen to use their technology to help us better understand that data."
Treating multiple sclerosis and other brain health conditions
Considerable efforts and resources are also dedicated to studying brain health in Scotland. Specifically, researchers are looking for the early signs of brain deterioration and acting before it worsens. Multiple sclerosis is one condition undergoing research in this field.
"We want to empower people to think about the things that you can do to reduce their risk of developing any kind of brain changes," adds McNeil.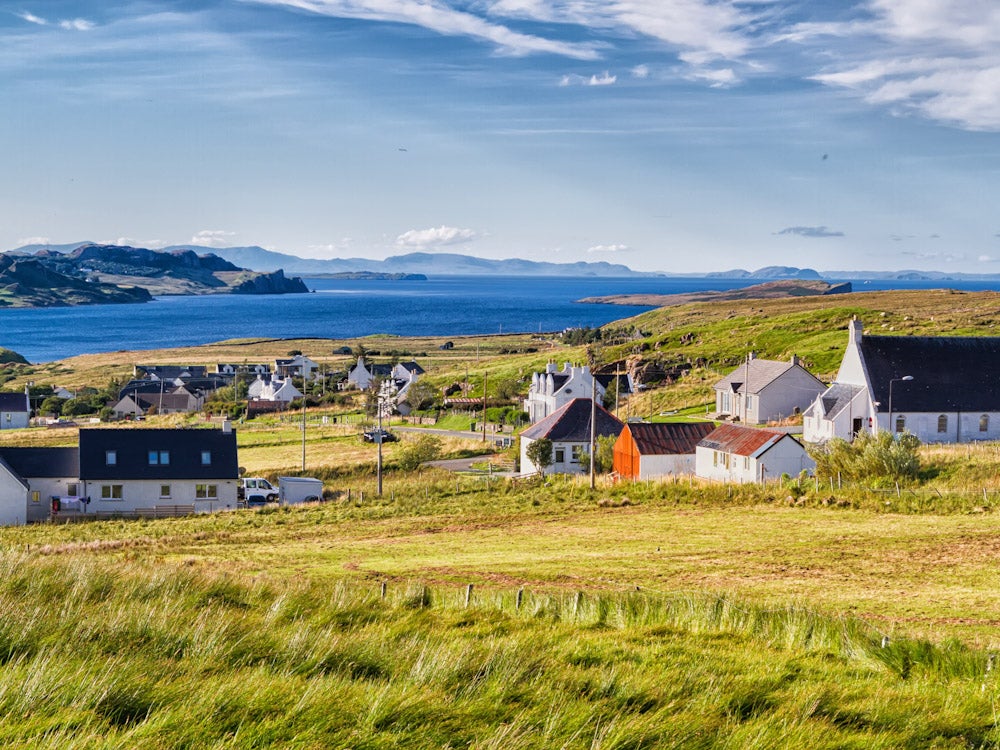 "We have looked at multiple sclerosis, because, sadly, Scotland also has high instances of that. We want to understand why some patients progress very quickly to a really difficult-to-manage stage of the disease and others don't.
"We are building a huge database to try and understand it and working globally with companies and researchers."
Yet collating health data is not a new development in Scotland, which has a history of more than 50 years in medical data mapping. These archives provide an invaluable resource for anyone researching specific diseases or conditions and can save significant time in developing treatments without having to potentially wait years for results.
"It means you can quickly get quality information for companies that want to pick out some insights from looking at that data," explains McNeil.
"Whereas if you start a trial from scratch, it takes years to get it up and running – and then you have got years to accumulate enough data to get a meaningful result. I think that is where Scotland has an edge."
Realising the potential of precision medicine
Building databases and pooling medical information will increase the understanding of a range of conditions, with AI and machine learning furthering the possibilities. In addition, using data to build a profile for individual patients and applying these advanced technologies will help predict their risks of developing conditions in future such as diabetes, cancer and neurodegenerative diseases. Building these profiles is central to precision medicine.
McNeil says she became interested in precision medicine when working for a company developing oral cancer treatments that would avoid the need for intravenous chemotherapy.
Through this work, a mutation was discovered in the lung cancer gene, and the oral treatment was highly effective for patients with this gene mutation, whereas the treatment was largely ineffective for lung cancer patients without the mutation.
This highlights a mistaken belief that medicines are suitable for all patients with similar conditions. These issues can be avoided with precision medicine, which also uses the genetic profile and medical history of a patient to provide a platform to build a treatment plan around their specific needs.
McNeil says that a pilot programme revealed that taking patients off medications that were not effective and putting them on more suitable treatments could result in estimated savings of £36m for the NHS in Scotland.
"We need to make sure what is best for patients, so they don't waste their time and have side effects from something that is not working," says McNeil. "That has the potential to save the NHS huge amounts of money."
Technology for remote medical appointments and diagnostics
While GP appointments via video calls have become common during the pandemic, the lack of in-person contact has raised concerns among patient groups that vital early diagnoses are being missed in some cases.
However, technology dramatically changes what is possible with remote diagnostics. With smart devices, a GP can gather and monitor valuable information on a patient such as blood pressure, heart rate and sugar levels, and then quickly pass on their details to a specialist if required. This avoids the patient having to travel anywhere unless there is an identified need for treatment, which also saves them money on unnecessary travel.
Remote healthcare is a particular specialist area in Scotland. The new Rural Centre of Excellence for Digital Health and Care Innovation in the north-east county of Moray is one location where remote technology is being developed and trialled for medical uses.
Technology is also being developed in Scotland to expand the potential for remote diagnostics. One area is oncology. The pandemic had a serious impact on cancer diagnoses when most health services were dedicated to treating people with Covid-19. Technology could prevent this from happening in future by enabling earlier diagnosis.
Scotland is home to numerous diagnostics companies, along with a domestic supply chain that is a considerable advantage in terms of product development. International companies may come to Scotland to collaborate with specialist institutes such as PMS-IC, but they also have the opportunity to connect with industry experts and use this established supply chain to develop new products while saving operations costs compared with other global locations.
In addition, the Living Laboratory is part of Glasgow's precision medicine ecosystem and provides a testing ground for companies and researchers to realise the potential of specialised treatments in real-world environments to progress towards commercialisation for international markets.
"We are now working with a couple of different companies looking at ways that GPs could send in blood samples to detect tumours earlier," adds McNeil. "There is so much technology advancing medicine. It is an exciting place to be."
To learn more about how digital health is transforming health services in Scotland, download the document on this page.