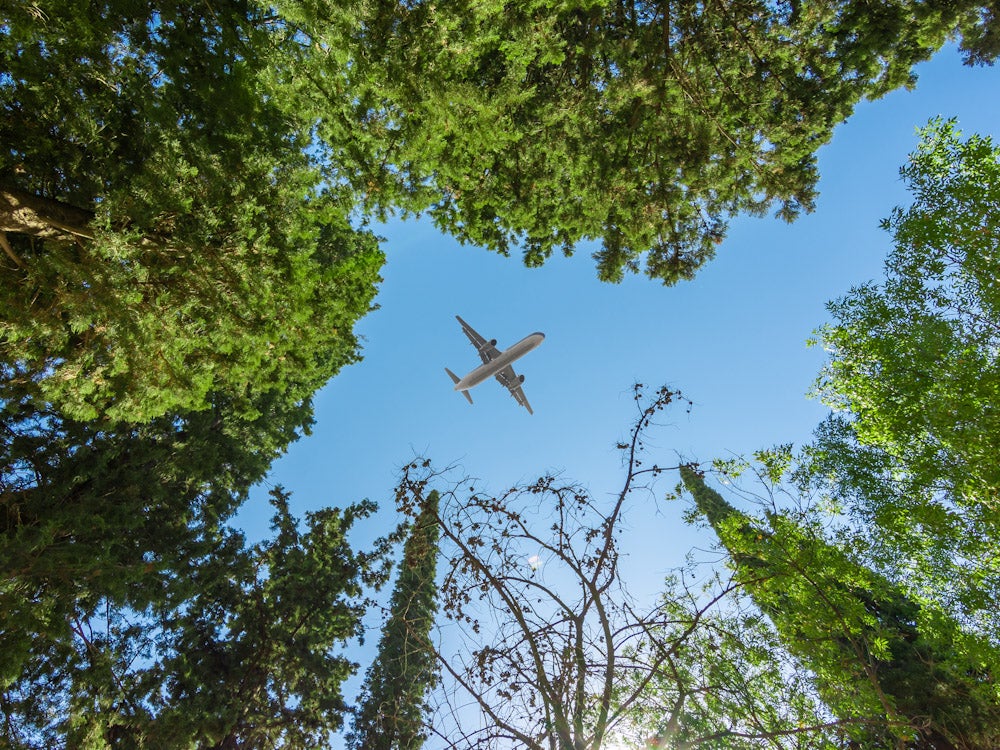 To decarbonise the aviation sector, some of the brightest industry minds are working on new technologies to help cut emissions and reduce the environmental impact of air travel.
When planes around the world were grounded during the pandemic, it gave aviation innovators the chance to think up concepts to increase the efficiencies of aircraft.
While electric flights are the long-term goal and are already showing strong signs of progress, greater efficiencies in aircraft design can also make a big contribution to reducing the industry's carbon footprint.
As the world waits for commercially available electric planes, hybrid aircraft and low-carbon fuel options are a valuable way of bridging the gap and lessening emissions – and many of the innovations required for a greener aviation industry are being developed in Montréal.
"Most of the projects I am currently working on focus on the electrification of aircraft to reduce carbon emissions," says Charbel Bachaalani, director of business development in aeronautics at Montréal International.
An example of the aviation industry taking action to reduce the environmental impact is Ricardo, a global strategic, environmental and engineering consulting aerospace company, which opened a new aerospace centre of excellence in Montréal earlier this year.
With a crew of about 25 engineers, the team is focusing on developing cutting-edge clean technologies to respond to the industry's focus on decarbonisation.
The push for green innovation in Montréal
During the Second World War, the International Civil Aviation Organization (ICAO) and International Air Transportation Association (IATA) were created and headquartered in Montréal to develop global safety regulations for the industry.
Some 80 years later, Montréal is home to some of the biggest names in the aviation industry, including Airbus, Bombardier, CAE and Pratt & Whitney.
Approximately 200 companies in Québec employ up to 35,000 skilled workers in the aerospace industry. In fact, one in 65 people works in the aerospace sector in Greater Montréal.
Pratt & Whitney is currently developing a hybrid aircraft engine in partnership with De Havilland, a project that Ricardo's Montréal team will also be working on.
"The fact is that Québec and especially Greater Montréal both have the talent pool and the manufacturing capabilities to help those projects succeed," explains Bachaalani. "During the pandemic, many of the key industry players took the time to develop strategies to achieve net zero by 2050. As they look to implement those strategies, Montréal is turning out to be an obvious choice."
Another example of aviation innovation happening in Montréal is SAF+ Consortium.
In September 2021, the Montréal-based SAF+ Consortium announced one of the first productions of sustainable aviation fuel 'Power to Liquids' (PtL) in North America, a major milestone with the potential to reduce emissions by up to 92% compared with fossil fuel-based kerosene. Production took place in SAF+ Consortium's pilot plant in Montréal's east end.
"With our pilot plant – the first PtL plant in North America – we have put Québec as a leader on the world scene and attracted global partners to work with us towards decarbonising the aviation sector," says Jean Paquin, SAF+ Consortium's president and CEO. "And I can assure you there is more to come."
However, fuels aren't the only way to tackle the industry's carbon footprint. Some projects are geared to improve aircraft aerodynamics, which requires cutting-edge software development designed specifically for avionics.
"The green transition in the aviation industry is reaching a new altitude, thanks in part to the mobilisation of both the public and the private sector over the past two years," notes Bachaalani. "What makes Montréal unique is its strong collaboration between the industry, academia and international organisations to achieve net-zero emissions."
An international R&D centre for aerospace
Research and development (R&D) is another driving force behind Montréal's aerospace sector's breakthroughs.
Québec is where 75% of Canada's aerospace R&D happens, with many world-renowned groups based out of Montréal, including McGill University's Aerodynamics Laboratory, École de technologie supérieure' ArianeGroup Research Chair on Emerging Materials in Aeronautics and Space and Concordia University's Center for Composites.
The city is also home to more than 40,000 university students enrolled in aviation-related programmes such as mechanical engineering, physical sciences, aerospace engineering or physics engineering.
Furthermore, Montréal's AI ecosystem is being used to develop solutions for the aerospace industry. Thales, Bombardier and CAE are just some of the companies that have research labs or partnerships in the city to apply AI to their operations.
Finally, but importantly, Montréal is home to a dozen international organisations dedicated to the aerospace sector, making the city a world civil aviation capital. That trend started in the 1940s with the establishment of ICAO and IATA's headquarters.
Over time, the roster grew, with the addition of the International Federation of Air Traffic Controllers Associations, the International Federation of Air Line Pilots Associations and the Airports Council International. Today, more than a dozen IOs manage their global operations through offices in Montréal, bolstering the city's reputation as a centre of aviation knowledge and expertise.
As aviation looks to eliminate its carbon footprint by 2050, Montréal's diversified ecosystem is proving to be a strategically important location for key industry leaders and innovators.