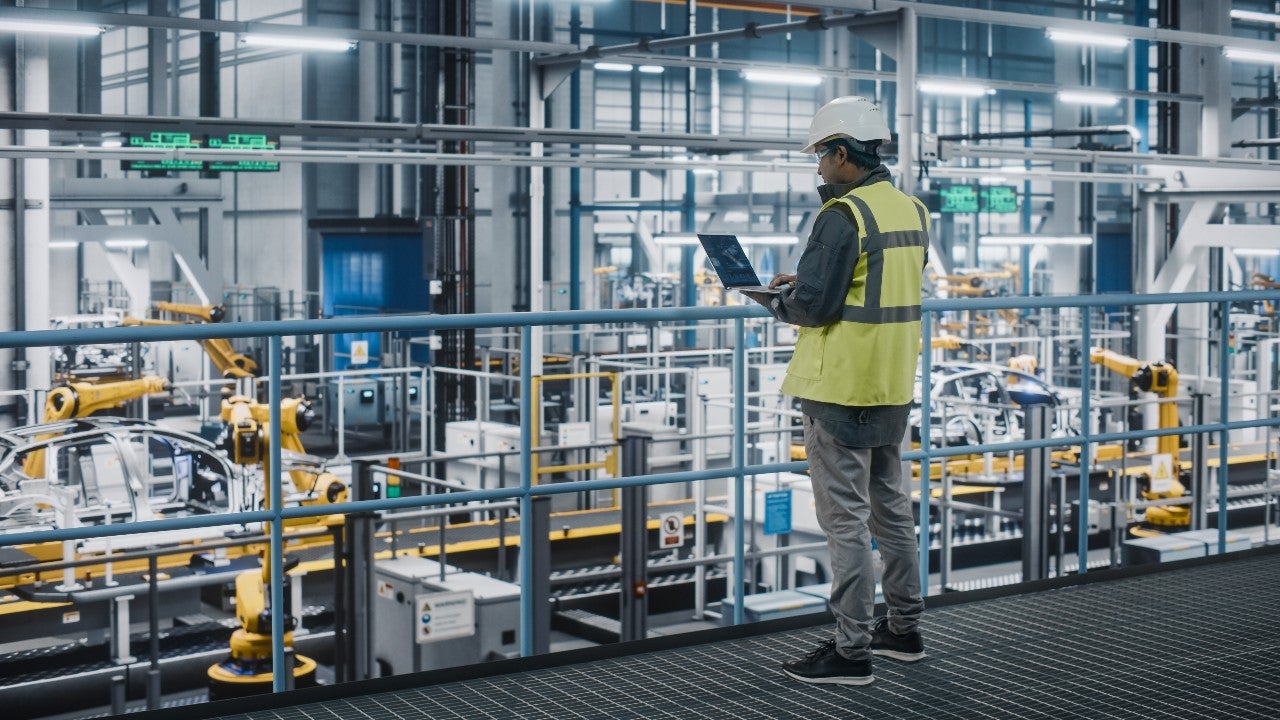 On one hand, manufacturing appears to be in rude health. A recent report by Deloitte argued that large-scale legislative interventions like the US' Creating Helpful Incentives to Produce Semiconductors for America Act (CHIPS) and the Inflation Reduction Act (IRA) will benefit companies in the US and beyond; manufacturing GDP is projected to rise by 2.5% over the course of 2023, and employment levels are exceeding those last seen in 2008. Meanwhile, the latest stats from the EU reveal the bloc's industrial production went up 8% in 2021 compared with 2020, increasing by another 5% in 2022 compared with 2021.
On the other, uncertainty continues to dominate. The most recent survey from the National Association of Manufacturers found only 67% of US manufacturing directors were positive about their own company's prospects. This is a fall from nearly 75% in the first quarter of 2023. A Reuters poll of EU manufacturer sentiment conducted in April found gloomy production expectations meant optimism among decision makers slipped for the third straight month in a row. A cocktail of concerns around supply chain resilience, legislative burdens and talent shortages has left many manufacturers reluctant to invest and take risks.
How can business leaders navigate this changing landscape? Few economic commentators would doubt that, with conflict continuing to dominate the headlines and the threat of inflation yet to disappear, there are good reasons for caution across major manufacturing markets. However, not all markets are created equal; investing in the right locations can place businesses on much safer ground.
Eurasian manufacturing: Georgia stands out
If the past few years of geopolitical turbulence have proven anything, it is that expert assumptions regarding resilience against financial, energy and supply chain shocks can be undermined in an instant. As a result, new locations that have been beavering away to implement structures safeguarding business operations are coming to the fore. Georgia provides one such example.
Nestled on the bridge between Europe and Asia, Georgia has risen as a national leader in advanced manufacturing. Output growth is currently in double-digits for critical sectors as diverse as machinery, electrical equipment, components and fabricated metals. A confluence of strategic incentives and fundamental advantages has propelled Georgia into the manufacturing spotlight.
First, human capital. The country boasts an impressive $8bn yearly output, and the backbone of this growth is its workforce – a well-trained and abundant group of nearly 152,000 workers. This robust labour pool forms the bedrock upon which Georgia's advanced manufacturing revolution rests. The presence of more than 5,000 students enrolled in engineering, manufacturing and construction programmes underscores the country's dedication to shoring up this workforce for the future.
Second, geography. Situated at the crossroads of Europe, Asia and the Middle East, the country enjoys unparalleled access to key markets, creating an ideal environment for swift distribution and efficient logistics. This advantageous positioning is complemented by a service-oriented approach to customs; seamless trade to enhance Georgian manufacturers' competitive edge is a top policymaking priority.
Third, legislative incentives. Georgian reforms have been moving in a pro-manufacturing direction for years. One noteworthy initiative is the FDI grant programme, offering cashback for both investment costs and staff training expenses. Businesses of all kinds are already seeing the benefit to their bottom lines. Plus, with a flat tax economy and corporate profit rates of just 15%, businesses can keep more of their profits once they have made them. In fact, retained and reinvested profit is subject to 0% tax in Georgia, and the country has been celebrated by the World Bank as the third least tax-burdened nation globally. Moreover, the ease of starting a business in Georgia has garnered international recognition, with recent reforms slashing the incorporation process to just two mandatory documents and reducing licensing requirements from more than 900 to a mere 150.
Finally, supply chain resilience. The country's unparalleled energy independence has created a dynamic and diverse energy market, where renewables like hydropower dominate. With an impressive renewable energy share, the nation's electricity mix leans heavily towards sustainable sources, primarily hydroelectric generation. Thanks to strategic partnerships with energy partners such as Azerbaijan, Georgia's energy market has thrived, even amidst geopolitical unrest; businesses based there are guaranteed a stable, cost-efficient supply of energy, irrespective of how much power they need or when they need it.
Success stories
Little wonder businesses across the advanced manufacturing sector are thriving in Georgia. One striking exemplar is the Kutaisi Auto Mechanical Plant, occupying a pivotal role in Georgia's manufacturing tapestry. Specialising in crafting spare parts for agricultural machinery, ropeways, railways and mining equipment, the institution's multifaceted contributions underline the diverse capacities of Georgia's manufacturing ecosystem.
Meanwhile, Tbilisi Aircraft Manufacturing (TAM) stands as a testament to the country's dedication to aviation. TAM's portfolio encompasses the production, overhaul and repair of military aircraft, complemented by the creation of various military products. Elmaval-Mshenebeli, a locomotive manufacturer, is a regional leader in the assembly of electric vehicles – reflecting Georgia's ability to cater to the automotive industry's complex and evolving needs.
Georgia's wider electronics industry, meanwhile, is rapidly expanding. Native companies engaged in producing microchips, home appliances and machinery are in the ascent. International conglomerates are moving in, excited by the incentives on offer and Georgia's attractive economic fundamentals. For example AIONRISE, an industry leader in high-efficiency photovoltaic solar modules, boasts the largest manufacturing facility under a single roof in Georgia. The French conglomerate Groupe Atlantic, renowned across Western Europe, has extended its reach to Georgia, producing electric heaters for domestic consumption and international export.
Georgia's escalating consumption, import and export of electronics is continuing to create new avenues of investment for entrepreneurs. According to the UN Comtrade database, between 2016 and 2022, the value of electronics exports rose from a starting point of $20m (La54.15m) in the former period to more than $110m in the latter, while machinery exports surged from around $30m to nearly $140m in the same time span.
Companies that have already made the move are happy they did. "Comparing Georgia with other central and eastern European countries, we found the best advantages in Georgia," says Durbek Fattakhov, CEO of AIONRISE. "This is thanks to low cost of utilities and no bureaucracy."
Could Georgia be the right location for your next manufacturing facility? Many business decision makers are already taking advantage of the country's minimal energy costs and maximal supply chain durability. More companies are making the move all the time.
Invest in Georgia is ready and waiting to supply interested businesses with the information they need to guide them through the process of investing. Download the whitepaper on this page to find out more.