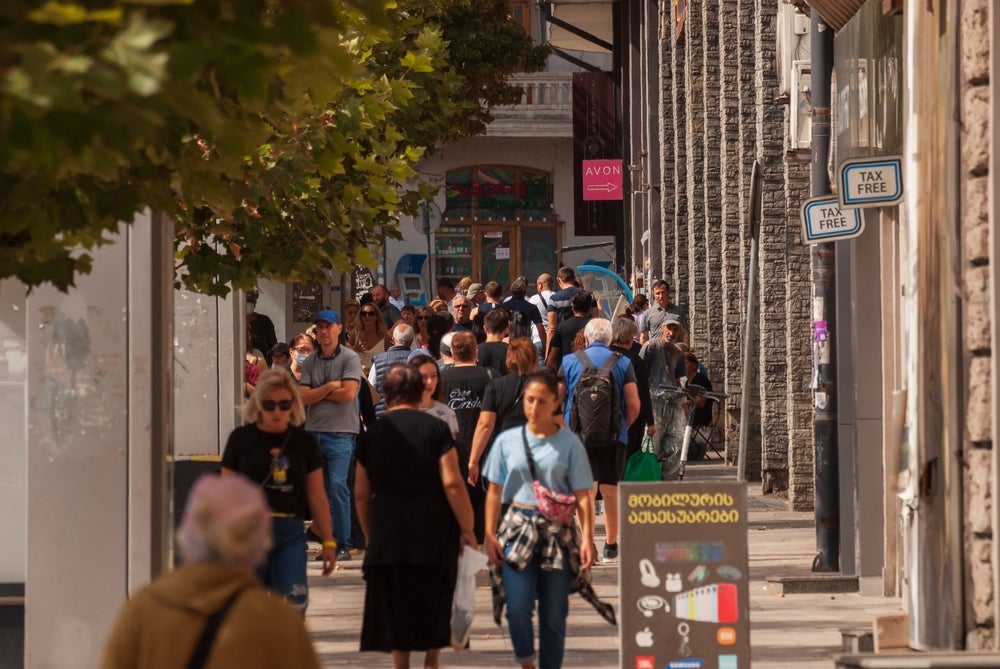 It is a turbulent time for the world economy. According to estimates from GlobalData published in March 2023, worldwide economic growth will hit 2.5% in 2023 – an increase of 0.5 percentage points compared with the company's January 2023 projections. The picture is uneven, however. The Asia-Pacific region is forecasted to achieve a growth rate of 3.7% in 2023, up from 3.3% in 2022. Meanwhile, growth rates for the Americas, Middle East and Africa, and Europe are projected to slow down to 1.1%, 3.2% and 0.4% respectively in 2023, compared with 2.5%, 4.6% and 3% in 2022.
There are some striking outliers. Georgia, nestled in the Caucasus and bridging Europe and Asia, has proved remarkably resilient compared with its inflation-afflicted partners to the West and sanction-hit Russia in the north. After maintaining an average annual growth rate of approximately 5% in the three years leading up to 2019, Georgia's GDP surged to 10.5% in 2021. This upward trend continued into 2022 with a growth rate of 10.1% over the entire year – underscoring the nation's unparalleled resilience.
Georgia's resilience has not come about by chance. It is the result of a long-running policy drive to make Georgia one of the region's outstanding growth hubs. Now, with the global economy in turmoil, this policy drive is bearing fruit. In doing so it is attracting new investment all the time – potentially providing a template for other nations seeking a route out of their economic doldrums.
The sectors driving growth – and the policies that got them there
Georgia's headline growth figures are strong – but analysing performance on a sector-by-sector basis is even more impressive. Outstanding performers include the information and communication sector (with an estimated yearly growth rate of nearly 50% at the end of 2022), electricity (40%), transportation and storage (28%), mining and quarrying (23%), arts, entertainment and recreation (17%), accommodation and foodservice (also 17%) and construction (15%).
How has Georgia done it? Comprehensive reforms – two decades in the making – mean Georgian policymakers have strengthened the rule of law, eliminated unnecessary bureaucracy and created one of the world's most business-friendly, pro-growth economies.
Consider the country's commitment to reducing red tape and broader efforts enabling businesses to start and grow. The number of activities subject to licensing has been slashed from more than 900 to a mere 150, streamlining regulatory burdens and nurturing entrepreneurial spirit. Digitisation of state services and the introduction of the innovative Public Service Hall means individuals and companies can now access more than 400 state services in a single location, enabling efficient and seamless interactions with the government. The cost of registering a new business through the Public Service Hall is a mere $70, a testament to the nation's commitment to removing unnecessary barriers to entry.
Georgia's tax reforms have also made it incredibly attractive as a place to start a business. The nation has transformed into a flat tax economy, significantly reducing the overall number of taxes from 21 to just six. Corporate profit tax stands at 15%, while import taxes have been eliminated for most goods and capped at a maximum of 12% for others. Personal income tax is set at a competitive 20% and property tax is a maximum of 1%. Profits retained and reinvested within the country are subject to no corporate income tax at all – a strong incentive for both foreign and domestic companies to ramp up their investments.
Furthermore, by progressively opening up to the outside world, Georgia has become an entrepreneurial hub. Georgia has pursued legislative harmonisation with EU laws as part of its application to join the bloc, with synchronisation ongoing across 70% of existing legislation. Georgia has also adopted a modern customs system, meaning goods can be declared electronically even before their arrival at the border. Border crossing procedures have now been whittled down to an average of less than five minutes. In addition to its strengthening relationship with the EU, Georgia has crafted an extensive network of free trade agreements that also covers Turkey, China, the UK, the UAE and its CIS neighbours. It means that, by operating in Georgia, businesses have a potential market comprising billions of customers on their doorstep.
Policy wins and the road ahead
The success of Georgia's economic growth strategy is evident in the surge of investments. The professional and business services sector has experienced substantial interest, with major players such as Majorel, Concentrix, EPAM, Viber and Girteka making major inroads in the country. Manufacturing has also flourished in Georgia, particularly in the aerospace, electronics and automotive sectors. ATC, a joint venture between Israeli Elbit Systems and the state-owned investment fund, has become a key player, producing composite parts for Boeing. Additionally, US-based AIONRISE has chosen Georgia as a hub for exporting solar panels to more than 50 countries. Georgia's favourable tax environment, skilled workforce, emphasis on foreign language learning and ongoing commitment to economic reform has equipped it with fundamental strengths in human capital and business development. Domestic start-ups, international conglomerates and companies of all sizes in between are finding ways to benefit.
The World Bank recognised the country as the "number one economic reformer in the world" several times over the years and at one point Georgia rose nearly 100 places in one year. Currently, Georgia ranks as seventh-easiest place to do business globally. Georgia's ascent is a testament to the nation's unwavering dedication to creating an optimal business environment.
Georgia's double-digit growth is no fluke. It is the end result of a rigorous reform programme designed to generate sustainable growth – and there is more to come. The country is actively negotiating additional free trade agreements with Israel, India, South Korea, Japan, and the US. The World Bank currently recognises Georgia as the seventh-easiest place to do business globally, and reforms are continuing to break down business barriers, reduce operational costs and bolster the country's skilled workforce.
Georgia's steadfastness in the face of global economic headwinds offers businesses based in the country the reassurance they need that their investments are secure and their futures are bright – whatever instability lies ahead.
Download the whitepaper on this page to find out more about how your company could exploit the benefits – and the help on hand to help you do so.