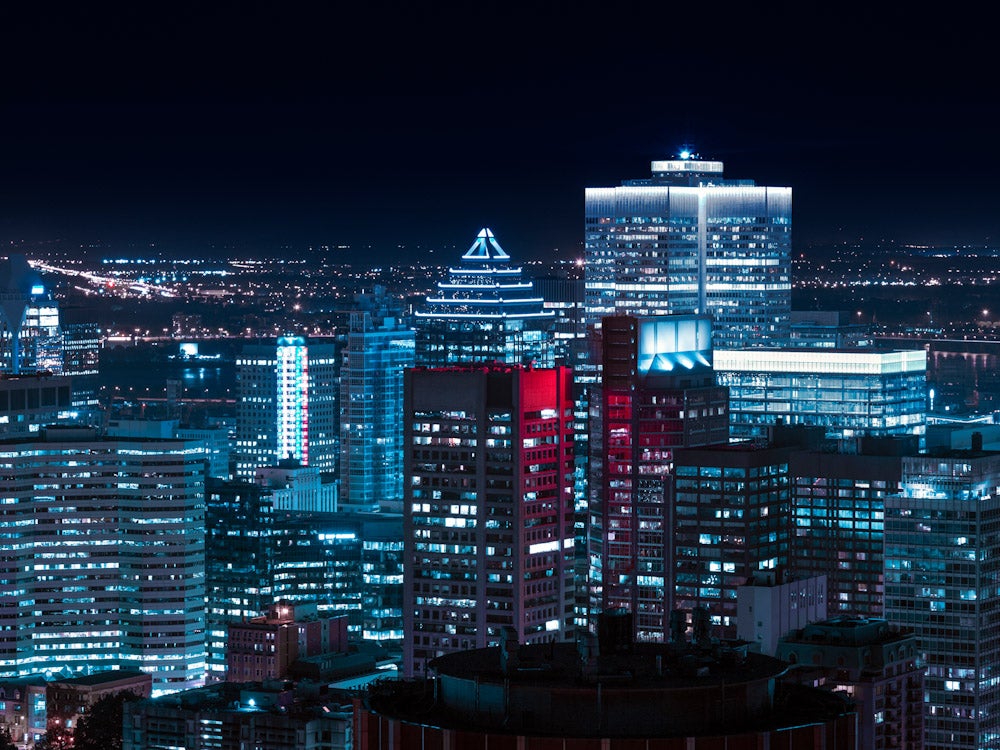 To address rapidly evolving cybersecurity risks and the global workforce gap of specialists, Greater Montréal is gaining international recognition for its capacity to combat the latest threats.
As Gwenaelle Thibaut – director of business development at Montréal International, who specialises in the field of cybersecurity – puts it, Montréal has become a "playground" for companies testing new solutions to evolving problems.
"This can be attributed to Montréal's expertise in AI, a field closely related to digital security, as well as to the availability of a highly skilled workforce and the presence of world-renowned experts," says Thibaut. "Montréal is seen as a crossroad between Europe and the Americas. This is particularly true for cybersecurity companies looking to expand in one continent or the other."
Over the past three years, Thibaut and her colleagues have accompanied a number of international investors such as OneSpan, Hitachi, Trend Micro, Morgan Stanley and Google as they expand their cybersecurity activities to North America and develop their solutions with the local ecosystem.
In fact, Montréal is capturing a part of the vibrant ongoing activity in this field. According to GlobalData figures, cybersecurity revenues are predicted to experience sustained growth in the next few years, reaching $198bn globally by 2025.
A diverse and highly skilled ecosystem in cybersecurity
To respond to such high demand, many companies are looking for locations with strong cybersecurity sectors. Greater Montréal is attracting considerable interest with its 22,000 skilled cybersecurity workers, supported by more than 600 researchers and doctoral students in fields related to AI.
The area is also central to developing the next generation of talent. The city is Canada's university capital and the country's leading centre for cybersecurity programmes, courses, research and development and university labs. The area has around 60,000 university students enrolled in cybersecurity-related programmes led by some of the most prestigious researchers. The region attracts nearly $2bn per year in university research funding.
Montréal's cybersecurity ecosystem was not built by accident. It is the result of a concerted effort from both the public and private sectors.
According to the 2018 Global Cybersecurity Index, Canada is among the top ten most committed countries in cybersecurity. While Canada's cybersecurity strategy focuses on securing all Canadians' internet activity, the government has emphasised supporting start-ups and small and medium enterprises that may lack the resources to implement cybersecurity regimes.
In addition, Canada tops the list in the Americas for its ability to attract and retain highly educated workers, and the country is home to the most educated workforce in the OECD.
Within Canada, Montréal stands out for its strong and collaborative ecosystem and business environment, offering major opportunities in cybersecurity. Compared with other North American cybersecurity hubs, Montréal offers a 28% cost advantage. The city is also the easiest place to start a business in the G20, according to the World Bank in 2020.
Furthermore, salaries for professionals within cybersecurity are the most competitive when compared with North America's nine major cities, while the competitive living costs in Montréal mean that money goes further for employees, and they can enjoy living in a city without any overcrowding or high rents.
Why the International Cybersecurity Forum (FIC) chose Montréal
Given that cybersecurity is vital for all industries, a range of companies from different sectors are active in Montréal, including Ubisoft, Desjardins and Hydro-Québec. Furthermore, the city's strengths in cybersecurity also mean that multiple companies including Bombardier, IBM and Société Générale are developing their expertise locally. In addition, Montréal's collaborative cluster with a proven track record of innovation continues to attract more entrepreneurs and businesses.
Montréal's cybersecurity industry is built on the bedrock of its strong IT industry, and the city's status as a global AI hub bolsters its cyber strengths significantly. There are more than 160,000 IT workers and 7,000 companies in Greater Montréal, and the region boasts some of the most competitive operating costs in North America for software development, ahead of Toronto, Boston, New York and San Francisco.
In recognition of Montréal's global status as a cybersecurity hub, the city hosted the very first North American edition of the International Cybersecurity Forum in November 2022. The event crossed the Atlantic for the first time in its history, having previously been held exclusively in Europe for the first 15 years of existence, with the objective to strengthen the links between Canada, the US, Europe and the rest of the world by sharing experiences and exchanging at all levels: political, operational and technological.
The FIC is one of the world's most innovative cybersecurity events with 19,000 participants, 550 private and public sponsors, 520 speakers and 60 countries represented. The event is now established on both sides of the Atlantic to play its fundamental role of bringing together and mobilising all digital trust stakeholders.
To learn more about why AI giants are setting up in Montréal, download the document on this page.