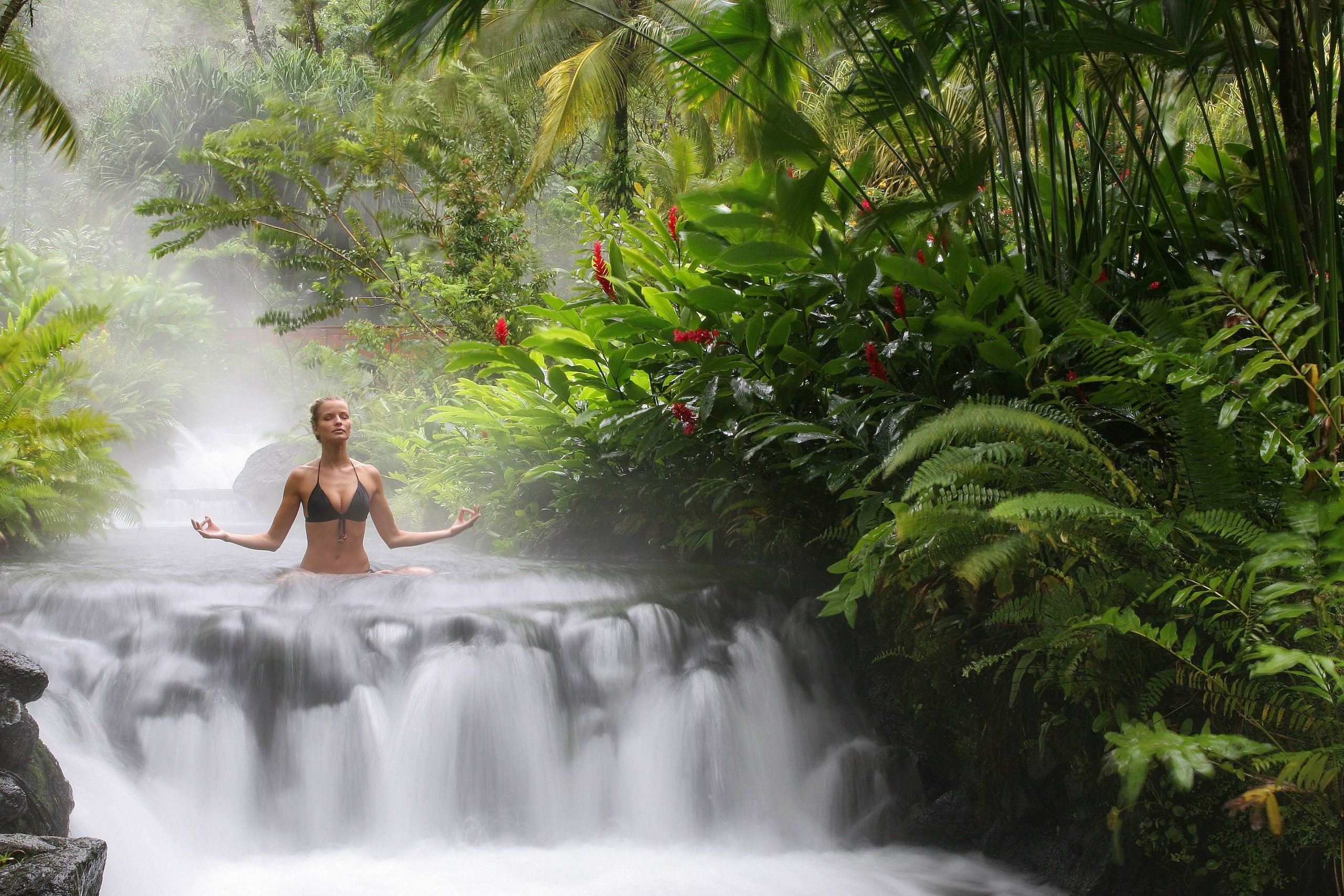 In Costa Rica, the national slogan is 'Pura Vida'. This is pronounced (Poo-ra Vee-da). Literally translated in English, the Spanish phrase means "pure life", but if you have spent any time in the tiny Latin American country, which manages to account for 6.5% of the planet's biodiversity – despite covering just 0.03% of its land mass – you will know that this expression is hugely versatile.
Pura Vida is a greeting, but it is also used to shrug off frustration – the equivalent of "oh well"! On the other hand, shouts of Pura Vida can embody pure joy, articulate spontaneous cheer or unbridled excitement.
According to Pilar Madrigal, director, Advisory Services at CINDE, the country's private investment promotions agency, Pura Vida is a feeling that runs deep through the spirit of Costa Rica and the five million or so people that live there surrounded by a rich natural tapestry of volcanoes, waterfalls, tropical rainforests, and thousands of protected wildlife species from monkeys and sloths to giant sea turtles and humpback whales.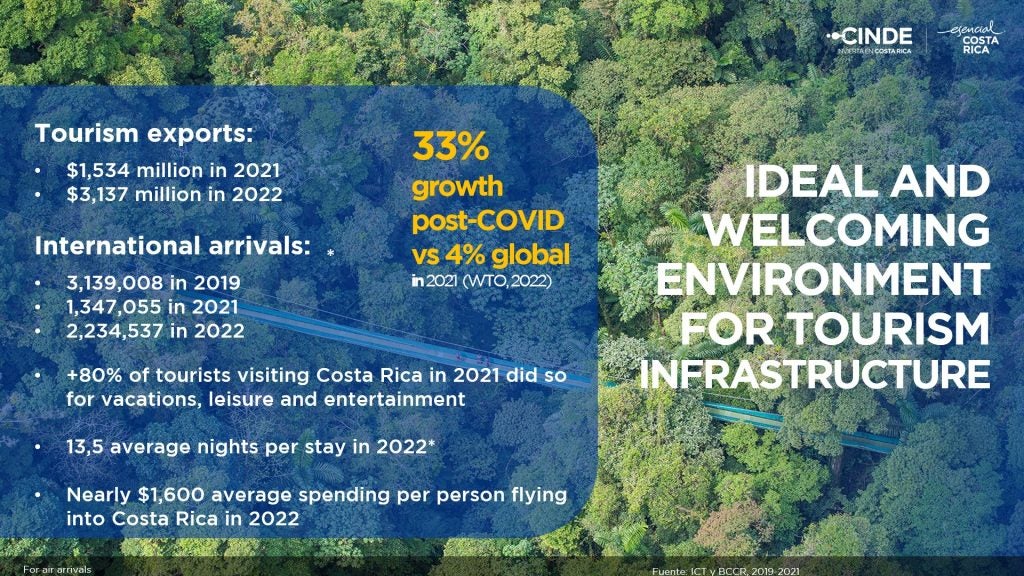 "Pura Vida is kind of our essence," Madrigal reflects. "It is the reason that Costa Rica is home to one of the five Blue Zones in the world in the Guanacaste province where local residents tend to live to 100-years-old and more.
"When you consider the core characteristics of wellness and what people around the world are now prioritising more than ever before in terms of their emotional, physical and mental well-being, that is just a way of life for Costa Ricans: living around so much unspoilt nature, eating nutritious foods – there is nothing like our Gallo Pinto (Costa Rica-style rice and beans) – and having a sense of connection and purpose. That is the powerful positive experience Costa Rica can offer the world's travellers."
With depression, anxiety and substance abuse all on the rise following the pandemic crisis, which fundamentally altered the lives of billions of people around the world, Costa Rica, the oldest democracy in central America, is keen to showcase how its vibrant atmosphere, natural assets, friendly people and authentic way of life can be a successful bedrock for the fast-growing wellness travel sector.
Demand for Pura Vida is rising
Latest data from the World Tourism Organisation (UNWTO), a UN agency promoting responsible travel, indicates that 2023 is already showing a strong rebound in international travel. In the first quarter of 2023, more than 230 million people travelled internationally, more than double the figure in the same period of 2022. These numbers represent 80% of pre-pandemic levels. Unless there are any unforeseen economic or political shocks, the UNWTO said it expects global tourism to recover by the end of the year as pent-up demand for memorable experiences is released. CINDE expects that by the end of the year international visitors will be back to 2019 records, topping three million.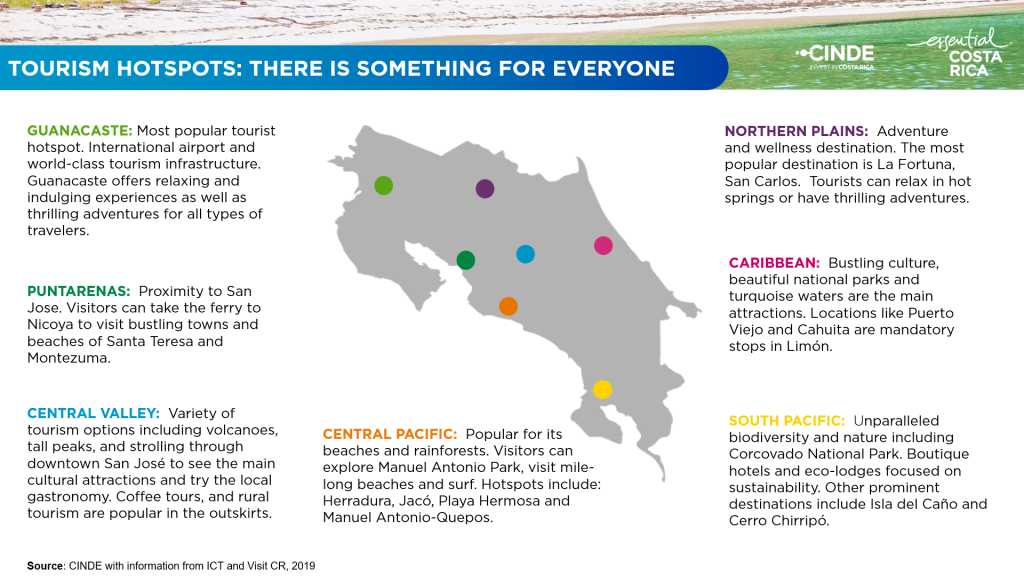 Costa Rica has already gained significant recognition as one of the most desirable long-haul travel destinations1. CINDE says the average stay for tourists tends to be two weeks, an unusually long average only behind Australia and New Zealand. It is believed to be because of its geographic diversity, wedged between the Caribbean and Pacific oceans. The average spend is about US$1,600.
Tourism investors are noticing.
Costa Rica will soon get its first 7-Star hotel, a One & Only resort off the Gulf of Papagayo, following in the footsteps of the ultra-luxury Six Sense hotel and resort group, which opened in the same area in 2021. At the other end of the scale, the country is also seeing a growing number of independent bed and breakfast and 'glamping' operations, especially in areas off the beaten track near protected forests and remote beaches, where travellers from big cities can get a healthy fix of nature, beatific scenery and local living.
Making real connections
"Ecotherapy is a fairly new term that has gained traction recently," says Madrigal, adding: "But really, the essence of this approach – looking to promote well-being and good mental health through connecting with nature and outdoor spaces in an environment that embraces sustainability – is what has been baked into our tourism strategy in Costa Rica for decades.
"You can go to a spa anywhere, but Costa Rica, from the minute you land to the minute you leave, is a deeply immersive experience."
Right now, Costa Rica is trending as a key wellness destination. Google key word analysis showed in 1,300 searches for 'Costa Rica wellness retreat' and Costa Rica 'retreat' in May 2023.
"After the isolation and stress caused by the pandemic and national lockdown measures, we are seeing a real craving for people wanting to make new human connections, while disconnecting from devices," Madrigal says. "Visitors often comment on the meaningful connections they make with our local families, who are keen to show them our way of life and even often invite them to their homes.
"Anyone who has tasted home-cooked plátanos maduros (a sweet fried plaintain dish) will always be planning their next trip here. "
Carbon-neutral compliance
More than 30% of Costa Rica consists of protected areas and 99.25% of the country's electricity is generated from renewables, a large proportion from the Lake Arenal Dam not too far from the unique Monteverde cloud forest. "So, investing in Costa Rica offers a plug-and-play solution for carbon-neutral operations as well," says Madrigal.
Travel investors and hotel groups looking to tap into this growing market of burned-out holidaymakers will be well supported by the team at CINDE, rated the world's top investment promotion agency by the UN International Trade Centre (ITC) for five consecutive years between 2017 and 2022.
Last year, CINDE reached a perfect score in 182 of 225 indicators evaluated by ITC and stood out for offering investors a wide variety of customised and timely services. With a score of 95.27, the highest ever since the ranking was created, the 2022 ITC report said CINDE had "raised the bar for all business support organisations and consolidated its position as one of the most respected and effective investment or trade organisations in the world".
Companies investing in tourism infrastructure in Costa Rica can apply for both fiscal and non-fiscal incentives. General incentives include:
ICT training
Access to up-to-date market behaviour information
Access to a renowned country brand³ and marketing through visitcostarica.com, international campaigns and prominent tourism fairs.
GlobalData's FDI Database shows that for tourism infrastructure Costa Rica attracted 16 FDI projects in the three years between 2019 and 2022, ranking fifth of all South and Central American countries. Mexico was number one with 134 projects and the Dominican Republic was number two with 31.
"We have unique social and political stability in the region; excellent flight links locally and to the US and Europe and one of the most highly educated and skilled workforces on the continent because of Costa Rica's long-standing policy to provide free education," says Madrigal. Since 1980, the country has invested around 30% of its national budget in primary and secondary education.
"It is a very happy place for tourists and investors, who we are observing are keen to add a formal health and wellness aspect to their offering in some of the most beautiful natural landscapes in the world. The secret of our Pura Vida is well and truly out."
1 The Wanderlust Travel Awards, 2021
² World Happiness Report, 2022
³ City Nation Place, 2019